'The Square' Trailer: This Year's Cannes Winner Looks Bizarre, Hilarious, And A Little Mad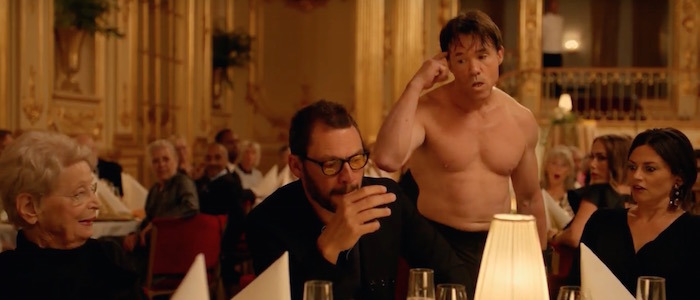 Three years ago, Swedish director Ruben Östlund broke out with Force Majeure, a pitch black comedy that probably deserves to be on the short list of the best movies of the 21st century so far. His new feature, The Square, premiered at the Cannes Film Festival earlier this year, where it took home the Palme d'Or and a number of critical accolades. Now, the trailer has arrived so you can see what the fuss is all about. But if you've seen Force Majeure, you already know why Östlund's work should be on your radar.
While Force Majeure mined delicious and uncomfortable comedy from a mundane ski resort vacation, The Square turns its sights on the world of modern art. Claes Bang plays Christian, a curator at an art museum whose latest installation goes gloriously and horrifically wrong. The trailer is less concerned with explaining the purpose of the Square or why things escalate as they do and more concerned with promising all kinds of comfortable conversations and bizarre imagery.
It's baffling, but that seems to be the intent. At the very least, Elisabeth Moss seems to be on hand to provide the concerned glances and awkward reactions in place of the audience.
When The Square took home the top honors at Cannes in May, jury president Pedro Almodóvar (the director of Talk to Her, Bad Education, and The Skin I Live In) had this to say about Östlund's film:
[The Square is] about the dictatorship of being politically correct... That is terrible and awful and more horrifying than any other dictatorship. Fortunately, in such a serious subject, [it also has such an] incredible imagination... I think it's a movie that I like to see again because it's so rich. There are so many different things. The sanctity of these people to be politically correct and they live in a kind of hell because of that. And it is [written] and directed with a master hand.
And if you're still scratching your head, the official synopsis will help fill in the blanks:
Christian is the respected curator of a contemporary art museum, a divorced but devoted father of two who drives an electric car and supports good causes. His next show is "The Square", an installation which invites passersby to altruism, reminding them of their role as responsible fellow human beings. But sometimes, it is difficult to live up to your own ideals: Christian's foolish response to the theft of his phone drags him into shameful situations. Meanwhile, the museum's PR agency has created an unexpected campaign for "The Square". The response is overblown and sends Christian, as well as the museum, into an existential crisis.
Honestly, I'm not sure what to make of this trailer, but I do know that I'm fully on board for whatever Östlund makes next. Force Majeure is a comedy so devious that just thinking about it brings back a sudden rush of discomfort. But those awkward laughs and winces serve a larger purpose – a frank dissection (and evisceration) of 21st century masculinity, delivered with wit and icy intelligence. Considering the critical praise that has been thrown its way, it sounds like The Square continues his habit of making comedies that cut like a scalpel but land like a sledgehammer.
The Square is set to open on October 27, 2017.