How House Of The Dragon Fixes Game Of Thrones' Diversity Problem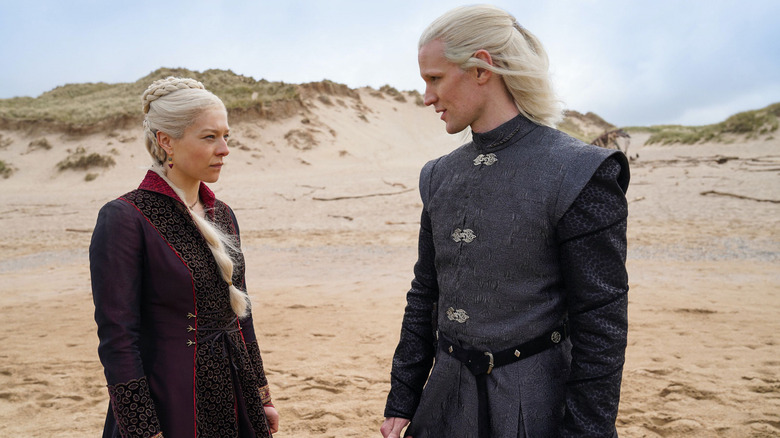 HBO
While we might be living in a post-"Oscars So White" world, old habits die hard (especially the bad ones), and there are still plenty of movies and TV shows where the majority of the cast is white for no good reason. Alternatively, there are films and series where the sheer whiteness of it all is the point, like the Roy family drama on "Succession."
Another HBO show, the upcoming "Game of Thrones" prequel "House of the Dragon," likewise focuses on the familial squabbles at the heart of the very white House Targaryen, 200 years before Danerys Targaryen emerged from the ashes of the clan's once-mighty dynasty. As such, co-showrunners Miguel Sapochnik and Ryan J. Condal (the latter of whom is also credited for creating the show with "A Song of Ice and Fire" aficionado George R.R. Martin) cast the series accordingly, hiring the likes of Paddy Considine, Emma D'Arcy, and Matt Smith to play key Targaryens. Wherever they could, however, the pair tried to make the cast more inclusive.
Speaking to The Hollywood Reporter, Condal said he and Sapochnik made a conscious effort to avoid the diversity problem that plagued "Game of Thrones" throughout its run. That included not casting actors of color in stereotypical roles for this type of fantasy fare:
"We knew from the outset that we wanted to change that conversation. The world changed a lot between 2011 and 2021 and [so did] what audiences expect to see on camera. The conversations Miguel and I had were: How do we create a diverse cast for 'House of the Dragon' but still do it in a way that feels organic to the world and doesn't feel like pandering or tokenism — and also have them not be pirates, slaves and mercenaries like you tend to see in high fantasies?"
'Where's everybody else in this world?'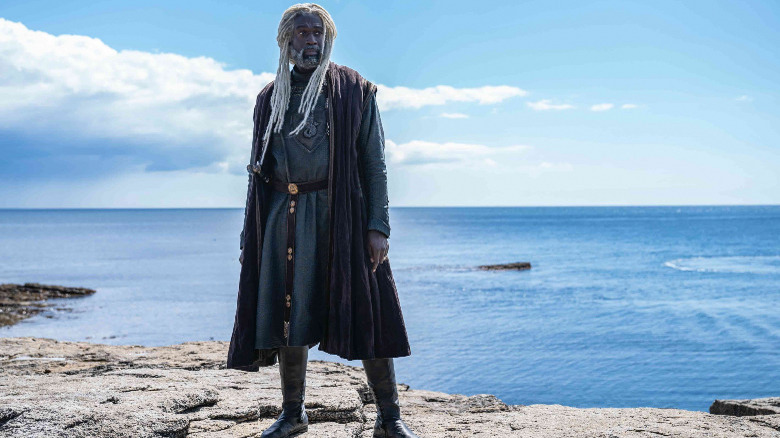 HBO
So far as its diversity goes, the big change "House of the Dragon" makes to its source material comes with the character Lord Corlys Velaryon, aka The Sea Snake. A legendary seafarer, Lord Velaryon amassed a massive fortune thanks to the famous nine voyages he took from Westeros to Essos as a younger man. While he's depicted as being white in George R.R. Martin's 2018 novel "Fire & Blood," the show cast Black actor Steve Toussaint ("Judge Dredd," "Prince of Persia: The Sands of Time") to bring the character to life. 
Sadly, as is common occurrence with high-fantasy TV series or, these days, any franchise project that tries to be more inclusive with its casting choices, Toussaint's casting led to the actor suffering racist attacks and insults on social media. Speaking to THR, the actor noted:
"I didn't realize [the casting] was a big deal until I was racially abused on social media. Yeah, that s**t happened. I was just like, 'Oh wow,' and then I thought: 'OK, so this means a lot to some people, but I can't allow that to bother me.'"
Adding to that, Toussaint noted the importance of casting any TV show or film to "reflect a world," be it based in a real-world setting or a fantasy one:
"I loved 'Game of Thrones,' but my only caveat was, 'Where's everybody else in this world? Because it's a diverse world Martin has created if you look [beyond Westeros], and I think this show comes closer to that."
Hopefully, hiring Toussaint will prove to be but one of many steps "House of the Dragon" takes to better reflect the diversity of its world and, tangentially, our own. We'll see if that's the case when it arrives on August 21, 2022.