Look Both Ways Trailer: Lili Reinhart Realizes That A Single Moment Can Be Life-Changing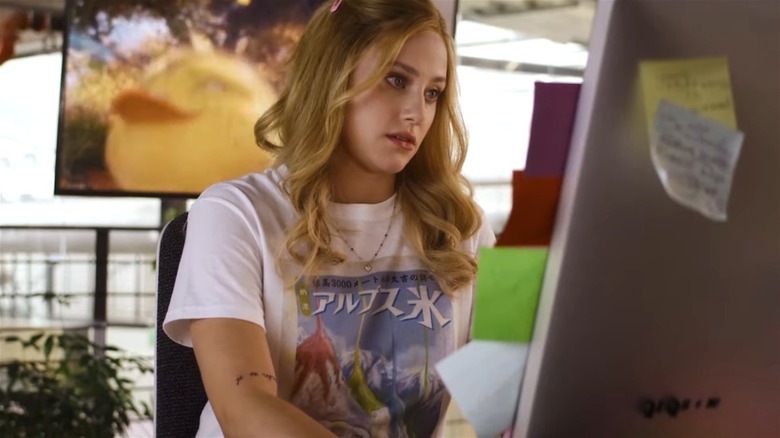 Netflix
A brand new trailer has been released for the upcoming Netflix romantic comedy, "Look Both Ways," which stars "Riverdale" star Lili Reinhart in a central role. In the film, Reinhart plays Natalie, a young woman aspiring to be an artist, whose life splits into two distinct realities on the night of her graduation party. These parallel realities play out simultaneously, etching two different trajectories for Natalie, making it into an exploration of where life takes her.
The whole premise of "Look Both Ways" hinges on a single, defining moment that can branch into two different directions depending on the outcome. After an intimate night with her good friend Gabe (Danny Ramirez), the events build up to one seminal moment: how would her life turn out to be if she's pregnant, which would lead her to stay back with her family, and how would things play out if she's not, and she moves to L.A. with the aim of being an accomplished artist?
Check out the trailer for "Look Both Ways" below.
What if?
Although "Look Both Ways" does not really offer any kind of unique setting as far as Netflix romantic dramas go, it does experiment with a split storyline with two extremely different outcomes, exploring the concept of the butterfly effect. While one of the timelines delves into Natalie's life as a mother, and her blossoming relationship with Gabe, the other revolves around Natalie living a carefree life in L.A., while attempting to climb the corporate ladder and find new love.
"Look Both Ways" is directed by Wanuri Kahiu, and the screenplay of the film has been penned by April Prosser. Kahiu is best known for her award-winning feature film, "From a Whisper," which is a realistic exploration of the aftermath of a bombing, and how the survivors of the situation found it difficult to integrate back into their lives. Kahiu also helmed the drama, "Rafiki," which chronicled a queer love story amid a conservative environment in Kenya.
Apart from Reinhart and Ramirez, "Look Both Ways" also stars Luke Wilson, David Corenswet, Aisha Dee, Andrea Savage, and Nia Long. Producers of the film include Bryan Unkeless, Eric Newman, and Jessica Malanaphy, while Reinhart, Alyssa Rodrigues, and Jeanette Volturno serve as executive producers.
Here's the official synopsis:
"Lili Reinhart stars as Natalie, a young woman whose life diverges into two different paths on the night of her college graduation. In one life, she becomes pregnant and must navigate motherhood as a young adult in her hometown and in the other she moves to LA to pursue her career. In both journeys, Natalie experiences life-changing love, pursues her dream career as an artist, and rediscovers herself."
"Look Both Ways" premieres on August 17, 2022 on Netflix.