Solange Knowles Was Supposed To Join Beyoncé In Austin Powers In Goldmember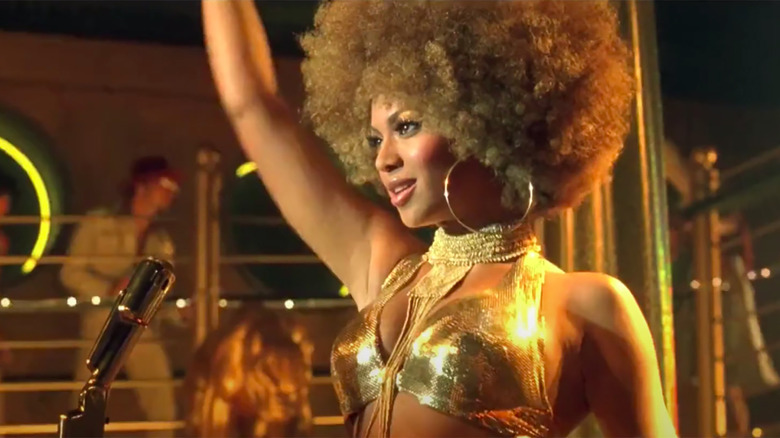 New Line Cinema
"Austin Powers in Goldmember" is packed with star-studded cameos, starting with the film's blockbuster opening sequence. The first couple of minutes of the spy spoof features an impressive display of action, so much that it feels a little out of sorts for Austin Powers and falls more in line with a "Mission: Impossible." But that's the point, because suddenly we realize that we're watching a cinematic adaptation of Austin's life, complete with Tom Cruise as the International Man of Mystery and Gwyneth Paltrow as his provocatively named female sidekick Dixie Normous. The scene continues with the now-disgraced Kevin Spacey appearing as Dr. Evil and Danny DeVito getting trigger-happy as the villain's tiny clone Mini-Me, all before we're treated to an even more surprising appearance by director Steven Spielberg as himself. 
The opening sequence is far from the last famous face to grace the screen for "Austin Powers in Goldmember." In fact, the movie got a boost from a musical artist who was already topping the charts and would go on to become one of the biggest stars in the world. Beyoncé made her big screen debut in "Goldmember" as Foxy Cleopatra, a Blaxploitation character inspired by the likes of Pam Grier and her character Foxy Brown. Though her performance left something to be desired, as she was still finding her footing as an actress, Beyoncé had no problem fulfilling the musical side of her character when the time came to perform in the titular villain's golden nightclub. However, the singer was supposed to be joined by her sister Solange Knowles, who was on the way to becoming a music star herself. 
'We were all laughing our heads off'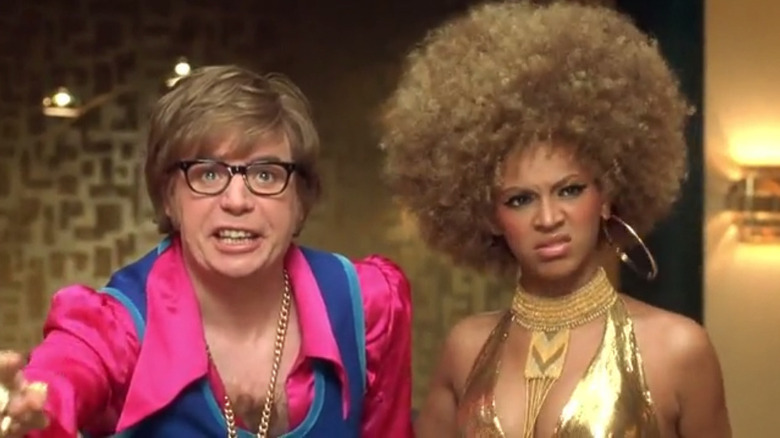 New Line Cinema
Beyoncé was only 19 years old when she signed up to star in "Austin Powers in Goldmember." Having already made a name for herself in Destiny's Child, she was eager to expand her career. As director Jay Roach told Vulture in a recent look back at Beyoncé's role in "Goldmember" back in 2002:
"We sat down with Beyoncé and her mom on the rooftop patio outside of Mike Myers's room at the Chateau Marmont and talked about the possibilities for the character. Her mom was very much into blaxploitation movies. She could tell that was the DNA for Foxxy. Her mom was so cool and so helpful and instantly had ideas for us."
One of those ideas was to make the movie somewhat of a familiar affair, by having then-rising star Solange Knowles act and sing as one of Foxy Cleopatra's back-up singers when the character is introduced inside Goldmember's club. In what was a mash-up of three KC and the Sunshine Band songs, Beyoncé and Solange recorded the vocals for "Hey Goldmember." Music supervisor John Houlihan recalled:
"In the recording studio, Beyoncé and Solange rolled in together, very low-key but enthusiastic. As we hoped, Beyoncé took control of her vocal tracking. She was a super-pro and had a great ear for perfecting her lead vocal and the backing tracks. Solange was up next for backups, and Beyoncé guided her to perfection. Mike Myers came to the session after his filming wrapped that day and we all laid down a disco clap track. We were all laughing our heads off."
The song is certainly an amusing bit, but the reason it's funny is exactly why Solange ended up not actually appearing on screen singing the song.
'He's got the Midas touch, but he touched it too much'
Most of the "Hey Goldmember" song is repeating variations of "gold," including "goldie, goldie, goldie, gold, gold, gold," and, "It's gold, it's gold, it's gold, it's gold, it's solid gold, baby." But one of the more clever lyrics says, "He's got the Midas touch, but he touched it too much." The line refers to King Midas, Greek and Roman legend who was once granted a wish by the god Dionysus. The king wished that everything he touched would turn to gold, but this created a problem when the food he needed to survive would turn to gold, making him nearly starve to death. In the song, it's said Goldmember had the Midas touch, but he touched "it" (his member) too much, hence the nickname referring to his golden tallywhacker.
The scene's choreographer, Marguerite Derricks, revealed to Vulture that Solange was supposed to take part in this scene, when she was 16 years old. But it was that Midas touch line that was a smidge too inappropriate to condone for a teen on screen:
"I put her sister, Solange, in it as Foxxy's backup singer. I remember Beyoncé and I giggling because she was young, and everything in Austin Powers is so suggestive. 'He's got the Midas touch, but he touched it too much' — that was a lyric that we were freaking out about for her sister."
Costume designer Deena Appel added, "What happened, the way I understood it, was when Tina heard the song and realized what that really meant, she felt it wasn't appropriate for Solange. I want to say the costume had already been built, so it was a mad scramble to find somebody to replace her."
You might be thinking to yourself that there's plenty of material in both film and television that is far too inappropriate for teenage stars to tackle, but there's also an extensive approval process from parents and executives alike to ensure that the material doesn't make the star uncomfortable or cross any lines. Plus, there was probably some consideration about any kind of backlash that might come from a 16-year-old girl suggestively singing about a golden willy in a blockbuster comedy franchise. But you can still hear Solange singing back-up vocals on "Hey Goldmember" for the film's soundtrack, so does it really make a difference?