Watch Beyonce's Stunning Oscar Performance Of Her Song From King Richard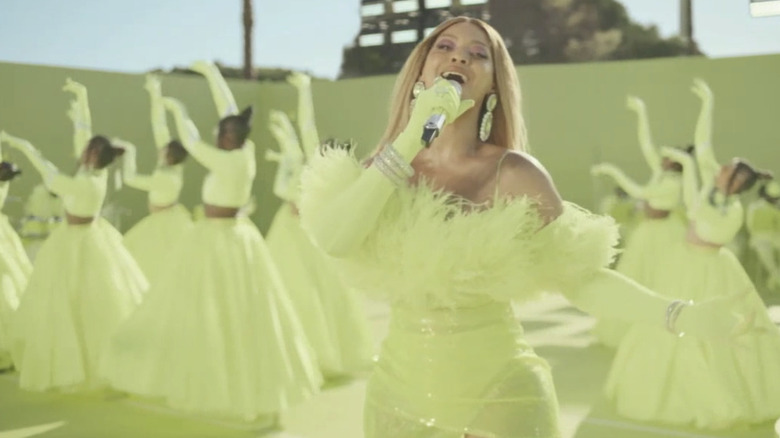 ABC
The Oscars have been talking for weeks about how this year's show was trying to appeal to a younger crowd by being "cool," including a collaboration with TikTok and inviting social media influencers for ...some reason. One thing they did get right, however, was having Venus and Serena Williams open the show by introducing Beyoncé Knowles-Carter for a performance of her Academy-Award nominated song "Be Alive" from the film "King Richard." Beyoncé, being the absolute queen of the universe, pulled out all the stops. Performed on the hometown court of the Williams Sisters, the musical moment was, as the sisters described it, unfolded "in the heart of beautiful Compton, where we truly came alive as professional athletes."
With a crew of dancers and musicians all clad in tennis-ball green on a tennis-ball green court, Beyoncé's performance was not just a love letter to the boundary-shattering legacies of Venus and Serena Williams, but a bold homage to the sport of tennis. The number opened with a crew of dancers strutting down a Compton street, passing by low-riders, one riding horseback, and heading to The Lueders Park courts, officially rebranded as the Venus and Serena Williams Court of Champions, for a dynamic performance, which also included a cameo from Beyoncé and Jay-Z's daughter Blue Ivy. Most touching, the dancers all donned the iconic braid and bead hair style worn by the sisters in their younger years.
Beyoncé's performance of "Be Alive" at the Oscars
"Be Alive" plays during the end credits of "King Richard," and it's representative of not just the challenges the Williams sisters faced while coming up in the tennis world, but the tenacity of the tennis champs, who are truly two of the greatest athletes of all time. Unfortunately, due to the tennis ball green dominating every inch of the performance, expect a ton of unfunny green screen memes to follow in the coming days. As we previously reported, Beyoncé own father, Matthew Knowles, is set to produce a "King Richard" style film about his own participation helping his own daughters reach musical heights. 
The Oscars performance was recorded earlier this week, and Beyoncé was in attendance at the live ceremony. This is her fourth performance at the Academy Awards, following her 2009 appearance with host Hugh Jackman to celebrate movie musicals, a 2007 appearance to perform a medley from "Dreamgirls" with Jennifer Hudson and Anika Noni Rose, and in 2005, when she performed three of the five Best Original Song nominees. Beyoncé hasn't performed on an awards show stage in five years, and her number tonight was a welcomed return from an all-time great.