American Graffiti Could Have Cost Harrison Ford His Star Wars Role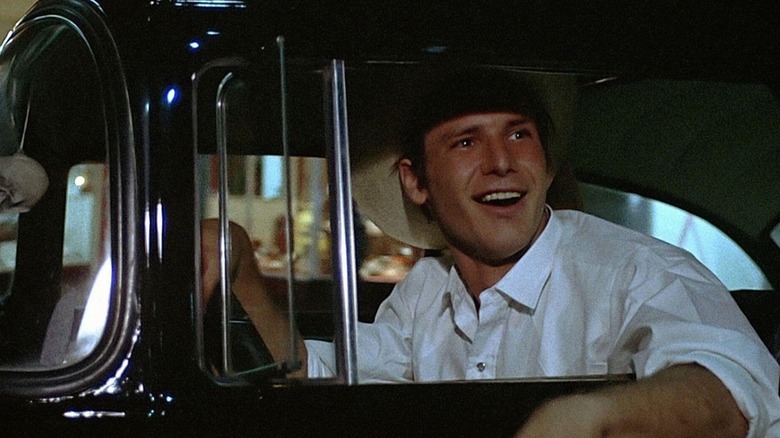 Universal Pictures
Whether he likes it or not, Harrison Ford will always be most remembered for his collaborations with George Lucas. Whether as a director on "Star Wars," or producer on the "Indiana Jones" trilogy, Lucas created the roles that made Ford into the movie star of the 1980s and '90s.
However, the first time they worked together wasn't on either of those blockbusters. Rather, it was on "American Grafitti," Lucas' second film, about car-loving teenagers in 1962 Northern California. The story was a semi-auto-biographical one for Lucas. Ford played a supporting part as Bob Falfa, a cowboy-hat-wearing street racer who challenges John Milner (Paul Le Mat) to a race. It'd be easy to guess that Lucas cast Ford as Han Solo because of their previous experience working together, but actually, it was quite the opposite.
Getting both parts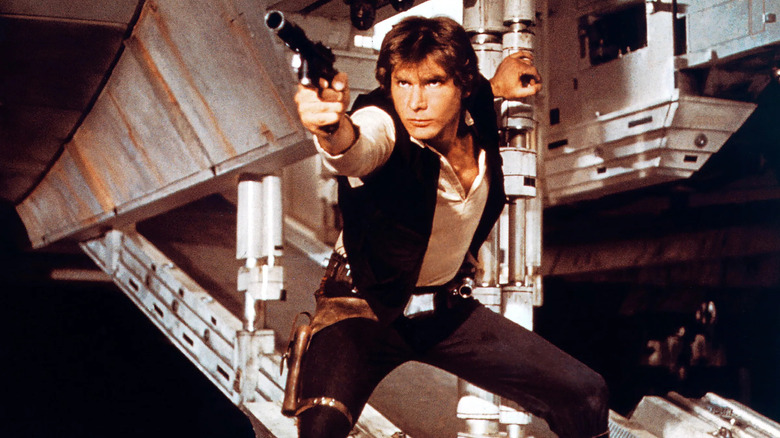 LucasFilm
In the early 1970s, Ford's acting career wasn't quite taking off the way he'd hoped. So, he became a carpenter to support himself and his family. For some, choosing a respectable career might be because they'd given up on acting. Not Ford, though. As he told the Los Angeles Daily News in 1986:
"Through carpentry, I fed my family and began to pick and choose from among the roles offered. I could afford to hold out until something better came along. But I never gave up my ambition to be an actor. I was frustrated but never felt defeated by my frustration."
Carpentry also provided him with some prime networking opportunities. His clients included Fred Roos, producer and casting director of "American Grafitti," and Francis Ford Coppola. These connections got Ford parts in "American Grafitti," "The Conversation," and ultimately, "Star Wars." As Ford told Vanity Fair in 2020, his "Star Wars" career began with a chance encounter while he was working in Coppola's office.
"George Lucas made it known that he was not interested in working with anybody that he'd worked with in 'American Graffiti,' that he was looking for new faces. I was working on an elaborate portico entrance to Francis Ford Coppola's offices, working as a carpenter, when George walked in with Richard Dreyfuss to begin the first of the interviews for 'Star Wars.' Somehow that rang a bell with George, and I became, eventually, Han Solo."
According to the documentary "Empire of Dreams," however, Lucas still initially only wanted Ford to help run lines for other actors during auditions. What made Lucas relent? Ford embodied the mix of "world-weariness and swagger" he wanted in Han better than any of the actors who auditioned.
Indy understudy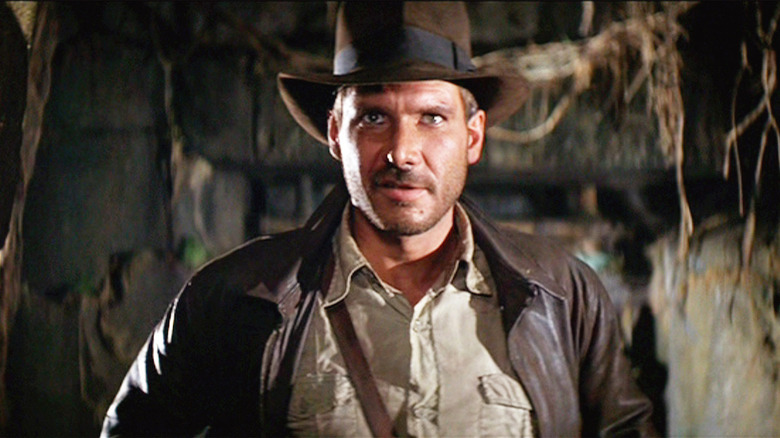 LucasFilm
Ford's casting as Indiana Jones was almost as serendipitous as how he got cast as Han Solo. For "Raiders of the Lost Ark," Lucas once again wanted a fresh face for his new project; as he told Empire in 2008, "I was wary of Harrison and I becoming like Scorsese and De Niro." Lucas and director Steven Spielberg's initial pick for the hero was Tom Selleck. Selleck did a screen test, but had to pass thanks to his commitment to "Magnum P.I."
Spielberg, who'd been impressed with Ford's work as Han Solo in "The Empire Strikes Back," suggested him as the replacement. Lucas still had his doubts, unconvinced that Ford would sign a three-movie deal; unlike "Star Wars," "Indiana Jones" was envisioned as a trilogy from the beginning. To Lucas' surprise, Ford agreed to take part in the sequels, and the rest is history. Why did Ford agree to three "Indy" films off the bat? He explained in the aforementioned Vanity Fair interview, "In the case of 'Indiana Jones,' I felt there was enough information to allow me to do a number of those."
Ford's eagerness (and protectiveness) towards Indy could not be more different from his feelings on Han Solo; he felt the character was past his expiration date by "Return of the Jedi" and wanted him to give the character new meaning in death. Ford belatedly got his wish in "The Force Awakens," and sure enough, Han's death does help give weight to that otherwise very safe movie.
Is there a lesson from Ford's career trajectory? Yes, and it's a simple one: small moments can lead to big opportunities.