The 20 Best Harrison Ford Movies, Ranked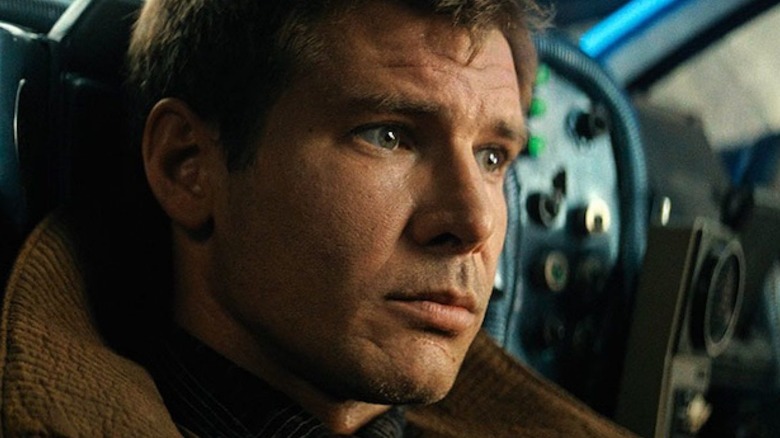 Warner Bros.
Few actors have played as many iconic roles as Harrison Ford. His return to Han Solo in "Star Wars: The Force Awakens" and Rick Deckard in "Blade Runner 2049" proved he could seamlessly slip back into his best characters, and expectations are high as he picks up the bullwhip once more for "Indiana Jones 5."
Outside of his flagship franchises, Ford has shown remarkable versatility throughout his career. Although he's known primarily as an action star, Ford is comfortable playing romantic leads and morally ambiguous anti-heroes, and is equally adept at playing dramatic or zany comic roles. He's a rare actor who is memorable even in bad movies; while projects like "Cowboys and Aliens" and "K-19: The Widowmaker" aren't among his best, he's easily the most compelling part of those films.
Narrowing down Ford's best movies is no easy task, although we're focusing on parts that have a major impact on their respective movies; Ford's brief appearance in "Apocalypse Now" or his deleted cameo in "E.T. The Extra Terrestrial" don't count. In addition, his most iconic franchises have been limited to one entry in order to diversify the selections. With that in mind, here are the 20 greatest Harrison Ford movies.
20. Ender's Game (2013)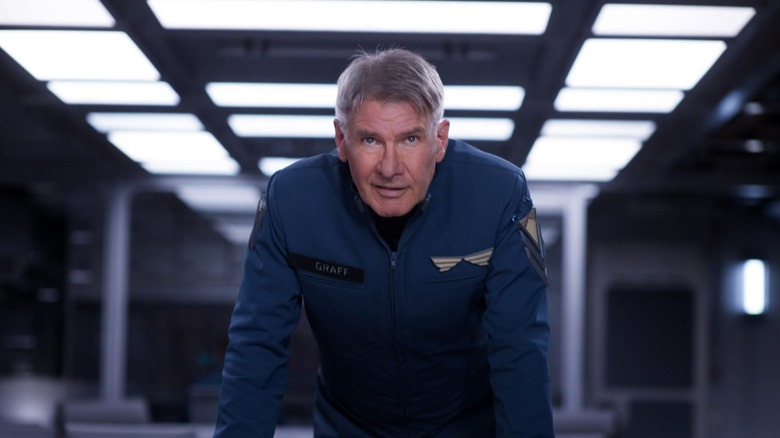 Lionsgate
Orson Scott Card's 1985 novel "Ender's Game" was an incredibly influential work of science fiction. Although the premise seems like the same type of young adult sci-fi saga that was popular in the wake of "The Hunger Games," it's actually a more serious, somewhat adult-oriented examination of the military-industrial complex. The story examines the trauma that young soldiers go through when they're forced to head into combat before they've finished growing, while the dystopian world that it takes place in serves as a chilling parallel to the Ronald Reagan administration. But that doesn't date the book; if anything, it feels even more politically relevant in the wake of recent events.
The 2013 film adaptation from director Gavin Hood does a great job at capturing this complex tone. The story centers on the gifted child Ender Wiggin (Asa Butterfield) as he's trained to defend Earth by the International Commanders. Earth is facing a potential counterattack from aliens, and the military leaders know that they need to teach the commanders of the next generation how to fight back. Colonel Hyrum Graff (Ford) takes an interest in Ender, suspecting that the sensitive boy may be the hero he is looking for.
Ford does a great job with the complex relationship that Graff has with Ender. Graff knows that Ender has struggled with bullying and lacks confidence, and seeks to give him the guidance that he needs to survive. However, he's also trying to teach him to be a ruthless warrior that will show no mercy to the aliens. He's both nurturing and the source of some tough love, a balance that, as you'd expect, Ford is ideally suited for.
19. Cowboys & Aliens (2011)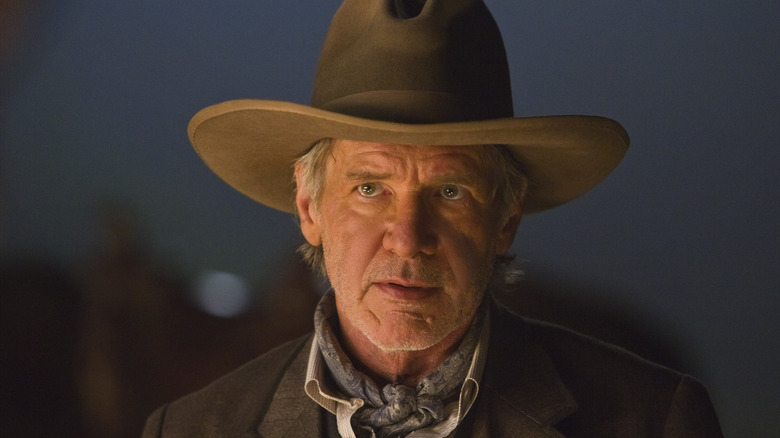 Universal Pictures
If you're going to make a movie called "Cowboys & Aliens," it's probably best to not take anything about it very seriously. Thankfully, that's not what director Jon Favreau had in mind, and the film is an absolute blast. It feels like a child playing with toys is mixing his favorite genres together, and it's nice to see a major Hollywood blockbuster that isn't trying to hide what it is. Favreau does a great job at combining science fiction with westerns, too. Although the sci-fi elements feel like an homage to the B-movies of the 1950s, Favreau also had to find stars who could capture the same charisma of great western icons like John Wayne and Clint Eastwood. So, who better than James Bond and Indiana Jones?
"Cowboys & Aliens" works because it isn't trying to be a "Deadpool"-style parody. If anything, Ford and Daniel Craig feel like this generation's answer to Paul Newman and Robert Redford. The relative seriousness that Ford and Craig bring to the outlandish material is what makes it so delightfully silly; casting more comically-inclined actors may have pushed things too far. In this case, playing things straight was the right call.
Based on the comic book of the same name by Scott Mitchell Rosenberg, Fred Van Lente, Andrew Foley, Dennis Calero, and Luciano Lima, "Cowboys & Aliens" follows an amnesiac drifter named Jake Lonergan (Craig), who wanders into a village overseen by Colonel Woodrow Dolarhyde (Ford) just before an alien invasion. There's almost nobody who captures the essence of a grizzled veteran better than Ford.
18. The Devil's Own (1997)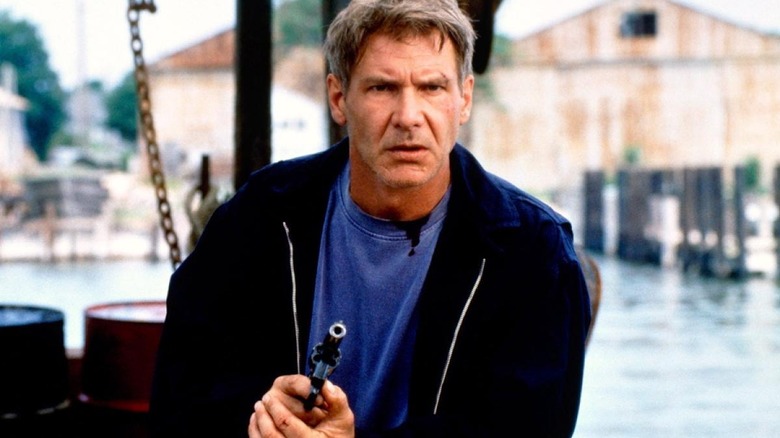 Columbia Pictures
"The Devil's Own" was an odd project for nearly everyone involved. The great Alan J. Pakula had been one of the foremost auteurs of the "New Hollywood" generation thanks to his disturbing, often frightening paranoia thrillers. Compared to his earlier projects, "The Devil's Own" is much more of a mainstream action film. It was an unusual project for Ford too; in the film, he has to play both a sensitive police officer and an awkward father, which aren't necessarily qualities that you associate with the actor. Finally, the film features one of the worst Irish accents in film history, courtesy of Brad Pitt.
Despite those quirks, "The Devil's Own" is actually pretty entertaining. The film follows the Irish radical Frankie McGuire (Pitt) as he goes undercover in New York City. In order to mask his political motivations, Frankie uses the alias of "Rory Devaney" and gets a part-time job. A sympathetic judge offers him the chance to stay with the Irish-American NYPD sergeant Tom O'Meara (Ford), his wife Sheila (Margaret Colin), and their three daughters on Staten Island.
Although the film gets into more action-centric territory in the third act, the majority of the story centers around the tension between Ford and Pitt. Tom takes pity on this younger man who is clearly struggling, but he's unable to let go of his suspicions that "Rory" is hiding something. Ford even gets the chance to add some comedy to the proceedings when Tom discusses his daughters' romances.
17. Regarding Henry (1991)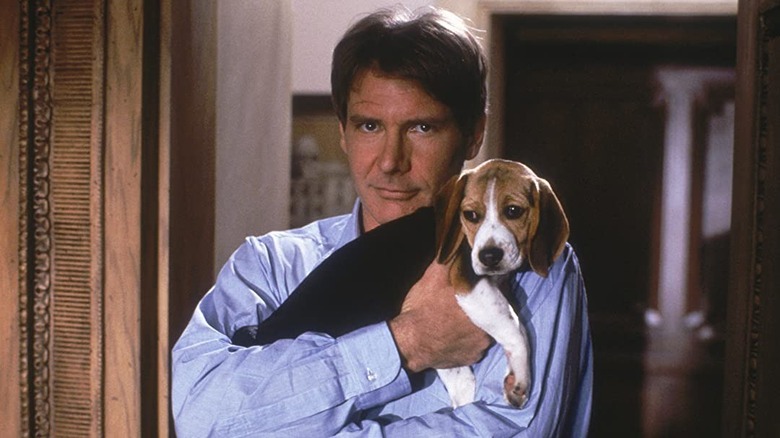 Paramount Pictures
"Regarding Henry" is emotionally manipulative, melodramatic, and utterly delightful. Yes, it's guilty of following a formula, but that doesn't mean that it won't also make you cry. The film came at an interesting moment in Ford's career. Throughout the '80s, Ford attempted to create some distance from the likes of Han Solo and Indiana Jones with dark dramas like "Witness," "Presumed Innocent," "Frantic," and "The Mosquito Coast." However, "Regarding Henry" is an almost saccharine film for audiences of all ages. Ford didn't turn off his dramatic sensibilities at all, though. In fact, he's one of the reasons why the film's earnest approach is so effective.
"Regarding Henry" follows the aggressive, selfish lawyer Henry Turner (Ford) in the aftermath of a successful malpractice case. Although Henry is accused of violating ethical guidelines, he doesn't seem to care. Things change, however, when Henry is shot in a robbery and begins suffering from retrograde amnesia. This puts his wife, Sarah (Annette Bening), in an awkward position. She had been having issues with her husband before his injury, but now he remembers very little about his earlier life, giving them a chance to start fresh. It's very powerful to see this couple rebuild their relationship from the ground up. Ford shows how Henry slowly comes to understand that he needs to both learn and change; this situation may be unfortunate, but it gives him a chance to reconnect with his family. Ford isn't often thought of as a comedic actor, but he's genuinely funny here, showing off an impressive knack for physical comedy.
16. What Lies Beneath (2000)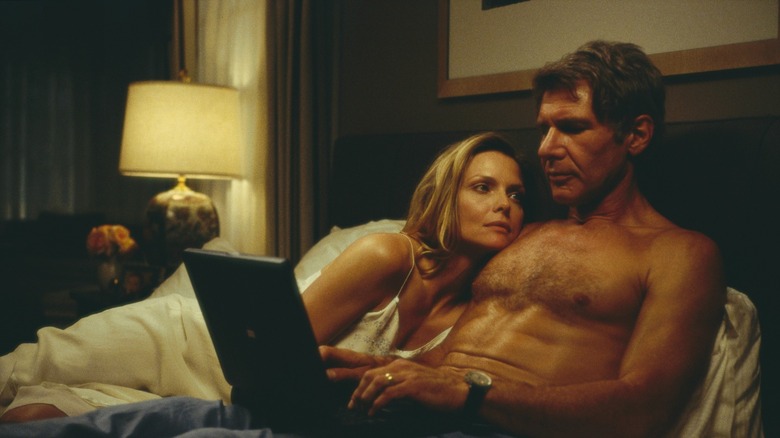 Lionsgate
Ford doesn't often get the chance to appear in horror films, so it's fun that Robert Zemeckis' "What Lies Beneath" allowed him to dip his toe into supernatural territory. Naturally, casting an actor with Ford's restraint was to Zemeckis' advantage. "What Lies Beneath" features some pretty ridiculous concepts, and the audience may have had a hard time buying in if they had been treated as camp. However, Ford brings a gravity to his performance that makes these ghostly occurrences seem more realistic.
"What Lies Beneath" follows Dr. Norman Spencer (Ford) and his wife, Claire (Michelle Pfeiffer), during a tough phase in their marriage. After Claire's daughter, Caitlin (Katharine Towne), leaves for college, Claire begins to harbor suspicions that her husband has malicious intentions. Zemeckis plays an exciting game with the viewer as he tests their relationship with both actors. It's hard to believe that Pfeiffer is completely wrong, but at the same time, Ford doesn't seem overly suspicious. Ford does a great job at masking his motivations until the film's riveting third act.
In the later stage of his career, Ford transitioned into a mostly supporting player, and "What Lies Beneath" was among the last films he appeared in where he was one of the leads. It's the type of high-concept genre film with exciting stars and an acclaimed filmmaker at the helm that Hollywood doesn't seem to make anymore. Although "What Lies Beneath" received only modest attention upon its initial release, fans of both Zemeckis and Ford should give it a second chance.
15. 42 (2013)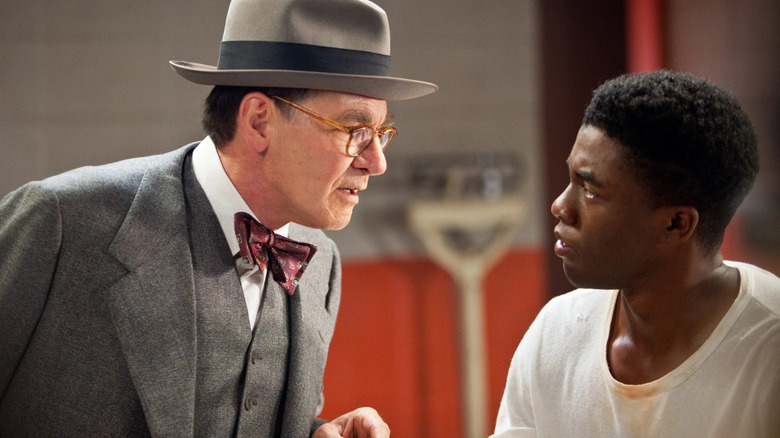 Warner Brothers
Ford has appeared alongside many of the greatest actors of their respective generations, including Chadwick Boseman. Upon Boseman's death in 2020, Ford reflected in The Hollywood Reporter that the actor was "as much a hero as any he played." Ford is rarely someone who offers faint praise, but on this occasion he commented that Boseman's "intelligence, personal dignity, and deep commitment inspired his colleagues and elevated the stories he told." It's tragic that the two great actors never got the chance to appear alongside one another more often, but the single film that they did make together was truly something special.
"42" is based on one of the most incredible true stories in American sports history. Ford co-starred in it as Branch Rickey, the maverick Brooklyn Dodgers general manager who decided to change the game of baseball forever by recruiting a Black player for his team. Jackie Robinson (Boseman) had skills that were unmatched, and Rickey knew that the real challenge he would face would be the systematic racism in the industry, a conflict excellently dramatized by the film. Ford is perfectly cast as a crotchety older man who refuses to put up with idiots. If you ever wanted to hear Ford scream at racists, this is the movie for you.
"42" is an unabashed crowd-pleaser, and as such it skim over some of the uglier aspects of Robinson's story in order to create rewarding dramatic moments. However, Ford and Boseman are the type of actors who can make the most out of melodramatic dialogue. The moments where Rickey has to calm Robinson down as he's heckled are where Ford really shines.
14. Force 10 From Navarone (1978)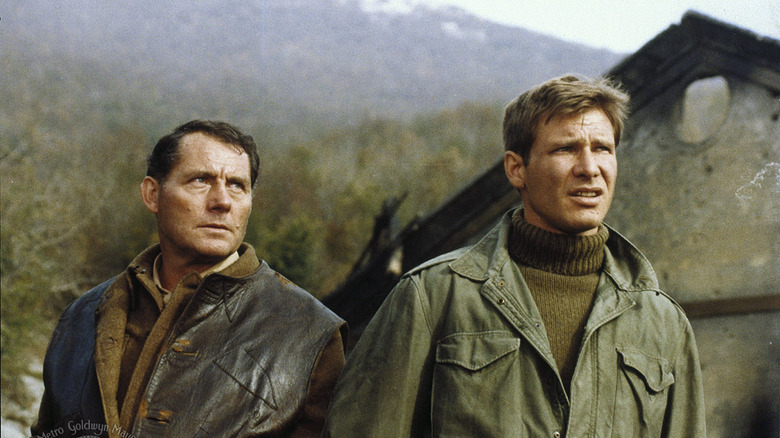 Columbia Pictures
Shortly after "Star Wars" made him one of the world's most recognizable stars, Ford appeared in the sequel to the 1961 classic "The Guns of Navarone." A throwback to old-fashioned serial adventures, the film follows a ragtag group of military commandos trapped behind enemy lines during World War II. The operation is led by British Intelligence Major Keith Mallory (Robert Shaw), and Ford joins the team as the American Lt. Col. Mike Barnsby.
The group is in frequent danger, but director Guy Hamilton keeps things light with comedic banter between the men. As one of the few Americans in the group, Barnsby is often called out for his non-traditional strategies. Ford provides some blunt humor as he grows frustrated with the precision of the British soldiers, and seeing the trust grow between Barnsby and his colleagues adds emotional stakes to the climactic final action sequence. Ford's physicality makes the military combat sequences realistic despite the breezy tone.
Given that George Lucas was inspired by the same World War II serials that influenced "Force 10 From Navarone," fans of "Star Wars" and "Indiana Jones" will want to check out this underrated film.
13. Frantic (1988)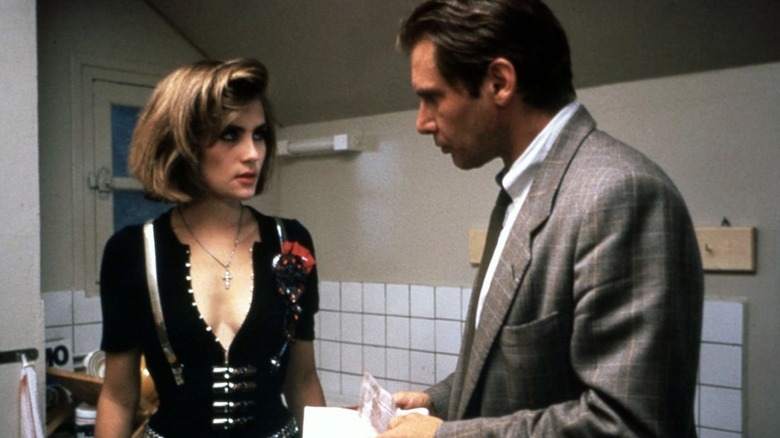 Warner Brothers
Despite his fame, Ford is at his most convincing when playing ordinary characters caught in extraordinary situations. In "Frantic," his character, Dr. Richard Walker, is an expert surgeon who knows nothing about the world of crime, and is roped into a conspiracy when his wife Michelle (Emmanuelle Seigner) suddenly disappears during a Paris vacation.
Ford feels completely authentic as a fish-out-of-water; the language barrier fuels his frustration when the local authorities find no clues that can help them solve the kidnapping. Walker deals with potential suspects and vile criminals awkwardly, with Ford showing none of Han Solo's confidence. Still, he's believably smart, and the way that Walker employs his analytical mind, honed by years of surgical practice, makes him an engaging protagonist.
"Frantic" builds its suspense with an anxiety-inducing score by Ennio Morricone and brief moments of shocking violence, but the relentless paranoia doesn't detract from Walker's heartbreak. While inspired by classic film noir and Hitchcock thrillers, "Frantic" is a thoroughly modern thriller bolstered by Ford's nuanced work.
12. Working Girl (1988)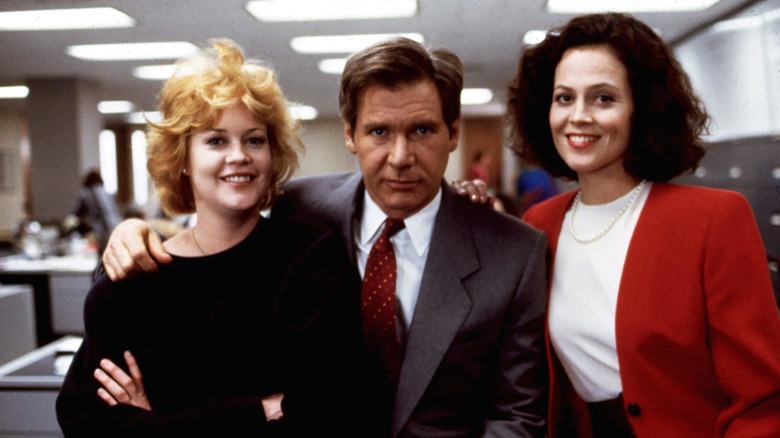 20th Century Pictures
Ford shed his action star persona, but not his charisma, for one of the best rom-coms of the '80s. Mike Nichols's "Working Girl" follows overachieving secretary Tess McGill (Melanie Griffith) as she attempts to launch a business merger, only to have her credit denied by shrewd employer Katharine Parker (Sigourney Weaver). Ford's character, Jack Trainer, is initially skeptical of Tess's claims, but after hearing her side of the story decides to help her hatch a plan to achieve justice.
Trainer's initial cynicism develops into curiosity as he grows excited by Tess's idea, and as the two work together romance blossoms. Ford uses the contrast between Trainer's professional expertise and personal awkwardness to comedic effect; while Trainer can easily rattle off complex business terminology, he's unable to find the right words to admit his feelings to Tess. He's equally matched by Griffith; the two do a great job comedically passing off their shared attraction as a purely occupational arrangement.
"Working Girl" doesn't negate the challenges women face in a male-oriented business, either, and leaves some story threads dangling at the end. The soft kindness that Ford brings to Trainer feels more impactful as a result.
11. The Mosquito Coast (1986)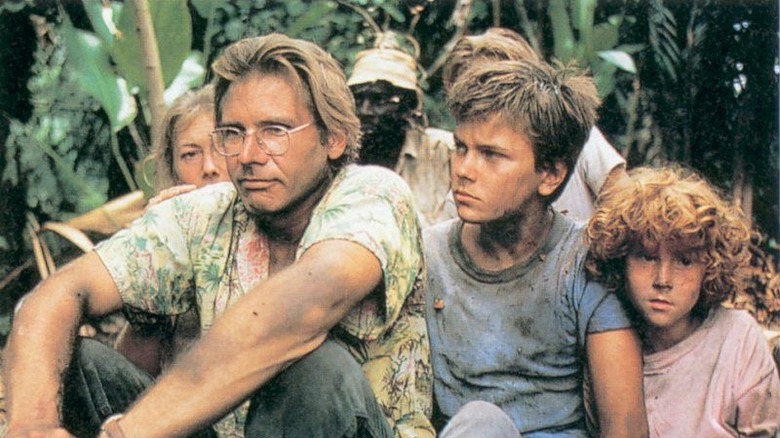 Warner Brothers
"The Mosquito Coast" was a novelty for Ford, tasking him with playing a character who is completely unlikeable. Ford transformed into Allie Fox, a radical anti-consumerist so convinced of his own genius that he takes wild chances to test out his inventions. Not only is Fox an irritating narcissist, but he also threatens his family's safety when he hastily drags his wife Margot (Helen Mirren) and sons Charlie (River Phoenix) and Jerry (Jadrien Steele) to Central America to launch his next business venture.
The American family has no concept of how to survive in the jungle, and they can't ensure basic safety because Fox refuses to ask for help. Fox becomes maddening due to his erratic behavior, his sneering aggressiveness devolving into paranoia as he refuses to accept their impending doom. Fox goes from being dogmatic to terrifying as his delusions grow, and Ford turns the pathetic man into a true villain.
Ford develops fantastic chemistry with River Phoenix, who would go on to play young Indy in the opening sequence of "Indiana Jones and the Last Crusade," and his pitch-perfect portrayal of a reprehensible character gives Phoenix's character room to develop into a mature adolescent, creating a fascinating father-son dynamic that drives the story.
10. Clear and Present Danger (1994)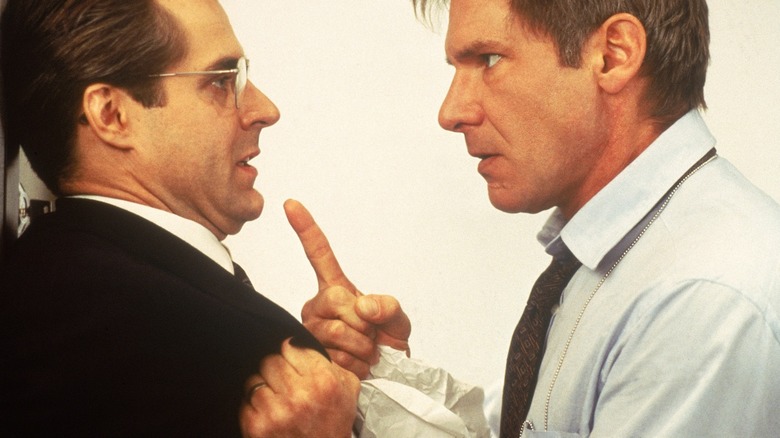 Paramount Pictures
While the first Jack Ryan film, "The Hunt for Red October," is a classic, the franchise took a hit when Ford took over the role from Alec Baldwin in "Patriot Games." The second Ryan film lacked the intelligence that elevated its predecessor. Thankfully, Ford got another shot with "Clear and Present Danger," which challenges Ryan's patriotism after he discovers that the U.S. government is covertly involved in the Columbian drug war.
Ford explores Ryan's idealism as he realizes that those leading the government don't share his dedication to doing the right thing. Unlike Baldwin, who depicted Ryan as a novice, Ford plays Tom Clancy's best-known character as an experienced CIA agent, one who is worldly enough to know the price of federal irresponsibility. Although they spend many scenes on opposite sides of a phone, Ford develops an interesting relationship between Ryan and Willem Dafoe's John Clark as they work together to crack the conspiracy. The final scene, in which Ryan interrogates the President, allows Ford to expel the anger that's built up as Ryan witnesses the violence overseas.
"Clear and Present Danger" achieves the mix of clever problem solving and riveting action that has made Tom Clancy's novels so beloved, and Ford perfectly embodies the veteran intelligence officer. The grounded approach of "Clear and Present Danger" makes Harrison Ford the definitive Jack Ryan.
9. Air Force One (1997)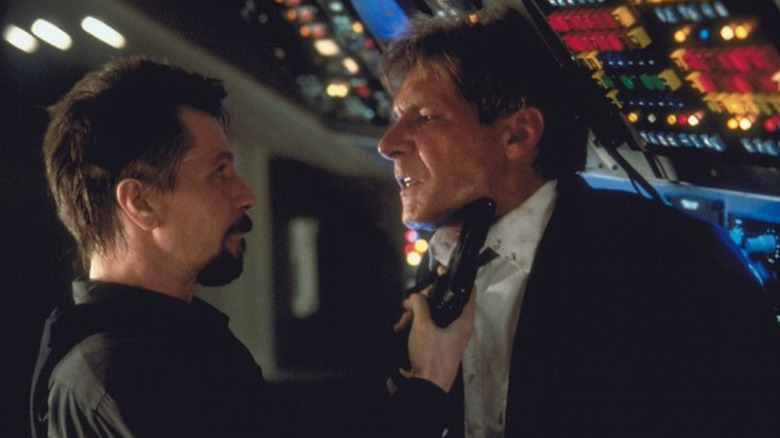 Sony Pictures
Of all the '90s action films that reimagined the premise of "Die Hard" in different locations, "Air Force One" is among the best. When the titular plane is hijacked by a radical terrorist (Gary Oldman), US President James Marshall is forced to fend them off. Marshall may be among the most powerful men in the world, but in this situation he's alone in his mission to bring the passengers, including his family, to safety.
It's established that Marshall has a military background, so Ford's fight against the hijackers doesn't stretch believability. Despite his combat prowess, Marshall is still outmatched, forced to rely on creative traps to dispatch his enemies. He hasn't seen action in many years, and Ford uses Marshall's weariness to make him more vulnerable. "Get off my plane!" is still among the greatest action movie one-liners of all-time.
Ford tackled the challenge of making the President of the United States an engaging, relatable character, and succeeded by showing how Marshall takes personal responsibility for the lives under his command. "Air Force One" utilizes its intimate location to create a thrilling mix of action and suspense, and Ford is a worthy descendant to Bruce Willis' John McClane.
8. Presumed Innocent (1990)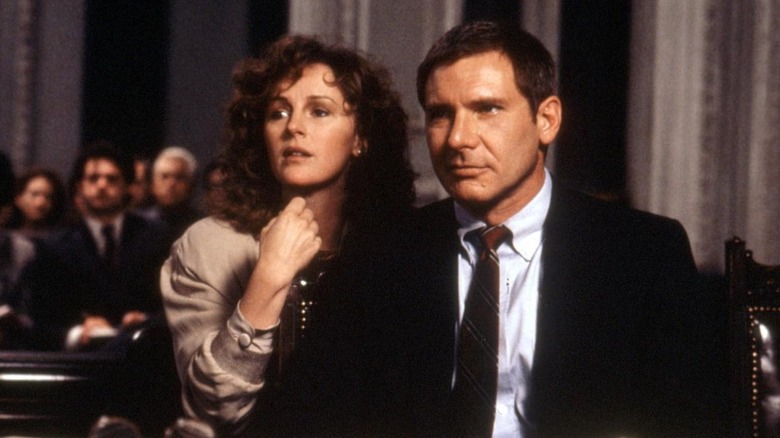 Warner Brothers
"Presumed Innocent" features one of Ford's most complex roles. In the film, he plays a criminal prosecutor named Rusty Sabich, a leading attorney accused of murdering his mistress, Carolyn (Greta Scacchi). Circumstantial evidence indicates that Rusty is guilty, and rival lawyers pounce on his vulnerability, although the extent of Rusty's involvement with the crime isn't fully revealed until the jaw-dropping final scene.
Director Alan J. Pakula reveals details about Rusty gradually; the affair between Rusty and Carolyn is only one secret of many that Rusty's wife Barbra (Bonnie Bedelia) isn't privy to. For his part, Ford's brilliant performance ensures that viewer doesn't know if Rusty is guilty or innocent. Rusty isn't inherently threatening, and flashbacks reveal his genuine affection for Carolyn, but he's so well-versed in the legal process that he could feasibly conceive of a murder that would fool his experienced colleagues.
However, while Rusty knows enough courtroom conduct to appear unflustered when faced with inflammatory questions, his insecurity grows as his allies abandon him. The intimate character work from Ford and the rest of the cast elevates "Presumed Innocent" above more simple courtroom dramas.
7. The Conversation (1974)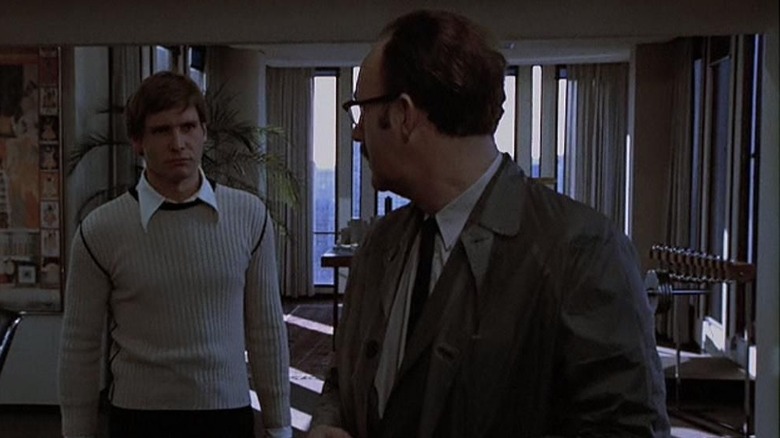 Paramount Pictures
While often the lead, Ford is also memorable in films in which he only briefly appears. As sinister federal clerk Martin Stett in "The Conversation," Ford has little screen time, but he's essential in heightening the suspense. Stett is a forceful presence who informs Harry Caul (Gene Hackman) that silence is critical, and without outwardly threatening him makes it clear that becoming a whistleblower will have deadly consequences.
Ford rarely plays villains, but his imposing demeanor provides a perfect counterbalance to Hackman's timid performance. What's scary about Stett is that he doesn't have a clear motivation; he's just a detail-oriented government servant who's used to making demands like these. "The Conversation" suggests that conspiracies are frequently hidden in plain sight. For Stett, covering them up is just part of the job, and Ford's normalcy is both realistic and unnerving.
The iconic closing scene of the 1974 masterpiece wouldn't be nearly as impactful without Stett, either; as Caul finds his home pillaged, it's Ford's sinister voice that tells him he's being watched. While "The Conversation" is regarded as a cinematic masterpiece, Ford's contributions to it remain underrated.
6. American Graffiti (1973)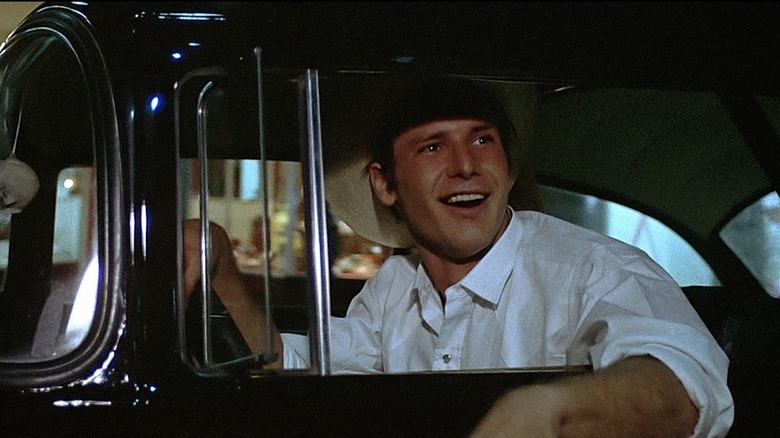 Universal Pictures
"American Graffiti" is a time capsule, not only as a sample of '70s independent filmmaking and a representation of '60s teen culture, but as a very different stage in the careers of both writer-director George Lucas and Harrison Ford. Before "Star Wars" dominated both of their careers, Lucas showed that he could craft realistic characters, drawing on an adolescence spent cruising in cars and blasting rock and roll to write this coming-of-age film. Ford wasn't a household name yet, and didn't expect to become a movie star, so his eccentric comedic performance in the film serves as a stark contrast to where his career eventually headed.
In "American Graffiti," which follows a group of close friends on their last night together, Ford pops up as loudmouth hooligan Bob Falfa. Falfa challenges John (Paul Le Mat) to a race, drunkenly lambasting him with increasingly ridiculous insults. Falfa's weirdness gets under John's skin, and John decides that a decisive defeat is the only way to shut the guy up.
While comically written, Falfa does become more threatening as he stalks John throughout the night. His threats to John's twelve-year-old passenger, Carol (Mackenize Phillips), are menacing, and they're essential to show how John becomes empathetic despite his hotheaded nature. Avid Ford fans will definitely want to check out Lucas' extended cut, which includes Falfa's a cappella rendition of "Some Enchanted Evening."
5. Witness (1985)
Paramount Pictures
Ford's lone Oscar nomination was for the poignant neo-noir thriller "Witness." As Detective John Book, Ford is tasked with investigating a secluded Amish community after he identifies an eight-year-old boy as the sole witness to a grisly murder. The urban cop is used to combating vicious criminals, but he's a fish out of water in a community that doesn't trust outsiders. Book cuts himself off from the police department in order to gain the respect of the locals, leaving him vulnerable to the sinister forces aiming to silence the child.
Ford balances sensitivity with brutality in his performance. Although he must rein in his intensity in order to communicate with the kid, Book gradually grows protective, as well as romantically interested in the boy's mother Rachel (Kelly McGinnis). His dismissive attitude towards the Amish falls away as he begins to empathize with their desire for isolation in the middle of a violent world.
However, a brutal showdown with the murderers shocks the nonviolent Amish, and seeing Book grow into his role as their protector makes for an interesting character study. Ford's humanity elevates "Witness," giving it a delicate emotional resonance that other procedural thrillers lack.
4. The Fugitive (1993)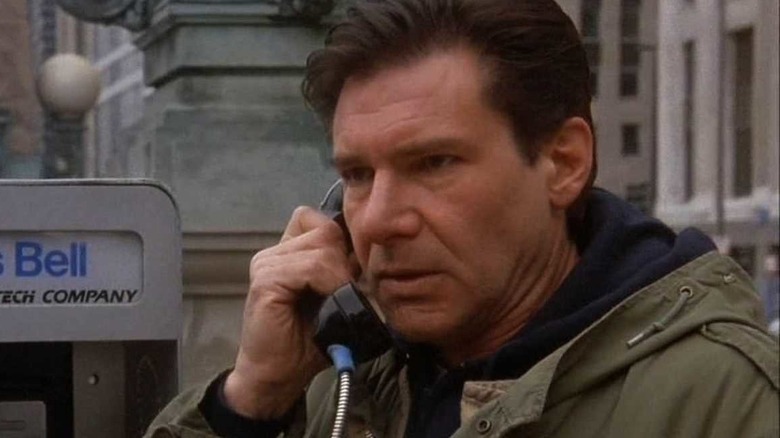 Warner Brothers
In 1993, Ford stepped into the role of legendary "The Fugitive" protagonist Dr. Richard Kimble and made the classic television character his own. The original series, which debuted in 1963, was a landmark drama known for its extended storylines. Ford's adaptation condenses the whodunit mystery into a relentless cat-and-mouse thriller.
Tommy Lee Jones may have won an Oscar for his surprisingly sympathetic depiction of Deputy U.S. Marshal Sam Gerard, but it was Ford who made the doctor wrongfully accused of murdering his wife a relatable action star. Ford never loses the vulnerability he shows when Kimble discovers his wife's body, and his subsequent imprisonment is tough to watch. Kimble retains his shell-shocked state throughout the film, making his daring attempts at avoiding authorities more exciting.
Ford finds Kimble's inner strength over the course of his search for the culprit, and he dramatically handles the shift from heartbreak to anger when Kimble realizes that one of his own friends is to blame. The meticulous pacing makes Kimble's escape from the prison truck and his iconic jump into the waterfall stand out. It's a great performance; all of these years later, it still feels like Ford was snubbed when he wasn't nominated for an Academy Award.
3. Blade Runner (1982)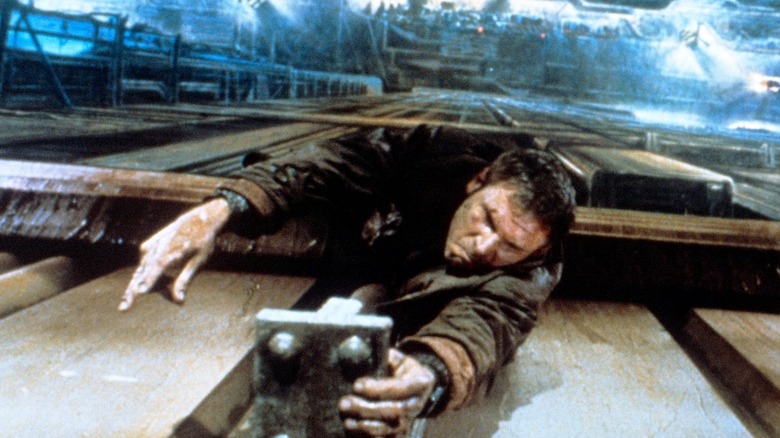 Warner Brothers
Despite disappointing at the box office, "Blade Runner" has fascinated movie fans for decades thanks to its compelling discussion of what it means to be human. Debate still rages about whether or not Ford's character Rick Deckard, a hard-boiled detective tasked with terminating rouge replicants, is artificial himself. Ford's nuanced performance suggests either option is a possibility, although the movie's open-ended conclusion doesn't overshadow his character development.
The beauty of "Blade Runner" is the irony of seeing Deckard's appreciation of life develop through his love of an android Rachael (Sean Young). Their tender romance infuses the gloomy dystopian Los Angeles with fleeting moments of intimacy, reimagining the neo-noir genre with a sci-fi detective and AI-powered femme fatale.
While the brilliance of "Blade Runner" makes it feel untouchable, "Blade Runner 2049" was a surprising sequel that expanded the world of the original while respecting its ambiguous ending. Returning as Deckard, Ford played a man forced to abandon his one true love with heartbreaking authenticity. The sequel's final moments are tear-jerking thanks to a wordless, powerful performance from Ford.
2. Raiders of the Lost Ark (1981)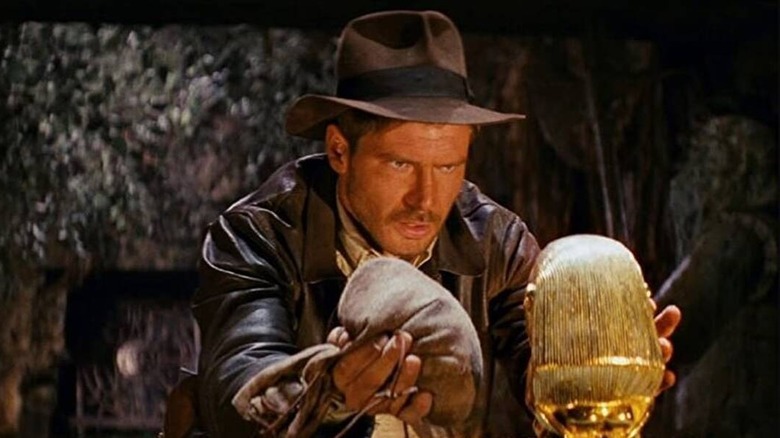 Lucasfilm Limited
There are few character introductions as iconic as Indiana Jones' iconic first dash through that booby-trapped Peruvian temple. Dr. Henry Jones exemplifies the very best of Ford's abilities: He's a vulnerable hero whose nobility limits his fame. Indy never was just an ass-kicking action star. He's a brilliant professor with an anti-authority streak who outsmarts his opponents just as often as he beats them up.
Ford's mix of gravitas and humor is integral to making Indiana Jones the star he is. While Ford can pull off physical gags, such as Indy's quick kill of the haughty swordsman, he's also more than capable of tackling the more serious romantic moments with Marion Ravenwood (Karen Allen). His physicality seems believable, too, even when he's brawling with a muscle-bound mechanic outside of an airplane or being dragged through the dirt by a truck. Indy frequently gets his butt kicked; unlike other action heroes, he always seems like a real, regular person.
Ford is just as good in the rest of the series. Although Spielberg was dissatisfied with "Temple of Doom," Ford played up Indy's darker side, and the brilliant "The Last Crusade" gave him an excellent onscreen dad in Sean Connery. Ford even managed to maintain his dignity in the disappointing "Kingdom of the Crystal Skull," and expectations are high for the upcoming fifth installment from director James Mangold.
1. Star Wars (1977-2015)
Lucasfilm Limited
While an obvious choice for the top spot, there's a reason why Han Solo is one of the most beloved "Star Wars" characters of all time. In a film with rich mythology, the cynical perspective of a character who laughs at the idea of the Force and Luke Skywalker's heroic ideals is important. Ford brought wise-cracking humor to the series, and his weary ruthlessness was the perfect foil to Mark Hamill's wide-eyed innocence.
Han's final conversations with Luke are touching and prove that the scruffy antihero has a heart, and there aren't many moments in the "Star Wars" franchise quite as exciting as Han's return in the final space battle above the Death Star. Ford showed how much of Han's arrogant attitude was a persona disguising an inherently heroic character.
Ford's contributions to "Star Wars" grew as the series developed. The "I know" line became one of the most iconic moments of "The Empire Strikes Back," and Ford explored more of Han's comedic side in "Return of the Jedi." His return to the series in "The Force Awakens" only solidified how deeply this character resonates with different generations of fans.