Will Deckard Be Confirmed As A Replicant In 'Blade Runner 2049'?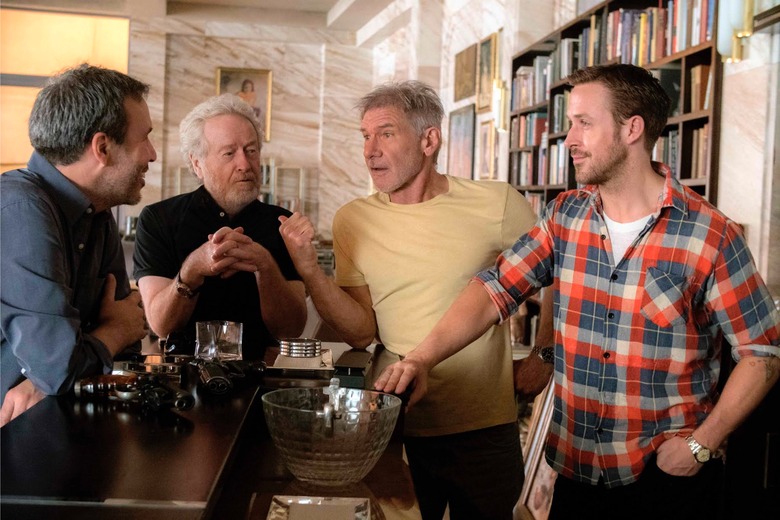 Is Rick Deckard, the assassin played by Harrison Ford in Ridley Scott's Blade Runner, one of the very androids he sets out to destroy? This is a question at the core of the 1982 science fiction classic. And now that director Denis Villeneuve is making a sequel starring Harrison Ford and Ryan Gosling, many fans are wondering if Blade Runner 2049 will spoil the Deckard-Replicant mystery. Hit the jump to find out what Villeneuve said about the Blade Runner 2049 replicant mystery.
Don't worry, the filmmaker behind the new movie says that the story will not expose Deckard as a replicant or human being. Denis Villeneuve made the statement in an interview with the French film site Allocine, explaining that it was crucial to him not to break the tension of the mystery that lingers from the original movie.
You can watch the interview clip above, although I must warn you it is in the French language.Original Blade Runner director Ridley Scott has said in the past that he believes that Deckard was a replicant all along, but many fans (including star Harrison Ford) would rather Deckard be human or rather not know the answer at all.
That's not to say that Villeneuve won't add some fuel to the fire and make you speculate further about Deckard's true self. The Playlist notes that the Nexus 6 replicants have a four-year lifespan, which probably means that the character is a human due to the timeline inherent in the film's title. The original 1982 film Blade Runner was set in the year 2019 and the sequel will take place exactly 30 years later. Villeneuve, however, says "not necessarily." It's possible that Deckard was part of the next generation of replicants or somehow found a way to defy that shelf life. Either way, the question won't be clearly answered in the new film, which is a relief.
Denis Villeneuve has said that this sequel is "not possible to live up to the original" acknowledging that Ridley Scott's film is "a masterpiece." Blade Runner 2049 is being directed by Denis Villeneuve (Sicario, Prisoners), written by Hampton Fancher and Michael Green based on a story by Fancher and David Peoples, and succeeds the initial story by Fancher and David Peoples based on Philip K. Dick's novel Do Androids Dream of Electric Sheep. Story details are not being revealed. The film is set "several decades after the 1982 original, with Harrison Ford reprising his iconic role as Rick Deckard." Harrison Ford and Ryan Gosling star, alongside Jared Leto, Robin Wright, Ana de Armas, Sylvia Hoeks, Carla Juri, Mackenzie Davis, Barkhad Abdi, Dave Bautista, Lennie James David Dastmalchian and Hiam Abbass. Story details are under tight wraps. The film will be scored by Sicario composer Jóhann Jóhannsson.
Blade Runner 2049 will hit theaters on October 6th, 2017.