Why A Rutherford Falls Halloween Episode Is So Special To Ed Helms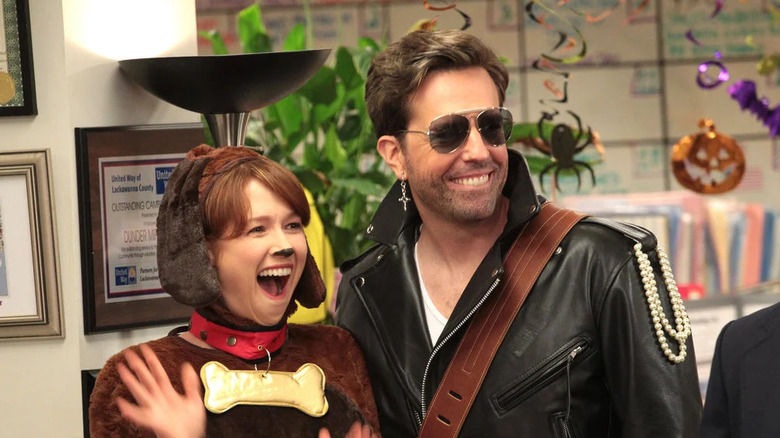 NBC Universal
Halloween episodes are something special for TV audiences. Some series, like "The Simpsons," take the opportunity to don darker clothing in their October "Treehouse of Horror" episodes, ramping up the mischief-making. Others, like Netflix's nostalgia goldmine "Stranger Things," bring a lighthearted blend of hilarity, horror, and maybe a little bit of nostalgia-mining. Among them all, absurdity blooms from the natural peculiarities of each character, and few shows have done it like "The Office" did. Former "Daily Show with Jon Stewart" correspondent Ed Helms, who played Dunder Mifflin paper salesman Andy Bernard on the stateside iteration of "The Office" (a show first originating in Britain), carried a love for the holidays over to his latest show.
Now entering its second season on Peacock, "Rutherford Falls" concerns a tested friendship as town founder descendant Nathan Rutherford (Helms) collides with his friend Reagan Wells (Jana Schmieding) an advocate of the Minishonka nation. The culture clashes continue in the sixth episode of the new season, where the writers incorporate a plotline surrounding All Hallows Eve. Helms spoke about it with Collider, saying: 
"It's such a point of relatability for everyone. Back on 'The Office,' I loved our Christmas episodes, our Halloween episodes, and Thanksgiving. They're just so fun, and we just wanted to tap into that, for this season of 'Rutherford Falls.' Halloween is particularly special because it gives everybody an opportunity to express themselves in a new and different way through these costumes. It also lets them step outside of themselves a little bit and just look totally ridiculous and silly."
Built-in laughs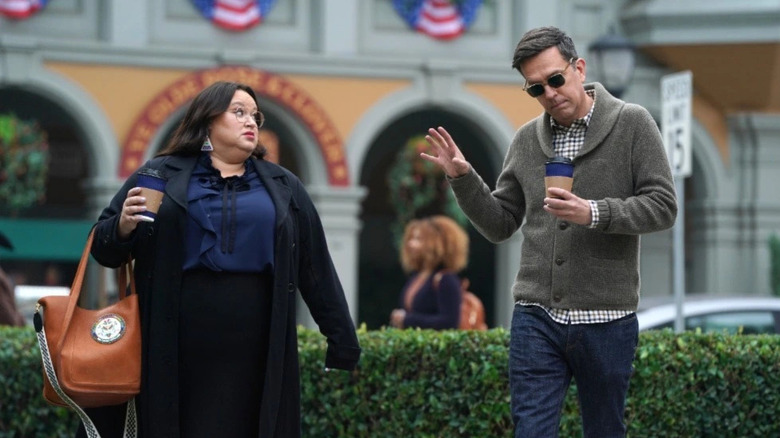 NBC Universal
It's clear what Helms sees in the holiday specials. The Halloween episodes of "The Office" showcased a cadre of types seen at a workplace costume party: the person half-assing their costume with a smug label (Oscar Nunez's straitlaced Oscar once threw on a sweater vest and called himself "the rational consumer"), those who go all-out as Stanley (Leslie David Baker) does in full samurai regalia, and those with little to no shame like Michael Scott (Steve Carell), who thinks he is the only person who can pull off a wildly inappropriate gag (Reader, he traumatized schoolchildren). 
Perhaps the series' greatest use of the Halloween episode, however, was Creed Bratton's lowkey self-implication as a serial killer who just happens to pick the best day of the year to wear blood-spattered clothing to work. As Andy Bernard, Helms wore costumes culled from Michael Jackson's "Thriller" music video, "Cats," and the bloodsucking adaptive HBO series "True Blood." Bernard is, in other words, a robust celebrant of Samhain. The enthusiasm continues in "Rutherford Falls," albeit with a more basic costume to match his fuddy-duddy liberal role. That's part of the fun; each and every character's idiosyncrasies emerge through how they present themselves, and the laughs are practically guaranteed. "A Halloween episode is inherently funny," Helms said. "The visuals are just funnier. You're starting from that place, and in particular, Nathan's storyline actually has a lot of pathos, but it's really funny because he's dressed up like a giant corn on the cob."
The marriage of pathos and absurdity is a time-honored staple of comedy, whether it's served by Carol Burnett, Garrett Morris, or Tim Robinson. Nothing leavens a devastating moment like an adult in a giant foam food costume. "Rutherford Falls" is on the right track.