'Stranger Things' Season 2 Clip: It's Halloween In Hawkins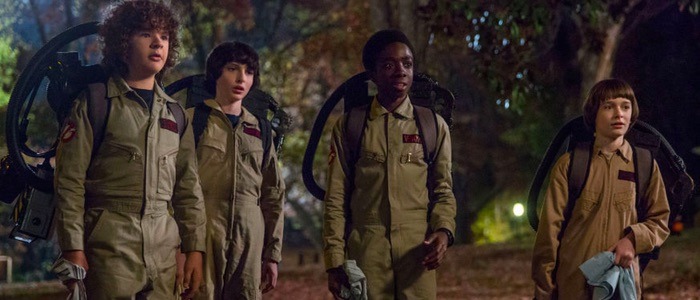 Stranger Things 2, the second season of Netflix's wildly popular nostalgia trip, will drop onto the streaming platform at the end of the month. The hype is at an all-time high, which means it's the perfect time for a clip from the new season. And best of all, it's Halloween-themed, perfect for this time of the year. Watch the new Stranger Things clip below.Stranger Things 2 shifts the Stranger Things story to 1984, where the kids of Hawkins, Indiana are still recovering from the Demogorgon attack on their town and the disappearance, and return, of Will Byers. But if the four friends were hoping for some peace and quiet following their hair-raising adventures of last season, they're in for a rude surprise. Beyond that, just what the heck the new season of Stranger Things is about is still a mystery.
This wasn't such a problem with the first season, which seemed to come out of nowhere and take everyone by surprise. Now that there's a fanbase for the show, Netflix has worked to keep details scarce. Which is why it's such a big deal when even the slightest bit of info trickles out. That's where this brand new video clip comes in.
New Stranger Things Clip
A new Stranger Things video game was just released for free on both iOS and Android, and nestled within the game was a brand new clip from season 2 (courtesy of io9). Truth be told, this clip is rather brief and gives away absolutely nothing about the new season. But details about season 2 have been so secretive up until now, Stranger Things fans will likely take any nugget of info they can get. Or should I say nougat of info?
No, I shouldn't, and I'm sorry for even suggesting that. But in the clip, the Stranger Things gang, decked out in some pretty accurate Ghostbusters costumes, trick-or-treat and discuss the merits (or lack thereof) of Three Musketeers bars. Personally, I'm pro-Three Musketeers candy, so I'm a little perturbed that the bulk of the gang is not a fan. All except for good old Dustin (Gaten Matarazzo) – he knows what's up here.
Like I said, this isn't exactly the most thrilling clip, and I'm sure the reason the producers of Stranger Things were fine letting game players find it is because it's so deliberately vague. One element this clip does reveal, however, is our first look at new character Max (Sadie Sink), who shows up at the end sporting a Michael Myers mask.
Stranger Things 2 will arrive on Netflix October 27.