Every The Office Halloween Episode Ranked Worst To Best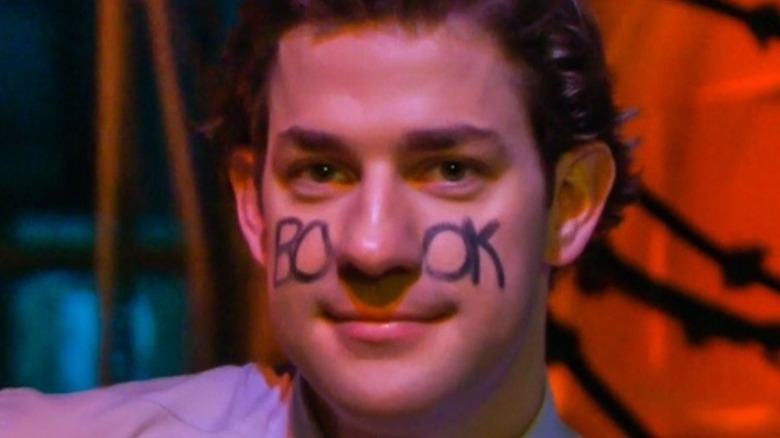 NBC Universal
When you want to get into the spooky season mood but don't have time for a scary movie, why not throw on a Halloween episode of "The Office" instead? After all, sitcoms like "The Office" are particularly good at holiday-themed episodes, and Halloween offers the added pleasure of getting to see the gang wearing costumes. It's fun to see actors, who pretend to be other people for a living, play dress up as their characters. Figuring out who or what a fictional character would want to be for Halloween is always a fun creative exercise, and "The Office" is usually pretty realistic about the quality of costume every character would be able to afford — or put together, DIY-style.
But not every "Office" Halloween episode is equal. Some of the most memorable Halloween moments from the show are actually attached to some sub-par installments, or episodes that have nothing else to do with Halloween. So, here's every Halloween episode of "The Office" listed in order from the tricks to the treats — and if you need to know where to watch them, well, we have that covered, too.
7. Koi Pond — Season 6, Episode 8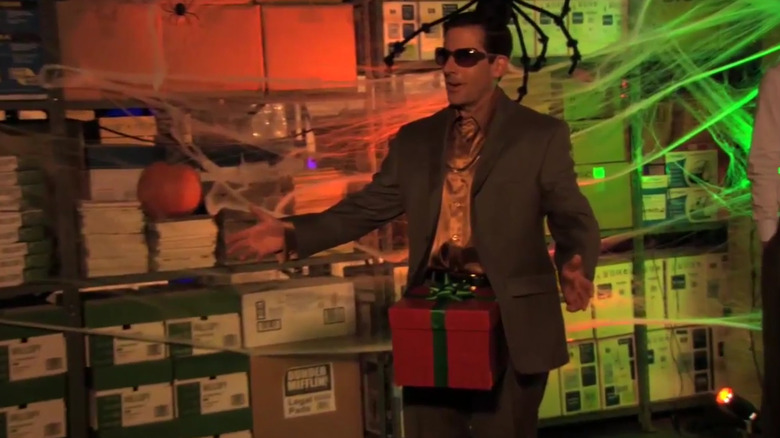 NBC Universal
Memorable costumes: Jim paints "book" on his face to be Facebook, but Darryl calls him "Bookface" instead. Michael is one of the "D*ck in a Box" guys. Erin is a zombified Princess Fiona from "Shrek."
How is one of the show's best Halloween bits, a haunted warehouse that the Dundler-Mifflin employees put on for local kids, a deleted scene? It originally aired with the episode, but was replaced with a new cold open in subsequent airings and on streaming services. We can't reward bad Halloween behavior like this. 
Honestly, the scene was probably cut because Michael's prank, in which he pretends to hang himself and subsequently turns it into a teaching moment for the children about how suicide is never the answer, is a little too graphic and uncomfortable, even for "the Office." 
The rest of this episode doesn't mention Halloween at all, however, so it's going to stay at the bottom of this list. "Koi Pond" is really about Jim and Michael's working relationship, and Jim's unexpected jealousy of his boss. The spookiest thing is the subplot in which prospective clients assume that Andy and Pam are a married couple — you know, because it's a truth universally acknowledged that a man and a woman doing business together must be husband and wife. 
6. Employee Transfer — Season 5, Episode 6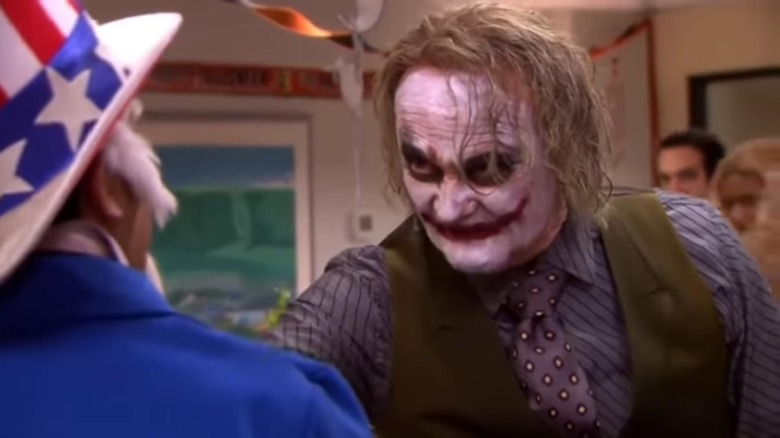 NBC Universal
Memorable costumes: Meredith is a cheerleader. Angela reprises her cat costume from "Halloween." Kelly is Carrie Bradshaw from "Sex and the City," and Ryan is Gordon Gekko from "Wall Street." Andy is Rum Tum Tugger. Jim simply wears a name-tag that says "Dave" and tells anyone who asks that he's Dave. Kevin, Creed, and Dwight are all Heath Ledger's Joker from "The Dark Knight."
Like "Koi Pond," the Halloween aspects of "Employee Transfer" are confined to the cold open, so this isn't really a Halloween episode per se. However, the cold open does feature a lot of fun costumes, and a nice Halloween-themed mini arc with Pam that predates the "Babadook at a grown-up wine party" meme, during which she shows up to corporate dressed as Charlie Chaplin — and, if she were to take off her hat, Adolf Hitler. However, in the episode itself, Jim's brothers' pranks — ie relentlessly mocking Pam's art — and Michael and Holly's awkward break-up make this episode more depressing than spooky.
5. Here Comes Treble — Season 9, Episode 5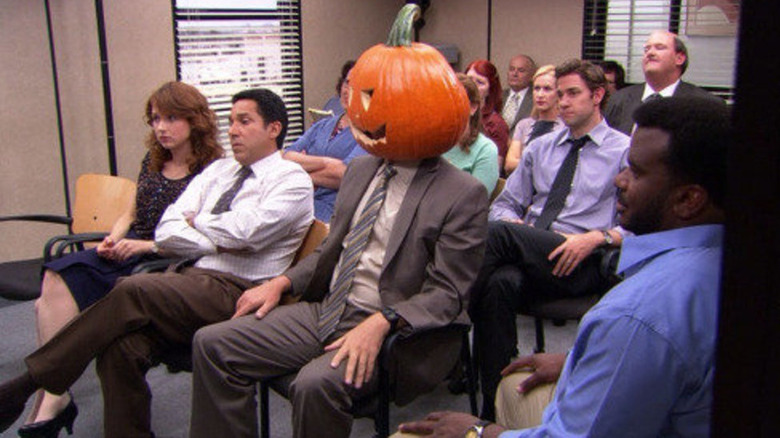 NBC Universal
Memorable costumes: Andy is George Michael, but people think he's Adam Lambert. Creed accidentally shows up to work in a bloody shirt. Jim does not dress up and claims to be a "Men in Black" guy. Kevin is Charlie Brown. Meredith is Black Widow. Pam tries to put a feminist spin on Cinderella by making her a doctor.
The final season put a decent effort into one last Halloween episode. The Dwight subplot, in which he thinks that a "madman" is loose in the office, is very good and spooky. So is the argument between Pam and Jim over the meaning of the "Monster Mash." This is also the episode, as pictured above, in which Dwight gets a pumpkin stuck on his head — he's playing double Halloween duty this time around. But the eponymous plotline, specifically Stephen Colbert's cameo as Andy's acapella rival Broccoli Rob, makes it a little too obvious that the show no longer cares about jumping the shark. 
4. Spooked — Season 8, Episode 5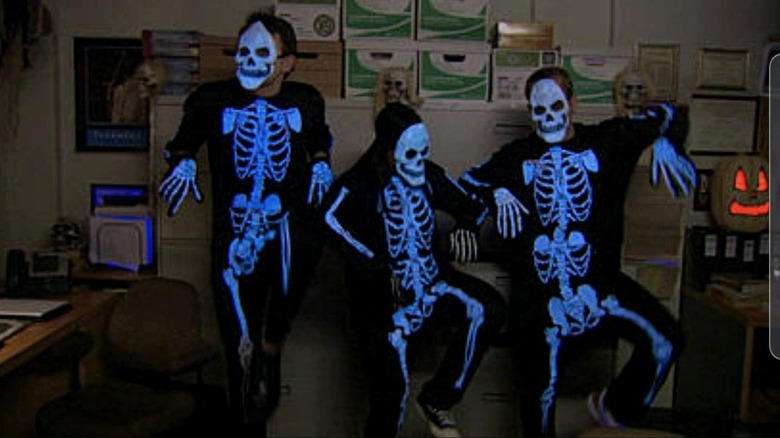 NBC Universal
Memorable costumes: Kelly, Toby, and Gabe are a trio of skeletons. Pam is a kangaroo. Jim is an NBA player. Dwight's "Starcraft" costume is foiled by Toby, who won't let him bring weapons into the office. Meredith, always one to glam it up on Halloween, is Kate Middleton at the royal wedding. 
This episode is from the dreaded Robert California era of "The Office," but no matter how you feel about Ultron's turn as the boss after Michael Scott, you have to admit that this is a decent Halloween episode. Every subplot has something to do with the holiday. Erin's in charge of planning the party. Pam thinks she sees a ghost. Don't think too hard about the logistics of the montage of previous Dwight costumes, considering that we've seen just about every Halloween that the documentary crew has captured. But even Robert's storyline, in which he uses his employees' actual fears to emotionally terrorize them, harkens back to the early days of "The Office," offering cringe comedy with a Halloween twist. "Spooked" is a solid middle entry as far as this list is concerned.
3. Andy's Play — Season 7, Episode 3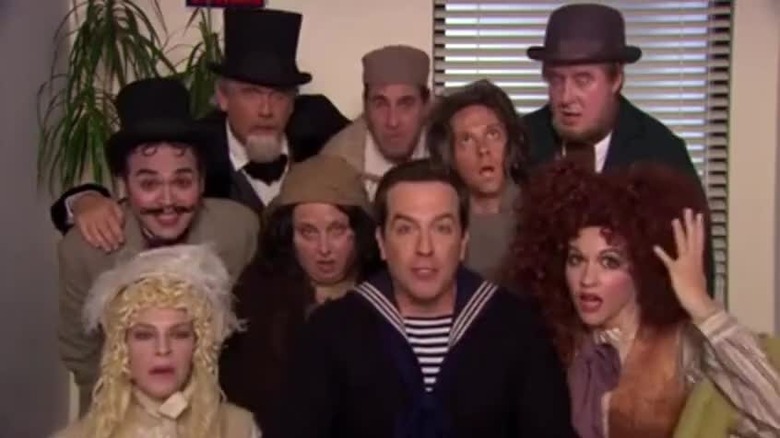 NBC Universal
Memorable costumes: The cast of "Sweeney Todd: The Demon Barber of Fleet Street" dress up in character.
Okay, technically this is not a Halloween episode, but since it features the horror-musical "Sweeney Todd" it's spookier than many of the episodes that do feature the holiday. It should probably be a part of your Halloween episode marathon. "Andy's Play" is, of course, the episode in which the gang goes to see Andy Bernard play a supporting role in a local production of one of Broadway's darkest musicals (seriously, if you think that the subject matter of "Dear Evan Hansen" is inappropriate, you may not be ready for "Sweeney").
The music and costumes of the show-within-a-show are all pretty in line with the Halloween holiday spirit. Plus, if you've ever been a part of a theatrical production yourself, the many mishaps that happen on stage and off during the episode — including Andy's phone ringing during his scene — make this episode into something akin to a horror film. Trust a show like "The Office" to make us fear for community theater actors we have never met. The situation is just that uncomfortable. 
2. Costume Contest — Season 7, Episode 6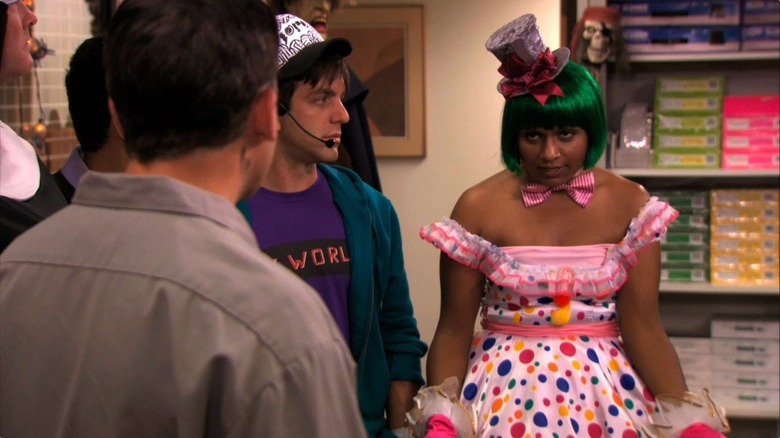 NBC Universal
Memorable costumes: Pam is Olive Oyl and Jim is, somewhat begrudgingly, Popeye. Their baby Cece is Swee'pea. Gabe is Lady Gaga. Meredith and Andy dress up as "True Blood" characters Sookie Stackhouse and vampire Bill Compton, respectively. Kelly is Snooki before changing into Katy Perry, and Michael is MacGruber before regrettably changing into Darryl. 
As someone who hawked coupon books for high school fundraisers (the PTA-to-pyramid-scheme pipeline, y'all) every year, it was extremely funny to see one get dangled in front of the employees of "The Office" as a prize for a costume contest. Because the staff thinks that a real savings is on the line, they really up their costume game. 
This is the only episode in which Pam makes Jim care about Halloween — he even puts a little effort into his annual costume by the end of the episode. It's always kind of stressful when there's post-marital drama between Pam and Jim, but at least this one ties in the long-running bit about Jim slacking off on Halloween. It's holiday appropriate and a fight that the audience can get behind. 
1. Halloween — Season 2, Episode 5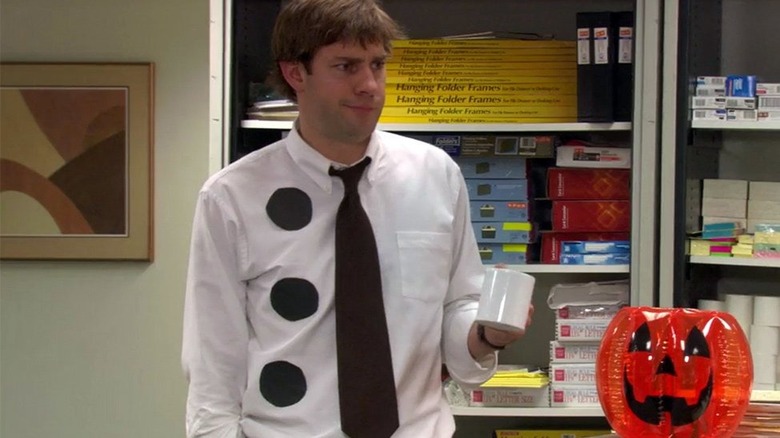 NBC Universal
Memorable costumes: Jim sticks circles to his shirt and calls himself "Three Hole-Punch Jim," which instantly became a favorite low-effort costume for straight white men everywhere. Michael is dressed as himself with a second head. Pam, Angela, and Phyllis are all cats. Dwight is a Sith Lord. Kelly is Dorothy from "The Wizard of Oz."
The original "Halloween" episode of "The Office" is far and away the best. Jim's first lazy costume is so good that the joke's on him. He may act like he's above both Halloween and working at a paper company, but "Three Hole-Punch Jim" betrays the fact that he might actually care a little bit about both. The best parties on "The Office" feature some kind of rivalry between Angela and Phyllis, and this episode is no exception. Finally, the anxiety that fills the office as Michael decides who he's going to fire is unsettling in the best kind of way, a hallmark of the show's earlier seasons.