Not A Lesson: Why Dear Evan Hansen And Roadrunner Are Both Deeply Irresponsible Depictions Of Suicide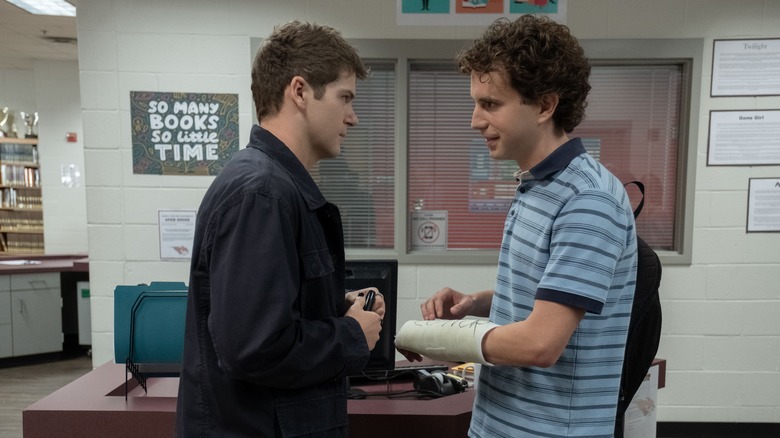 Erika Doss / Universal Pictures
Spoilers for the films "Dear Evan Hansen" and "Roadrunner: A Film About Anthony Bourdain."
This year two films have crossed into dangerous and irresponsible territory in using suicide and suicidal ideation as story arcs. 
First, Morgan Neville's documentary "Roadrunner: A Film About Anthony Bourdain," ostensibly a look at the life and work of celebrity chef and world traveler Anthony Bourdain, used his death by suicide to elicit heartbreaking interviews from grieving friends and family, while also wading into troublesome tropes about suicide. Next, Stephen Chbosky's take on the Tony-winning Broadway musical "Dear Evan Hansen," equally bungles the subject by removing all agency from a character who died by suicide and further using his death as a coming-of-age lesson for the title character.
Both films trade in dangerously outdated attitudes toward death by suicide, with little insight or empathy for their subjects beyond hollow lessons and cheap sentiment.
The 'Villain' of Dear Evan Hansen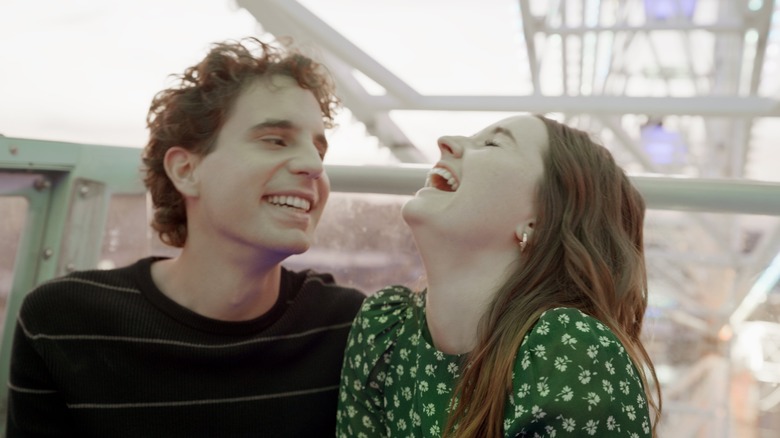 Erika Doss / Universal Pictures
Going into "Dear Evan Hansen," I only had a vague idea of what the plot was, but I was already a bit wary just from reading a synopsis. The plot: On assignment from his therapist, the titular anxiety-ridden Evan Hansen (Ben Platt) writes positive letters to himself. One of his letters, which implies that his only ray of light is his crush Zoe (Kaitlyn Dever), is found by her cliché of an angsty outcast brother Connor (Colton Ryan). Later it's discovered on Connor's body after he dies by suicide, causing his parents to mistake it for a goodbye letter addressed to his only friend: Evan. Evan then uses their misunderstanding to ingratiate himself into their affluent family, and eventually starts dating Zoe.
Before his death, we only see Connor a few times. Chbosky costumes him in stereotypical all-black, making sure the audience sees hackneyed details like his purple nail polish. Boys in the high school hallway call his ensemble "school shooter chic." He's clearly got anger issues, exploding in bursts of rage in response to the taunting by his classmates. Later when we discover that Connor had substance abuse issues, the filmmakers villainize his struggles, focusing only on how his actions were a burden on others — save for one scene towards the end, where footage of him playing a song in a group therapy session shines a different light on him. While this scene is supposed to add depth to Connor, the filmmakers never stop to think about how recording and sharing a group therapy session is a complete disregard for the anonymity these sessions are supposed to guarantee for attendees.
Prior to this sequence, Zoe even calls him a villain in the lyrics of the song "Requiem." Through this despicable song, his entire family explains why they don't particularly feel like mourning his death. Early in the song they sing, "I gave you the world, you threw it away," lyrics that trade in irresponsible victim-blaming rhetoric toward those who die by suicide. Further, in the song's last verse Zoe sings, "Cause when the villains fall, the kingdoms never weep," then later sings, "After all you put me through/Don't say it wasn't true/That you were not the monster."
This is how the musical chose to describe a teenager with mental health issues — as a monster. His whole family has painted him as a monster because they never bothered to understand his pain. There is a throwaway line by Zoe that indicates, even though she was too young, her brother likely remembered their father who died. Unfortunately, the film never bothers to follow through with that thread. It would rather just show you how everyone felt about his behavior, instead of give Connor any agency or show empathy towards the roots of his issues. 
'Choosing to Let Go'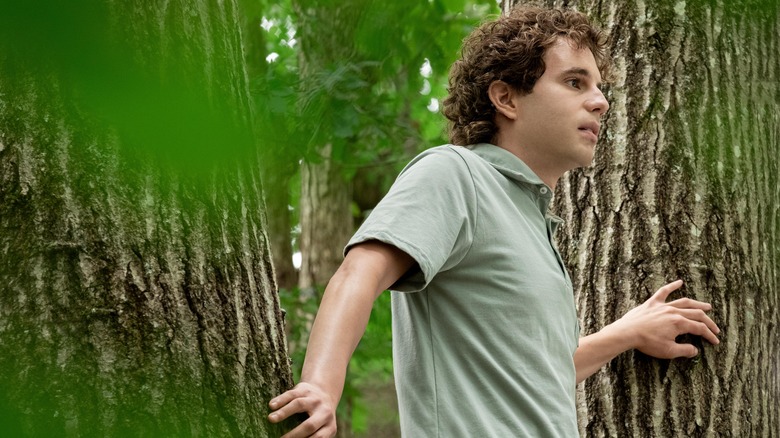 Erika Doss / Universal Pictures
When I was 16, I was diagnosed with bipolar II. I had similar fits of rage. I isolated myself from friends and family. Maybe they thought my behavior was monstrous too. I don't really know. What I do know is that seeing a teenager like Connor — someone who reminded me of myself at that age, stripped of his agency rather than represented as someone who was truly struggling through something — was a painful experience. Because the movie measures a deeply personal ordeal felt by Connor only by how it makes other people feel.
By having Connor's death immediately follow his discovery of Evan's letter, the film implies that this one bad day at school — topped off by finding Evan's somewhat creepy letter about his sister — pushed Connor to a breaking point. But that isn't even the only outdated trope about the root cause of suicide that the film trades in. While in a fight with her husband, Connor's mother (Amy Adams) indicates that Connor had tried once before but said it was just for attention. Again, the film chooses to lean into stereotypes without much consideration of what these lines are implying. 
Having lived most of my life with suicidal ideation, what I know, for me, is that it's never one thing. It's living every day fighting to hold on. Fighting the urge to not walk right into traffic at every crosswalk. Ironically, it seems "Dear Evan Hansen"' understands this when it comes to Evan. The cast that he wears over his broken arm for most of the movie was not the result of falling out of a tree, but by, in his own words, "choosing to let go." So why, if the film seems to understand this, does it not offer Connor that same grace?
The Ethics of Roadrunner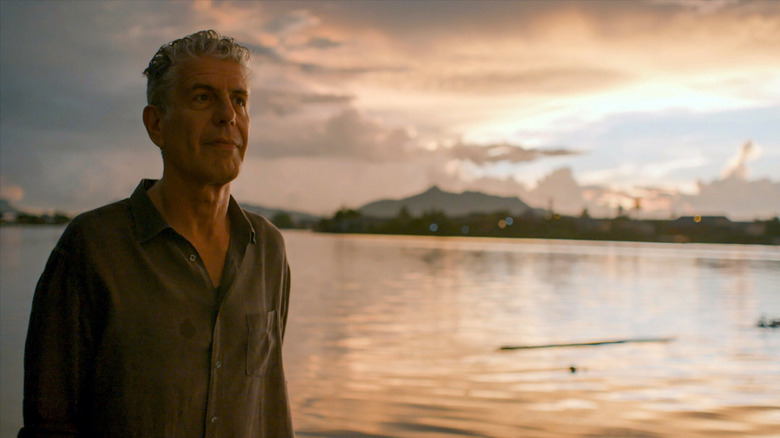 CNN / Focus Features
Similarly, in Morgan Neville's documentary "Roadrunner: A Film About Anthony Bourdain," the filmmakers chose a disrespectful way to frame Bourdain's shocking and sudden death by suicide while on location shooting an episode of "Parts Unknown" in France. The film paints Bourdain as a romantic, who continually set himself up for disappointment because he learned too much about life from movies. It does a cursory job exploring his past alcohol and substance abuse issues, but you'll find a better portrait of those experiences in his memoirs like "Kitchen Confidential" and "Medium Raw."
Where the film falls into majorly unethical territory is how it treats his final partner: actress and director Asia Argento. Not only is she not interviewed, the film sets her up as Bourdain's latest addiction. And when things may have begun to go south, they place the blame for his death on her. One of Bourdain's former producers even implies that his final Instagram story, scored with music from a movie about a man getting revenge on a woman, was evidence that what he did that day was to hurt Asia. 
I also have to question the ethics of interviewing people who were still grieving — several of whom seem to still be in the angry phase of grief. Another friend asks, "what are we supposed to do now?" framed by the filmmakers in such a way as to imply that Bourdain's death is less about his own life, and more about those who knew him. Again, his agency is stripped from him. His life boiled down to his relationships with others, not with himself. 
Both films find a way to exploit death by suicide to emotionally manipulate their audiences. In "Dear Evan Hansen," Connor's death is used as a lesson for Evan to help him come of age. It's reprehensible. In "Roadrunner," the filmmakers use the grief of those who knew Bourdain to elicit an emotional response from the audience. They use his death by suicide as a salacious capper to a rambunctious life. Suicide and suicidal ideation are hard themes and they deserve filmmakers capable of doing and, frankly, willing to do better. 
The National Suicide Prevention Lifeline phone number is 1-800-273-8255.