Jordan Peele Had An Intriguing Original Title For Nope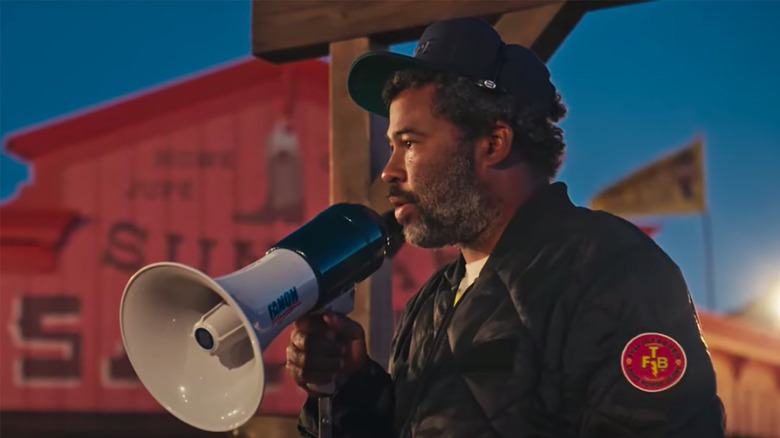 Universal Pictures
Having produced nothing but immensely compelling stories only a few years into his directing career, it may be tempting to try and find a direct, contemporary comparison to Jordan Peele's current trajectory as a filmmaker. Steven Spielberg? M. Night Shyamalan? Nia DaCosta? Such efforts would be a waste, however. Between "Get Out," "Us," and from what we've seen so far from the upcoming "Nope," Peele surely must be considered in a league of his own.
For as much credit as the horror filmmaker deserves for his actual craft, mixing in such an acerbic sense of humor into his films along with such effective scares, his storytelling sensibilities are already on display through the mere titles of his movies alone. Seriously, think of the guts it takes to repeatedly opting for one or two-word titles (and, for those who care about such things, incredibly SEO-unfriendly ones, at that!) that nonetheless feel primal, evocative, and almost instantly iconic.
"Nope" fits in perfectly as the latest example of that quintessentially Peele trend, but that almost wasn't the case for his latest movie. In a new interview, Peele revealed his original title for the movie, as well as the thought process that convinced him to go a different route, and the themes of the story. Yes, there's much more going on here than just another UFO story, folks.
'Little Green Men'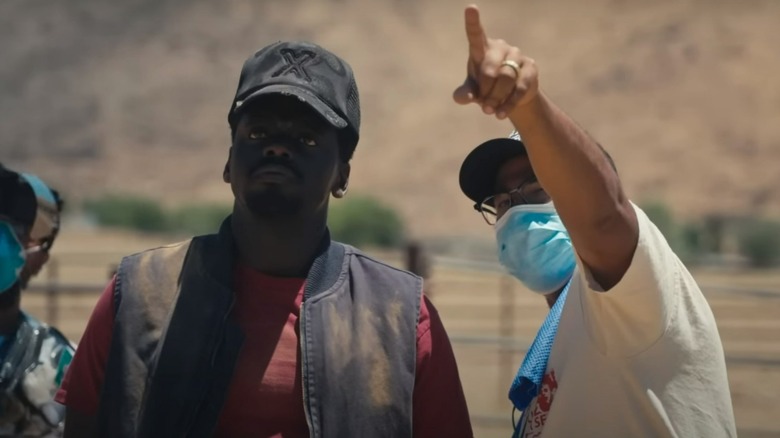 Universal Pictures
From the very first teaser poster of the film, we have been breathlessly speculating as to whether Peele's latest movie could possibly end up being about aliens. This has seemingly been confirmed with all those money shots of a UFO chasing star Daniel Kaluuya, but all those guessing games until that point could've been rendered moot by the original title that Jordan Peele has in mind. In an interview with Rotten Tomatoes, the writer/director opened up about how "Nope" could've been titled "Little Green Men." Though that would more directly reference the concept of aliens, it's actually a double entendre that speaks to the larger themes his story has in mind. You can check out the full clip below.
Jordan Peele reveals the origin story behind the #NOPEMOVIE title, and tells us the title he almost went with... pic.twitter.com/j6NHJ23Zpm

— Rotten Tomatoes (@RottenTomatoes) July 15, 2022
Peele admits that at the scriptwriting phase, the film was titled "Little Green Men." Peele explained the reasoning behind the title:
"You know, I'm always talking about something human, a human flaw. And there was something about our connection with spectacle and money and our monetization of spectacle. And so the 'little green men' that I started talking about was the little green men on the money."
Given the extended footage we've seen that indicates the film's main characters attempting to go viral by capturing footage of the UFO, it's easy to see the parallels here. Still, there's a very good reason why Peele changed course. He goes on to joke, "It sounds like some kind of Redbox 2003 Jeff Fahey vehicle ... there's lots of names that I was circulating in my head. And at the end of the day, the film felt singular. And 'Nope' was the only thing that I could say to describe it."
Hard to argue with that! "Nope" lands in theaters on July 22, 2022.