The Daily Stream: Lady Bird Goes Beyond Gender Or Age As A Coming-Of-Identity Story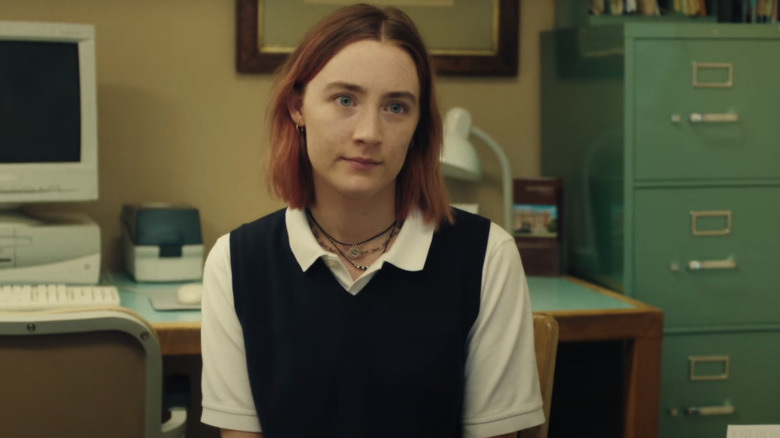 A24
(Welcome to The Daily Stream, an ongoing series in which the /Film team shares what they've been watching, why it's worth checking out, and where you can stream it.)
The Movie: "Lady Bird"
Where You Can Stream It: Showtime, DirectTV
The Pitch: In my senior year of high school, I took an AP English class where we read "A Portrait of the Artist as a Young Man" by James Joyce. Inspired by Joyce's example, I decided I was going to write my own fictional autobiography. Visions of literary fame filled my head as I turned my life into a manuscript few people would ever read.
"Lady Bird" is "A Portrait of the Artist as a Young Woman." The story of Christine "Lady Bird" MacPherson (Saoirse Ronan) has several elements to it that make it relatable to me on a personal level because of my own background and turn-of-the-millennium college experiences. Creative misfit attends a religious school? Check. Lives in the capital of a Disney state? Check. Has only been out of the country once when she was little, but wants "to go where culture is," and eventually leaves home for New York? Check, check, and check.
She even talks about applying to Sarah Lawrence College, which is in the same suburb as my alma mater. Obviously, I've never been "a 17-year-old pink-haired girl" ("that we know of yet"), and neither has Stephen Colbert, but that didn't stop him from relating to "Lady Bird," either. Funnily enough, when Ronan appeared on "The Late Show" and joked about God looking down on Colbert and judging him if he ever snacked on unconsecrated communion wafers like her character does, Colbert made an offhand remark about how her Irish accent at that moment made her sound "like a character in a James Joyce novel." 
Why it's essential viewing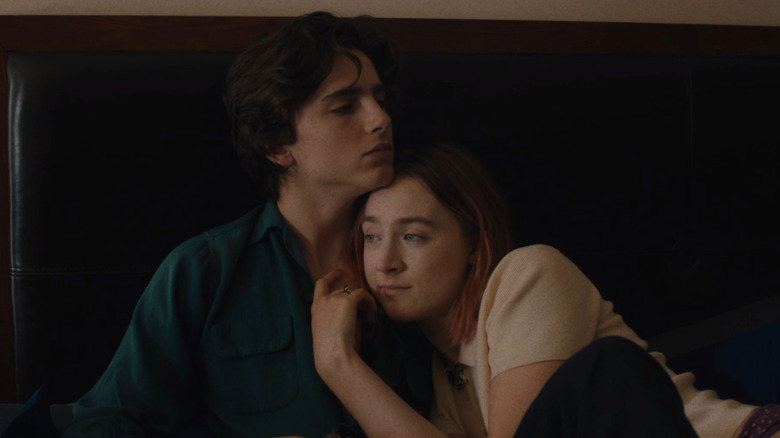 A24
Discussing the almost "genderless" appeal of "Lady Bird" on "The Late Show," Ronan boiled it down to how the film goes beyond being a coming-of-age tale wrapped in specificities and just becomes a story about a human figuring out who they are. As Lady Bird's post-9/11 bildungsroman plays out in Sacramento, the soul-killing "Midwest of California," as she describes it, she is pulled in all different directions by the people around her.
Her mother Marion (Laurie Metcalf), with whom she frequently butts heads, says she only wants her "to be the very best version of herself" she can be. Her best friend Julie (Beanie Feldstein) thinks she "can't do anything unless she's the center of attention." A nun at her school, Sister Sarah Joan (Lois Smith, seen just last week in "Five Easy Pieces"), recognizes that she has "a performative streak," but that she hasn't "always been an active part of this community."
Boyfriend #1 (Lucas Hedges) is living a lie with Lady Bird. Boyfriend #2 (Timothée Chalamet, not the only "Dune" star here) is the kind of high school sweetheart who leaves her with experiences that are more special for her than him and whose memory might evoke bitterness more than anything sweet.
Back in 2017, "Lady Bird" made headlines for unseating "Toy Story 2" as the best-reviewed movie of all time on Rotten Tomatoes. It came away with five Oscar nominations, but even its whip-smart script, a staggering solo debut by writer-director Greta Gerwig, faced some stiff competition that year from Jordan Peele's "Get Out." Gerwig's film, like Peele's, is a seemingly oxymoronic indie crowd-pleaser — in this case, an A24 dramedy instead of a Blumhouse horror film. They both won Independent Spirit Awards, and there, Gerwig actually would take home Best Screenplay.
Youthful exuberance: now, with adult grief!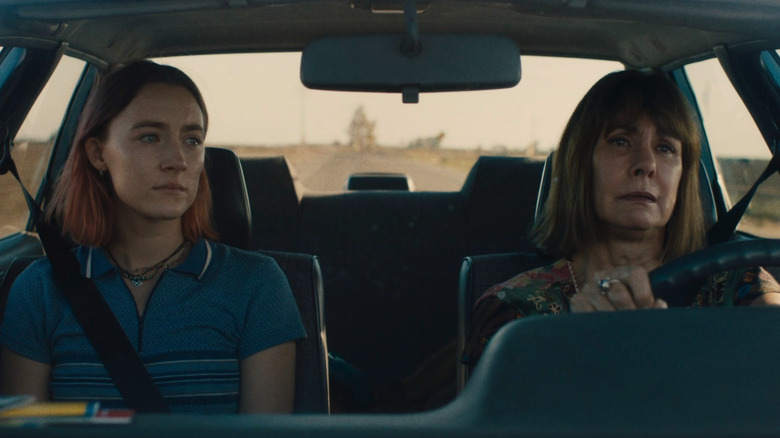 A24
Too weird for the cool kids and too cool for the theater dorks, Lady Bird is on her own coming-of-identity journey. It's one that is a delight from start to finish. Gerwig's film has a youthful exuberance to it, but it also understands adult grief, something that Robert Bly, in his essay, "What the Image Can Do," identified as one of the principal "powers or energy sources" at play in a good poem.
"Lady Bird" shows what the image and talented performers can do when applied to a good screenplay. Right out of the gate, the crackerjack dialogue between Christine and Marion, as they bicker in the aftermath of finishing their "Grapes of Wrath" book-on-tape in the car, is hilarious in a character-driven way. Perhaps because of her own acting credentials, Gerwig is adept at giving every cast member a moment to shine: eliciting funny and truthful character-based moments even from supporting names like Tracy Letts and Stephen McKinley Henderson.
Over and above the Alanis Morissette, Dave Matthews, and Justin Timberlake songs (which Gerwig secured by writing personal letters to the artists), Jon Brion's score gives it all a musical texture like that of a Paul Thomas Anderson film. Though "Lady Bird" is only a fictional autobiography, rooted more in the emotional truth of Gerwig's life than any real events that occurred in it, it's as much a work of art as that Joyce novel. I only wish I could sit in a circle with my classmates discussing it longer, like her characters do with Kierkegaard and like we did with other works of literature back in high school.