Read 'Lady Bird' Director Greta Gerwig's Letters To Justin Timberlake And More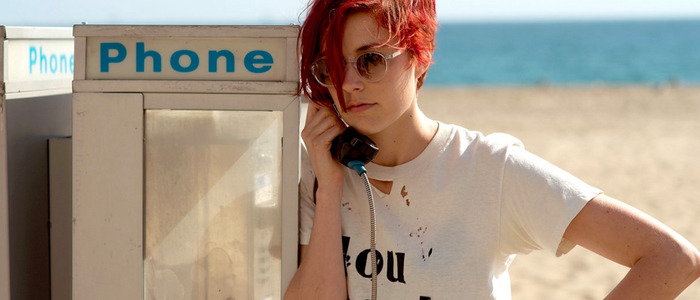 Greta Gerwig is on fire right now (not literally, thank heavens). The writer-actress-director's new film Lady Bird has garnered some of the best reviews of the year, and might be a serious contender come awards season. Gerwig's coming-of-age drama is set in the early '00s, and as such, she wanted to fill the film with those sweet jams that you heard incessantly on the radio back in the day. To land the music license rights to certain songs, Gerwig emailed several artists, and the letters are just delightful. Read the Greta Gerwig Lady Bird letters below.
I have yet to see Lady Bird, because I'm a terrible person. But I've heard nothing but great things about it, and I hope to see it some day. As a long-time fan of Greta Gerwig's work, I'm thrilled to see her receiving such acclaim for her latest film behind the camera (note: a lot of people keep calling Lady Bird Gerwig's directorial debut; that's incorrect – this is her second time directing. She co-directed the 2008 film Nights and Weekends with Joe Swanberg).
While making the promotional rounds for Lady Bird, Gerwig revealed that in order to score the rights to several sweet 1990s tunes for Lady Bird's soundtrack, she took it upon herself to send letters to various artists, including Justin Timberlake, Alanis Morissette and Dave Matthews. Gerwig talked about sending the letters on Late Night with Seth Meyers. You can watch the clip below.
If you wanted to read the letters yourself, you're in luck. They're now online (via Vulture), and they're delightful. First up, here's the letter to Timberlake, in which Gerwig calls Timberlake's song "Cry Me a River" "sultry and sullen and infectious", and tells Timberlake she'd like to include the song in a "full on make out" scene where star Saoirse Ronan gets and the object of her affection get "hot and heavy by the tanning bed."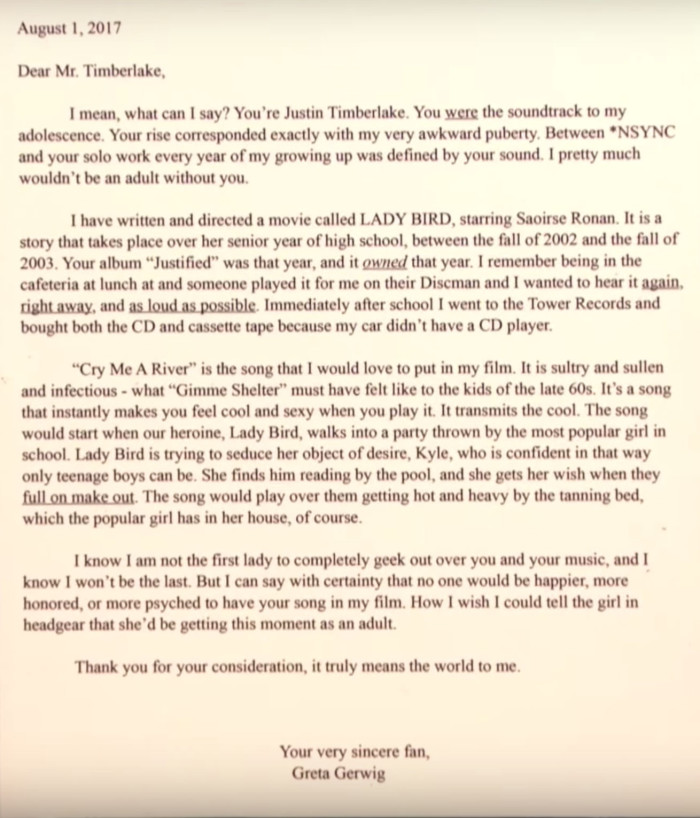 Now let's examine Gerwig's letter to Alanis Morissette, in which she regales Alanis with a story about bringing the Jagged Little Pill cassette to a sleepover party. She also mentions that Lady Bird star Saoirse Ronan once filmed a parody of Morissette's "Ironic," which you can watch here.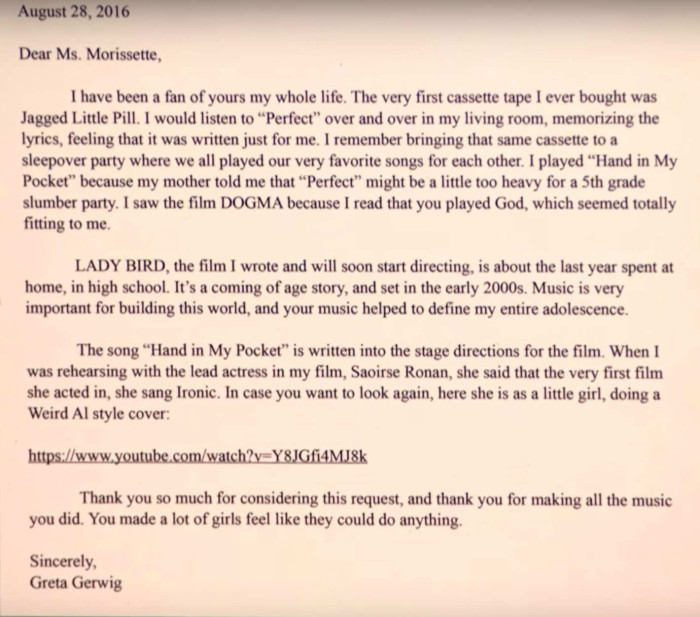 Finally, we have Gerwig's letter to Dave Matthews, whose song "Crash Into Me" plays a big part in the film. Here, Gerwig tells Matthews that she thinks "Crash Into Me" "was and is the most romantic song ever," and that she uses it twice in Lady Bird. Also, I'm highly amused that while the previous two letters were addressed to Dear Mr. Timberlake and Dear Ms. Morissette, Dave Matthews gets the full-name treatment with Dear Mr. Dave Matthews.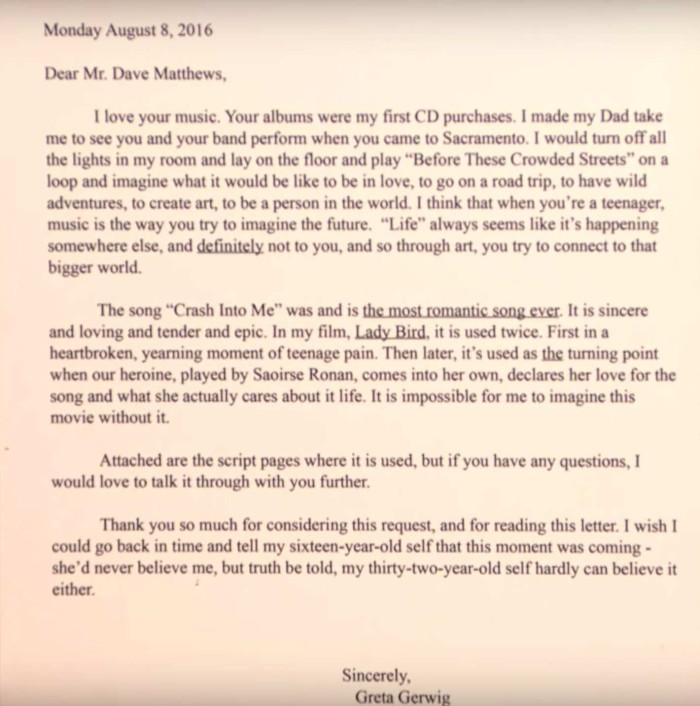 There you have it: Greta Gerwig, as charming as she is talented.
Lady Bird is now playing in select theaters.