'Lady Bird' Just Became The Best-Reviewed Movie On Rotten Tomatoes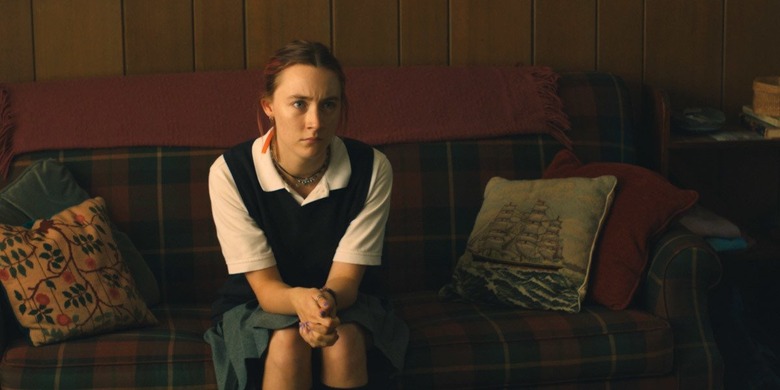 Lady Bird has just done something that's never been done before. Greta Gerwig's directorial debut is officially the best reviewed movie on Rotten Tomatoes, edging out Toy Story 2 for the movie with the most reviews to hold a 100% score.
With 169 "Fresh" reviews and 0 "Rotten" reviews, Lady Bird has officially broken the review aggregator website's record for the best-reviewed movie. Previously, Toy Story 2 held the record with 163 reviews.
Only three other movies have been able to achieve a 100% score with over 100 reviews.
Things to Come (2016) – 128 reviews, 100%
Man on Wire (2008) – 157 reviews, 100%
Toy Story 2 (1999) – 163 reviews, 100%
The list of movies that have achieved a 100% on Rotten Tomatoes is a vast one, ranging from Citizen Kane to the animated Batman vs. Robin. But though some smaller releases can gain a 100% rating through the minimum of five reviews (as was the case for the aforementioned Batman vs. Robin), there is a threshold for wide releases. A film can't be "certified fresh" unless it receives a 75% or higher average with 80 reviews or more for films in wide release, including five reviews from Top Critics. The number of reviews gets lowered for a limited release — 40 reviews are necessary — with TV shows requiring 20 reviews.
The 100% list is so inconsistent that Rotten Tomatoes has its own "Best of RT" list that weighs the number of film reviews with the score, resulting in many films with a (gasp) lower-than-100% score to lead the ranking — aka, The Wizard of Oz at a mere 99%.
In the case of Gerwig's Lady Bird, it was given a wide release and thus had to adhere to that higher standard, which it leapt over with grace. The A24 movie has received a 8.9/10 average critic rating, and is expected to be a strong contender at the Oscars next year — it's already been nominated for three Gotham Awards, including Best Actress, and four Film Independent Spirit Awards, including Best Actress and Best Feature. Gerwig was unfairly snubbed for Best Director at the Independent Spirit Awards, but hopefully the rave reviews of her film will buoy her to a nomination at the Academy Awards. Lady Bird an exceptional directorial debut, with inspired performances by Saoirse Ronan and Laurie Metcalf, and deserves all the acclaim it's getting.
This all should be taken with the caveat that Rotten Tomatoes is not the be-all-end-all of movie criticism — though plenty has been said about that — but there's no denying that the review aggregator site has become a huge audience and box office influencer. Rotten Tomatoes wields a power over audience perception of movies that is unprecedented, and while many a study has been conducted to prove that this doesn't extend to box office impact, that's likely not the case. The controversy over the delayed Justice League score was a huge sign of that influence — as well as the blockbuster's disappointing reception at the box office following the tepid critical reactions and Tomatometer score.
Whether that influence can be used for good is another question. Perhaps Rotten Tomatoes will bring more attention to individual movie reviews, or spotlight well-deserving movies like Lady Bird that will likely fly under the radar of the larger moviegoing public. Either way, use this as an excuse to go see Lady Bird immediately. It's well worth the hype.