Gremlins Director Joe Dante Is Not A Fan Of Grogu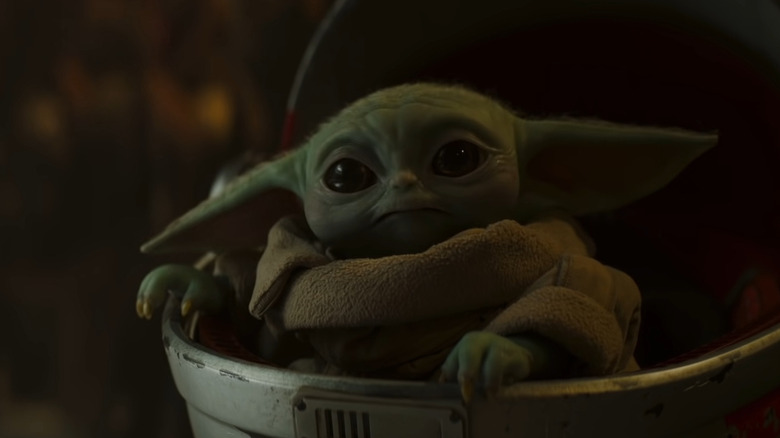 Disney+
While a good chunk of the world fell in love with a little green alien from an unnamed "Star Wars" species in "The Mandalorian," "Gremlins" director Joe Dante isn't one of them. He's got a reason for not being a fan, though, and it's questionable. 
If you've never seen "Gremlins" — and why the hell not? — it's the story of a young man whose father brings him a gift from a Chinatown antique store. It's a little creature called a Mogwai, who is beyond adorable. There are three rules for his care, though: You can't get him wet, you must keep him away from the light, and you must never, ever feed him after midnight. 
Dante will be appearing in San Francisco on Saturday, July 16, 2022, at the Castro Theatre to present "Gremlins" and "Gremlins 2: The New Batch" in 35mm, followed by a Q&A after each one. He spoke to the San Francisco Chronicle in anticipation of the event and had something to say about our little green frog-eating pal Grogu from the "Star Wars" series. 
'Completely stolen'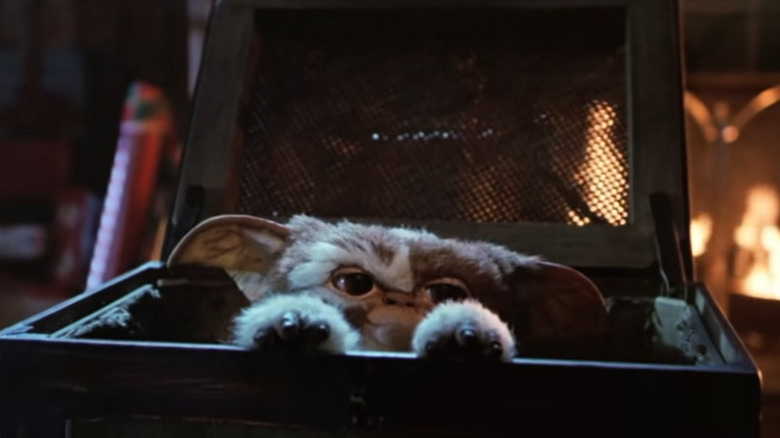 Warner Bros. Pictures
"I think the longevity of [the films] is really key to this one character [Gizmo], who is essentially like a baby," Dante said during a video chat with the site (who says he gave a "wry smile" when he spoke). "Which brings me, of course, to the subject of Baby Yoda, who is completely stolen and is just out-and-out copied. Shamelessly, I would think."
While I don't agree with him, let me say up front that I adore Dante's work. He's responsible for films like "Innerspace," "Gremlins 2: The New Batch," "Small Soldiers," and "The 'Burbs." Now he's consulting on the upcoming animated series "Gremlins: Secrets of the Mogwai," which stars the voices of Ming-Na Wen, BD Wong, and James Hong that will premiere on HBO Max, which I'm very excited for.
He might be completely kidding, but Mr. Dante, there is room in the world for all sorts of cute things. For instance, I rode around with a Gizmo stuffy in my backpack as a kid, and I also have a "talking" Grogu on my desk. If we're looking at what might have been "completely stolen," I'd say that "Lone Wolf and Cub: Sword of Vengeance" would have a better case here, up to and including that scene where Grogu has to choose an item to determine the rest of his life. 
He looks more like a baby Ewok than Grogu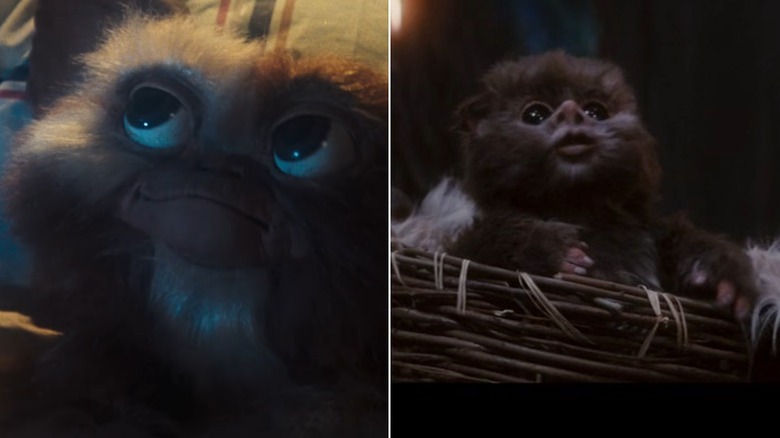 Warner Bros. Pictures/Lucasfilm
Let's look at this. "Gremlins" was released in 1984, while Yoda's first appearance was in "Star Wars: Episode V — The Empire Strikes Back" in 1980. (Yoda is the same species as Grogu, in case you haven't been bombarded by Grogu memes over the last few years.) Gizmo is a companion to a guy who carries him around in a backpack. He's got brown and white fur, with sort of human-looking hands and feet. He has wide, pointed ears on the sides of his head. He can't go in the sun, get wet, or be fed late at night. He multiplies if you splash him. 
Grogu is a baby from Yoda's species who is rescued by the Mandalorian. He's carried around in a floating egg bassinet. He eats frogs and soup (and in my headcanon, he has snicky snacks of chickie nuggies and choccy milk), and what appear to be blue macarons. Grogu is green and has little wisps of hair, but is mostly fuzzless. He has Force powers and could choose to train as a Jedi if he wanted to. 
They do both have big eyes and pointy ears, but honestly, I think other than their similar size and human friend, that's where the comparison stops. Gizmo kind of has more in common with the baby Ewoks from "Return of the Jedi" (that came out a year before "Gremlins") than Grogu. 
It's all good, though. We need as many cute things in this world as we can get. Ooh! Road trip movie with Gizmo and Grogu! Someone make this happen.