Ms. Marvel's Post-Credits Scene Was Helmed By The Marvels Filmmaker Nia DaCosta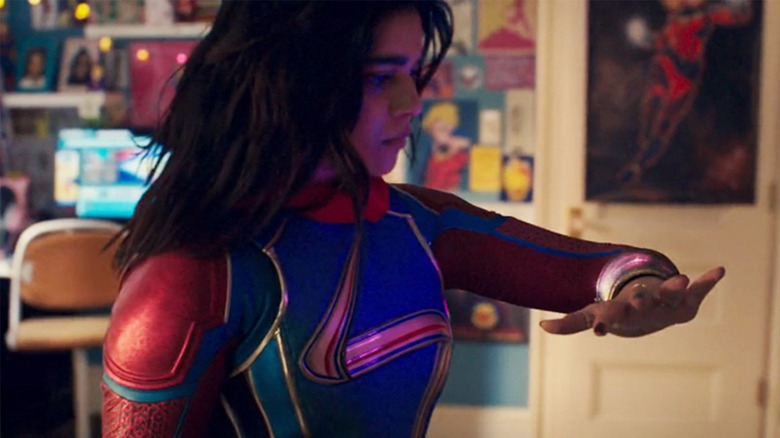 Marvel Studios
When the first season "Ms. Marvel" came to an end earlier this week, aside from the major bombshell regarding the superhero's superpower origins, there was one other major revelation that will have significant implications for the future of the Marvel Cinematic Universe. 
In one of Marvel Studios' signature mid-credits scenes, an exhausted Kamala Khan (Iman Vellani) flops down on her bed as her mother (Zenobia Shroff) can be heard off-screen chastising the teen for not doing her science homework. Suddenly, Kamala's bangle begins glowing and swirling blue, purple, and pink energy. As Kamala stands up from her bed in confusion, she disappears in a spiral of color and blasts through her closet door. But when a figure emerges from the damaged door, it's not Kamala that we see. 
Brie Larson as Captain Marvel stands up, the same glowing and swirling energy moving around her hands, now sheathed in fingerless gloves. Looking around the room adorned with endless posters of Carol Danvers in hero mode, the cosmic Avenger looks just as confused as we are. The only person who might know what's going on is director Nia DaCosta (2021's "Candyman"). Not only is the filmmaker at the helm of "The Marvels," which will see Larsen's Captain Marvel teaming up with Vellani's Ms. Marvel on the big screen, but she also directed the mid-credits scene in question.
'That was mind-blowing'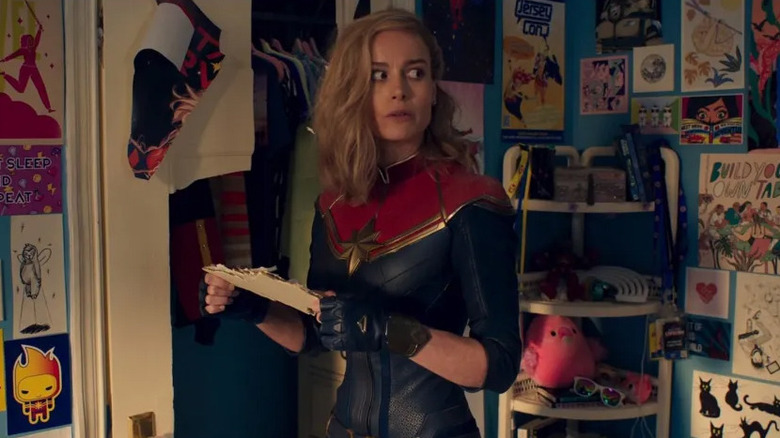 Marvel Studios
In a recent interview /Film conducted with "Ms. Marvel" directing duo Adil El Arbi and Bilall Fallah, the filmmakers revealed that they weren't behind the mid-credits tease for "The Marvels." Fallah admitted to us:
"Well, we didn't shoot that [laughs]. Nia DaCosta is directing "The Marvels," she shot that scene without knowing that it would be a post-credit scene. And we discovered [it was added to the finale] when we were color grading. All of a sudden, after the credits, [laughs] we saw that scene. That was mind-blowing. We were like, 'Oh sh*t.' Yeah, then we have questions. We asked Kevin Feige, but Kevin Feige's like, 'No, you stay in the show. You just accept how it is. And everything that's outside of the show, you don't have to know that.'"
Oh, that Kevin Feige is a rascal. This is why filmmakers often have no idea what's going on with characters in other franchises, even if the characters they've been directing appear in one of their own movies. Taika Waititi recently confirmed that he has no additional insight into what's in store for "Guardians of the Galaxy Vol. 3" despite nearly the entire team appearing in "Thor: Love and Thunder." That's how you keep secrets, folks.
So Adil El Arbi and Bilall Fallah are left in the dark like the rest of us, and they're theorizing too. El Arbi made a safe bet: "I think maybe she's in space somewhere [laughs]. Maybe she's in some universe." Like many fans, he believes that Kamala Khan likely swapped places with Carol Danvers. They didn't swap bodies, like "Freaky Friday," but simply swapped places. Fallah made the bold prediction: "She will be on an adventure." Maybe she'll even breathe or walk around!