Ms. Marvel Directors On Kamala Khan's Real Superpower And The Finale's Best Kept Secret [Interview]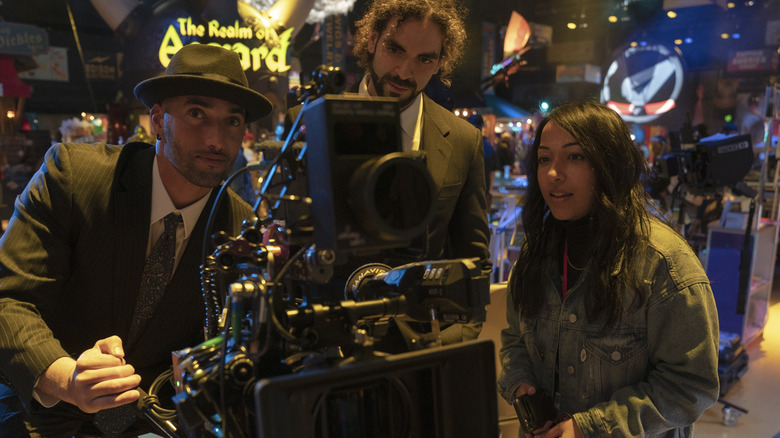 Marvel Studios
Yesterday, Marvel Studios wrapped up the first season of its emotional, family-friendly superhero series "Ms. Marvel" with "No Normal." This is the first mainstream superhero property led by a Pakistani-American Muslim character. Kamala Khan (Iman Vellani), a New Jersey-based teenager, is unapologetically Brown and Muslim; she freely allows her faith and culture to shape her. It's rare to see a Brown Muslim girl from the suburbs saving the world in mainstream popular culture, but in "Ms. Marvel," Kamala accomplishes that mission.
The show is easily one of the best we've seen from the MCU so far — it's a vibrant, deeply resonant superhero origin story brimming with color. Translating that comic book aesthetic to the screen was no easy task, and it was up to Belgian-Moroccan filmmaking duo Adil El Arbi and Bilall Fallah (who also serve as executive producers) to begin and end the series as the co-directors of episodes 1 and 6. Arbi and Fallah previously found success in the Will Smith/Martin Lawrence action-comedy "Bad Boys For Life," and their newest feature film, "Rebel," chronicles the story of a Muslim Belgian family's struggles in the face of radicalization, and was screened at Cannes earlier this year. 
I had the opportunity to speak with Adil El Arbi and Bilall Fallah over Zoom about their directorial work on "Ms. Marvel," their theories on where Kamala ends up at the end of that surprising post-credits scene, their dream comic book character to direct, and the finale's best-kept secret that made its way to the script at the very end.
This interview has been lightly edited for clarity and brevity.
'We really wanted to have the comic book aesthetic in the show'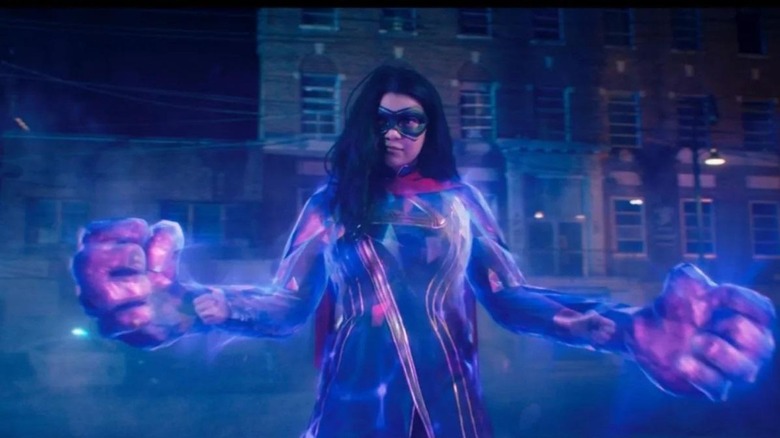 Marvel Studios
First of all, congratulations on the season. It's been so wonderful to witness Kamala's journey. You've often mentioned that "Ms. Marvel" is heavily influenced by the comics and that you recreated certain visuals in this adaptation. What was your favorite direct visual reference to the comics? And can you talk a little bit about how it was for you to recreate the finale's big "Embiggen" scene and Kamala's superhero signature pose?
Fallah: Yeah, we were so heavily influenced by the comic book and we really wanted to have the comic book aesthetic in the show, and it was not really present in the script so it was not really a concept; it was something we came up with. We were a bit afraid that Marvel wouldn't do that because it's totally different than all the other shows, so we really tried to present this presentation to Kevin Feige to show that with this with animation, we can go inside her head, her fantasy land, and her imagination. That's why we got influences from "Spider-Verse" and Edgar Wright movies like "Scott Pilgrim." And eventually, he liked it. He said, "Very good. Don't go overboard, don't do too much, but stay true to the character and go on with it." So that animation really comes from the comic book.
El Arbi: Yeah, "Embiggen," the powers were actually in the script, but not really that clear. It was just written "Hard light," that's it. So the information we had was that it was not going to be the same as the comics, and it was going to be some hard, crystally light thing. I really like the powers of the comics, so we still wanted to have that vibe to it, and that's how Nordin Rahhali, the effects supervisor, came up with this idea because we told him, "We want to have an 'embiggen' scene. How do we do that?" He came up with that design of having this crystally hard light thing around her, and when he presented it to us, we said, "That's too cool, we're going to keep that for the finale so that at least we have our 'embiggen' moment." And that's how, finally, it was a good blend between what was originally in the script and eventually that homage of the comic.
'People in Europe have World War II as part of their history ... for South Asian people, it is Partition'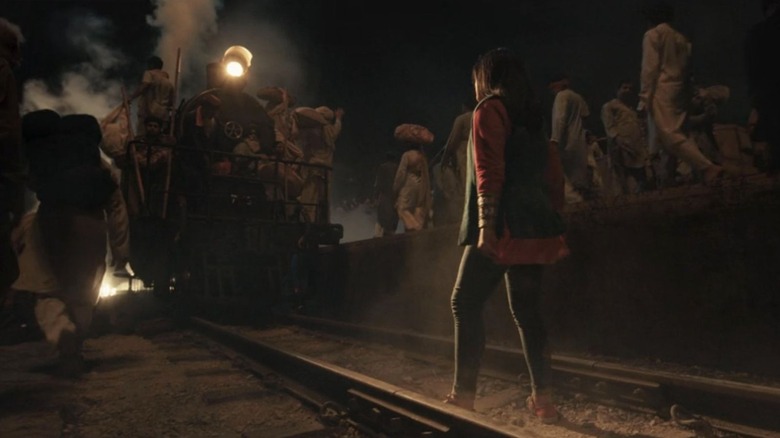 Marvel Studios
I particularly really admired the flashback sequences from episodes 4 and 5 that featured the last train leaving for Karachi during the partition of India. It felt so rooted in reality and truth, and I'm curious about what your input was like at the time, and how the team, together, approached tying a major historical event into the MCU.
El Arbi: Well, for us, it was always important that it was very authentic and it felt real, because people in Europe have World War II as part of their history and identity. Well, for South Asian people, it is Partition. That's something very, very important, so you've got to do it right. We were very lucky that we had director Sharmeen Obaid-Chinoy, who is from Pakistan, and is actually a documentary filmmaker, to be responsible for the realism. So she did a ton of research, and obviously, she knows that through her own personal history, and I think that she did a fantastic job to recreate that aspect and do it in the right way.
Where do you think Kamala goes at the end of that unexpected post-credit scene? What are your theories?
Fallah: Post-credit scene? Well, we didn't shoot that [laughs]. Nia DaCosta is directing "The Marvels," she shot that scene without knowing that it would be a post-credit scene. And we discovered [it was added to the finale] when we were color grading; all of a sudden, after the credits, [laughs] we saw that scene. That was mind-blowing. We're like, "Oh sh*t." Yeah, then we have questions. We asked Kevin Feige, but Kevin Feige's like, "No, you stay in the show. You just accept how it is. And everything that's outside of the show, you don't have to know that."
El Arbi: I think maybe she's in space somewhere [laughs]. Maybe she's in some universe.
Maybe she's in place of Captain Marvel.
El Arbi: Yeah, they swapped places.
Fallah: She will be on an adventure.
'Batgirl is in Gotham City, so it's going to be much darker than Ms. Marvel'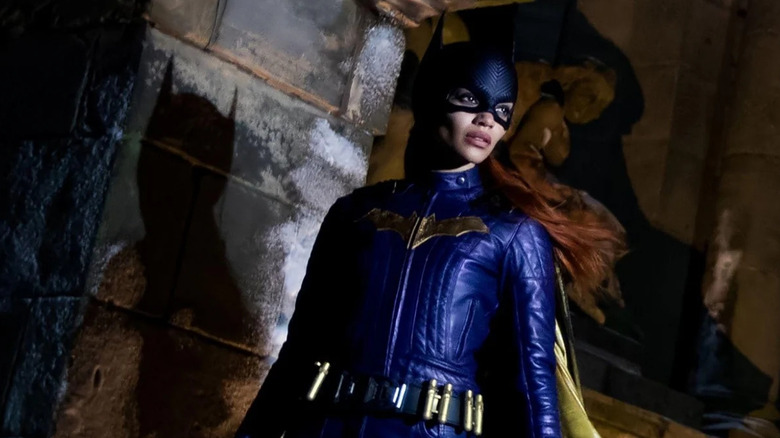 Warner Bros. Pictures
You've previously noted that Kamala's character was relatable because you shared some similar experiences. I'm wondering about how your visual approach for "Batgirl" will differ since the DCEU is very different from the MCU, both tonally and thematically.
El Arbi: Well, the thing is that it's also an origin story, but obviously, "Batgirl" is in Gotham City, so it's going to be much darker than "Ms. Marvel," and our main character is older. I mean, she's not a teenager, she already has a job. But I think that we're still going to try to have the same visual vibrancy that is our trademark, you could say, and homages to the comic book, homages also to the animated series of Batman, and the Tim Burton movies. So that's what we're trying to do with that, but obviously, it's going to be a bit darker than Ms. Marvel's world.

'We are Muslims living in Belgium, we have our own experiences as teenagers'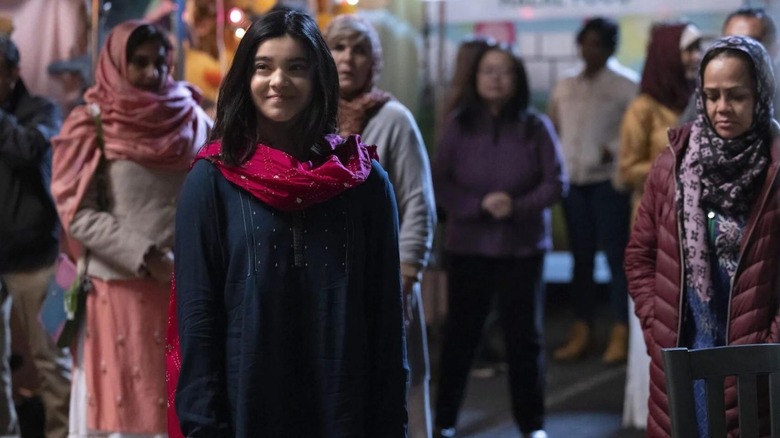 Marvel Studios
How do you think directing "Ms. Marvel" together has informed your experiences as filmmakers?
Fallah: Yeah, we come from making movies most of the time, so making a TV show is really teamwork. And at the same time, you're in the Marvel universe, so every day is a crazy day in the Marvel universe [laughs]. Everything is possible. You have all the tools, you can come up with crazy sh*t, and then the CGI people, the visual effects team, they create that. So sometimes we are shooting things without seeing it, and we like to have it practically [laughs], but in this case, it's like, "What's going to happen?" So these moments, it's been a big learning curve for us.
To see authentic Muslim representation in a show has been so rewarding for me as a Muslim viewer. How did you navigate telling a story that was so true to your roots? Was it natural for you to draw from your experiences?
El Arbi: Well, it was already in the comic book's presence, so I think that the comic book already had those scenes, those conversations. It was very pioneering, those issues and subject matter. So we just took the comics as our base for it and built up on that. And obviously, the fact that we are Muslims living in Belgium, we have our own experiences as teenagers, what it means to be between two cultures and having to decide where you belong. But I mean, us together with the other directors and the producers who are also Muslim, we knew the authenticity of those certain scenes and sequences. We just took from what we really witnessed, and we really live, and what it means to be a Muslim in a Western country. That's why, I think that it felt very natural to shoot those scenes.
'Her real superpower is her family'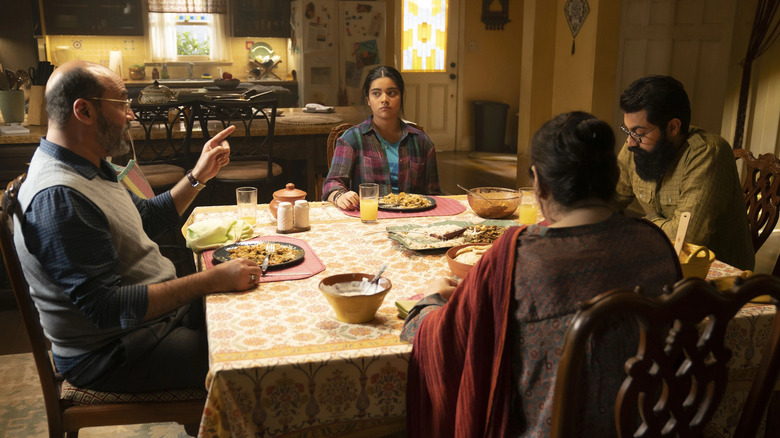 Marvel Studios
If you could pick any Marvel comic book character to direct in their own series again, which one would it be? 
El Arbi: Their own series? I mean, it would be nice to have a series with Korg [laughs]. It would be little, 15-minute episodes of Korg. I'd love to see it [laughs].
The finale is a big episode for Kamala and her family. We see her mother gift her a tailored superhero suit, and she shares such a touching moment with her father when he reveals the meaning behind her name in Urdu. And there was so much action in the finale. How do you balance those two things together, the action and the more emotional, intimate moments that she shares with her family?
Fallah: Well, I think just in the story itself, for us, the most important thing was that her real superpower is her family. She's there being a superhero and she has to do all this action, but she gets her power from her family. That's why the moment that she's the most down and low, she's on the ground, and she looks at her family, and that's how she gets her inner power to "embiggen." And that is, for me, that balance of that intimate relationships between her family, her friends, her community, and being a superhero. So finding that balance was already part of the story we wanted to tell. And I find it very beautiful — one of the best scenes or most emotional scenes is the scene with the father, which to me is also as epic as the epic final battle.
'More animation ... more craziness, more manga sequences with her power'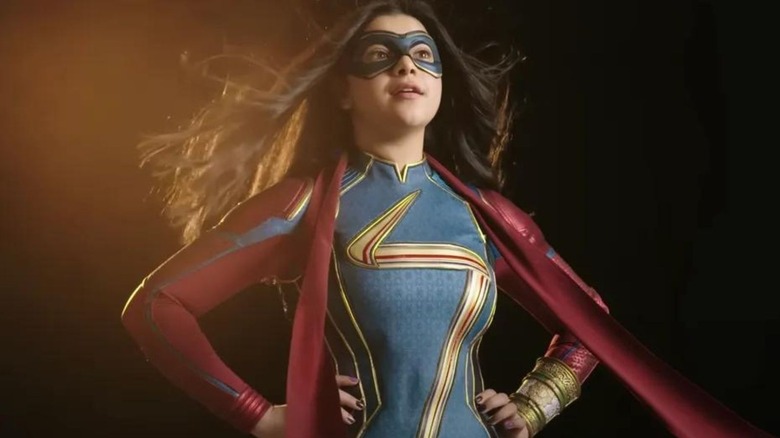 Marvel Studios
Would you both be excited about a possible season 2? Is there any storyline that you already are thinking about maybe exploring?
El Arbi: We can do much more. We want to explore her, and her friends and family, like Bruno, Nakia, Zoe, all these, Yusuf and —
Fallah: I want to have more scenes with Imam Abdullah. Also a very cool character.
He was really funny.
El Arbi: We'll see what happens. If they ask us for a feature or a movie, we'd love to have more animation in it, and more craziness [laughs] and have manga sequences with her powers and all that. That's the goal.
Fallah: And obviously, see if we can add some X-Men flavor to it.
That was a surprise for all of us, and fans, to see the X-Men theme played right when Bruno says, "Mutation." Can you comment on that? How did you navigate that?
Fallah: It was a [well]-kept secret that we only had in the very last version of the script, and the description was, "Just shoot this, put the music on, and that's it." So we could ask a million questions, but we never would get any answers.
All six episodes of "Ms. Marvel" are now streaming on Disney+.