Could We Ever See The Black Phone 2?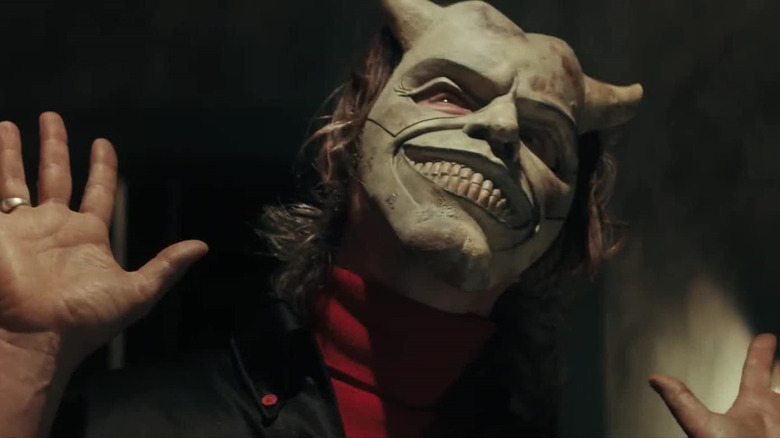 Universal Pictures
Scott Derrickson and C. Robert Cargill's "The Black Phone" had its world premiere at Fantastic Fest in 2021, with a delayed wide release in 2022 that took the horror film to box office success. Derrickson's return to horror following his short-lived MCU tenure has been lauded for its storytelling, performances, and creative payoffs. Adapted from a short story by Joe Hill, the film centers around Finney (Mason Thames) and his abduction by a masked grabber (Ethan Hawke), whom Finney tries to escape while receiving help from a mysterious disconnected black phone.
The Black Phone was a big win for Universal, Blumhouse, and original horror projects in general. Derrickson is no stranger to starting franchises, directing films like "Sinister" and "Doctor Strange," which soon went the path of sequels, albeit without Derrickson at the helm. With the massive success of "The Black Phone," is there any chance for the '70s-set thriller to have a follow-up?
Hesitancy in starting a franchise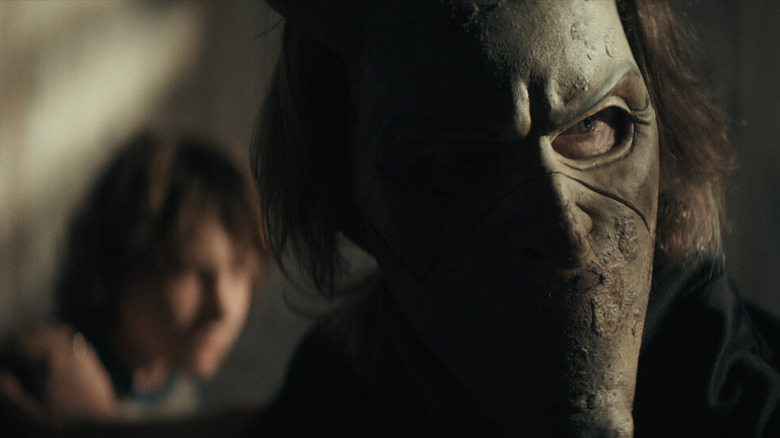 Universal Pictures
Scott Derrickson talked to The Wrap about potential sequels for "The Black Phone," but the creative was hesitant to give a solid answer:
"It's not something that is innately exciting to me. In the case of this story, I'm interested in the characters that we created, and I think there's a tone to the movie that is unique and can be expanded upon. So possibly, we'll see. You never know, but I'm certainly not closed off to the idea."
Derrickson's hesitancy to start another franchise is understandable. The horror genre has been known to occasionally beat a dead horse with the number of sequels, spin-offs, and reboots certain franchises have. There's also the issue of the story and concept being one that Joe Hill first created in short story format. Would a sequel to "The Black Phone" be penned entirely by long-time Derrickson partner C. Robert Cargill?  An original story from the two could be the route a potential "Black Phone" sequel could take, but you shouldn't count out the author who created the concept in the first place. Author Joe Hill has his own ideas for a sequel to the original short story that he penned, and Derrickson was excited by it at the time of its conception.
Sequel ideas from Joe Hill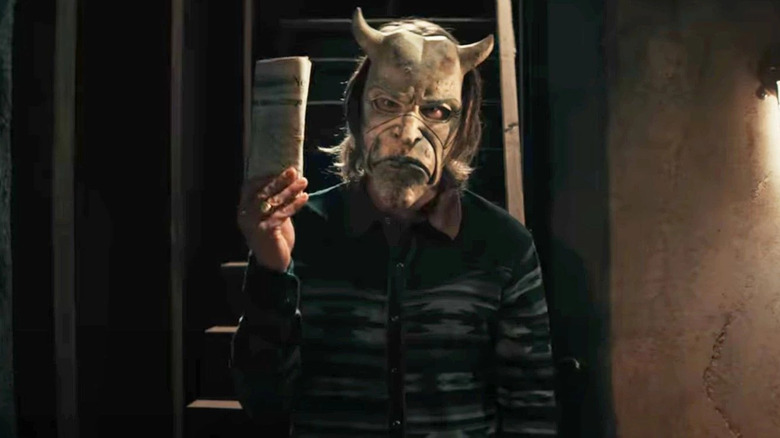 Universal Pictures
Derrickson talked to Comicbook.com about Joe Hill's sequel story ideas:
"Joe Hill pitched me a wonderful idea for a sequel to Black Phone that, if this movie does well, I'm gonna do it. He's got a great idea, I really liked it. Joe's very protective and personal about his material, but he came to me with the idea and I was like, 'That's how you do a sequel to Black Phone. That's terrific.'"
It's important to note that Derrickson made these comments before "The Black Phone" was released in theaters and before his newfound hesitancy in his quote to The Wrap. 
As of now, Derrickson sees potential in a sequel to "The Black Phone" but isn't ready to dive inheadfirst and start production on it. There's a new idea from author Joe Hill that Derrickson was quick to praise, but for now, anything regarding a "Black Phone" sequel is still up in the air.
A big part of why "The Black Phone" is so successful is how organically Derrickson and Cargill approached and conceived the film following their departure from "Doctor Strange in the Multiverse of Madness." Anything forced would be a bad idea. For now all we can do is trust Scott Derrickson's creative process and see where it takes them, whether it be "The Black Phone 2" or some other endeavor in horror.