Kevin Feige Addresses Scott Derrickson's Departure From Multiverse Of Madness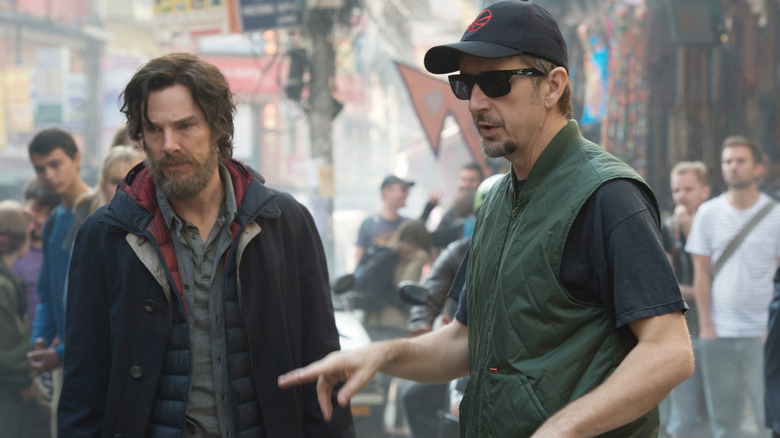 Marvel Studios
There are few ways of stirring the pot quite like a director stepping down from a major tentpole over unspecified "creative differences." It's happened on multiple occasions with Marvel Cinematic Universe movies over the years, the most recent example being "Doctor Strange in the Multiverse of Madness." In that case, "Doctor Strange" helmer Scott Derrickson was set to call the shots on the Sorcerer Supreme's next solo film, only to drop out in January 2020 and be replaced by Sam Raimi not long after. This also led to rumors that Derrickson had wanted to make a "Doctor Strange" sequel that was closer to a true horror flick, more so than the House of Ideas was comfortable with.
Marvel Studios President Kevin Feige addressed the matter directly in an interview with Empire Magazine for its May 2022 issue. "We love Scott, and I think Scott feels the same," said Feige. "Nobody believes it, but it was just creative differences." He also shot down the idea that Derrickson had envisioned the "Doctor Strange" sequel as being a "a no-holds-barred weird, gnarly, scary movie" (as Empire put it) in the vein of an A24 horror film like "The Witch" or "Hereditary," noting:
"There's been some thought that that was the creative difference with Scott and Marvel, and it was not. Because we love that idea. The intention was that Strange would guide us into a much creepier side of the world."
So Derrickson went and made a scary movie, anyway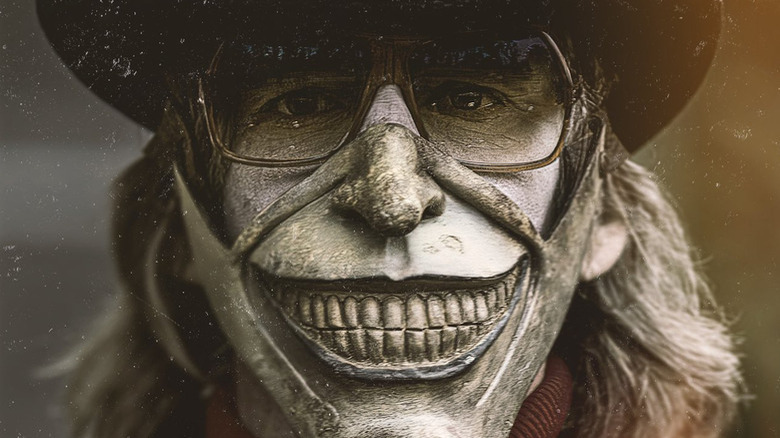 Universal Pictures
Derrickson, for those not familiar with his pre-MCU work, comes from a background in horror. After cutting his teeth as a writer on the horror sequels "Urban Legends: Final Cut" and "Hellraiser: Inferno" (the latter of which he also directed), the filmmaker began to make a bigger name for himself by helming the courtroom horror-thriller "The Exorcism of Emily Rose" in 2005. He would later direct the 2012 hit "Sinister," a horror film that he also co-penned with C. Robert Cargill. The pair has since collaborated on the first "Doctor Strange" movie and "The Black Phone," a project that further reunites them with "Sinister" star Ethan Hawke.
Cargill, like Feige, confirmed that Derrickson had left "Doctor Strange in the Multiverse of Madness" over creative differences in an interview with Cinema Blend in May 2021. To hear Cargill tell it, Derrickson ultimately decided that he would prefer to helm "The Black Phone" himself rather than handing it off to someone else and directing a compromised version of what he initially had in mind for the "Doctor Strange" sequel:
"It came down to Scott, and Scott's like, 'Well, I can make this movie that I'm compromising what I wanted to do on, or I could make The Black Phone,' and he goes, 'You know, I want to make a movie with Cargill. I'm gonna go make The Black Phone.' It was, as he said publically, it was a hard choice to leave Strange behind; but it made it easier that he had a movie that he was looking forward to. And then the experience was just so great that we're just are so proud and happy with what we made."
So far, it looks like Derrickson made the right choice for all concerned parties. Early buzz is strong for "The Black Phone" after the film, itself an adaptation of Joe Hill's 2004 short horror story of the same name, made its world premiere at the 2021 Fantastic Fest. Similarly, Marvel Studios seems pleased with what Raimi did with "Multiverse of Madness," and even Stephen Strange himself, Benedict Cumberbatch, feels confident enough to hype the sequel as being "on the level" with 2021's mega-popular MCU multiverse romp, "Spider-Man: No Way Home." Of course, only time will tell on both counts.
"Doctor Strange in the Multiverse of Madness" reaches U.S. theaters on May 6, 2022, with "The Black Phone" following suit a month later on June 24. The May 2022 issue of Empire Magazine goes on sale on Thursday, March 17.