Ana De Armas' Character In The Gray Man Is More Than Just A Love Interest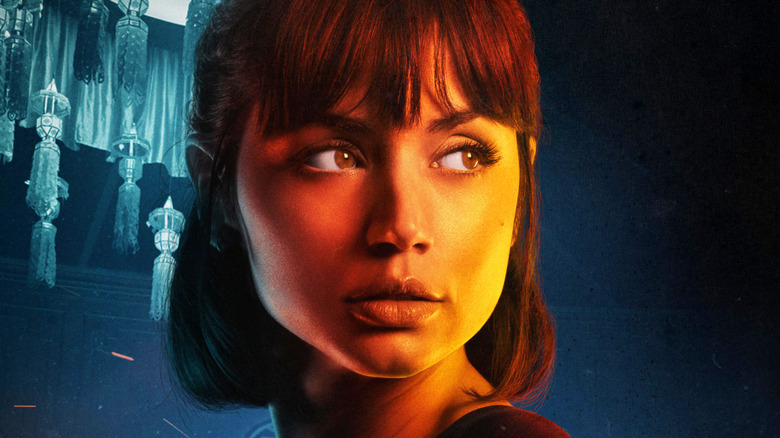 Netflix
"The Gray Man" has gone through some wildly different permutations on its way to the big screen. Early on, the film adaptation of Mark Greaney's 2009 debut novel of the same name was set to be a Brad Pitt vehicle directed by James Gray, years before the duo teamed up for 2019's "Ad Astra" (tragically depriving us of countless dad jokes about "The Gray Man" and its "Gray" director in the process). Later, when the Russo Brothers came aboard to write its script, Charlize Theron was attached to star in a gender-swapped version of the movie, prior to the latter headlining "Atomic Blonde" instead. So, all in all, fair trade.
In its Pokémon-style final form, "The Gray Man" stars Ryan Gosling as Court Gentry, aka Sierra Six, a stoic-yet-sassy (seriously, he quips twice in the film's trailer alone) CIA black ops mercenary who finds himself on the run after uncovering some of the agency's dark secrets. Joining Gosling in the cast are "Knives Out" co-stars Chris Evans and Ana de Armas as, in turn, Court's trash-stached former colleague-turned enemy Lloyd Hansen and his ally Dani Miranda. For the time being, though, it sounds like Dani will be less the Marie to Court's Jason Bourne and more the Natasha Romanoff to his Steve Rogers. 
In case you're confused, that's movie nerd code for "They're not romantically involved" (yet, anyway).
Not rushing the relationship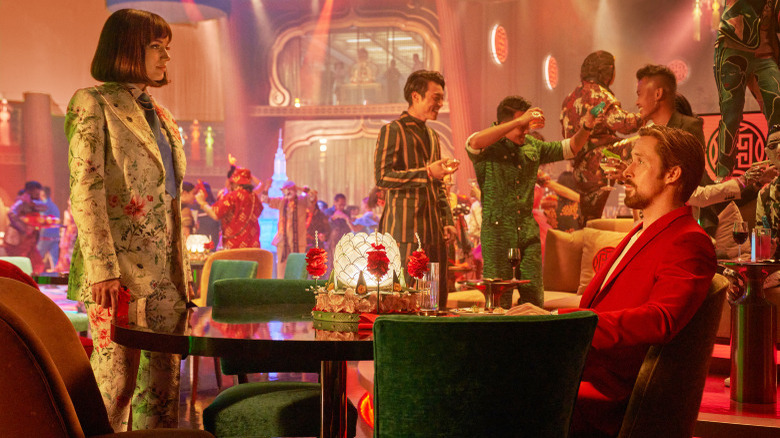 Netflix
Ana de Armas is, of course, no stranger to playing love interests to Ryan Gosling, having previously portrayed his holographic A.I. girlfriend Joi in "Blade Runner 2049." With the pair having already worked together, it wouldn't have come as a great shock if the Russo Brothers (directing from a script co-penned by their "Captain America" and "Avengers" movie writers Christopher Markus and Stephen McFeely) decide to tap into their screen chemistry right away in "The Gray Man." Speaking to Elle, however, de Armas said that's not the case. She added:
"I was very happy to see that they didn't rush this relationship [between Court and Dani]. Whatever's going to happen in the future, I don't know, but I was happy that the focus was on the mission."
Indeed, one of the perks of de Armas' rise to fame is that it's allowed her to break away from playing generic love interests. Even "No Time to Die" subverted this trope by casting her as Paloma, a cheerful-but-deadly young CIA agent who keeps things strictly business with James Bond (Daniel Craig, another one of de Armas' "Knives Out" co-stars), much to his bemusement. Her newly-gained star-power similarly gave de Armas enough sway to bring in "Promising Young Woman" director Emerald Fennell to punch up the script for her "John Wick" spinoff, "Ballerina."
As for a future romance between Court and Dani, that depends on "The Gray Man" becoming successful enough to launch a franchise as intended. /Film's Hoai-Tran Bui dubbed the film a generic Russo Brothers action movie in her review, so, uh, that's not exactly an ideal start. But hey, that didn't stop "Extraction" from getting a sequel (zing!).
"The Gray Man" opens in theaters July 15, 2022. It will begin streaming on Netflix a week later.