Brad Pitt In Talks For Lead Role In 'The Gray Man'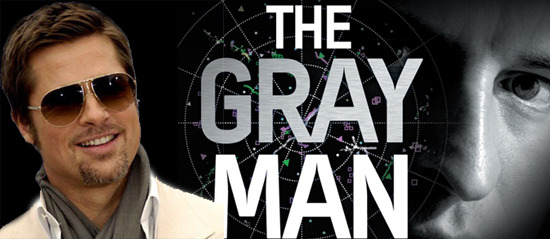 James Gray, the director of films such as Two Lovers and We Own the Night, was once set to direct The Lost City of Z,  featuring Brad Pitt. Things changed on that front, as Gray and Paramount couldn't come to financial terms for the big-budget 'expedition to the Amazon' film. (Ironically, the same issue was once a stumbling block for the similarly -titled World War Z, also at Paramount, which is now in production with Pitt under the director of Marc Forster.)
But as often seems to be the scenario with Brad Pitt and certain directors, the star and filmmaker are now set to come together on another project. Pitt is in talks to star in The Gray Man, an adaptation of Mark Greaney's assassin thriller novel.
We heard earlier this year that Gray would direct the film, about a former CIA man turned assassin who has to fight through special forces teams from across Europe as he tries to save the life and family of his handler. When that deal was announced, Gray said be wanted to avoid the pervasive Bourne action/thriller style by shooting The Gray Man almost entirely in a POV perspective. ("You humanize him by never distancing yourself from his experience," he said.)
I don't expect that to happen; maybe we'll see a sequence or two in that style. Still: Pitt and Gray seem like a great pairing. Given the director's overall style and the fact that trades call this "a character piece adaptation from Mark Greaney's debut thriller," can we expect something closer to the George Clooney-starring The American than a typical thriller? I'd bet so, and would be behind that all the way.
In Greaney's fast-paced, fun debut thriller, Court The Gray Man Gentry, a former CIA operative now renowned as the ultimate killer for hire, is on the job in Syria and Iraq. To his shock, he learns that a team sent in to rescue him now has him targeted for elimination. On the run, Gentry slowly realizes that huge forces are marshaling against him, from his former government to the one man in England he always trusted. With unbelievable powers of survival, the Gray Man eludes teams of killers and deadly traps, while the reader begins to cheer for this unlikely hero. Cinematic battles and escapes fill out the simplistic but satisfying plot, and Greaney deftly provides small details to show Gentry's human side, offset by the petty rivalries and greed of his enemies.
James Gray also has Low Life lining up, with Joaquin Phoenix, Marion Cotillard and Jeremy Renner as the current roster, but with all three busy for some time, Low Life is a film that might happen down the road.
[Variety]