Why Chris Hemsworth Changed His Diet Before A Pivotal Thor: Love And Thunder Scene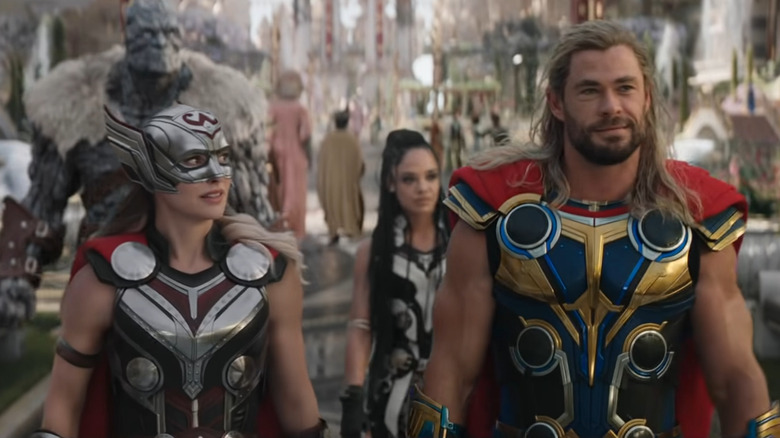 Marvel Studios
When actors have to bulk up for a film, it's not just about working out. Sure, they might be hitting the gym six days a week, but they also have to change their diets. Often this calls for more protein than one would usually eat. For "Thor: Love and Thunder" star Chris Hemsworth, it was a whole lot of meat, according to a Centr video (via Delish) with his trainer. 
In one of Hemsworth's Instagram posts, we learned that he ate about 4,500 calories over 10 meals a day. That's a whole lot of food. Of course, if you're going from dad bod to god bod, as Korg (Taika Waititi) says Thor does, you have to put in the work.
Despite his rigid training program, however, Hemsworth changed up his diet for a very important scene, according to co-star Natalie Portman in an interview with UK's Capital FM (via Variety), and it might not be the one you're thinking of. (Don't worry. My mind went straight to the naked flick scene as well. You are not alone.)
Spoilers for "Thor: Love and Thunder" below.
Food restrictions for the best reason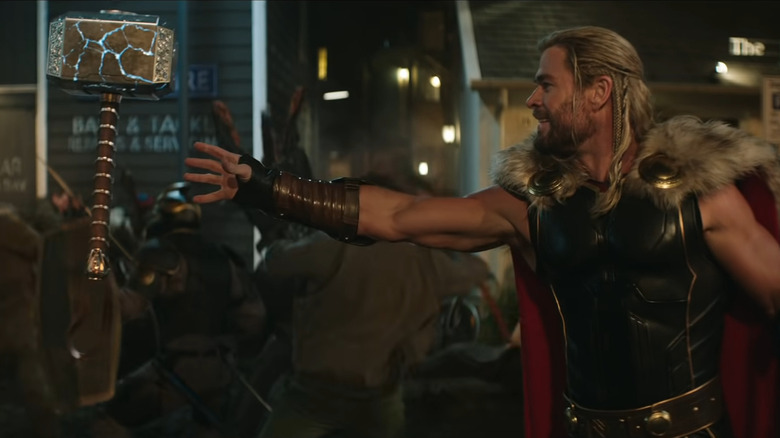 Marvel Studios
As it turns out, Hemsworth didn't switch up his non-stop meat snacking routine for a fight scene, his workout montage, or even the moment where he's disrobed by Zeus (Russell Crowe). He did it to support his co-star Natalie Portman. 
In the film, Thor's old flame Jane Foster (Portman) not only returns to his life, but is now wielding Mjolnir as the Mighty Thor. Seeing each other again in battle rekindles some old flames — they chat about how long it's been in front of a literal house on fire — and they end up smooching later in the film.
Kissing scenes can look so romantic on the big screen, but sometimes later on, actors talk about how icky it actually was. Like when Eva Mendes told Oprah Winfrey about eating a tuna sandwich with extra onions and crushed Doritos before she kissed Will Smith in "Hitch." Hemsworth has moved further up in the famous Chris rankings by doing the exact opposite. He didn't eat meat before Thor and Jane's kiss, because Portman is a vegan.
Meat-free smooches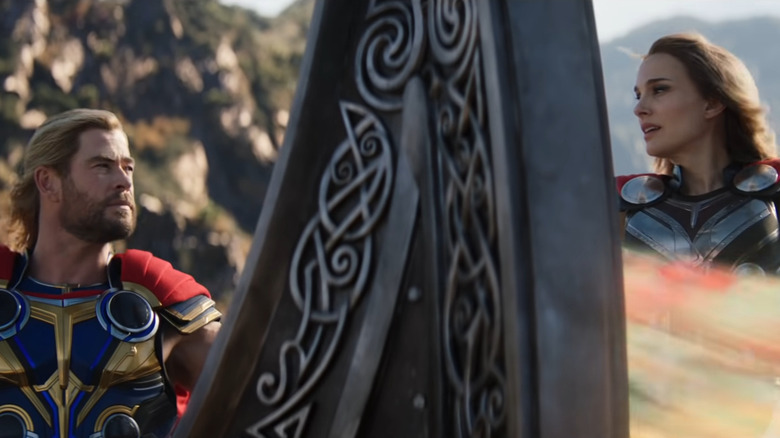 Marvel Studios
Portman said in the interview with Capital FM: 
"He's really nice. The day we had a kiss scene he didn't eat meat that morning because I'm vegan. And he eats meat like every half hour. Like, that was so thoughtful. That's not something I'm angry about or care about, but he was just being thoughtful. He's just a very nice person."
Co-star Tessa Thompson who plays Valkyrie responded that she "didn't even know he could go without eating meat. He's just like eating bison in the morning. That's so sweet." Breakfast bison? Wow, that's certainly ... meaty. 
As Portman said, she didn't care about it in the first place, which is just a small reminder that not every vegan or vegetarian has strict rules. Hemsworth just did it to be nice. As someone who is veggie and lives with a considerate carnivore, I really appreciate the gesture he made. 
"Thor: Love and Thunder" is in theaters now.