10 Truly Great Movie Kisses That Deserve More Love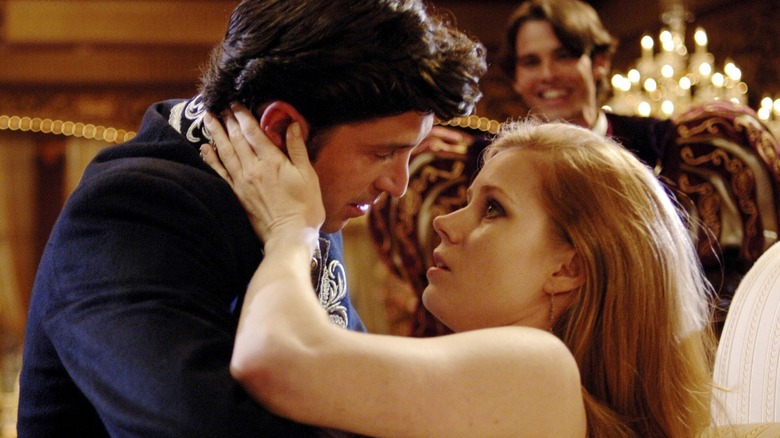 There have been quite a few memorable smooches throughout cinematic history. From the kiss that left us on the edge of our seat to the ones that made us melt, particular kisses continue to make us dream. But (as is the case with most artistic things), there have been a few swoon-worthy moments of emotion that have gone under-appreciated within the movie fan community.
It's Valentine's Day, so it seems only fitting to give some much-needed-shout outs to a select few. So grab your favorite box of chocolate, and let's examine some movie kisses that need some more TLC from film fans.
Say Anything
The Kiss: Diane (Ione Skye) and Llyod (Jon Cusack) rekindle their love amidst an athletic setting
The Lead-Up: At this point in "Say Anything," Llyod has been doing his best to sweep his high school crush, the intelligent Diane, off her feet. They've gone on dates, had incredible kisses, and made the kind of daring leaps movie fans crave. But after an intense breakup, and substantial development in Diane's life, they're both at an emotional crossroads – the kind that leads Diane to find Llyod during her most desperate hour.
Why We Swoon For It: Though lasting mere seconds on screen, Cusack and Skye sell this moment through their heartbreaking chemistry. You believe the love between these two, especially when Llyod initially pushes Diane away when she tries to show him affection. He's been wounded, as has she, and viewers want them to get back together because (to answer Llyod's question to Diane) they do need each other in more ways than one.
Enchanted
The Kiss: Giselle (Amy Adams) and Robert (Patrick Dempsey) experience true love's kiss
The Lead-Up: "Enchanted" is known for its perfect combination of elements from prior Disney classics, but also for its build-up of archetype characters that get thrown into unexpected circumstances. The best example of this is the evolving relationship between the wide-eyed Giselle and the positivity rejecting Robert. Though they've been through many emotional rollercoasters and musical numbers, they're finally put to the romantic test when Giselle eats a poisoned apple – cursing her to eternal sleep.
Why We Swoon For It: Throughout the movie, we've watched this unconventional pair grow together in ways that most Disney couples often don't get the opportunity to do. And with the delightful spark between Adams and Dempsey, we (as the audience) knew Giselle and Robert deserved each other — but it's great when they finally realize it too.
Some Like It Hot
The Kiss: Shell Oil Junior (aka Joe, played by Tony Curtis) and Sugar Kane (Marilyn Monroe) try some kissing for the sake of science
The Lead-Up: After having traveled together, Joe (disguised as his female alter-ego, Josephine) has learned about Sugar's inner romantic dreams. He tries to make such a fantasy come true by taking on the persona of a waspy oil tycoon. After a lovely date, Junior "claims" to have been turned impotent due to some past trauma. But Sugar Kane is up the challenge to prove that isn't the case.
Why We Swoon For It: Shot in the most intimate of ways by cinematographer Charles Lang, the steamy chemistry between Curtis and Monroe radiates off the screen from beginning to end. And when you consider that this came out in a time when the Hays Censorship Code was still in its prime, it's incredible how much intimacy Billy Wilder and everyone involved was able to capture without fading to black.
Pain and Glory
The Kiss: After rekindling their old flame, Federico (Leonardo Sbaraglia) kisses Salvador (Antonio Banderas)
The Lead-Up:  We as the audience are kept at a distance about the details of Salvador's love life. We know little things here and there, but when Federico attends the performance of Salvador's uncredited one-person play, the details become more clear about this past love affair. And when Federico arrives at Salvador's apartment door, the emotional dial is turned up to an 11 and beyond.
Why We Swoon For It: From the moment these two lock eyes, there is an infectious warmth between them. You can feel their history, especially as Federico pulls Salvador in for said kiss. Sure, it doesn't lead to anything, but its the intentions within the kiss that are incredible to witness. And though you could debate that this kiss is too new to be considered underappreciated, that's why it is included on this list – so that it will never be forgotten.
Prince of Egypt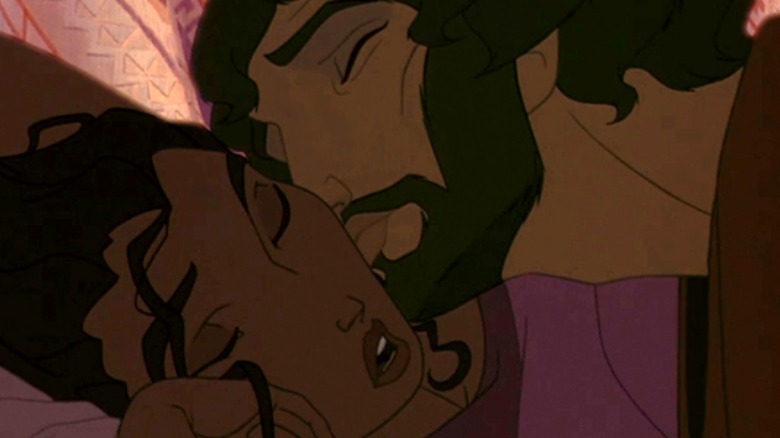 DreamWorks Pictures
The Kiss: Moses (Val Kilmer) plants a kiss Zipporah's (Michelle Pfeiffer) cheek before leaving for his morning work
The Lead-Up: The romantic build-up between Moses and Zipporah was quite an intense one. Initially, like most famous couples, they couldn't stand each other due to the poor treatment Zipporah received from Moses' royal adopted family. But as his life began to change, and he ran into Zipporah again, the spark between them grew to new heights of love and devotion – leading to their marriage.
Why We Swoon For It: Though this small smooch comes from an animated feature, it is incredibly earnest and mature. It isn't flashy or filled with fairy tale imagery, but instead evokes a deeper romance than many other relationships in hand-drawn films of the era. Without any large scale visuals or big gestures, you understand the intimacy between these two. And when Val Kilmer whispers his simple line of dialog, it becomes the cherry on the sweetest of desserts.
I Married a Witch
The Kiss: Jennifer (Veronica Lake) gives Wooley (Fredric March) one last kiss
The Lead-Up: By now, we've seen the romance between the witch, Jennifer, and the politician, Wooley, become more than just a silly romp. Sure, there were love potions involved in the beginning, but the connection between these two is more powerful than any spell. But when Jennifer's warlock father (Cecil Kellaway) forces her soul to return into a cursed tree, these two enchanted love birds are at a crossroads.
Why We Swoon For It: Veronica Lake may be known for her beauty and charm to younger audiences, but she was more than a bombshell – and this scene proves it. You buy into the love she has for March, which is incredible when you consider how off-screen they hated each other. But that is the magic of movies in its purest form – for it can make anyone seem like they're in love.
Bicentennial Man
The Kiss: Andrew (Robin Williams) asks Portia (Embeth Davidtz) for a quick kiss
The Lead-Up: We've seen Andrew change from a typical sci-fi robot into an extraordinary android being. And when he begins to gain feelings both literal and metaphorical, his relationship with Portia becomes incredibly complicated. He now knows what jealousy feels like, and is willing to do whatever it takes to win her heart.
Why We Swoon For It: Yes, this movie is hokey and yes, it's become a punching bag over the years. But what can I say? I love it. Robin Williams may be one of the most underappreciated dramatic actors of his generation – and scenes like this (as mushy as they are) prove it. Not only do you believe he's fallen for Davidtz's character, but you also buy into him being new to the ways of love, all thanks to the warmth his performance radiates. And when he says, "I lied" about the quickness of said smooch, you can't help but smile at what follows.
Some Kind of Wonderful
The Kiss: Watts (Mary Stuart Masterson) and Keith (Eric Stoltz) "practice" kissing before his date with Amanda
The Lead-Up: "Some Kind of Wonderful" is easily the most underappreciated of John Hughes' teen flicks. It tells a tale of a teenage painter who dreams of taking out popular girl, Amanda Jones (Lea Thompson) on one epic date. Is it because he actually likes her, or is it secretly a status symbol thing? That's the film's big question. But the real romance at its center is between Keith and his tomboy best friend, Watts.
Why We Swoon For It: Throughout the film, we've witnessed the on-again, off-again spark between Keith and Watts. They're meant for each other, but Keith is a dumb teenage boy who can't read a sign if it hit him in the face. So when Watts suggests that they "practice" kissing, we (as the audience) fall more for the idea of them being a couple. And when the 80's score crashes into the scene, everything works together to become an example of pure teen movie bliss.
Boomerang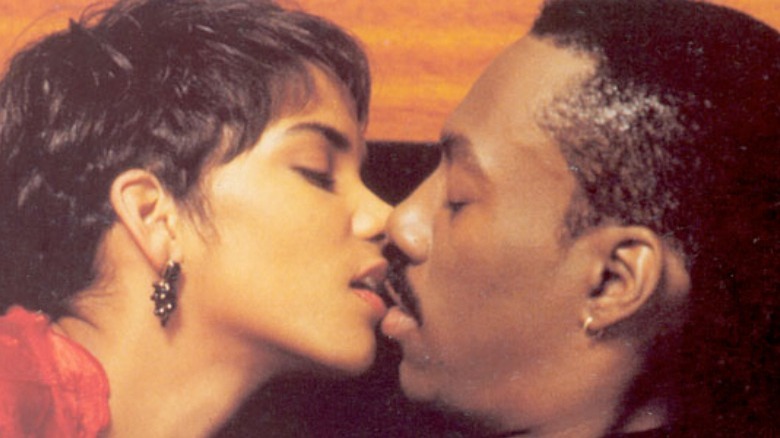 Paramount Pictures
The Kiss: When Marcus (Eddie Murphy) and Angela (Halle Berry) have a friendly smooch
The Lead-Up: By now, advertising executive Marcus has come across as the most despicable of womanizers. His friends constantly keep telling him he's going out with the wrong women — a fact that "Boomerang" proves time and time again. But when work colleague Angela Lewis comes into his view, things begin to change in the most interesting (and genuinely steamy) of ways.
Why We Swoon For It: First off, when you charm a lady with your shared interest in "Star Trek," that's pure romantic magic right there. But what makes this kiss really work is the natural chemistry between the smooth Murphy and the glowing Berry. Not only do they sell their friendship evolving to the next stage, but their acting choices strike that perfect balance of awkward and fiery – just the way any new pair seems when kissing for the first time.
Hearts Beat Loud
The Kiss: Sam (Kiersey Clemons) and Rose (Sasha Lane) share intimate kisses and fears
The Lead-Up: Sam and Rose definitely have a thing going on. Their teenage chemistry is off the hook in the cutest of ways. But after Sam plays Rose the song she wrote and performed with her father (played by Nick Offerman), the two begin to grow closer as they cuddle together in bed – leading some deeper aspects of Sam's life to be revealed.
Why We Swoon For It: Let's face it, Clemons and Lane are a match made in queer teenage movie heaven. They sell their heartfelt emotions from beginning to end, coming across natural yet sparkly-eyed. But what really makes this scene special isn't the initial passionate kisses, but rather the one that Rose gives after Sam admits the dark truth to why she doesn't ride bikes. It's a smooch of reassurance – one we all wish to receive in our darkest hour.