Body-Hopping Witches, Synchronized Divers, And Chan-Wook Park: Dispatches From KVIFF 2022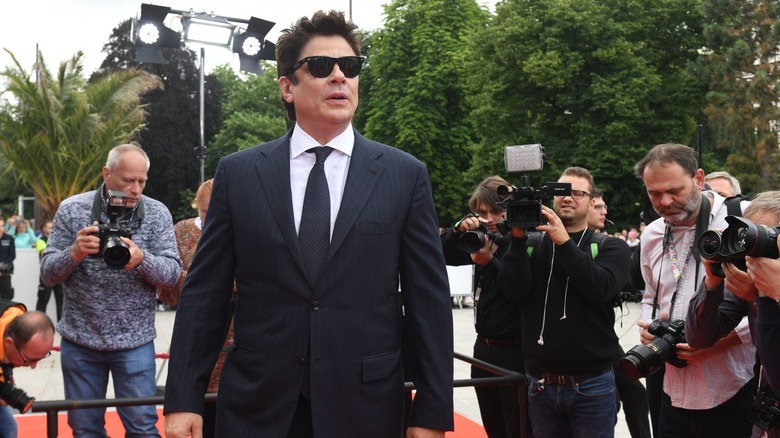 Šulová Kateřina
Last week, after living in the Czech Republic for 13 years, I finally attended the Karlovy Vary International Film Festival. I was excited but a little nervous, and not exactly looking forward to the six hour coach ride across the country to get there. It gave me time to ponder some questions: How hard would it be scoring tickets for the big events? How many movies could I manage to see in a day? What would it be like sitting in crowded theaters after spending the past two years largely avoiding other people?
I usually avoid traveling by coach and my butt was totally numb by the time we had our short layover in Prague. Karlovy Vary is around 80 miles further west of the capital, situated in the forested valleys near the German border. As the country's most famous and elegant spa town, people have traveled here for hundreds of years to experience the waters. Hot thermal springs are dotted along the main tourist strip beside the banks of the Teplá river, named for its warm temperatures. Below one bridge, steam billows into the air where hot water from deep underground hits the cooler currents.
This promenade is the heart of the festival, running for a mile between the main venue at the Spa Hotel Thermal and the town's venerable centerpiece, the Grandhotel Pupp. It's an affluent and heavily touristed parade of beer halls selling overpriced Czech grub, swanky restaurants, champagne and oyster bars, expensive jewelers, designer stores, and souvenir shops, punctuated by live music, workshops, and other KVIFF-related events. It was exactly the kind of tourist trap I usually avoid, but this was my first film festival experience, and I was there to watch a bunch of movies.
One of the world's oldest film festivals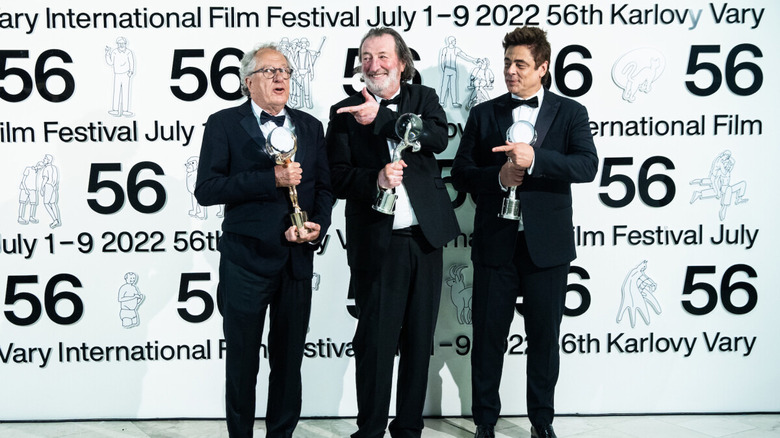 Eva Korinkova
This year's shindig was the 56th edition of the festival, one of the oldest in the world. It started in 1946 up the road in Marianske Lazne before relocating to Karlovy Vary. The festival operated for 40 years under Czechoslovakia's prohibitive Communist regime before the Velvet Revolution in 1989. Five years later, it was revamped into a truly international event. While it still lags some way behind the "Big Three" European film festivals of Cannes, Berlin, and Venice, it is still prestigious enough to attract an impressive array of Hollywood stars. Since its reinvention in 1994, Robert Pattinson, Scarlett Johansson, Robert DeNiro, Jude Law, Harvey Keitel, Morgan Freeman, Judi Dench, Michael Caine, Renee Zellwegger, Johnny Depp, and many others have all checked in to receive special awards or just lend their star power to the event. This year, Geoffrey Rush and Benicio Del Toro were the main guests of honor alongside the great Czech actor Bolek Polívka ("Divided We Fall").
While the Hollywood stars tend to capture most of the limelight, KVIFF is very much an international film festival, screening hundreds of features from places as diverse as Rwanda, Brazil, Serbia, Iran, Japan, and Senegal, with healthy screen time also devoted to Czech cinema. A particularly striking story related to the festival involves national treasure Jiri Menzel, winner of the Academy Award for Best Foreign Language Film back in the '60s for "Closely Watched Trains." Years later, he wanted to adapt another of Bohumil Hrabal's works, "I Served the King of England," but the producer stiffed him on the rights. Menzel was so enraged that he beat the guy with a stick at the 1998 festival. He was fined for the assault, but, as his regular cinematographer Jaromír Sofr assured me, Menzel thought it was worth every penny.
Day One: First impressions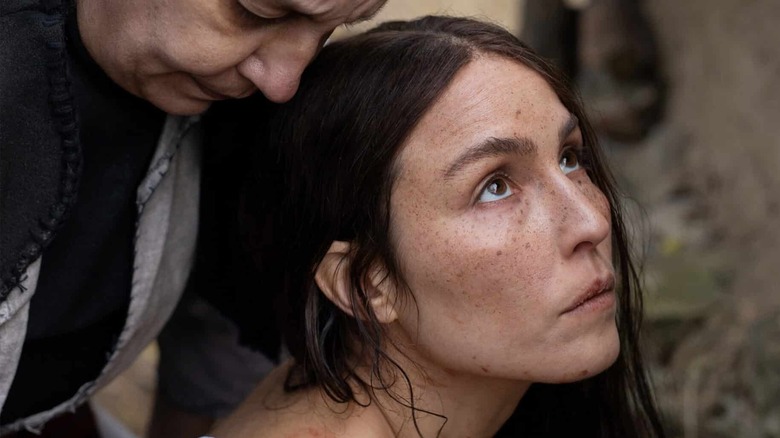 Focus Features/Madman Films/Universal
In the early evening, I finally arrived at my hotel, a spa resort up above the strip on the side of the valley. The place was pretty quiet and the only other guests were seniors wandering around in robes or beefy Ukrainian guys watching updates from back home on their phones. By the time I checked in, had some dinner and a well-deserved pint, I only really had time for one movie. I picked "You Won't Be Alone," a film I was eager to see ever since it popped up in my folk horror groups on Facebook. I avoided reading anything about it, but the trailer pitched it somewhere between "The Witch" and "Hagazussa," a remarkably assured German-Austrian crowdfunded film that makes Robert Eggers' debut look like "Hocus Pocus" in terms of sheer bleakness. 
The film was showing in the small congress hall at the Hotel Thermal, which is easily located thanks to its monolithic tower looming over the chocolate box houses and hotels along the river. The Brutalist concrete bulk of the complex is less daunting when you get close up, softened by the lights, music, red carpet, and hundreds of people thronging about, drinking excellent Pilsner Urquell beer, sharing bottles of wine on the river bank, or simply sitting around enjoying the atmosphere. I was concerned that it might be pretty hectic, but it turns out the Czechs do international film festivals like they do everything else: at a very leisurely pace. The mood was mellow and in the twilight, the hotel looked almost beautiful.
A spooky midnight walk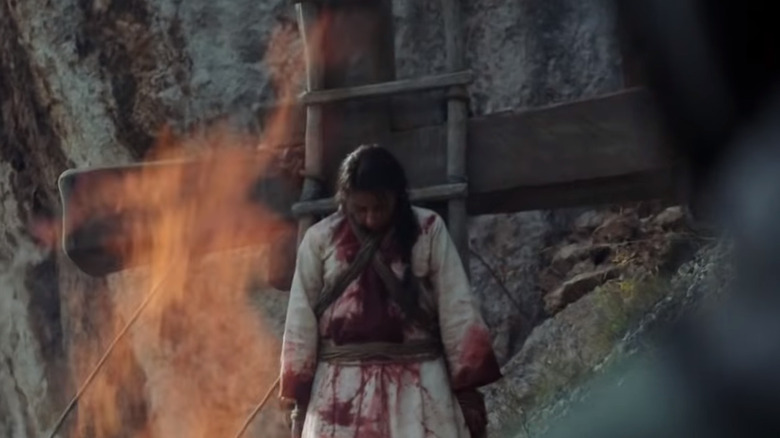 Focus Features/Madman Films/Universal
Full disclosure: I love horror movies but I'm absolutely chicken s**t when it comes to watching them at the cinema. I'm very easily startled, and even someone moving a bit too abruptly in a romantic comedy will make me jump out of my skin, so I don't enjoy twitching all over the place in a room full of people. I'm also someone who has been known to break into a scaredy-cat run when I get spooked walking alone in woods, fields, or dark lanes, and I wasn't relishing the prospect of a midnight stroll back to the hotel along forested roads after the film.
Thankfully, I had nothing to worry about. "You Won't Be Alone" is closer to Ali Abbasi's twisted troll romance "Border" than "The Witch" in the way it confounds the usual horror and dark fairytale tropes. There is plenty of gore, but the film is more interested in exploring the way we perceive the world than scaring the crap out of us. It's a ballsy debut feature from Australian-Macedonian director Goran Stolevski, following a body-swapping, gender-hopping witch as they experience various facets of human existence from the different perspectives of the people they inhabit. It's also absolutely beautiful, warranting its Terrence Malick comparisons. It definitely won't be to everyone's taste, but is unlikely to be forgotten by people who buy into it.
One thing the film definitely isn't is scary, so it was a pleasant walk back to the hotel with the town booming away in full nightlife mode in the valley below.
Day Two: Morning cocktails at the Pupp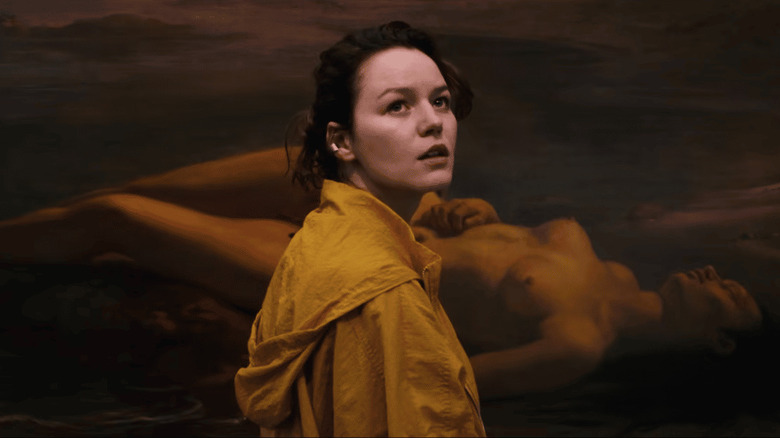 Cinematografica Superfilmes
I was planning a piece on "The Grand Budapest Hotel" and knew exactly where to do it: The five-star Grandhotel Pupp. It was one of Wes Anderson's inspirations for the film, so where better to write the article than the place itself? Most famously, the Pupp was one of the settings of "Casino Royale," standing in for the fictional Hotel Splendide in Montenegro. It looked a lot smaller than it does on screen, tucked behind a bend in the river and boxed in by the hills behind. At first I was worried that they might not let me in wearing jeans and shabby trainers, with security personnel in monkey suits and earpieces manning the perimeter crowd barriers. Luckily, as a designated box office and festival venue, they were letting any old slob in this week, so there was no need for my "Abe Froman, Sausage King of Chicago" impression.
The Pupp is absolutely magnificent inside, all gleaming marble, high ceilings, antique paintings, and sparkling chandeliers. Piano music wafts through the halls and corridors, creating a sense of elegance and well-being. I seated myself in the gorgeous Malá Dvorana lobby bar to work, where the guests were finishing breakfast. Geoffrey Rush ambled in, selected a croissant, and ambled out again. Ordering coffee, I saw the difference between a five star hotel and the three star dives I usually stay in. A whole battalion of staff were constantly on hand to keep the place humming at maximum efficiency, cleanliness, and hospitality. A few minutes before 11:00 am, they moved in purposeful formation to make all traces of breakfast vanish, turning it into a cafe-bar instead. It was a bit early, but what the hell? In honor of 007 and "Casino Royale," I ordered a vodka martini.
A big wet sweaty mess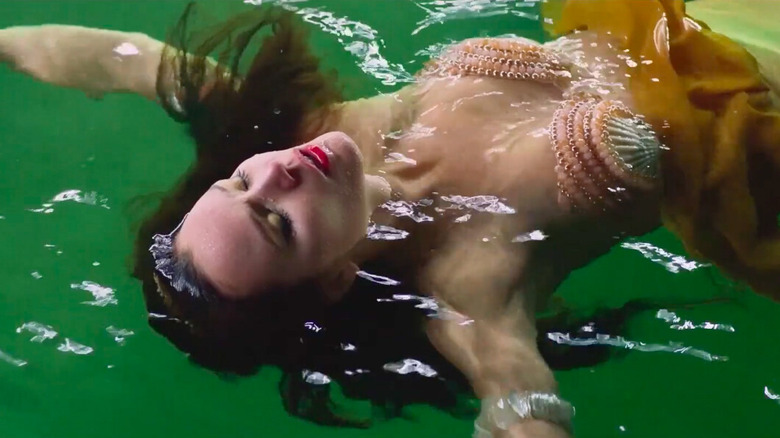 Cinematografica Superfilmes
It was raining when I left the Pupp. My goal was three films a day, and my first pick today was "Tinnitus," a Brazilian psychological thriller about a synchronized diver who goes mad as her ear condition worsens. It was the world premiere and an eager crowd piled into the lovely pocket-sized Municipal Theater to welcome the director and star.
The film is superbly shot, but most notable is the unsettling sound design. It really puts you between the ears of the protagonist, to disconcerting effect — so much so that the guy sitting next to me had a seizure during the opening credits. I felt his leg pressing heavily against mine and I first thought he was indulging in some serious man-spreading. I turned to say something and saw that his head was in his lap and he was convulsing. I prevented him smashing his face on the wooden seat in front and helped his friends take him outside, and thankfully he snapped out of it in the open air.
The incident unnerved me and really soured my attitude towards the film. Afterwards, I thought it was the perfect excuse to sample Becherovka in its home town, a sweet herbal liqueur good for dodgy stomachs. It's also great for taking the edge off, too. Once I'd relaxed a bit, I went to the Pupp box office for my evening's tickets. 
This is where regular festival goers might think, "Why didn't you buy all your tickets early in the day?" Because I'm a rookie, that's why. Everything was sold out, so I was on the hoof back down to the Thermal again to see if I could sneak into a screening last minute. It was still raining and I was sweaty and wet by the time I got there, one of my least favorite combinations. Benicio Del Toro was entering the hotel; he had the good sense to have someone hold an umbrella for him.
There were still no tickets, so the evening was a washout in every sense.
Day Three: A tribute to a legend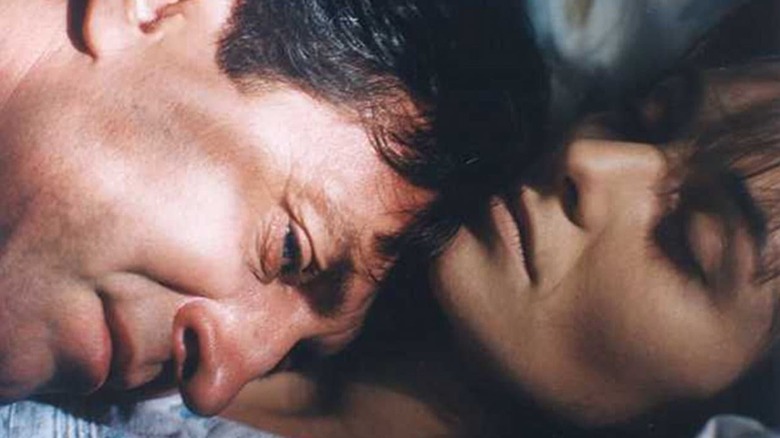 Ceska Televize/Studio Fama 92
After that soggy disaster, I was out bright and early to the box office the next morning, snapping up five tickets. They mostly weren't my first picks, but I would have taken anything at that point. Now I could relax, safe in the knowledge that my first film festival wouldn't end up almost totally film-less.
My first film of the day was "Forgotten Light," one I definitely wanted to see. It was part of the Festival's tribute to its star, Bolek Polívka, who would receive a KVIFF President's Award during the closing ceremony the following day. He is a ubiquitous presence on stage and screen in the Czech Republic, especially in Brno, where I live. There, he owns a theater and regularly appears in productions, so his face is on posters all over town. He often hangs out in the bars near the theater in his trademark panama hat, and he also made a public information film for the transport company about what to do if someone has a cardiac arrest; you couldn't even get away from him on the trams.
Polívka was in attendance at the Thermal Grand Hall, which is a terrific venue. It's a spacious, sweeping auditorium that puts most cineplexes in the country to shame in terms of comfort and sense of occasion. There was a genuine glow of affection in the room as the actor took the stage with his entourage, and the speeches were short and heartfelt. There was even a touch of slapstick as his co-star found herself pinned to the spot during the photo op by some klutz standing on the train of her white dress.
Food or Robocop?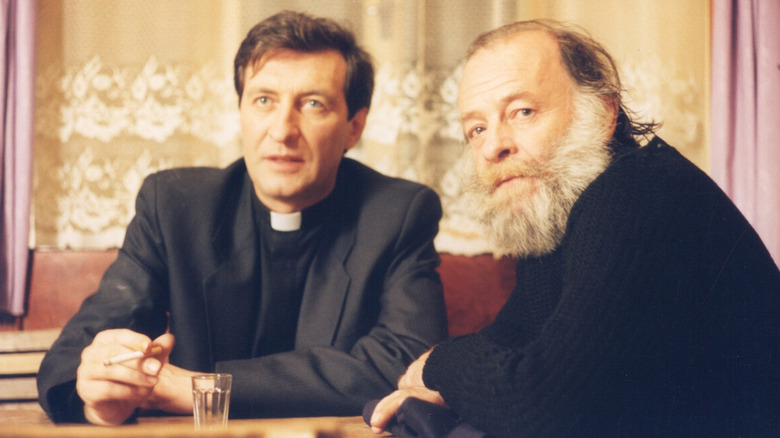 Ceska Televize/Studio Fama 92
Then came the film. Polívka plays a Catholic priest in a small village who just wants to get his church roof fixed, but faces obstacles from the uncaring Communist authorities. It's the most understated performance I've seen of his to date, but so incredibly kind and compassionate. If I wasn't in a room full of people, I probably would have lost it. I was immensely choked up by the end.
It was a shame that he didn't stick around for an ovation, ducking out as soon as the credits rolled. When the lights went up, I saw that quite a few people were as visibly moved as I was. Kudos to the festival organizers for picking a lesser-known gem to celebrate Polívka; it was a fitting tribute to his talent.
I headed to the box office to see if I could squeak into something last-minute before my next movie, but everything was sold out. I wasn't all that bothered: It was another gorgeous evening and I was quite happy sitting by the river with a beer and thinking about the film I'd just seen. Then it was a stroll back up the prom to the Pupp for "The Box," a Mexican film in competition for the Golden Lion at Venice last year.
The Pupp looked far more grandiose lit up at night and the screening took place in an impressively ornate hall. The film was a stark eye-opener, following a young lad into the shady world of Mexican sweat shops. It was pretty depressing, and afterwards I stood outside the hotel in the cool night air. Today's films weren't exactly a laugh riot, but there was a midnight screening of "Robocop" near the Thermal. It would have made an excellent palate-cleanser, but would also mean another mile jog along the river and getting back to the hotel around three in the morning. I'm sorry to say I bought a Vietnamese crispy duck roll and took the fifteen minute walk back to the hotel instead.
Day Four: Last chance saloon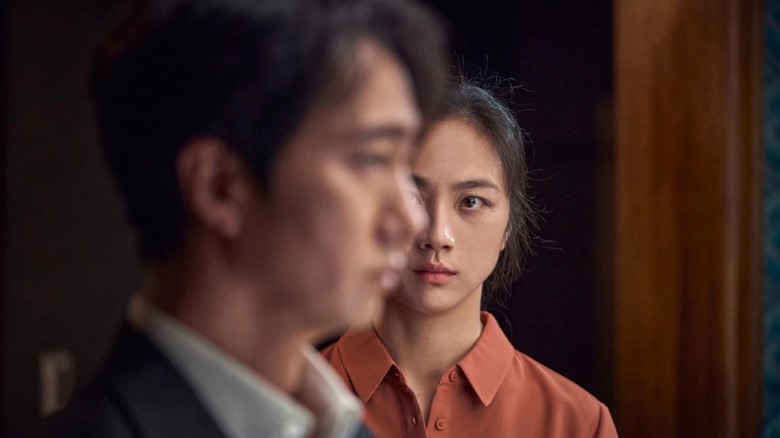 Moho Film/CJ Entertainment
I woke up in a bit of a funk. Watching movies at a festival was harder than I expected. I'd loved the experience so far, despite the frustration of not seeing as many films as I'd hoped, but I was tiring of the tourist trap nature of central Karlovy Vary. To remedy this, I found a wood-lined local pub tucked away in the hills, with wagon wheels and vintage beer adverts on the wall. This was definitely more my usual milieu, and they served fresh cold Kozel beer.
A few jars put me back on track and I hit the town again with renewed vigor. It was the last day of the festival and I was watching at least three films today, no matter what. My first was "Distant," an absorbing but gloomy slice-of-life from Japan about a teenage mother working as a hostess to support her baby boy and abusive boyfriend. After that, it was time for a bite before the next one, and the rain absolutely lashed down. Determined not to miss another one, I had to make a break for it, and I was drenched when I sat down for "You Have to Come and See It," possibly the riskiest name ever for a film. It's an existential comedy-drama from Spain about two couples who find resuming their friendship awkward after the pandemic. Mercifully, it was only an hour long.
Two more disappointments, but my last film of the festival promised better. I had a toss-up between Alex Garland's "Men" or "Decision to Leave" from Park Chan-wook. I'm a big folk horror fan and Jessie Buckley is always wonderful, but I couldn't very well pass up the chance to see a new film from the Korean master storyteller on the big screen.
Going out in style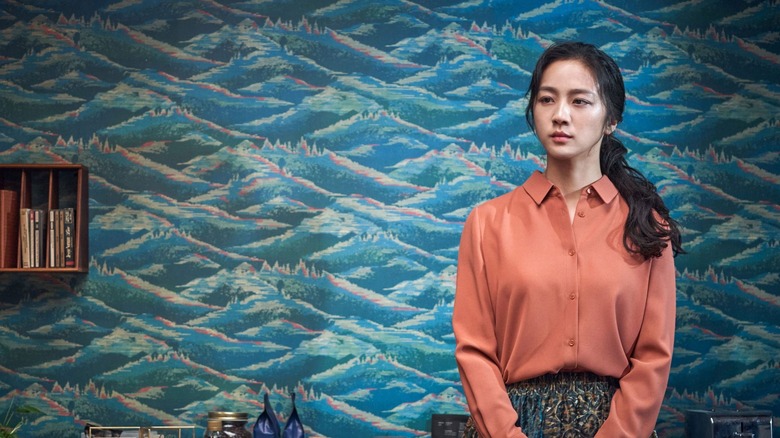 Moho Film/CJ Entertainment
"Decision to Leave" was a great choice, screening in a cozy and nicely appointed little cinema in the regular town. You know you're in good hands from the opening scene, and Chan-wook never relinquishes his grip of the story or the audience for the next 140 minutes. We've seen tales of detectives unwisely getting involved with a femme fatale a thousand times, but the director manages to find a fresh and surprising angle on noir and Hitchcockian beats at every turn. It was a fantastic film and an excellent way to sign off from my few days at the festival.
I went back to the hotel happy, pondering what I would do differently next time. I really enjoyed my time in Karlovy Vary, but there was no doubt that I'd made several schoolboy errors. I clearly needed to map out my festival better, because my happy-go-lucky approach left me doing a lot of unnecessary legwork with the feeling I was always where the action wasn't. I also needed to buy tickets well in advance. Because I breezed into my first screening, I made the mistake of thinking every film would be like that. As a result, I was left scrambling for tickets and ended up watching a lot of misery porn when my first, second, or even third choices were sold out.
I sat on a bench outside the hotel with a Becherovka nightcap, watching the mists rolling in the valley below. Despite everything, I was glad I finally made it here. I'll be back, and no messing about next time!