How Wes Anderson Found The Perfect Home For The Grand Budapest Hotel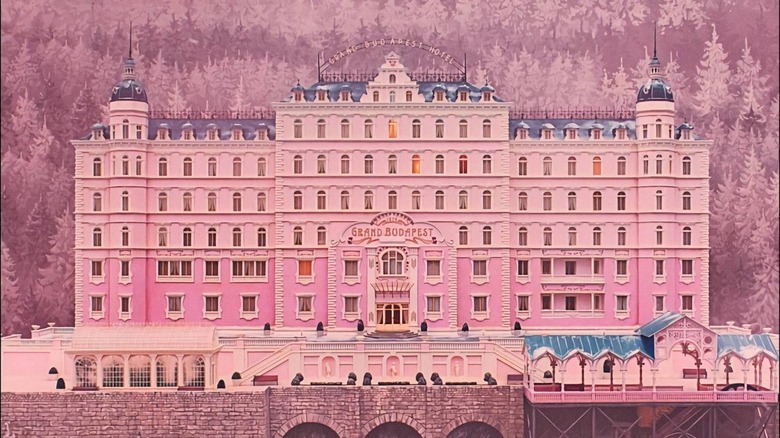 Fox Searchlight Pictures
I wouldn't normally order a vodka martini at 11 in the morning, but it's not every day I'm sitting in the bar of the splendid Grandhotel Pupp in Karlovy Vary, Czech Republic, better known to movie lovers around the world as the location for "Casino Royale." They're really proud of their part in the first adventure of Daniel Craig's era, so I thought it would be rude not to order 007's favorite drink. It wasn't a decision I made lightly, because the last time I ordered one ended in embarrassment.
I'd hired a tuxedo for a night out at the theater in Prague with my other half, which was overkill because the only other guys dressed like that were in the orchestra pit. Afterward, we dropped into a cocktail bar for a nightcap. I ordered a martini and the waiter gave me a look as if to say, "go on, say the line." So I did, and he returned with the drinks a few minutes later. I took my first sip, which was when the music cut out and the James Bond theme blared out. The whole room turned to look at me, and I just wanted to shrivel into my seat.
Anyway, I'm not soaking up the ambience of this gorgeous bar for James Bond. I'm here because the Pupp and its wooded surroundings were a few of the major inspirations for the candy-colored lodgings in Wes Anderson's "The Grand Budapest Hotel" (via IndieWire), and I thought it would be the perfect place to get started on this article. The influence on the film is readily apparent from the hotel's ornate exterior and bustling staff, but Anderson and his team didn't stop there when it came to scouting locations to complete the look.
So what happens in The Grand Budapest Hotel again?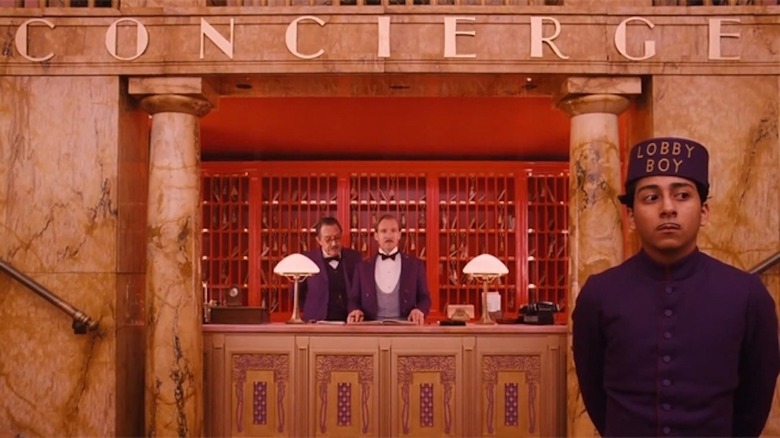 Fox Searchlight Pictures
If the Grandhotel Pupp were the initial inspiration, Wes Anderson and his team traveled around the Czech Republic and its neighboring countries for further research. He said (via Collider):
"We went to Vienna, and Budapest, and all around the Czech Republic. We spent a lot of time traveling in Germany, and a little bit of time in Poland. We were looking for where we were gonna shoot the movie, and I felt for various reasons, especially tax incentive, we were kind of feeling like it would end up being Germany anyway. But we wanted to go all over the place, and we sort of found something everywhere."
"The Grand Budapest Hotel" follows the screwball antics of concierge Monsieur Gustave H. (Ralph Fiennes) and his bellboy protege Zero (Tony Revolori) as they abscond with a priceless painting left to Gustave by one of his patrons in her will, much to the anger of her sinister family. Set in the fictional country of Zubrowka, the film's glorious design is an affectionate tapestry of Old World charm. Anderson explained further (via NPR):
"I think Lutz is probably Budapest and Prague and Vienna rolled into one or something ... But Prague is the one that I feel sort of inspired me the most for this city, for the big city in our story. Prague is just such a spectacular place, and it's one of those places that so much of the history is right in front of you as a stranger wandering around Prague."
That weight of history complements the darker themes of the film, especially during the wartime scenes, and "The Grand Budapest Hotel" is visually stunning, even by the high standards of Anderson's other movies.
The star of the show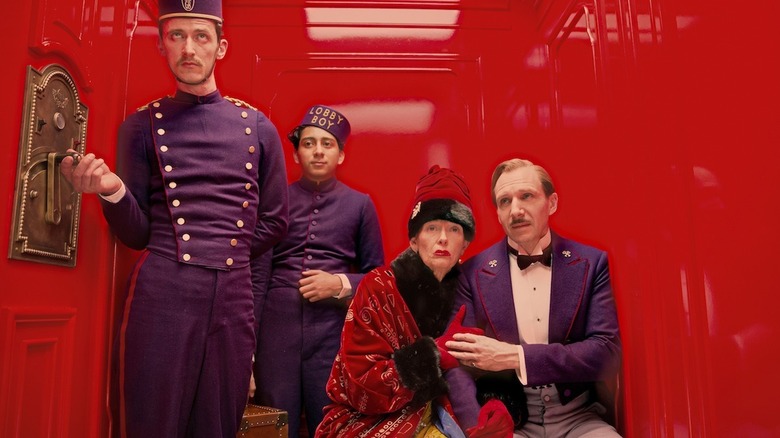 Fox Searchlight Pictures
Going that extra distance in their research really shows in the film. "The Grand Budapest Hotel" was nominated for nine Academy Awards (including Best Picture and Director) and taking home four, including a well-deserved Oscar for Production Design. 
Criminally, Ralph Fiennes wasn't nominated for his performance. I'm not a huge fan of Wes Anderson's films, finding them a little too mannered, but I can't deny his talent for mining brilliantly left-field turns from his lead actors, from reinventing Bill Murray in "Rushmore" or eliciting a last great performance from Gene Hackman in "The Royal Tenenbaums."
Like Hackman, we don't necessarily think of Fiennes as a comic actor, but he's an absolute hoot as Gustave H., an unfailingly decorous man with a thing for elderly female guests who dedicates himself to running the hotel with maximum efficiency and etiquette. Proud and prissy with a potty-mouth out of earshot of the guests, we later come to admire his loyalty and bravery.
While Fiennes walks away with the movie in terms of acting, the other true star of the film is the hotel itself. One design aspect I adore is its Communist era decor, when the hotel is a faded echo of its former glories. There were many hotels around here that retained the look long after the fall of Communism, and no doubt there are places that still have it. Anderson's team really nails the interiors; at once garish and drab, they're sparse yet somehow claustrophobic. You can smell the stale nicotine in the heavy fabrics.
Anderson might have picked up the details from photos, but without actually experiencing it for himself, would the scenes have that peculiarly forlorn atmosphere? His research trip paid off beautifully, giving us a choice of lodgings as unforgettable as The Overlook.