Why Casino Royale Is The Best James Bond Movie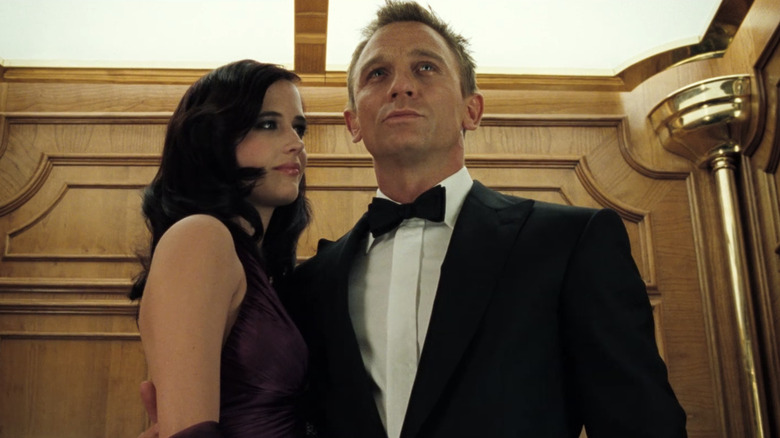 Eon Productions
The twenty-fifth canonical James Bond adventure, "No Time to Die," brings an end to the Daniel Craig era of Bond, which has had its ups and downs, like any other era. At its best, the Craig movies have excelled at wringing character drama out of the long-running action franchise. It all started with "Casino Royale" in 2006.
15 years and five movies later, "Casino Royale" remains an unequivocal franchise high. It added just the right dash of physicality and vulnerability to the Bond character, showing us how betrayal and heartbreak created the "sexist misogynist dinosaur" of movies past. Though he ticks every male fantasy box, Bond on his own has never been more interesting than he was opposite a woman named Vesper Lynd, played with aplomb by Eva Green.
I say this as someone who was never a big 007 fan until the blonde Bond came walking out of the ocean in "Casino Royale." It wasn't until 2012, while the series was celebrating its 50th anniversary with "Skyfall," that I finally went back and watched every Bond movie.
The cinematography of Roger Deakins inspired me to visit Shanghai and Nagasaki the following year, where I saw the blue neon expressway of Yan'an Elevated Road, the skyscrapers of Pudong, and Gunkanjima ("Battleship Island"). At that point, I was living and loving "Skyfall" and its locations so much that I might have told you it was the best Bond film.
However, as part of the ongoing give-and-take between Bond and the films of Christopher Nolan, there are parts of "Skyfall" that are nakedly derivative of "The Dark Knight." It's really "Casino Royale" (don't call it "Bond Begins") that holds the best take on this pop culture icon.
You Know His Name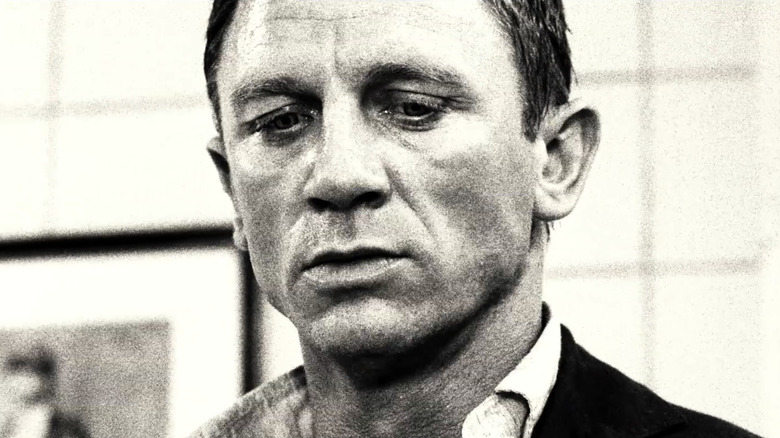 Eon Productions
"Casino Royale" is an adaptation of Ian Fleming's first Bond novel. This is a movie that takes Bond back to his roots and, in doing so, lets us discover (or rediscover) him and form a new appreciation for the man behind the myth. It's the one time Bond really meets his match: not in the form of a villain, but in the form of a woman, arguably the woman, one of the few he's ever loved.
The film brings back Martin Campbell, who directed "GoldenEye," the introduction to Pierce Brosnan and another one of the best Bond flicks. "GoldenEye" is where that choice phrase "sexist misogynist dinosaur" originated in the series. In the time between it and "Casino Royale," a new breed of Hollywood action hero had arisen. His name was Jason Bourne and he was, of course, played by Matt Damon, an actor who once called Bond "an imperialist, misogynist sociopath."
Bourne influenced Bond's new aesthetic (just ask Doug Liman), but "Casino Royale" submerges the hand-to-hand fights and the love and loss in an altogether different globe-trotting story. It announces itself with a brutal, black-and-white bathroom brawl, featuring a more rough-and-tumble Bond than we've ever seen. He smashes men's heads into urinals and drowns them in sink water.
This comes by way of flashback, as Bond sits in the office of the man who's going to be his second confirmed kill. He finishes the guy's sentences for him, and at this point, we can finish Bond's sentences, too. As the title song by Chris Cornell tells us, we know his name. We know this whole game, the Bond rules. Yet as Cornell sings, they're about to "change the game that we've been playing."
Vesper Is the Password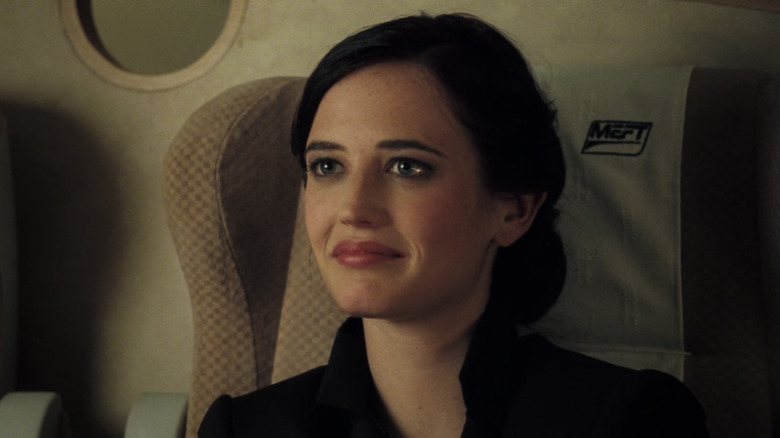 Eon Productions
Daniel Craig has the best beach body of any Bond actor, and he just might have you wanting to spruce up your men's wardrobe or buy an Omega Seamaster wristwatch. But he's also got the dramatic chops to carry "Casino Royale" through its first hour alone, with no real peers to challenge him save Judi Dench's M. Plot-wise, it's typical Bond stuff, as 007 shuttles from one location to another: Prague, Madagascar, London, the Bahamas, and Miami.
There are some thrilling action sequences, which involve Bond chasing a man up a construction crane, storming into an embassy and causing an international incident, and chasing a fuel tanker across an airport runway. We meet an array of bad guys, men with scarred heads and glass eyes who weep blood and puff inhalers. Bond's also a bad boy: a steely-eyed assassin, relentless yet reckless, and not opposed to sleeping with married women.
It's when Vesper sits down across from Bond on the train in Montenegro that the movie truly comes alive. "I'm the money," she says, and she's right. Vesper is the beating heart of this movie, and the one who (as Bond's contact, Mathis, suggests) can melt his cold heart, or at least thaw it before refreezing it. 
It seems reductive to label Vesper a mere "Bond girl," though she's easily the best one if you want to call her that. This "girl" is her own woman, Bond's equal, capable of holding her own with him in verbal sparring sessions. After we've already seen one beautiful Bond girl wind up dead in a hammock, Vesper tells him, "You think of women as disposable pleasures rather than meaningful pursuits."
JAMES: You're not my type.
VESPER: Smart?
JAMES: Single.
"No Armor Left"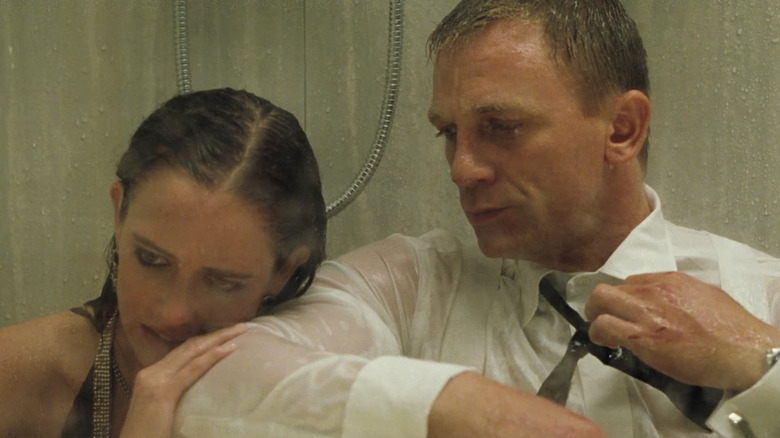 Eon Productions
Vesper later tells Bond, "I sized you up the moment we met," enough so that she's able to surprise him with a tuxedo, tailor-made just for him. In a way, she serves as a surrogate for the audience, which has had ample time over the years to figure out all of Bond's poker tells.
At one point, when Bond orders a vodka martini, the bartender asks him, "Shaken or stirred?" Bond knows that we know the answer to that question, so he just says, "Do I look like I give a damn?"
Vesper is also vulnerable: never more so than during the shower of angst, where Bond comforts her after evading a machete in a stairwell fight for the ages. Emotionally stunted in most other respects, this Bond is more of a "blunt instrument" and a hardened survivor of all kinds of pain. He has to literally gird his loins against torture at the hands of Le Chiffre (Mads Mikkelsen) and just generally rely on brute force rather than cheesy one-liners.
After meeting Vesper and seeing the effect she has on him — "I have no armor left. You've stripped it from me," he says while recovering — we finally understand how the callousness he develops toward women might be grounded in realistic hurt. He has a chance at happiness with Vesper in Venice, but it's not long before this movie goes the tragic romance route of "On Her Majesty's Service." Their relationship is visualized as a sinking house of lies.
The line, "The job's done. The b*tch is dead," is as much an epitaph for the last of Bond's human feelings as it is for Vesper, the recipient of them and the woman whose name he chose as his password at the casino.
Comparative Bond Studies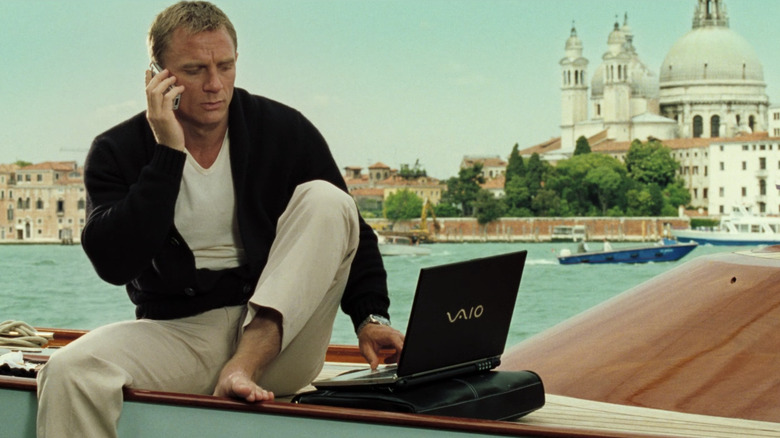 Eon Productions
Vesper is also the name of a drink, one with a bitter aftertaste. For its part, "Casino Royale" left a strong afterimage. In it, Craig, Green, and company made us care about this James Bond fellow in a way many of us never had before: because he was a true character with dimensions and no longer just an unflappable pop culture icon.
Bourne's intensely choreographed exploits in the 2000s changed the spy-movie landscape and forced Bond to up his game in every department. "Casino Royale" managed to mine a fresh new love story out of a franchise that has been doing variations on the same formula for over half a century now.
There's always that question: who's the best Bond? Everyone has their favorite, but for me, it's Craig, all the way. Traditionalists might prefer Sean Connery, the original Bond, and on the basis of classics like "Goldfinger" and "From Russia with Love," I wouldn't begrudge them that in the least. In terms of tropes and the overall series template, Connery is the cookie cutter and every other Bond is just a gingerbread man in his shape.
Around the time of "License to Kill," when Timothy Dalton was 007, I was exposed to the Bond movies through my grandparents. They were partial to Roger Moore in their VHS collection. However, with the exception of "The Spy Who Loves Me," which still holds the most rewatch value, Moore's entries seemed like relics of a different generation. They were literally my grandparent's movies.
"Casino Royale" is the film that updated James Bond for the 21st century and enabled him to continue for another decade and a half. Pound for pound, there are few other Bond movies that stack up as well as this one.