What Happened To Nasim Pedrad's Chad Season 2 Premiere On TBS?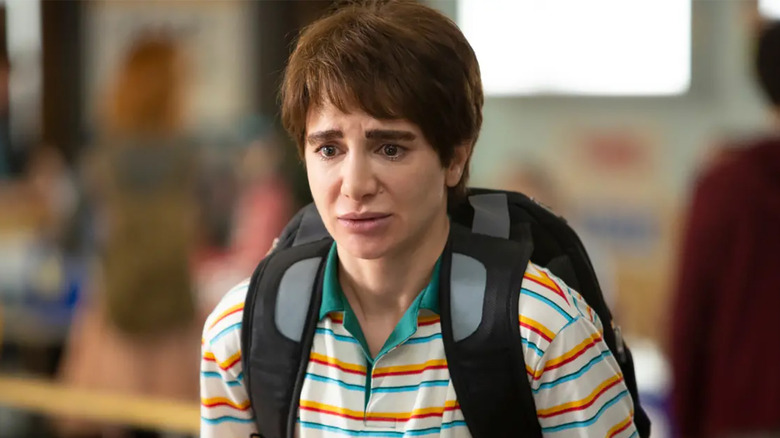 TBS
The second season of Nasim Pedrad's comedy series "Chad" was supposed to premiere tonight on TBS. But at the last minute, the cable network released a statement announcing that the season premiere would not air as scheduled. Furthermore, the entire second season would no longer be coming to TBS. 
Here's the official statement from TBS regarding the last minute pull of "Chad" from their schedule (via Variety):
"As we continue to assess content and implement a new strategy for our network, we can now share that Season 2 of 'Chad' will not air on TBS. We are proactively exploring various options to find the right home for it. We celebrate and thank Nasim Pedrad, the passionate creator, executive producer and star of the series, for sharing a bold, unexpected coming of age story with heart and humor. We also thank executive producer Oly Obst, co-showrunner Max Searle and the entire cast and crew of 'Chad' for their ongoing partnership and wish everyone continued success."
This is the latest casualty in the dramatic shift in strategy for content at both TBS and fellow cable channel TNT as all sorts of changes are being implemented in the wake of the Warner Bros. Discovery merger. Both networks halted development of all scripted projects after the merger, and it sounds like shows that already existed before the merger aren't safe either. 
Chad is funny, folks!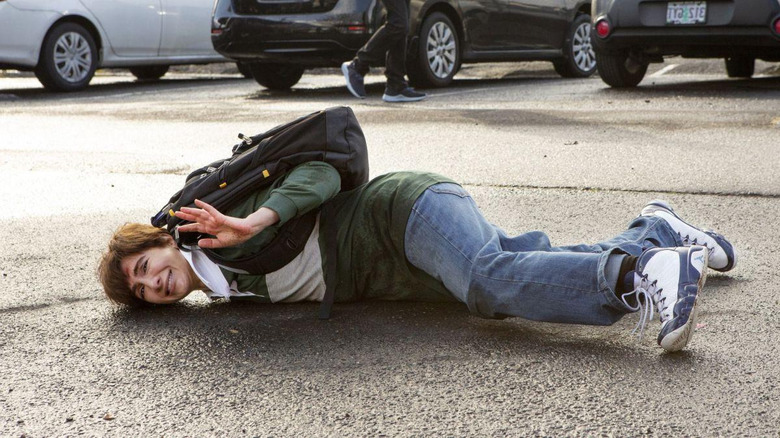 TBS
The first season of "Chad" debuted on TBS in April 2021, following former "Saturday Night Live" cast member Nasim Pedrad as a 14-year old pubescent Iranian-American boy navigating the complicated halls of high school. Chad desperately and awkward tries to be cool with comically uncomfortable results, and his life is often thrown into upheaval by his mother's dating life and reconciling his cultural identity with being an everyday American teen. Pedrad also executive produced the show with Oly Obst and co-showrunner Max Searle, with Rob Rossell serving as executive producer and co-developer of the series. The rest of the cast included Jake Ryan, Paul Chahidi, Saba Homayoon, Ella Mika, Alexa Loo, Thomas Barbusca and Sara Malal Rowe.
"Chad" is full of cringeworthy comedy and a hilarious lead performance from the 40-year old Pedrad. Part of the comedy comes from seeing Pedrad perfectly portray the physicality and awkwardness of a teen boy, even if she still resembles a woman in a young boy's clothes and haircut. But the laughs also come fast and furious from the coming-of-age missteps and dramatic shifts in teenage angst and puberty. Imagine a teenage, Persian version of Michael Scott, and you've got some idea of how Chad operates. The show is absolutely packed with laughs and discomfort.
Nasim Pedrad is hopeful
For her part, Nasim Pedrad is confident the show will find a new place to call home. In a statement to Deadline, Pedrad said:
"I recognize the landscape of our industry is changing so quickly. Did I expect my show to get caught in the crosshairs of a corporate restructuring and merger? No. I've spent the last year making a season of television I'm really proud of. From the writers room to production through the edit, a team of very talented and dedicated people came together to tell a story we believe in. A hard comedy that portrays Middle Eastern characters from a place of empathy and humanity. I feel so lucky that Chad has an incredibly loyal fanbase. I know they're going to love this season and I'm excited for the show to find a new home."
As of now, it's not clear where "Chad" will end up, but hopefully another cable network or streamer comes through and picks it up. With the show slated to originally premiere tonight, surely most of the second season is ready to go. If not, it shouldn't take much more effort to finish it. Fingers crossed it doesn't take too long to sort this mess out.