Superhero Bits: The Making Of Doctor Strange 2 On Disney+, Stargirl Season 3 Trailer & More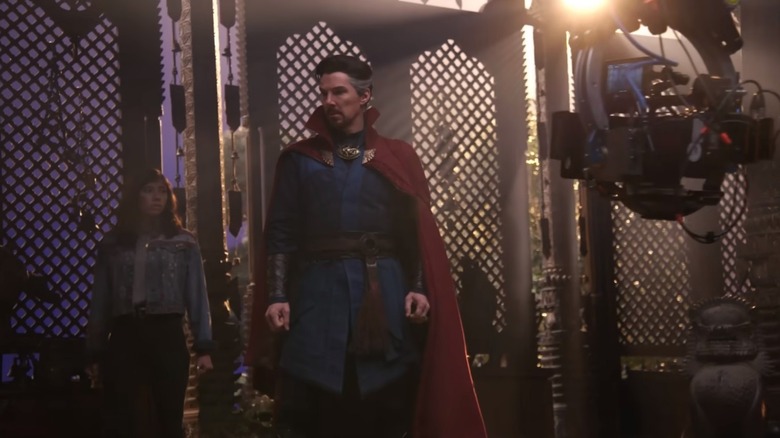 Disney+
(Superhero Bits is a collection of stories, updates, and videos about anything and everything inspired by the comics of Marvel, DC, and more. For comic book movies, TV shows, merchandise, events, and whatever catches our eye, this is the place to find anything that falls through the cracks.)
In this edition of Superhero Bits:
The making of "Doctor Strange in the Multiverse of Madness."
Paul Rudd proves he's truly heroic to a fan in need.
A "Black Panther" actor has joined Marvel's "Secret Invasion" series.
The CW releases a new "Stargirl" season 3 trailer.
Batman: One Bad Day comic book trailer
DC has released a new trailer for the upcoming "Batman: One Bad Day" series that will see the Caped Crusader going up against some of his most legendary foes in a unique way. The series will feature eight standalone, 64-page comics that DC promises will be the "definitive tales of Batman's world-famous enemies." Riddler, Two-Face, the Penguin, Mr. Freeze, Catwoman, Bane, Clayface, and Ra's al Ghul are all on deck for the series, with Riddler getting the first step up to the plate. "Batman: One Bad Day – The Riddler" hits shelves on August 16, 2022.
Marvel Comics announces panel lineup for San Diego Comic-Con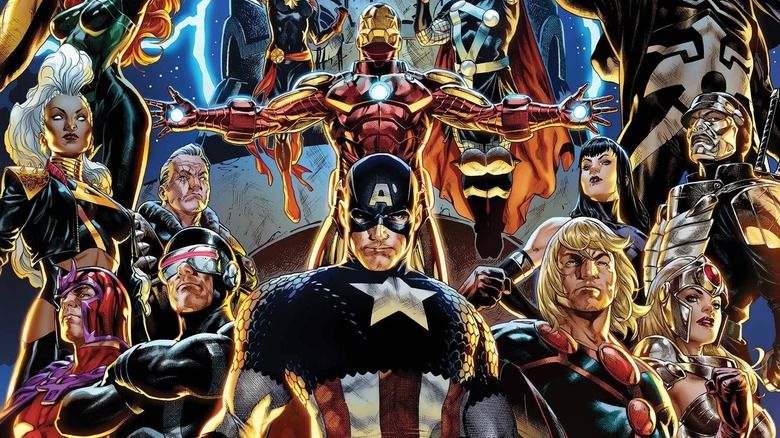 Marvel Comics
We already know that Marvel Studios is going to have a major Hall H presentation this year at San Diego Comic-Con, and we can expect that to bring the roof down. Not only that, but we recently discovered that the studio will have an animation presentation as well. But that's not all! Marvel Comics will have a major presence, too, and the company has announced another handful of panels those on hand at the event can enjoy. They include "60 Years of Spider-Man: A This Week In Marvel Special Event," "Marvel Comics: Marvel Fanfare," "Marvel Comics: Judgment Day," "Marvel Comics: The Next Big Thing," and "Women of Marvel." Full details for these panels, as well as when precisely they are happening, can be found by clicking here.
The Stargirl season 3 trailer is here
The CW has released a brand new trailer for "Stargirl" season 3. This show was originally set up as a DC Universe exclusive and wound up living both on that streaming service and The CW. However, once DC Universe became a comic book service and everything else moved to HBO Max, The CW more or less wound up with another Arrowverse show. In any event, this is our first good look at the upcoming season, which, given the way things have been going with the Arrowverse, could conceivably be its last. We'll see. The show's third season debuts on August 31, 2022.
The Good Place star Jameela Jamil is Wonder Woman in DC League of Super-Pets
3 things.

I'm playing WONDER WOMAN in the new Super Pets film.

The Rock now knows who I am and tweeted this.

I am in DC and MCU and Star Trek at the same time and my little teenage brain is fucking exploding. https://t.co/x81cK0gJas

— Jameela Jamil 🌈 (@jameelajamil) July 10, 2022
Ladies and gentlemen, we have a new Wonder Woman. Jameela Jamil, known for her roles in "The Good Place" and "Crossing Swords," not to mention her upcoming role on "She-Hulk," is the one voicing Wonder Woman in "DC League of Super-Pets." She even recently got a character poster and, according to the above tweet, Jamil was delighted to find out that her co-star Dwayne "The Rock" Johnson knows who she is. Check out the poster for yourself above.
The Mighty Thor arrives at Avengers Campus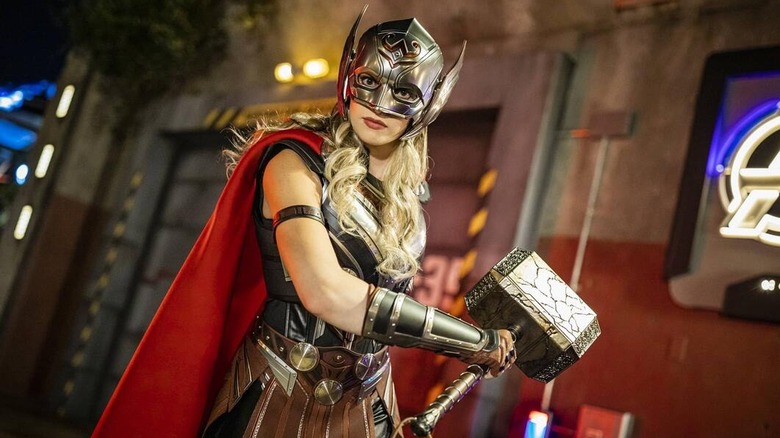 Marvel
Well, that sure didn't take long! With "Thor: Love and Thunder" tearing it up at the box office this past weekend, Disney has smartly decided to bring Jane Foster as The Mighty Thor to Avengers Campus in California. We can see a look at the hero in action in the above photo, looking quite a bit like the version of the character Natalie Portman brought to life in the film. Per Marvel, Mighty Thor will be roaming the grounds of Avengers Campus, encountering recruits and occasionally challenging others to test their worthiness with the mythical hammer, Mjolnir. So those who are heading to the theme park in the near future would do well to be on the lookout.
Ant-Man star Paul Rudd became a real hero for a bullied kid recently
Recently, ageless wonder and all-around good guy Paul Rudd, who plays Ant-Man in the MCU, demonstrated that he is pretty super in real life as well as on the silver screen. As the above tweet reveals, a kid named Brody was being bullied at school. So, Rudd decided to send him a personal letter as well as an autographed Ant-Man helmet. Not only that, but the two have actually struck up a bit of a correspondence adding an extra layer of sweetness to the whole thing. It's cool when the people that play fictional heroes end up actually being super nice, isn't it?
Martin Freeman confirms he's in Secret Invasion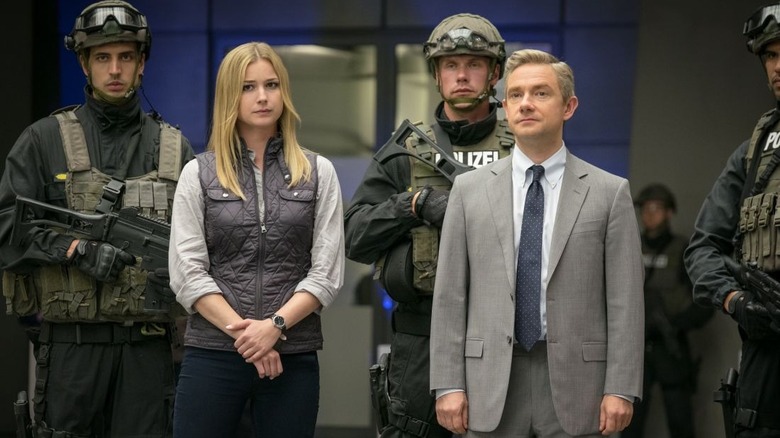 Marvel Studios
Yet another MCU alum is joining Samuel L. Jackson's Nick Fury (and a host of others) in the upcoming "Secret Invasion" series on Disney+. In a recent interview with the Radio Times, Martin Freeman confirmed that he is indeed going to appear in the show, reprising his role as Everett Ross after appearing in both "Captain America: Civil War" and "Black Panther." Says Freeman:
"Yeah – I think that's kosher information, isn't it?. In order not to embarrass Samuel, I will say ... I'm not gonna say he's got that totally wrong and he's thinking of Sam Rockwell," Freeman joked. "So yes, I may very well be [appearing]."
So there we have it. Quite a bit more from Ross in the future, it seems, as he's also going to be in "Black Panther: Wakanda Forever" later this year as well. Perhaps that will do some work to help tee up the ball for "Secret Invasion?" We shall see.
Assembled: The Making of Doctor Strange in the Multiverse of Madness is now streaming
Lastly, those who enjoyed "Doctor Strange in the Multiverse of Madness" and are looking to dive a bit deeper into the making of the film can do so now on Disney+ as the latest edition of "Assembled" is now streaming. And yes, it focuses on director Sam Raimi's MCU sequel, with none other the Pizza Poppa himself Bruce Campbell hosting the special. The above trailer offers a little taste of what is contained within the special, including interviews with the cast and crew, as well as lots of behind-the-scenes footage and insight. Check out the trailer above and stream "Assembled: The Making of Doctor Strange in the Multiverse of Madness" now on Disney+.