Childhood Acting Left Its Mark On How Natalie Portman Makes Movies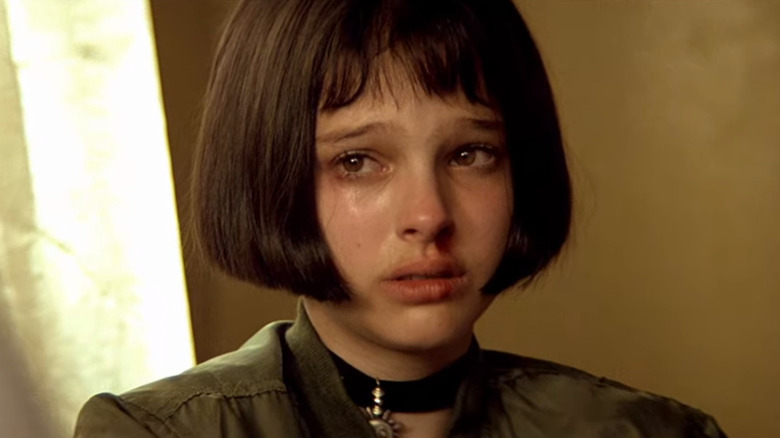 Columbia Pictures
Natalie Portman broke into the movie business at the tender young age of 12. She made her feature film debut in 1994 as the child protégée of the titular hitman in "Léon: The Professional," and followed that up in 1995 with a role in Michael Mann's "Heat," where she played the troubled stepdaughter of Al Pacino's character. A few years later, Portman gained more visibility as Queen Padmé Amidala in "Star Wars: Episode I – The Phantom Menace," which kicked off a trilogy that would appeal to the fans' inner children and introduce the word "youngling" into the geek lexicon. It kept her employed, but it made it difficult for her to find work in the immediate aftermath.
Winning an Oscar for Best Actress for "Black Swan" in 2011 helped turned things around for Portman's career, but she's still willing to play in the tentpole sandbox, as evidenced by her return to the Marvel Cinematic Universe in "Thor: Love and Thunder." Packing on muscle to play the powered-up Mighty Thor version of her character, Jane Foster, had Portman harkening back to her time as a child actor, as the internet reaction to her jacked physique gave her a new appreciation for what it's like to be big and tall. She told Variety:
"To have this reaction and be seen as big, you realize, 'Oh, this must be so different, to walk through the world like this.' When you're small — and also, I think, because I started as a kid — a lot of times I feel young or little or, like, a pat-on-the-head kind of person. And I present myself that way, too, because of that."
'Taika imagined this change in Jane ...'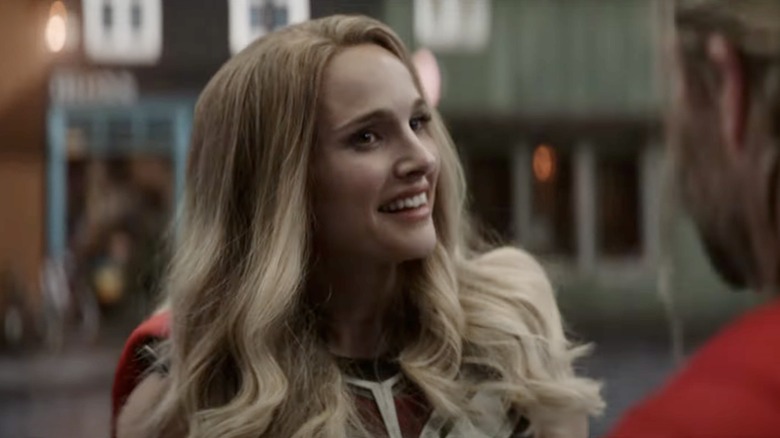 Marvel Studios
It's not uncommon for movies to make actors look taller than they really are. Just ask Tom Cruise, whose "Top Gun" costar, Kelly McGillis, had to remove her heels and slump sometimes so she wasn't towering over him. Natalie Portman is 5-foot-3 and if you didn't notice it, she's standing a little taller in "Thor: Love and Thunder." The actress explained to Deadline that her director and costar, Taika Waititi, wanted Jane Foster's Mighty Thor alter ego to be closer in height to Chris Hemsworth's Thor:
"Taika imagined this change in Jane and it was a really great proposition that he had to join his wild ride. It was amazing to get to be challenged with that because I don't think there's many people who would cast a 5-foot-3 woman as a 6-foot character, so it was great to be able to get to imagine how someone who's that big walks through the world, certainly not the same as me, always looking up at people, who always feels like a kid in every situation."
Like the "The Phantom Menace," with its Muppet Baby Anakin Skywalker, or even the recent Disney+ series "Obi-Wan Kenobi," with its Muppet Baby Princess Leia, "Love and Thunder" goes all-in on the space younglings. The kids, including the son of Idris Elba's deceased Asgardian gatekeeper, Heimdall, get kidnapped by Gorr the God Butcher (Christian Bale), leaving Thor and the Mighty Thor to embark on a rescue mission. For Portman, at least, it's one that saw her getting in touch with her memories as a child actor and as a person short of stature — but not talent.
Next up for Portman is the Apple TV+ series "Lady in the Lake." "Thor: Love and Thunder" is in theaters now.