What We Do In The Shadows Doesn't Skimp On Its Special Effects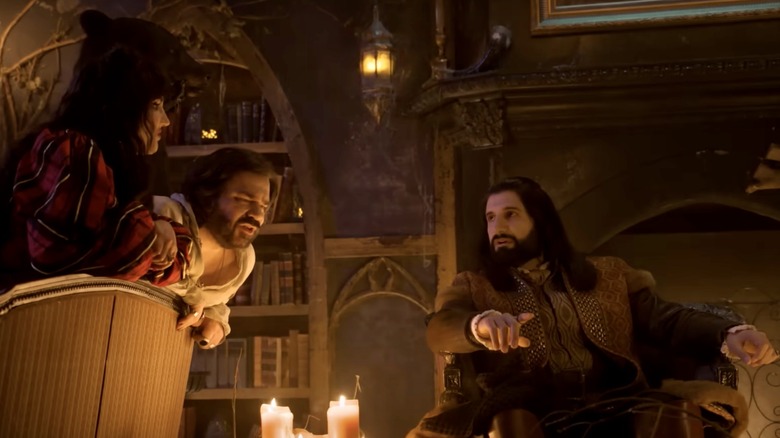 FX
"What We Do in the Shadows" might be hemmed in by a TV budget, but the returning FX series strives to be as cinematic as the 2014 mockumentary film on which it is based. Our review of season 4, set to premiere this coming Tuesday, called it "a fangtastic return to form," which is good news for anyone who was slightly underwhelmed by season 3 as it adjusted to the departure of series creator Jemaine Clement from the writers' room.
The special effects of season 3 — those talking gargoyles, that giant inflatable rat, the baby with the head of Colin Robinson (Mark Proksch) — didn't always land. But if you think back on the show's best episodes, there have been other times when it delivered up some impressive effects, such as the creature design of the red-eyed, skeletal Baron Afanas (Doug Jones) in the series pilot. The Baron looks like he walked right out of a proper horror film, and that's just one example of how "What We Do in the Shadows" has managed to fill the small screen with first-rate visuals. But would it even be a vampire tale without lots and lots of blood?
Executive Producer Stefani Robinson, who has helped steer the show to multiple Emmy nominations, recently spoke to Gold Derby about the importance of blood and guts for an overall cinematic impact:
"I think the more blood, guts, flying, prosthetics — really interesting character choices in terms of creature characters — visual effects and special effects [the better]. Where we can actually give ourselves the opportunity to create that atmosphere that feels more cinematic and feels actually like it's a horror movie, and twists that sort of horror-comedy knife a little bit more. I think that's some of the more satisfying episodes as well."
These vampires still have bite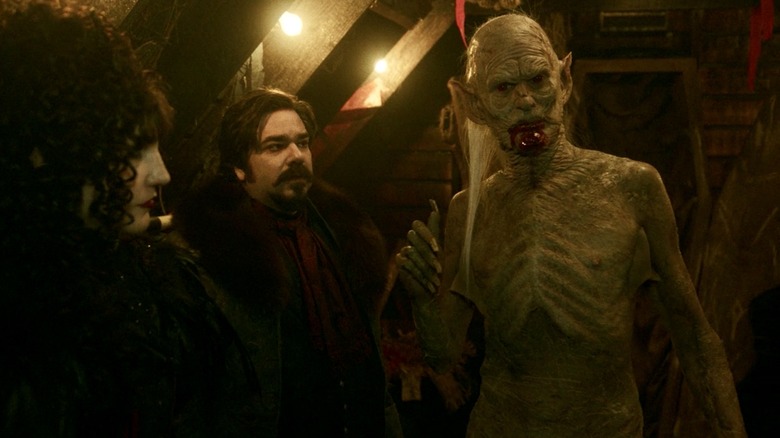 FX
When Robinson talks about twisting the horror-comedy knife, that's not just an empty soundbite. Looking back on the original "What We Do in the Shadows" movie, the humor is laced with some horrific moments, such as when Viago (Taika Waititi) murders his date in bloody fashion or when Deacon (Jonathan Brugh) casually reveals his Nazi background. 
Referring again to the series pilot — which set the tone of the show going forward — you can see how FX's "What We Do in the Shadows" carried some of that comedy-horror forward, like in the scene where Laszlo (Matt Berry) and Nadja (Natasia Demetriou) slaughter a man who insulted them in the park. Moments like these serve as a reminder that they're still vampires and monsters, and as funny as their bloodsucking shenanigans might be, they do still have some bite.
"What We Do in the Shadows" season 4 premieres on July 12, 2022.