Baby Colin Robinson Made Things 'Weird' For What We Do In The Shadows' Cast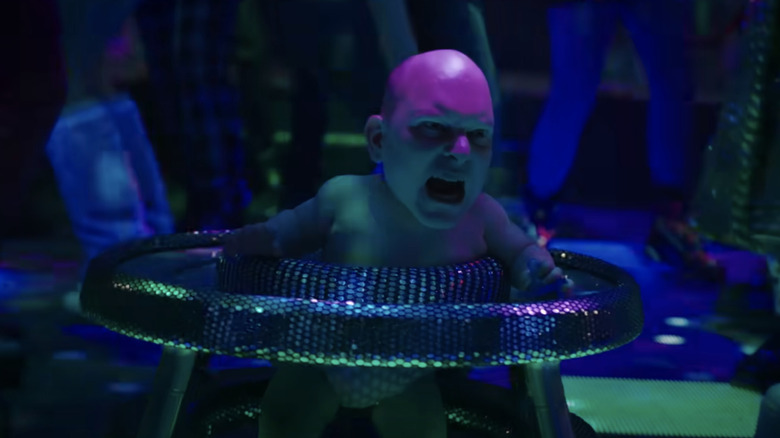 FX
Ah, yes, babies. Often called "the miracle of life," in the case of "What We Do In The Shadows," babies might as well be code for "horrifying adult-faced pint-sized nightmares." In the season 3 finale, the show ended with the annoying energy vampire Colin Robinson (Mark Proksch) dying in his sleep, having reached his 100th year and thereby completing his life cycle. However, not much is known regarding the lore of energy vampires, so upon his death, he was immediately reborn as an infant while still possessing his adult face, giving me yet another reason to keep my birth control prescription updated and stocked. The new characterization naturally inspired some totally absurd moments for season 4, but if we as the viewers were creeped out by Baby Colin Robinson, imagine how his castmates felt.
In an interview with Comic Book Resources, the cast revealed their true feelings about Baby Colin Robinson and provided behind-the-scenes explanation for how the creative team behind the series was able to bring the uncanny valley ​​bundle of terror to life. As Harvey Guillén, who plays Guillermo, tells it, the cast barely even saw Proksch on set, as he stayed in Los Angeles while actual children served as his stand-ins:
"We [mostly] shot with the children who play his younger self, who are all really talented, and we never saw them because they had to insert that CG [Colin Robinson] face into that body later. So it was kind of weird because we didn't get to see Mark all of last season. I think he came in toward the end when he gets to be older, but it was weird to just see these two children running around with dots on their heads everywhere."
'Such little sweetheart troopers'
FX
The rest of the cast echoed the sentiments with Rotten Tomatoes TV, discussing what it was like to "parent" the kids who played Colin Robinson in his many forms. Natasia Demetriou, who plays Nadja, called the actors "little sweetheart troopers," and called out their bravery for being able to act on the dark set surrounded by vampires. "Even though it wasn't Baby Colin Robinson and they did all that in post — it was like, 'Wow, it's so funny having a child around,'" she said.
Matt Berry agreed, blown away by the kids' fearlessness in the face of danger. "I had a chainsaw in front of them at one point, and they weren't even in the least bothered by that," he said. "I was more bothered by the chainsaw than they were. Extraordinary!" 
All of the stand-ins for Colin Robinson also added to some embarrassing misunderstandings, one specifically told by Kayvan Novak, who plays Nandor, regarding himself and a stuntman who resembled a 10-year-old boy:
"Of course, no one told me that he was actually a grown man, so when I went on set and met him for the first time, I gave him the whole, like, 'Oh, hey, can I see some ID?' Then I think I swore, then I was like, 'Oh, s***. Oh, sorry! Sorry.' Then the director was like, 'No, it's okay, man. You can swear ... he's a grown-a** man.'"
"What We Do in the Shadows" season 4 premieres on FX on July 12, 2022 with two back-to-back episodes (dropping on Hulu the following day).