Frank Capra's Directing Style Didn't Sit Well With Cary Grant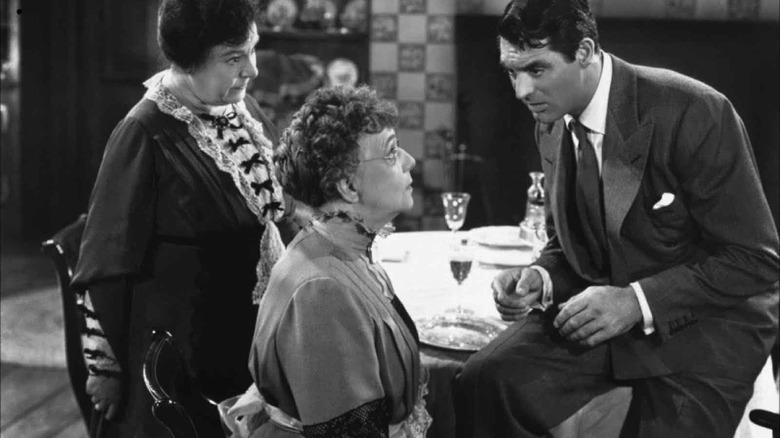 Warner Bros.
Based on the play by Joseph Kesselring, Frank Capra's 1944 film version of "Arsenic and Old Lace" may be the director's darkest movie. Playing like a comedic version of Hitchcock, the film is about a pair of kindly old sisters named Abby and Marth (Josephine Hull and Jean Adair) who occasionally take in lodgers for the night in their remote home. If the lodgers reveal themselves to be sad, lonely, unhappy old men, Abby and Martha take it upon themselves to poison them — using elderberry wine — as an act of mercy. They then employ their nephew Teddy (John Alexander) to bury the bodies in the earthen floor of their cellar. Teddy, incidentally, thinks he's Teddy Roosevelt and that he's digging locks in the Panama Canal. 
Cary Grant plays Mortimer, Teddy's brother, who works as a professional critic and eventually discovers his aunts' serial killings; he finds a body in the window seat. Mortimer is mortified by the mob's morbidity, and he spends the bulk of the movie in a manic state, shrieking and mugging with aplomb. Does he turn in his own family when so many of them are clearly mentally ill? And if he doesn't, surely he is an accomplice. Hilarity ensues. 
In 1944, Grant was best known for his unflappability and cosmopolitan charm; his unique patois communicated upper class sophistication. He was no stranger to slapstick, of course — Howard Hawks' "Bringing Up Baby" remains a career highlight of his — but "Arsenic" saw Grant as his silliest. And according to multiple articles on Turner Classic Movies, his silliness was all on director Capra. 
Hyper-vitaminized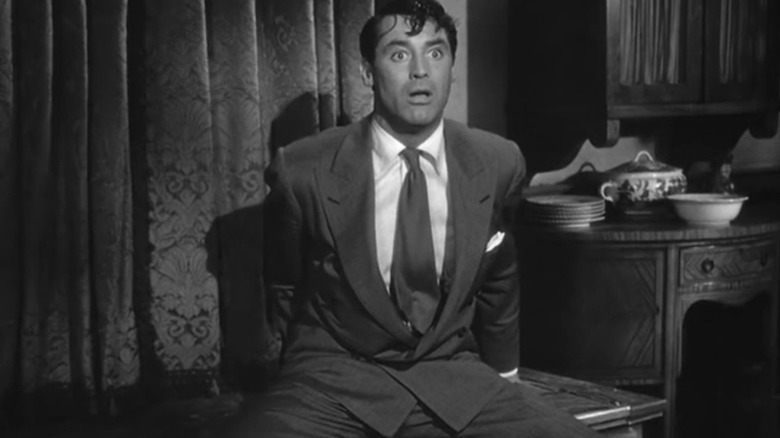 Warner Bros.
TCM's authors Rob Nixon, Sara Heiman, and Jeff Stafford tracked down Grant's opinions on "Arsenic and Old Lace," and found that the actor didn't quite appreciate being forced to be so big on camera. It's a well-disseminated piece of trivia that Grant considered "Arsenic" to be his least favorite of his films. TCM quotes Grant as having once said "I tried to explain to [Capra] that I couldn't do that kind of comedy; All those double takes. I'd have been better as one of the old aunts!" He called his own performance "dreadful," a sentiment that was echoed by critics at the time: The critic in the New York Times said that Grant's over-the-top performance made the movie drag:
"Mr. Grant, as usual, turns in a creditable performance although his energy is likely to wear down, eventually, the stoutest spectator. As a hyper-vitaminized drama critic, he bounds, bellows, howls and muggs [sic] through practically two hours and that, combined with the inevitable mugging of Jack Carson, makes those two hours long ones indeed."
After the stage production of "Arsenic" — a production that was running concurrently with the release of the film — Grant took over the role of Mortimer from Jimmy Stewart, an actor Grant thought might have been better suited to the role. (Most of the stage cast was ported over to the film, with the notable exception of Boris Karloff, who played Mortimer's serial killer brother Jonathan. Karloff was frustratingly unable to break his theater contract to appear in the film.) Grant was a newcomer to the production, and didn't seem to appreciate Capra's directing style. Indeed, "Arsenic and Old Lace" was the only time Frank Capra and Cary Grant worked together. 
Capra's own assessment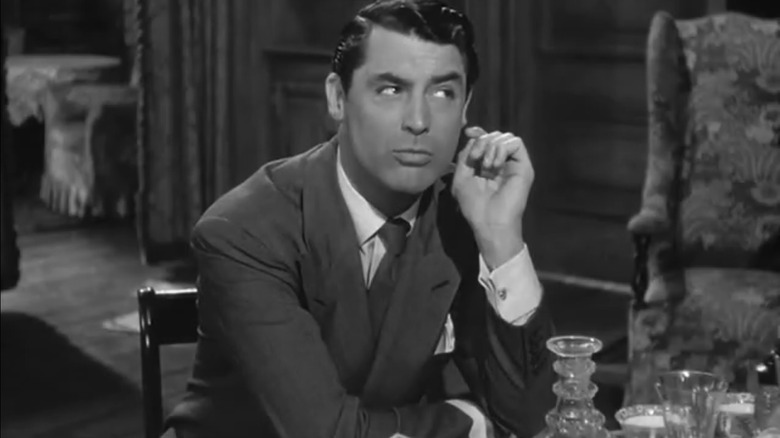 Warner Bros.
Although actor Gregory Peck and Frank Capra never made a film together, Peck was — like many — well-acquainted with Capra's work. TCM was able to track down a comment that Peck once made in response to Grant's performance, and how Capra perhaps pushed his leading man a little too far:
"Capra was a very strong, determined, hands-on director, and he had Cary doing a lot of squirrelly things. When a director imposes on an actor or persuades or cajoles the actor to do something that doesn't feel right, that's not good direction."
Capra, meanwhile, only had positive things to say. In a career retrospective interview conducted by Richard Schickel in 1973, available on the website Scraps from the Loft, Capra was quoted as having a great time on the set and he complimented Grant's ineffable "movie star" qualities: 
"I had everybody going — the actors were crazy about it. Peter Lorre [as the mad plastic surgeon Dr. Einstein] and Cary Grant had a ball with the whole thing. Grant is a great comedian, a great light comedian. He's very good-looking, but he's also very funny. That makes a devastating combination, and that's why he's been a star so long. I think he's been a star for forty years, and is still a star today because he is a great entertainer. And fun to work with, lots of fun to work with."
Grant may not have liked "Arsenic and Old Lace," but audiences certainly did. The film was an enormous success for Capra, and it remains one of the great horror comedies of the 1940s. The film is frequently praised by audiences to this day, often mentioned in conversations of the greatest screwball comedies of all time. 
It is currently available for rent through several online rental outlets.