How Scrubs' John C. McGinley Applied His Own Hospital Experiences To Dr. Cox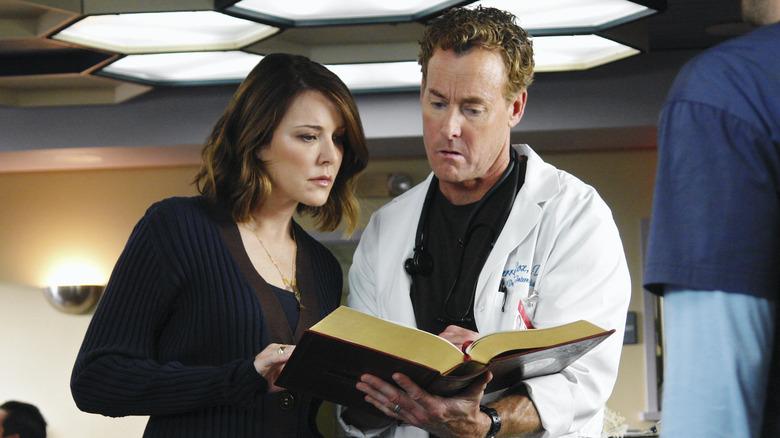 ABC
"Scrubs" was a medical workplace sitcom that ran for nine seasons, following the lives of the interns and doctors at the fictional Sacred Heart teaching hospital. The surprisingly realistic series was based on a real person and sought to find a balance of humor and drama in a medical series. The sense of reality was aided by the actor portraying one of its most popular characters.
One of the show's most beloved doctors, ironically, was the curmudgeon attending physician Dr. Perry Cox, played by John C. McGinley. Cox played a father figure to a host of young interns at Sacred Heart Hospital with the intensity of a honey badger. Although Cox was known for his gruff demeanor and constantly berated the hospital's interns, many came to see him as a mentor, including the show's protagonist, J.D. (Zach Braff).
It was a complex character to play, but McGinley was up to the challenge. He relied on his own hospital experiences to help shape his "Scrubs" character.
Both his children were in the NICU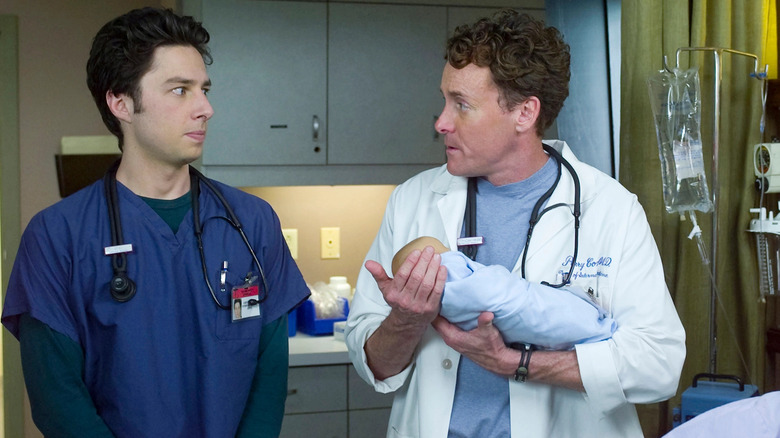 NBC
When preparing for the role of Dr. Cox, John C. McGinley didn't have to look far beyond his own experience as a parent. He has two children, both of which spent time in the neonatal intensive care unit when they were born. McGinley told the New York Daily News  it was impossible not to bring that experience to his work on "Scrubs." McGinley said:
"I always figured in the bottom of the ninth with the bases jacked and two outs you wanted Cox coming in out of the pen because he was the best chance you had at getting out of that hospital in one piece. That would float some of the other eccentricities and gruffness, just the fact that he was most likely the best doctor on staff at Sacred Heart and as a teaching doctor he was the one taking it the most seriously."
McGinley described Cox's style with the interns as "teaching with a jackhammer sometimes" and called his character "the biggest collection of damages on the planet." But McGinley felt like that worked to his advantage, keeping the Dr. Cox character fresh and inspired.
Beyond the hospital, McGinley used another important part of his life to inspire his performances in "Scrubs."
Dr. Cox is a love letter to McGinley's son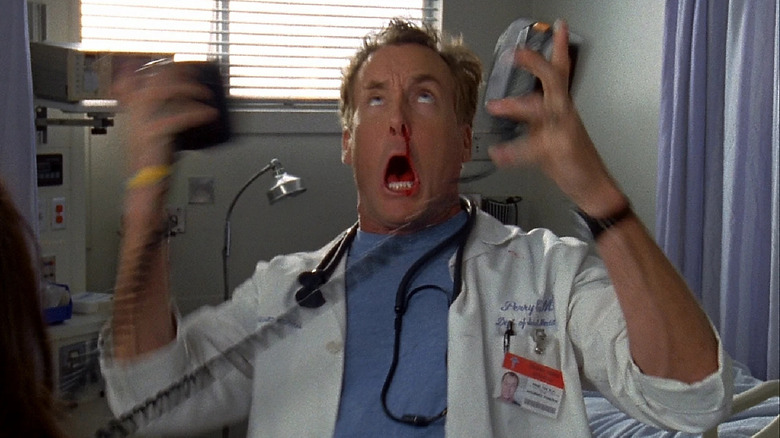 NBC
John C. McGinley's son Max was born with Down syndrome, something he brought to every episode of the show. The actor shared with the "Fake Doctors, Real Friends with Zach and Donald" podcast that he used his relationship with his son to inspire his performances. McGinley told former castmates Zach Braff and Donald Faison, "I decided underneath it all, so that it never became too drippy, in every episode there had to be one spot where I, John, not Dr. Cox, got to say 'I love you' to Max."
Max's influence actually changed Dr. Cox from the beginning of the show. McGinley discussed how he helped shape his character with Ability Magazine. McGinley said:
"I did feel Dr. Cox was too similar to the head of the hospital. He was too arrogant and mean. I approached him kind of like I had a miniature Max sitting on my shoulder. I pictured Max saying, 'This guy has got to give love every once in a while. He has to!' I knew there had to be tiny little windows of redemption. Without that, I didn't really want to play him. It is just that he

perpetuated so much meanness, and that's not where my head is, or was. ... I guess I get to bring 'Max love' with me to work."
McGinley called Dr. Cox "the best character I have ever gotten to play." He compared Dr. Cox to Louie De Palma (Danny DeVito) from "Taxi" and Lou Grant (Ed Asner) from "The Mary Tyler Moore Show."
"He's the tough guy with the heart of gold," McGinley went on. "He's only gonna help these little knuckleheads once in a blue moon ... and only if they promise never to tell."