Casting Bits: Dermot Mulroney In 'Stoker;' John C. McGinley In 'I, Alex Cross;' Tyler Posey In 'Taco Shop'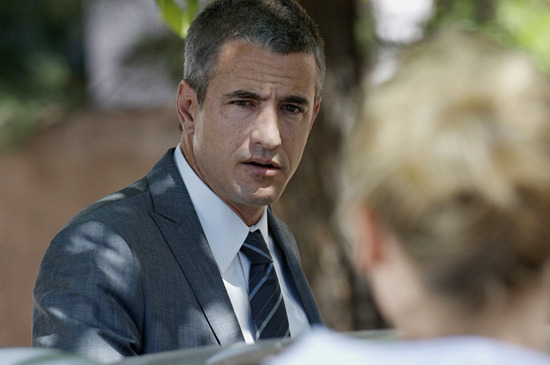 Casting! Here's info one one potentially great project, one that will probably find an appreciative audience, and one that will perhaps just make you hungry. I'll let you figure out which is which:
Wentworth Miller joins Park Chan-wook's first English-language film, Stoker,
John C. McGinley will realize his destiny by playing police chief to Tyler Perry in I, Alex Cross,
and Tyler Posey will go to war with rival taco vendors in Taco Shop.
I'm very excited for Stoker, which is about to shoot in Nashville and will be the English-language debut of Oldboy and Thirst director Park Chan-wook. The film is a Hitchcockian-sounding thriller written by Wentworth Miller, about a young woman who has to deal with the incursion of her mysterious uncle into the family after the death of her father.
Mia Wasikowska plays the girl; Nicole Kidman is her mother; Matthew Goode is the uncle, and now Dermot Mulroney will be her father. Jacki Weaver (Animal Kingdom), Lucas Till, and Alden Ehrenreich are also in the cast. [THR]Tyler Perry is about to break into serious thrillers with I, Alex Cross, the adaptation of James Patterson's novel in which detective Alex Cross (Perry) plays a cat and mouse game with a serial killer named Zeus (Matthew Fox). Ed Burns and Jean Reno are also on hand, and now John C. McGinley is in talks to play the chief of police in Rob Cohen's film. Patterson and Kerry Williamson wrote the script, and Marc Moss did some revisions. Summit picked up the project; expect to see it late next year. [Variety]
Finally, from a 'cops versus killers' story we go to a slightly more lightweight conflict: taco shop versus taco truck. The comedy Taco Shop has enlisted Tyler Posey, of MTV's new and not particularly well-liked Teen Wolf, to be "a young man who quits his taco shop job to open his own shop — but finds himself in an all-out war when a gourmet taco truck parks across the street." It's that sort of 'ripped from the headlines' approach that is going to make this one a winner.
(That's only half a joke; the whole 'gourmet food truck' movement seems to be going crazy in many cities. If we don't have a food truck version of The Fast and the Furious soon, I'll be disappointed. See also: Wheels on Meals. If only this one would have a bad-ass fight with Benny 'The Jet' Urquidez.)
Najera and Oskar Toruno wrote; Joaquin Perea directs. Carlos Alazraqui, Eric Roberts, Felipe Esparza, Laura Harring, Paula Jai Parker and Parvesh Cheena also star. [Variety]