Pussy Island: Everything We Know So Far About Zoë Kravitz's Directorial Debut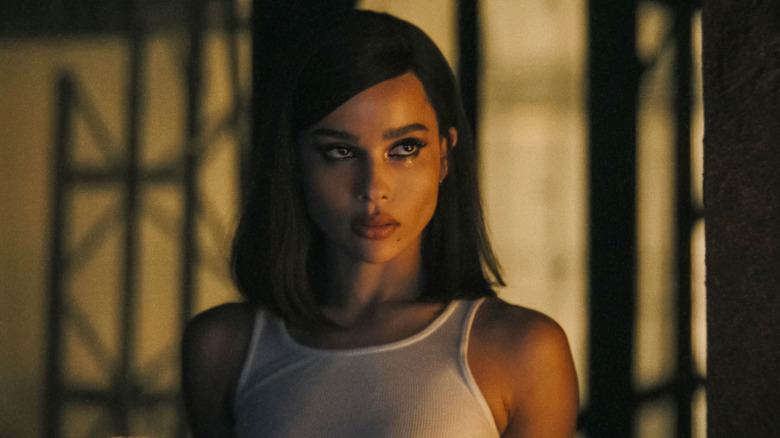 Warner Bros. Pictures
No, you didn't misread that headline. There's a movie called "Pussy Island" in the works, and so far, MGM seems intent on releasing the film as-titled in all its uncensored glory. It's far from the first movie to enter development under an eyebrow-raising title, of course, coming after the likes of "The Cut-Whore Killings" (which was later renamed "Unforgiven"). Then there's "Another Bullsh*t Night in Suck City," a film based on Nick Flynn's 2004 memoir that would ultimately release as the far-less-memorably-titled "Being Flynn." One only hopes MGM doesn't chicken out at the last minute and re-dub it something like "Paradise Island," as likely as that is to happen.
Final title aside, "Pussy Island" has Zoë Kravitz trying her hand at directing for the first time. The "Big Little Lies" and "The Batman" star has quietly begun to play a larger role behind the scenes on her recent projects, serving as an executive producer and co-writer on Hulu's far-too-short-lived "High Fidelity" series in addition to starring. What's more, "Pussy Island" reunites Kravitz with fellow "High Fidelity" scribe E.T. Feigenbaum, who co-penned the script with her.
What is Pussy Island about?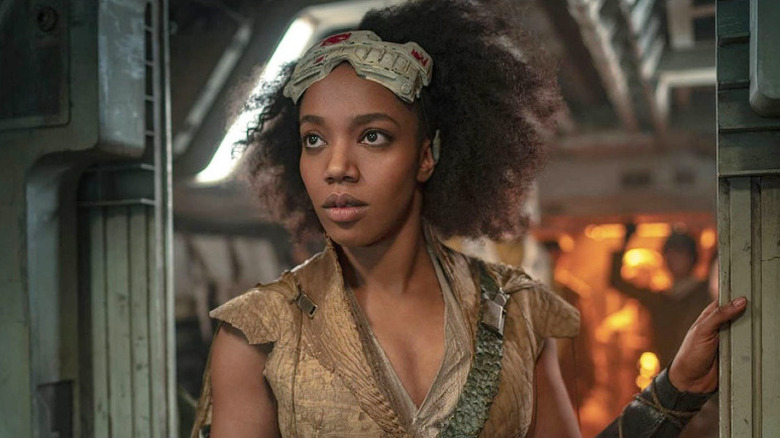 Lucasfilm
Per a synopsis posted by Deadline, "Pussy Island" follows "young and clever" Los Angeles cocktail waitress Frida (Naomi Ackie) as she works her way the inner circle of one Slater King (Channing Tatum), a noted philanthropist and tech mogul. In doing so, she lands an invite to a gathering on his private island, full of "beautiful people, ever-flowing champagne and late-night dance parties." Yet, Frida can't shake the feeling there's more to this island and its alluring host than meets the eye — and whatever it is, it's not just bad news, it's downright terrifying. (Then again, do rich tech guys ever not have a dark and twisted side?)
In a separate interview with Deadline, Zoë Kravitz talked about the film's title. As she explained it, "Pussy Island" has a personal meaning for her. Moreover, its dubious nature speaks to the timely concerns at the heart of the story:
"The title means a lot of things. I started writing this story in 2017. As a woman in general, and a woman in this industry, I've experienced some pretty wild behavior from the opposite sex. The title was kind of a joke at first, this place where people would go, bring women, party and hang out. The story evolved into something else, but the title wound up having multiple meanings. And it alludes to this time and place we claim to not be in anymore, in terms of sexual politics. People are evolving and changing but there is still a bad taste in a lot of people's mouths from past behavior. It's a nod to that, but it's also playful, and a really playful film in a lot of ways. I like that the title leads with that and has some heavy meaning beneath it."
Who is working on Pussy Island?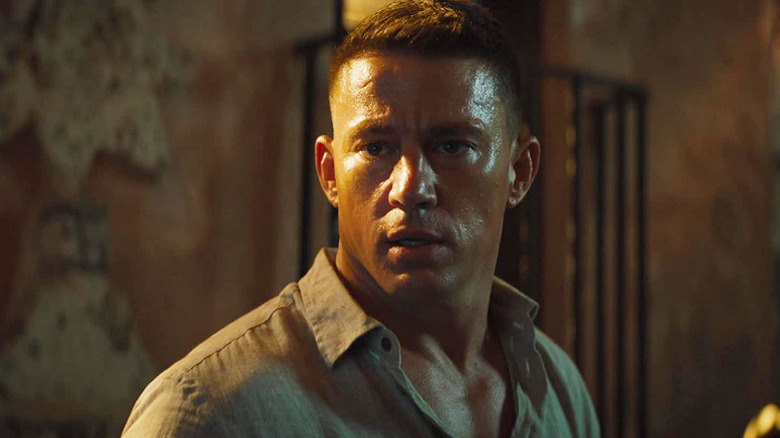 Paramount Pictures
Among those joining Naomi Ackie and Channing Tatum in the "Pussy Island" cast are Simon Rex, himself no stranger to films that deal with prickly subject matter after playing a washed-up adult film star who grooms an underage girl in Sean Baker's 2021 dramedy "Red Rocket." Other cast members include Alia Shawkat, Christian Slater, and Geena Davis, as well as Adria Arjona, Haley Joel Osment, Kyle MacLachlan, Liz Caribel Sierra, Trew Mullen, Levon Hawke, Saul Williams, and Cris Costa. Notably, however, it appears Zoë Kravitz will be staying behind the camera on the movie, rather than trying to pull triple-duty as its star, director, and co-writer.
With a fine mix of seasoned character actors and promising up-and-comers bringing her vision to life, Kravitz in a good position to score a hit with her first time at bat as director. It helps that she clearly has something she wants to say with the film and doesn't seem afraid to tackle complex issues through the lens of genre. Artists who successfully transition from actors into full-time directors are few and far between, but who knows? With a little luck, "Pussy Island" (or whatever it ends up being titled) will be to Kravitz what "Get Out" is to Jordan Peele.