Ms. Marvel's Aramis Knight On Playing The Different Sides Of Red Dagger And Doing His Own Stunts [Interview]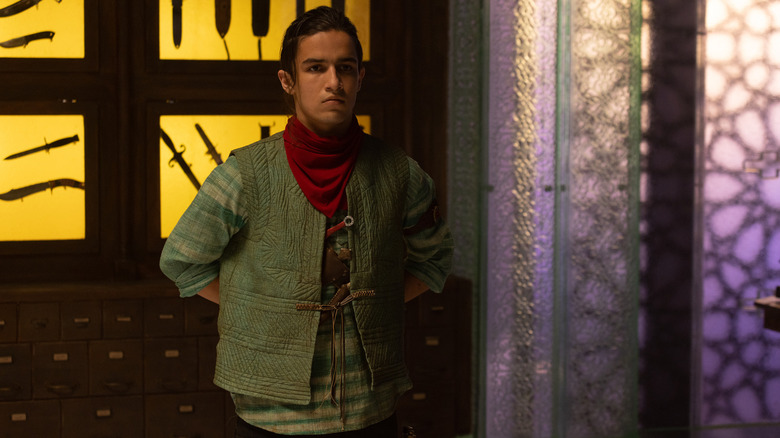 Marvel Studios
Any actor who's been lucky enough to make their debut in the Marvel Cinematic Universe as a full-fledged superhero — whether a main lead or a supporting character — hopes to make an entrance that will leave fans buzzing. Recent projects have given us a host of new fan-favorites such as Kate Bishop (and a returning Florence Pugh) in "Hawkeye," Oscar Isaac and May Calamawy in "Moon Knight," and Xochitl Gomez in "Doctor Strange in the Multiverse of Madness." By the same token, every Kamala Khan fan looked forward to meeting Iman Vellani in "Ms. Marvel" and the wait has certainly been worthwhile ... but little did we know that the series would have another ace up its sleeve.
Episode 4 of "Ms. Marvel," aptly titled "Seeing Red," features the first appearance of Aramis Knight as Kareem/Red Dagger and he wastes no time making it count. The actor displays everything you could want out of a new, young superhero: Instant chemistry with Vellani during their opening fight, a knack for impressive stunt work (most of which he does himself), and another source of representation for those who have been pushed to the sidelines for far too long. Oh, and he does much of this while initially wearing a scarf covering most of his face. You've likely seen Knight in previous movies and shows over the years, even if you didn't quite know it at the time — "Dexter," "Lost," "The Dark Knight Rises," "Ender's Game," and "Into the Badlands" among them — but it's fair to say that he's announced himself with a flourish in "Ms. Marvel."
I recently had the opportunity to chat with Knight over Zoom, where we discussed his newfound superheroics, his experience working opposite an absolute legend in the form of Farhan Akhtar, and expanding his comics knowledge thanks to his co-star Vellani.
'Just a consummate professional, very down-to-earth guy'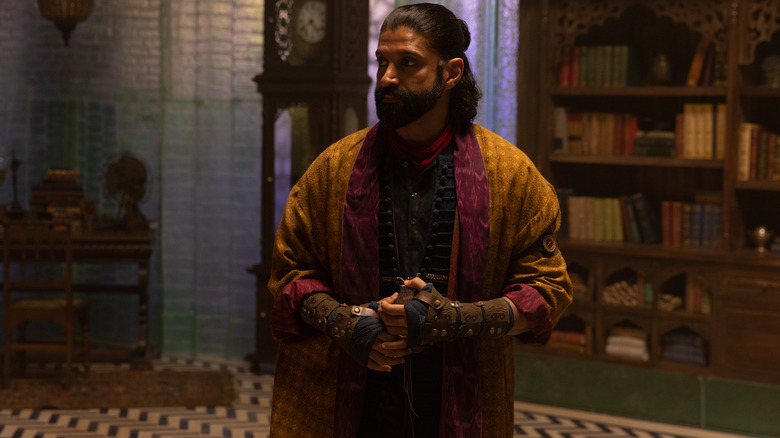 Marvel Studios
I know your episode only just aired, but I have to ask: Has it sunk in yet that you're officially a Marvel superhero now?
Kind of. I feel like it was a secret for so long that I'd kind of suppressed it, kind of tried to forget about it, let it out of my body and mind. But now that it's come to fruition, I'm hearing people talk about it and people are so excited about it. And even just doing [these interviews] today, the fact that you guys share this experience with me now, it's like, it's going to take some getting used to. Because for so long, it was very personal. And we went through so much in Atlanta and Thailand, made some forever friends, learned some skills I never thought I would. So to be able to actually express it now and tell you guys about it is incredible.
You got to act opposite Farhan Akhtar for a lot of your scenes in this episode. You're working opposite a legend.
Yeah, yeah. 100%. I've been super lucky to work with quite a few legends in my life. So just to be in the presence of it is amazing. It definitely brings some imposter syndrome in. It's like, "Do I deserve this? How do I deserve this? What did I do to deserve this?" But it was really amazing. And Farhan was such a warm guy, so nice. We spent most of the time just talking about our lives and different experiences that he's been through and that I've been through. And such a warm guy, so pleasant to work with. Just a consummate professional, very down-to-earth guy.
'When I wear the costume, it changes my posture a bit'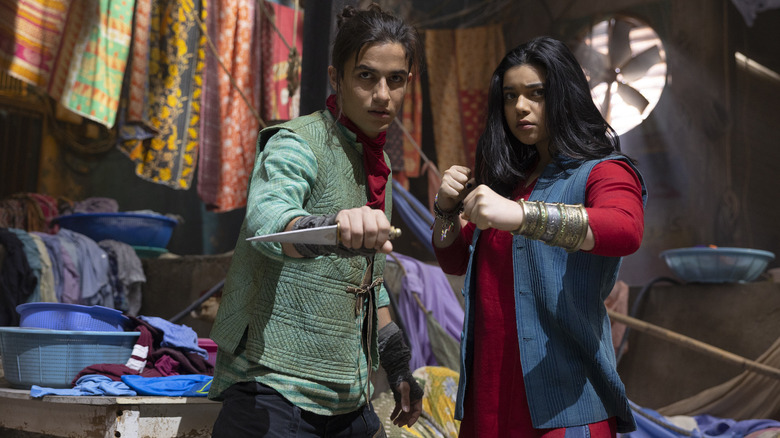 Marvel Studios
Now, I don't know how much you pay attention to episode reactions, especially in light of this last one. The most common response I saw to the character of Kareem after this was, "Okay, Kamala has a new, potential love interest. She's been collecting them almost like Thanos collects his Infinity Stones." [Laughs] They just keep on popping up. I'm wondering, from an acting perspective, did that ever cross your mind that's maybe what he's thinking about Kamala, when he first meets her? And if not, what do you think is going through his mind when she shows up?
Yeah. I don't know if romance is really at the forefront of his mind because they're fighting for such an important cause, but I also think he's quite charmed by her. And also, I don't think he has loads of time to hang out with his friends all the time. He works for such an important cause and it's definitely a full-time job. So to meet a friend, to meet a girl, I think it was really, really cool for Kareem. And I definitely think there could be some romance in there. But more than that, I think that I become a very trusted ally for Kamala. Only time will tell if it flourishes into something different. But for now, I see myself as a great ally and a great friend for her.
You got to play a few different sides of Kareem in this episode. Like you mentioned, he's the fighter, kind of the action hero. In that one scene, you're helping with exposition a little bit. And then in the last one, you're just a friend to her, you're showing her to your buddies and stuff like that. Which side of Kareem did you enjoy playing the most?
Ooh, I loved both and I loved striking the balance between a normal kid from Karachi who's eating biryani with his friends and also this very rugged, kind of astute superhero who's bringing this girl to his lair, practically. It's pretty badass. So to strike that difference was really cool. But I also think physically, when I wear the costume, it changes my posture a bit. So to take the costume off and to just be wearing normal clothes and to be a normal person as Kareem, it was really fun to play with. And I hope to do it more. I really like normal Kareem as well as Red Dagger Kareem.
But yeah, to be able to quite literally let my hair down and enjoy the company of my friend, it was really cool. It was cool to be a conversational Red Dagger as opposed to giving you information, expositional Red Dagger.
'All of the hand-to-hand combat that you see in the show from Red Dagger is all me'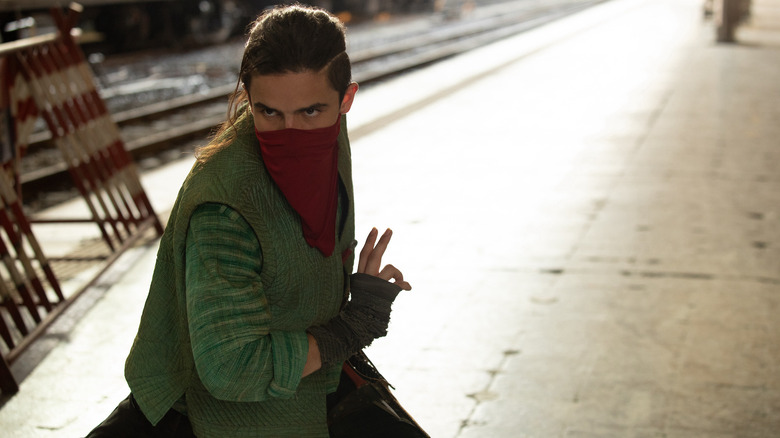 Marvel Studios
You've already had experience with other stunt-heavy productions, like "Into the Badlands." And I know you've said in the past that you do a lot of your own stunts. How much did your past experience factor in with your role as Red Dagger in "Ms. Marvel?"
So much, so much. All of the hand-to-hand combat that you see in the show from Red Dagger is all me. A lot of the wire gags and some of the falls and stuff was my amazing stunt double, also my trainer, Bryan Cartago. But yeah, I was able to bring a lot of what I learned on "Badlands" to this show. And even in the auditioning process, they did a martial arts test as well, and were very impressed by what I was able to do. And it's kind of amazing to be able to bring that skill into a future project. It was something I didn't do at all before "Badlands," and then it became such a big part of my life. And then it segued into this project. I love it. So I couldn't be happier.
I'm assuming you were a fan of the Marvel movies, even before you were cast in this. How much did you know about the comic side and the source material with this character?
Yeah, I definitely was not as well-versed in the comics as Iman, but I grew up on "The Amazing Spider-Man" and "Iron Man" and "Wolverine." So I had some prior knowledge, but not so much about the timeline of the MCU and how everything matches up. But slowly but surely, mainly from Iman, I've been able to learn a lot about it and super happy to be a part of it now.
New episodes of "Ms. Marvel" stream on Disney+ every Wednesday.