Here's Who Daniel Radcliffe Almost Played In Everything Everywhere All At Once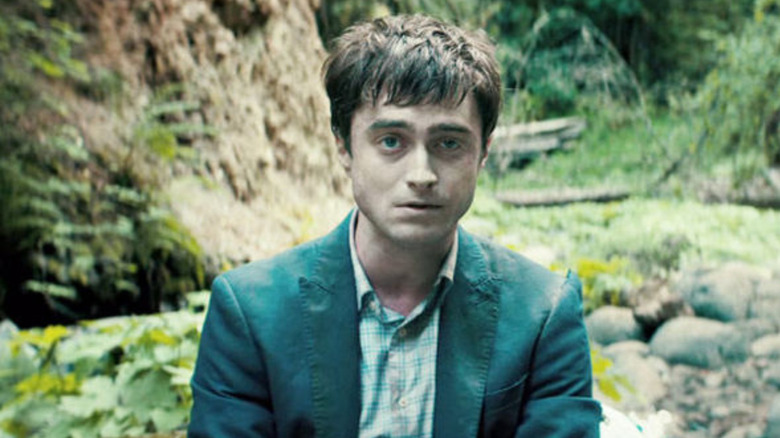 A24
In a just world, we would have gotten a Daniel Radcliffe cameo in "Everything Everywhere All At Once." Unfortunately, it is not a just world because the "Swiss Army Man" actor was unable to clear his schedule to reunite with directors Daniel Kwan and Daniel Scheinert, better known as Daniels. If it makes you feel any better, though, the adventures of Hank (Paul Dano) and Manny (Radcliffe) were likely replicated in different ways throughout the infinite multiverse.
Back in April, Radcliffe revealed that he was supposed to have a cameo in the movie. His appearance in a play, 2020's combined showing of Samuel Beckett's "Endgame" and "Rough for Theatre II" in London, prevented the cameo from happening. Intriguingly, he had never revealed what role he was originally slated for. Was it the Raccacoonie-assisted hibachi chef, Chad (Harry Shum Jr.)? Was Debbie the Dog Mom (Jenny Slate) supposed to be a Dog Dad? The possibilities seemed endless.
However, that mystery is now over. In an episode of "The A24 Podcast," Radcliffe reunited with Daniels and discussed a wide range of things. One such topic was the role he was going to play in "Everything Everywhere All At Once," and it would've been a doozy.
A missed evolution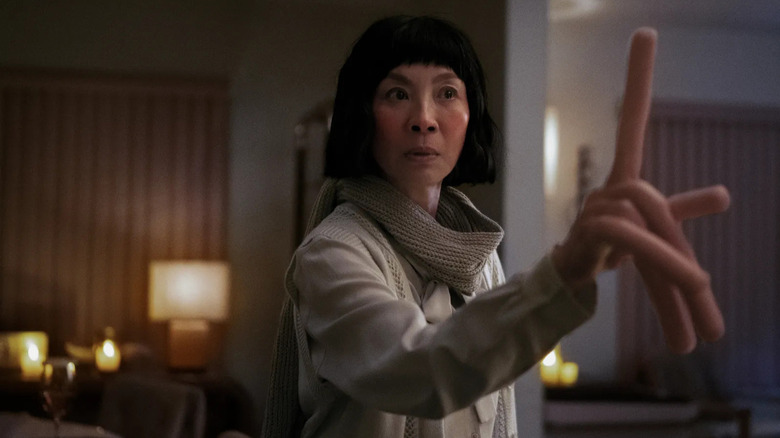 A24
After discussing the positive experience the trio had shooting "Swiss Army Man," Scheinert revealed that Radcliffe was supposed to be alongside Sunita Mani in the in-universes musical that Evelyn (Michelle Yeoh) watches in the laundromat. Apparently, this has been a pretty popular question for Daniels after Radcliffe revealed that he was almost involved in the project:
"People have asked what the role was, which we can put in the podcast. It was to squirt the ketchup and mustard into Sunita's mouth. It was to be the hot dog dancer in the musical, because it was one day of shooting and it would've been so easy and fun to be like 'yeah, what an incredible song and dance, man.' It'd be so fun, you look on TV and you're like 'oh, look at this musical in this world.'"
The role eventually went to Aaron Lazar, who does a great job alongside Mani acting like they don't have literal hot dog fingers. However, it could've been Radcliffe if it wasn't for the fact that he had prior commitments on the London stage with "Endgame" and "Rough for Theatre II."
"If I'd even been doing the play in New York, we would have been able to have everything work out because the structure of time-off is different," explained Radcliffe. "You do the same amount of shows, but you get Monday off. So, I could've flown in."
"Everything Everywhere All At Once" will arrive in digital stores on July 5.