The Best New Blu-Ray Releases: Everything Everywhere All At Once, The Unbearable Weight Of Massive Talent, And More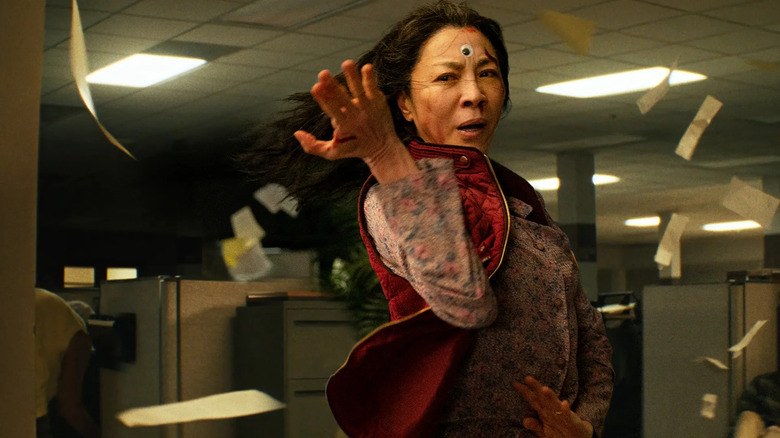 A24
Welcome back to my sporadic Blu-ray column! The latest edition features Nicolas Cage playing himself, a great Steven Soderbergh flick that finally has the 4K treatment, not one but two of 2022's best films, a filmed opera, and Tom Cruise and Emily Blunt teaming up to fight aliens (in 4K!). As always, I hope you'll keep spinning those discs. Because while digital may seem convenient, physical media is forever (unless your house burns down or something like that, but then you'll have other things to worry about). 
Everything Everywhere All At Once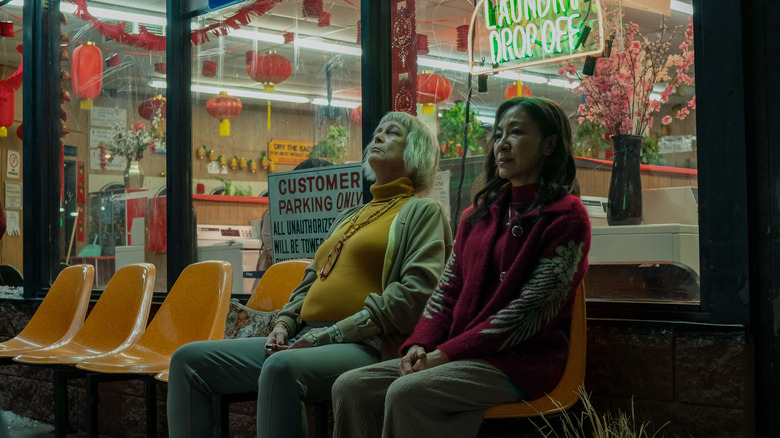 A24
Everything you've heard about "Everything Everywhere All At Once" is true. Is it brilliant? Yes. Is it bloated? Yes. Is it one of the best movies of the year? You better believe it. This tale of the multiverse features Michelle Yeoh as a woman tripping through various dimensions, all while trying to get her taxes done, deal with her disintegrating marriage, and make amends with her estranged daughter. And oh yeah, people have hot dog fingers at one point.
The hype around this film has risen to extreme levels, and yet I believe it is warranted. Does "Everything" have issues? Yes. Like I said above — it feels too long, too overstuffed. But you have to commend the filmmaking duo known as Daniels for putting something this wonderful, this strange out into the world. And the cast is electric across the board, particularly former "Goonie" Ke Huy Quan, who is so incredibly warm and likable here that it's disarming. And there should be plenty of praise heaped onto Stephanie Hsu, who has the most challenging role in the entire movie (I don't want to say too much about this particular role in case you're reading this and still haven't seen the movie for yourself). 
Special features:
Audio Commentary with Writers-Directors Daniel Kwan & Daniel Scheinert
"Almost Everything You Ever Wanted to Know About Everything Everywhere All At Once" Featurette
"Putting Everything on a Bagel: Cooking up the Multiverse" Featurette
Deleted Scenes with Optional Audio Commentary
Outtakes
Music Visual
Theatrical Trailer
The Unbearable Weight of Massive Talent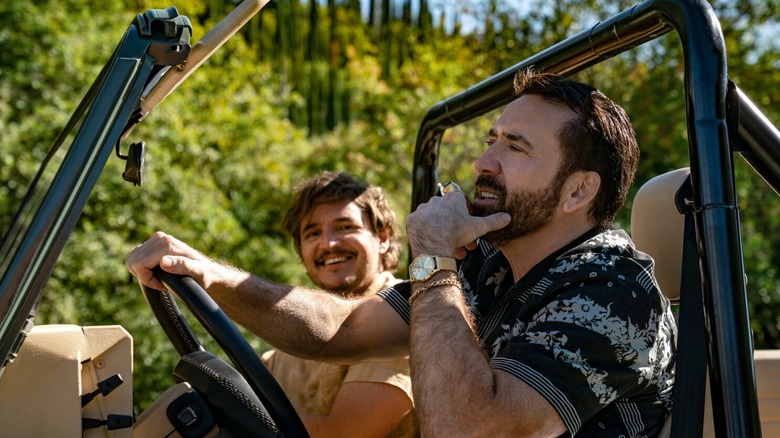 Lionsgate
Nicolas Cage cashes in on his memeification with the fun, but overlong, "The Unbearable Weight of Massive Talent." The film sees Cage play a fictionalized version of himself as an actor plagued by insecurity. He longs to do bigger and better things. Most of all, he longs to be an artist. But his ex-wife (Sharon Horgan, wasted in a mostly thankless role) and daughter (Lily Sheen) have grown weary of Cage's outbursts and drunken behavior. On top of that, the actor needs money. So when he's offered the paid opportunity to appear at the birthday party of millionaire Javi Gutierrez (Pedro Pascal), he takes it.
As it turns out, Javi is a huge Nicolas Cage fan. But he's also connected to a criminal underworld, and soon Cage is drawn into a comedy of errors involving drug dealers, the CIA, and a movie Javi badly wants to make with the actor. Cage really devours this material, and is clearly having fun playing not just the sad-sack version of himself, but also a digitally de-aged Cage in "Wild At Heart" mode. But while this movie is all about all-things Nic Cage (there are countless references to his long career), "Massive Talent" ends up belonging to Pascal, who steals the show as the superfan Javi. When the film is just Cage and Pascal hanging out and having fun, it's an absolute blast. But an overstuffed plot often threatens to get in the way and spoil the fun. 
Special features:
Deleted Scenes (with Optional Audio Commentary by Writer-Director Tom Gormican and Writer-Executive producer Kevin Etten)
The MindMeet the filmmakers and learn about the creative decisions behind the film. A film made with love, passion, and massive talent.
Glimmers of a Bygone CageHe's back. Not that he went anywhere. Go back in time in this behind-the-scenes featurette and relive Nicolas Cage's journey as an actor and see how a legendary career inspired both filmmakers and cast to create a new era of Cage.
Everybody Needs a JaviNick Cage meets his ultimate fan. Discover why Pedro Pascal was the perfect choice to play the charismatic, lovable, and eccentric fan with a dark, dangerous secret.
Nick, Nicky, and SergioThe man, the actor, the legend. Take a look inside Nicolas Cage's mind and find out how this film is the culmination of a legendary career, but also a new beginning for one of the most versatile actors of our time.
Second Act Action And . . . action, and more action! Immerse yourself in the exciting world of stunts and special effects that helped to create incredible, well-choreographed action sequences with the help of the latest in high technology for filmmaking.
Cages 5 and UpDon't kids say the darndest things? What if what they said were lines from some of your favorite Nick Cage movies? We thought you'd never ask.
SXSW Film Festival Q&A Featuring the Cast and Filmmakers.
Audio Commentary by Writer-Director Tom Gormican and Writer-Executive Producer Kevin Etten
Out of Sight 4K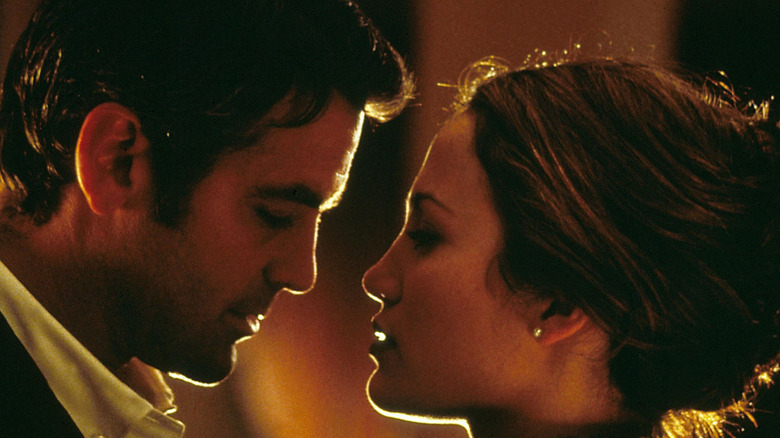 Universal Pictures
Steven Soderbergh's "Out of Sight" is one of the coolest, sexiest movies ever made. Hyperbole? No! I stand by that statement, damn it! And I long for a time when Hollywood was willing to produce movies like this. Adapted from the novel by Elmore Leonard, "Out of Sight" follows the unlikely romance that blossoms between a hot career bank robber (George Clooney) and a hot U.S. Marshall (Jennifer Lopez). That's right, they're both hot. And they know it. Which is why they're drawn together. Clooney's character, Jack Foley, knows that getting too close to Lopez is a bad idea, since it could land him back in jail. And Lopez's character, Karen Sisco, knows that she shouldn't be attracted to a guy on the wrong side of the law. And yet! These two can't help it. They're so damn sexy that they must have each other.
In the midst of all this is a shaggy dog plot involving a group of crooks trying to rip off a millionaire, played by Albert Brooks. Everyone here is on fire — Brooks is very funny in a sleazy way; Don Cheadle is surprisingly threatening as perhaps the only genuinely bad guy in the movie; Ving Rhames is fantastic as Clooney's right-hand man; and Steve Zahn steals the show as a perpetually clueless crook. And hey, even Denis Farina and Michael Keaton show up! What a cast! What a movie! And now it's on 4K, thanks to Kino Lorber. The film looks fantastic, with the gorgeous lighting and grain enshrined in crisp, clean form, with everything edited to perfect precision by Anne V. Coates. They don't make 'em like this anymore. 
Special features:
Brand New Dolby Vision HDR Master – From 4K Scan of the Original Camera Negative  
Audio Commentary by Director Steven Soderbergh and Screenwriter Scott Frank 
Inside OUT OF SIGHT: An Original Documentary on the Making of the Film – Featuring Behind-the-Scenes Footage and Interviews with Steven Soderbergh, George Clooney, Jennifer Lopez, Albert Brooks, Don Cheadle, Ving Rhames, Steve Zahn, Elmore Leonard and Scott Frank 
Deleted Scenes | Two Theatrical Trailers (Newly Mastered in 2K) 
5.1 Surround & Lossless 2.0 
Triple-Layered UHD100 Disc 
Optional English Subtitles
After Yang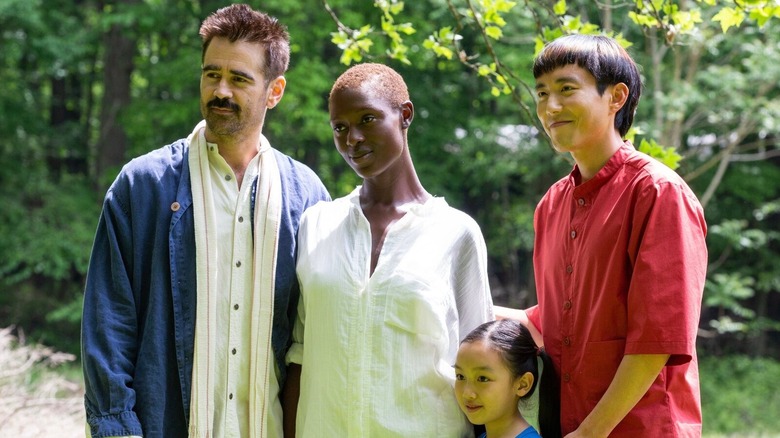 A24
A beautiful, quiet movie, Kogonada's "After Yang" is set in a future where human-like robots exist. When Yang (Justin H. Min), the adopted robot son of Jake (Colin Farrell) and Kyra (Jodie Turner-Smith), suddenly breaks down, the couple wonders what to do. Simply getting rid of Yang will upset their adopted daughter Mika (Malea Emma Tjandrawidjaja). But what about the parents? Yang isn't technically a real person, and yet, he's been real enough to the family for years. And when Jake starts viewing Yang's recorded memories, he sees that his robot son had an entire life he wasn't fully aware of.
Poetic and melancholy, "After Yang" is often overwhelming in the way it displays raw emotions. There's a tender flashback where Jake and Yang talk about tea that's so simple and yet so effective that I haven't stopped thinking about it since I first saw the film months ago. 
Special features:
"The End Is a Beginning: After Yang" Featurette
The Tales of Hoffmann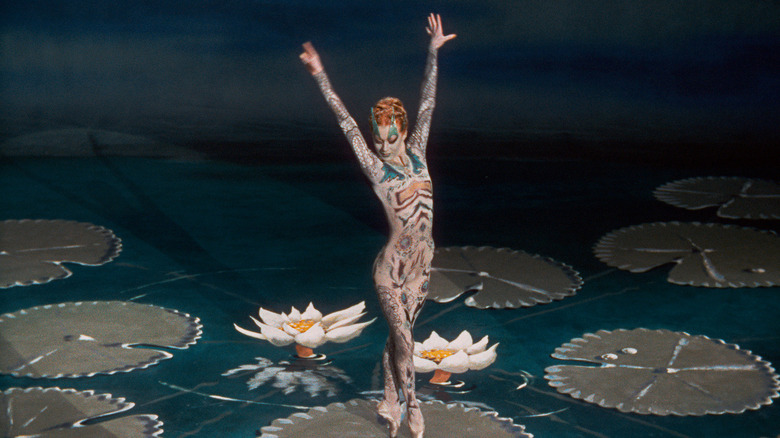 Lopert Films
Michael Powell and Emeric Pressburger's "The Tales of Hoffman" has come to the Criterion Collection (although, curiously enough, while this is touted as a 4K restoration, this is not a 4K disc release). Released in 1951, "The Tales of Hoffman" is a filmed version of Jacques Offenbach's opera "The Tales of Hoffmann," and the thing you need to understand here is that this is very much a "filmed opera." In other words, don't expect traditional-style dialogue or plotting. And if you're not much an opera fan, you might be turned off by the whole endeavor. But you might also be taken in by Powell and Pressburger's immaculate images — the pop of various colors, the surreal nature of the make-up, the stunning costumes. It's a visual feast that will surely hypnotize viewers willing to succumb to its dream-like charms. 
Special features:
4K digital restoration by The Film Foundation and the BFI National Archive, in association with STUDIOCANAL, featuring newly rediscovered footage and with uncompressed monaural soundtrack on the Blu-ray
Audio commentary from 1992 by filmmaker Martin Scorsese and critic Bruce Eder, newly updated by Eder
Interview with filmmaker George A. Romero from 2005
The Sorcerer's Apprentice (1956), a short musical film based on the Johann Wolfgang von Goethe story and directed by Michael Powell
Collection of production designer Hein Heckroth's design sketches and paintings
Gallery of production and publicity photographs
Trailer
English subtitles for the deaf and hard of hearing
Plus: An essay by film historian Ian Christie
Edge of Tomorrow 4K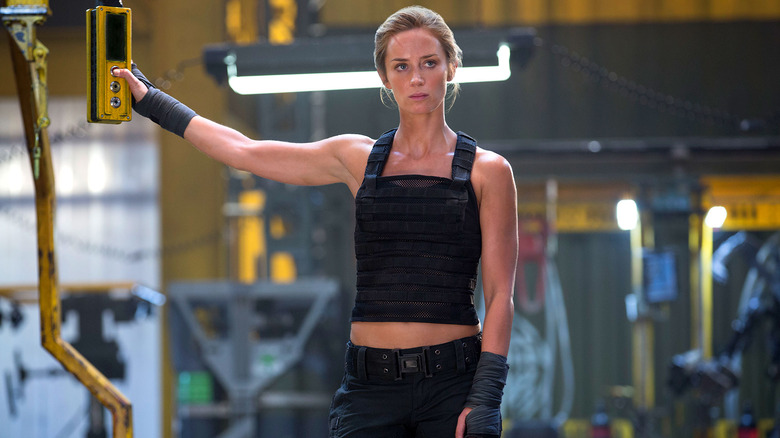 Warner Bros.
"Edge of Tomorrow," (aka "Live. Die. Repeat.") underperformed at the box office, but it quickly enshrined itself as a damn good movie among fans. At the time, it was one of Tom Cruise's best non-"Mission: Impossible" flicks. But the film's real claim to fame is revealing that Emily Blunt could kick serious butt. Blunt had obviously been working for a while before "Edge of Tomorrow," but it was her role here that confirmed she could do much, much more than costume dramas and rom-coms. 
Cruise plays an absolute coward who works as a PR man for the military. He wears a uniform, but he does not dabble in combat. That all changes when he gets forced into partaking in a mission against giant, deadly aliens. It goes poorly: Cruise dies. And then ... he comes back to life, hurled back in time to a specific point, and forced to live the same moments over and over again until he gets it right (you know, the "Groundhog Day" scenario). Out of his depth, Cruise turns to the one person who knows what he's going through — Blunt's character, who looks hot as hell as she does crazy yoga moves and wields a giant sword. 
Special features:
Operation Downfall – Adrenaline Cut
Storming The Beach
Weapons Of The Future
Creatures Not Of This World
On The Edge With Doug Liman
Deleted Scenes