Superhero Bits: Disney Tackles That Ant-Man/Thanos Theory, DC's Battle Of The Super Sons Trailer & More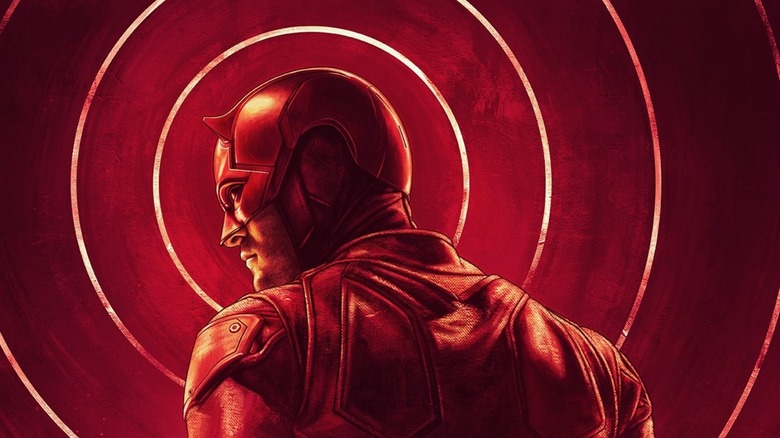 Disney+
(Superhero Bits is a collection of stories, updates, and videos about anything and everything inspired by the comics of Marvel, DC, and more. For comic book movies, TV shows, merchandise, events, and whatever catches our eye, this is the place to find anything that falls through the cracks.)
In this edition of Superhero Bits:
Ant-Man addresses why he didn't go up Thanos' butt to defeat him.
DC's animated "Battle of the Super Sons" movie gets a trailer.
"Ms. Marvel" star Iman Vellani knows a lot about the MCU's future.
A "Harley Quinn" spin-off comic is now free to read.
Read Harley Quinn: The Animated Series — The Eat. Bang. Kill Tour for free
Did you know that DC Comics published a "Harley Quinn" comic book series that takes place in the same universe as the animated series currently gearing up for its third season on HBO Max? Well, it totally happened and the good folks at DC Comics have, as the above tweet indicates, made the spin-off series free to read for the time being in the lead-up to the show's return next month. So, those who are interested in reading "The Eat. Bang. Kill Tour" can do so right now by clicking here.
New Batman '66 figures from McFarlane Toys
The folks at McFarlane Toys are here to satisfy fans of the '60s "Batman" TV show as a new line of figures from the Batman '66 line are available now. Above, we see a Black & White TV variant edition of Adam West's Caped Crusader. There is also a Joker cut from a similar cloth. These new figures are available at Target and are available for pre-order now. As far as pricing goes, they range between $18 and $30. Those interested can see the full lineup and snag pre-orders by clicking here.
Is Taskmaster coming back for Marvel's Thunderbolts movie?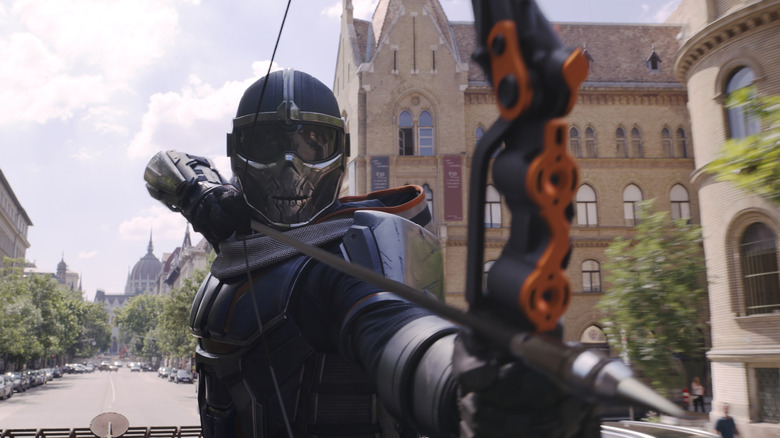 Marvel Studios
What's the time? It's rumor time! Now, we know that Marvel is putting together a "Thunderbolts" movie and even has a director lined up. As for the roster of villains who will report for duty, that is far less clear at the moment. However, scooper Daniel Richtman (per ComicBookMovie.com) has reported that Taskmaster, the main villain in "Black Widow," is set to return for the film, with Olga Kurylenko reprising the role. While the response to that movie's handling of Taskmaster was somewhat mixed, the character certainly makes sense for a movie about villains carrying out secret missions for the government. It's also worth noting that Richtman's track record is pretty dang good with this stuff. Even so, this is far from confirmed so take it with a grain of salt for the time being.
Batman and Superman: Battle of the Super Sons trailer
DC has revealed a new trailer for "Batman and Superman: Battle of the Super Sons," which, as the title implies, will see both Jonathan Kent and Damian Wayne mixing it up in a new animated flick. Also, Starro is getting in on the action! The synopsis for the film reads as follows:
Ahhhh, to be young ... and charged with saving the world from impending doom! That's the burden that 11-year-old Jonathan Kent and reluctant young sidekick Damian Wayne face in this all-new DC Animated Movie. On his birthday, Jonathan Kent learns his dad is Superman and that he has latent superpowers of his own! He also meets the legendary Dark Knight and current Boy Wonder, Damian. But when the two boys are forced to team up to protect their loved ones from a hostile alien force, will they become the Super Sons they're destined to be?
No release date has been set yet but the film expected to arrive on digital and Blu-ray later this year.
Ms. Marvel star Iman Vellani knows a lot of MCU secrets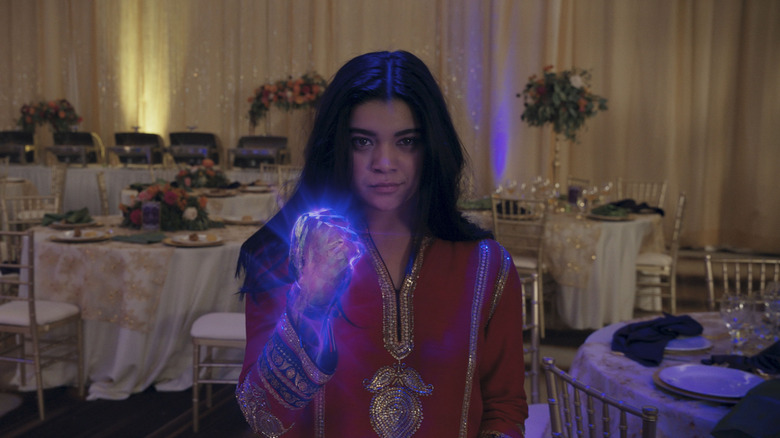 Marvel Studios
Iman Vellani recently made her debut as our latest MCU hero in "Ms. Marvel." But that's far from the end of the line for her as she will also be starring in "The Marvels" next year alongsidie Brie Larson's Captain Marvel. To that end, Vellani now knows a lot about the future of the MCU, as she explained in a recent interview with Marvel.com. And it turns out that brings her a great deal of joy.
"I love keeping the secrets. I know so much right now, and it's the greatest power ever. I was that kid who just wanted to know every possible theory and every possible spoiler because it made me feel more knowledgeable. And now I actually do know those things, and it's a good feeling."
The question is, how good is she at keeping secrets? And just how much does she know?
Watch the cast of Thor: Love and Thunder play Spin the Hammer
With "Thor: Love and Thunder" set to hit theaters next week, the press tour is currently in full swing. Recently, the cast popped by "Jimmy Kimmel Live!" and had a little bit of fun with Guillermo, who played a game called Spin the Hammer with the likes of Chris Hemsworth and Natalie Portman. The costume that Guillermo is wearing alone is worth the price of admission, but this is a really nice break from the standard, bone dry press junket interview and everyone is having a whole lot of fun with it, particularly Taika Waititi. Check it out for yourself above.
Everyone is fair game in Deadpool 3, assures writers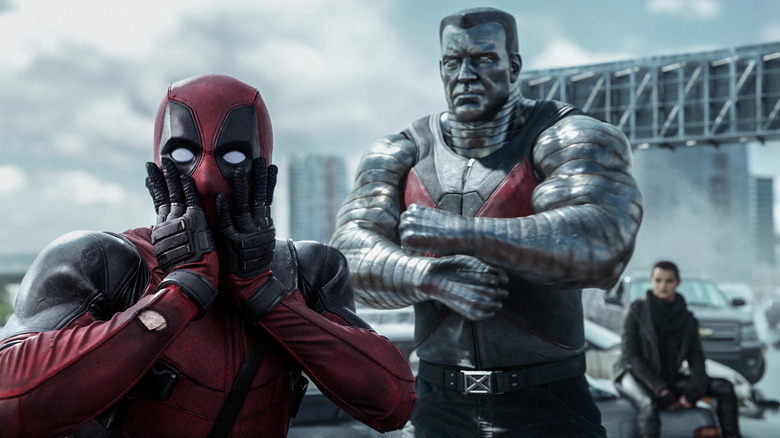 20th Century Studios
Plot details for "Deadpool 3" remain firmly under wraps but things are finally moving in the right direction with director Shawn Levy on board. Now, writers Rhett Reese and Paul Wernick, who recently circled back to the project, have explained that nobody in the MCU is safe from the Merc With a Mouth. Speaking with the "Post Credit Podcast," Reese said the following:
"How many movies have they given us? 25? 26? 28? Something like that. We have a treasure trove of things to poke fun at now ... and Deadpool's an equal [opportunist] so everyone's fair game."
You hear that, Kang? Deadpool ain't afraid of you.
Ant-Man addresses why he didn't kill Thanos by going up his butt
The new part of the Disney Wish cruise ship, Avengers: Quantum Encounter, has actually addressed one of the most unique fan theories to come around in the history of the MCU. Around the release of "Avengers: Endgame," fans started wondering why Ant-Man couldn't just shrink, sneak up Thanos' butt, and expand, which would theoretically kill the Mad Titan. Granted, this had already been addressed by the writers of the film, but still. 
In any case, as we can see in the above video, Disney decided to address this head-on, in universe as part of the new attraction. What a time to be alive.
Disney+ shares new official artwork for the former Marvel Netflix shows
Lastly, Disney+ has shared some brand new poster art for the Marvel shows that used to reside on Netflix. This includes "Dardevil," "Jessica Jones," "Luke Cage," "Iron Fist," "Defenders," and "Punisher." The shows all made the jump to Disney+ earlier this year in a bit of welcomed brand synergy that put most of Marvel's content all under one roof. Disney has expressed a great deal of interest in marketing these shows to its subscribers, and as a result, we are getting some pretty impressive looking new artwork. You can check out the whole gallery in the above Instagram post.