Harley Quinn Season 3 Trailer: Harley And Ivy Are Finally Back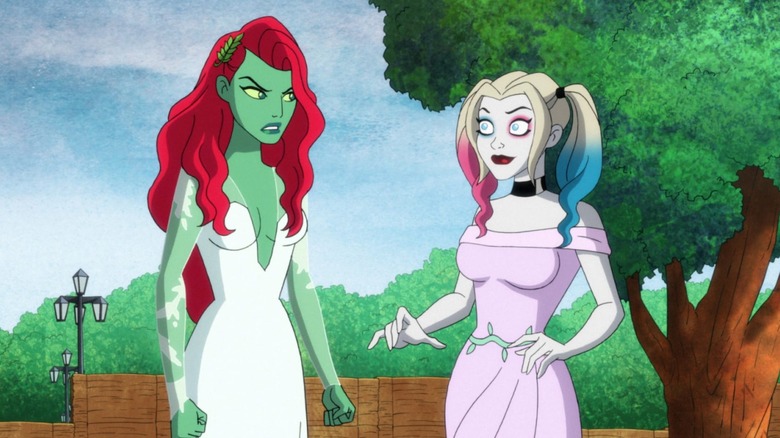 HBO Max
The new season of "Harley Quinn" is coming to HBO Max, and we just got our first look at what the villain formerly known as Dr. Harleen Quinzel has been up to since we last saw her. The latest batch of episodes is the first since the series' movie to the streamer was announced in 2020, as it was previously a part of DC Universe, which has since pivoted to comics only. However, it's unlikely the channel change will make a huge impact on the content of "Harley Quinn," since the show has been among the most gloriously profane comic adaptations around from the jump.
When we last saw Harley (Kaley Cuoco, fresh off "The Flight Attendant"), she had just experienced her own version of a perfect rom-com moment. At Poison Ivy's (Lake Bell) wedding to Kite Man (Matt Oberg), the groom ended up breaking up with the bride after realizing Ivy had more love for Harley. The pair of besties-turned-lovers ended up running away together with a newly deranged version of Commissioner Gordon (Christopher Meloni) hot on their heels. 
The first trailer for the new season, which drops in July, has finally been released. Check it out below.
Harley and Ivy, together at last
The season 2 finale was an awesome cliffhanger, but it actually isn't where "Harley Quinn" left off: the animated series was also supplemented with a comic book run called "Harley Quinn: The Animated Series: The Eat. Bang! Kill. Tour" that follows the couple on what its synopsis calls their "Thelma-and-Louise journey," which apparently involves a lot of making out. Work-in-progress season three footage from DC FanDome unveiled last fall shows that the new episodes will touch on that same period of time before seeing Harley and Ivy back in Gotham City.
Series showrunner Justin Halper also gave Entertainment Weekly some hints at the overarching themes of season three, saying the following about Ivy and Harley:
"This is the first time they're both going to be in a relationship where they really and truly have affection towards one another. They have a lot of responsibility. So I think, 'what is it like to be in a good relationship after you've only ever been in bad relationships with abusive people?' is a big theme we want to play with."
It's also worth noting that the landscape of DC as a whole has changed a lot since the last season of "Harley Quinn" aired. James Gunn's "Suicide Squad," which starred some of the same characters, hit theaters last year, while Robert Pattinson's take on "The Batman" brought forth the bleakest on-screen look at Gotham yet. Still, "Harley Quinn" stands apart thanks to its vivacious spirit and romantic underpinnings, both of which look to be returning for season three.
"Harley Quinn" season 3 will debut on HBO Max on July 28, 2022.