Coco Found Its Emotional Core In A British Coming Of Age Classic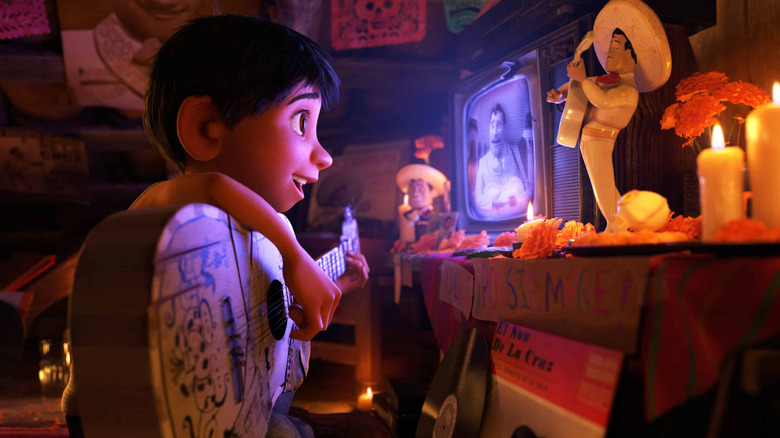 Pixar
At its heart, Pixar's "Coco" is a story about a young person whose passion for an art form puts them at odds with their family. It's an all too common tale that's been told again and again in different parts of the world throughout history and will continue to be told long into the future. But that's not what makes it one of the studio's finest animated films. It's the specificity with which the 2017 movie portrays its Mexican characters and their culture that brings depth to its splendid visuals and tear-jerking moments of reconciliation.
The plot of "Coco" centers on Miguel (voiced by Anthony Gonzalez), a 12-year-old boy from Santa Cecilia, Mexico, who dreams of becoming a musician over the objections of his parents and Abuelita (Renée Victor). As such, Miguel hides in an attic to practice his guitar playing by studying old movies featuring his idol, the musician Ernesto de la Cruz (Benjamin Bratt). In a 2017 interview with Vanity Fair, however, "Coco" co-director and co-writer Adrian Molina admitted that Miguel's obsession with music didn't come across in early versions of the film:
"He yells at his family, he runs away, he breaks into this room, he crosses over into the land of the dead, and he chooses to pursue the most elusive person possible, all in order to have a chance at fulfilling those dreams to be a musician. If you don't buy that music is the air he breathes, you're in the middle of the theater asking yourself: 'Why was he doing this?'"
This led directly to the creation of the scene where Miguel watches footage of his hero and learns to play guitar, his actions speaking louder than words ever could. As for the inspiration behind this moment? A little film called "Billy Elliot."
Learning how to vocalize the problem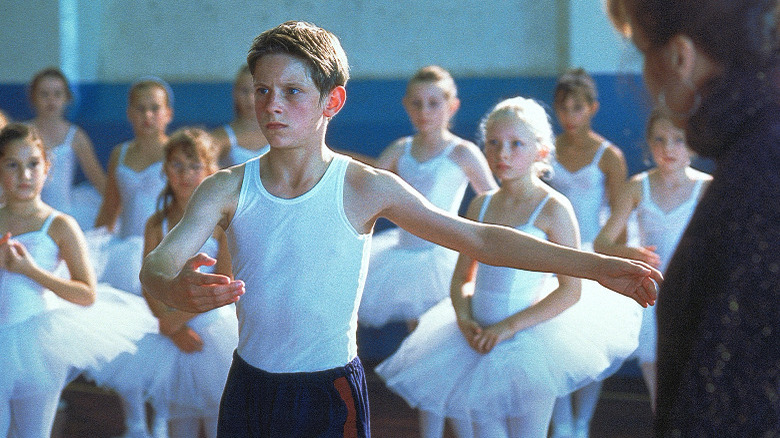 United International Pictures
There's a specificity to "Billy Elliot" that, like "Coco," gave its broader appeal, allowing it to become both a critical and box office hit and even inspire a stage musical adaptation. Director Stephen Daldry's 2000 coming-of-age dramedy explores the lives of the North East English working-class during the UK coal miners' strike in the 1980s. At the heart of the film is Billy (Jamie Bell), a boy whose newfound love of ballet is met with the disapproval of his father, Jackie (Gary Lewis). Because of this, Billy is forced to continue his dance training in secret under the tutelage of his teacher, Sandra Wilkinson (Julie Walters).
Adrian Molina broke down the exact moment in "Billy Elliot" that gave him the idea for Miguel studying Ernesto de la Cruz's guitar-playing in his hideout:
"There's a scene where [Billy] is part of the boxing class, and Julie Walters is running a ballet class. He's frustrated and he's got all these emotions, and then he just leans against the punching bag, completely spent, and then you just see this look on his face where he's lost. The camera does this slow push in on his face, but you hear Julie Walters's words, and she's giving instruction to the girls doing ballet. But what she's saying is, like, 'keep your head up.' I just thought that was such meaningful, powerful, beautiful filmmaking that got you into the head of this little kid who, again, hasn't the language to vocalize what the problem is."
In the same way, Ernesto's dialogue in the film Miguel watches vocalizes what he's been struggling to communicate to his family about his feelings:
"I have to sing. I have to play. The music, it's, it's not just in me. It IS me."
Lost in the music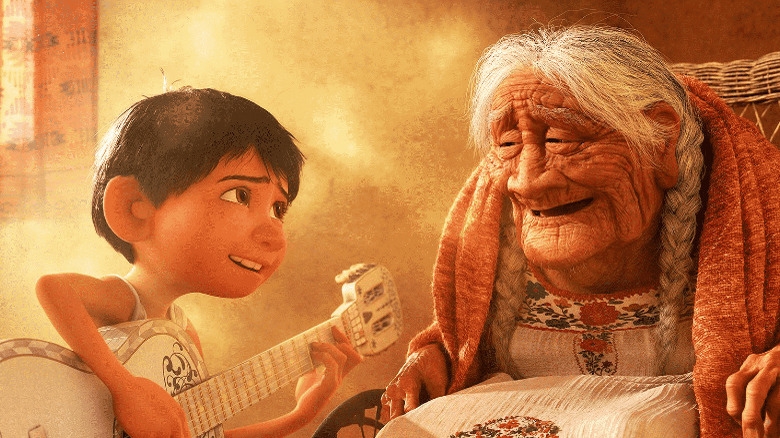 Pixar
Sound mixing also plays a key role in this scene from "Coco," as Ernesto de la Cruz's lines take on what Adrian Molina described as an "echo-y, watery sense to convey this feeling that Miguel is lost in this music [he's playing]." He added:
"Miguel and the music are one and the same, and if we're successful in conveying that, then we don't need to say, one more time during the movie, how much he wants to play. That becomes the feeling that you're trying to chase for the rest of the movie."
To that point, there's never any doubt about Miguel's devotion to his art from then on. Instead, "Coco" takes a turn for the mystical, following Miguel on a journey into the Land of the Dead as he searches for de la Cruz, believing him to be his great-great-grandfather and the key to his future. The plot continues to twist and turn from there, culminating in a scene where Miguel performs the song "Remember Me" for his great-grandmother, Mamá Coco (Ana Ofelia Murguía). This awakens her memories, allowing their family to finally heal from the wounds inflected upon them generations ago. It's one of the all-time great Pixar moments and a beautiful payoff to the sequence where Miguel is shown playing his guitar for the first time.
Suffice it to say, Molina made the right call, mining inspiration from a British classic for his film.