'Coco' Review: Pixar Is Back On Track With One Of Their Most Beautiful Movies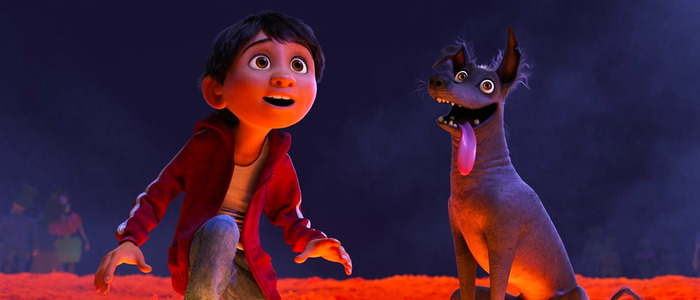 When Pixar Animation Studios released its first film in 1995, it felt groundbreaking. Toy Story proved that computer animation could serve as the foundation for a feature film, but it also proved that animated films did not all need to follow the storytelling template of classical Disney animated films such as Beauty and the Beast and Snow White and the Seven Dwarfs.
More than 20 years later, Pixar has become less of a disruptor and more of a standard-bearer. Some of their later original films, from WALL-E to Inside Out, are able to marry unique concepts and worlds, while others — like 2015's The Good Dinosaur — struggle to move beyond technologically innovative designs. This week, Pixar is releasing Coco, its second film of 2017, and its first original film in a couple years. While Coco is not the studio's most creatively daring film, the fact that it's a charming and gorgeously realized story is, in its own way, enormously relieving.
Anthony Gonzalez voices Miguel, a 13-year old boy whose love of music is inextricably tied to the fact that everyone else in his family has a fierce aversion to the art form. (Think of Michael Palin's blustery king in Monty Python and the Holy Grail shouting "No singing!" at his adult son, then multiply it by a hundred.) Miguel's great-great-grandfather was a musician who abandoned his young family, inspiring them all to spurn music and make shoes for a living. Yet Miguel refuses to conform to his family's hopes, especially after he gets it into his head that his mysterious ancestor is none other than hometown hero and legendary actor/singer Ernesto De La Cruz (Benjamin Bratt). One contentious argument later, Miguel resorts to borrowing De La Cruz's old guitar from his crypt at the start of Dia de los Muertos. But that choice sends Miguel to the Land of the Dead, where he teams up with Hector, a sly, dead con artist (Gael Garcia Bernal), to find De La Cruz and get a blessing to return home and live out his dream.
Coco, even in its best moments, has unavoidable parallels to some of Pixar's earlier films. The way that De La Cruz is portrayed — once Miguel meets him, he realizes the dark side of having a hero who abandoned his family to pursue his art — feels like the grim mirror image of the single-minded determination of Ratatouille's Remy. Before Miguel meets his idol, he's seen awestruck, watching footage of the actor/singer in the middle of a makeshift shrine, almost like the one WALL-E has to the human world in the 2008 film. Most notably, Hector's desire to be remembered by those in the land of the living feels an awful lot like Bing Bong worrying about being forgotten by Riley in Inside Out. If there is a nagging flaw to Coco, it's that this story feels like a collection of previously singular parts to earlier films. In the same way that the original Toy Story drew inspiration from buddy comedies, Coco draws perhaps too much inspiration from earlier Pixar films.
Even with that in mind, the emphasis here on the importance of family is fully earned, in no small part due to the lively performances from Gonzalez, Bernal, and supporting actors like Bratt, Jaime Camil, Renee Victor, and Alanna Ubach. Coco is most remarkable among the Pixar filmography for two specific reasons: its reliance on music (the film has five original songs) and its depiction of a non-White culture. Coco's cast is non-White (though Pixar's old lucky charm John Ratzenberger appears briefly), and the designs of the world of the film appear to owe a great debt to Mexican culture. That culture allows Coco to be one of Pixar's most colorful, lush, and vibrant films to date. Though the movie is, by its very nature, not exceptionally photorealistic, the various widescreen vistas created by Pixar's animators, guided by director Lee Unkrich and co-director Adrian Molina, are wondrous to behold. At various moments, Coco is simply the most beautiful film Pixar has ever made, each shot a striking work of art.
As with some of Pixar's other films, music is used here as a key to unlock emotion. Though none of this film's songs are as devastating as "When She Loved Me" from Toy Story 2, the frequently utilized "Remember Me" does serve the necessary purpose of bringing Miguel and his family together in dark moments. Earlier numbers, such as the raucous "Un Poco Loco," suggest the liveliness of mariachi-style music that so inspires Miguel. But if anything else, Coco emphasizes something: Pixar really should make a musical. The studio's filmmakers are at their best when creating colorful, exciting, highly emotional characters and worlds. What better way to keep doing that than by adding in singing and dancing?
When the studio started making features in the mid-1990s, they sidestepped musicals to stand apart from Walt Disney Animation Studios' output. Now, 22 years later, we have Coco, which tiptoes around being an out-and-out musical without fully embracing the form. In some ways, this new film has many recognizable elements of its forebears, unavoidably so. Coco is neither Pixar's best film nor is it even Unkrich's best, but it is as reliably entertaining, lovely, and striking as the studio's other work. After their last few efforts, Coco is a sign that Pixar might be back on the right track.
/Film Rating: 8 out of 10