Infinity And Beyond: All 27 Pixar Movies Ranked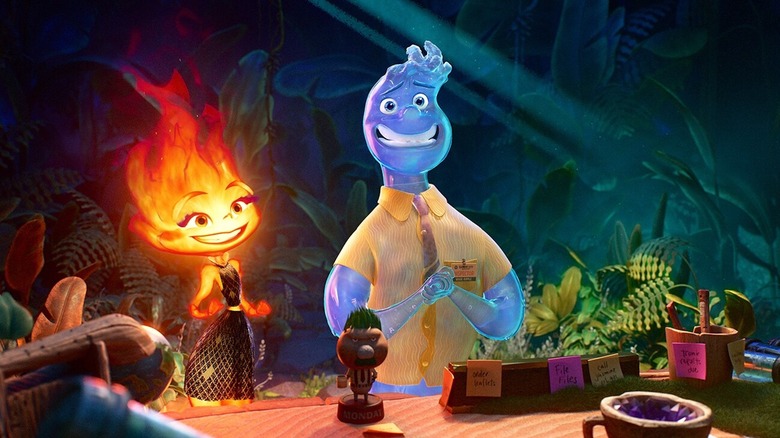 Pixar
Over 25 years, Pixar Animation Studios has become one of the most powerful movie studios in history. Before 1995, the notion of a computer-animated feature seemed next to impossible. But then, "Toy Story," the shrewdly written, crisply animated story of toys that come to life when their owners leave the room, opened everyone's eyes to the possibilities of telling lively, action-filled stories in a new way.
But the past few years haven't been Pixar's best at the box office, thanks largely to fallout from Disney's COVID-19 release strategy. It's a time of flux for the studio, meaning there's no better time to rank all of Pixar's 27 features. Remember, these rankings are final and legally binding, so let's get to it.
27. Cars 2 (2011)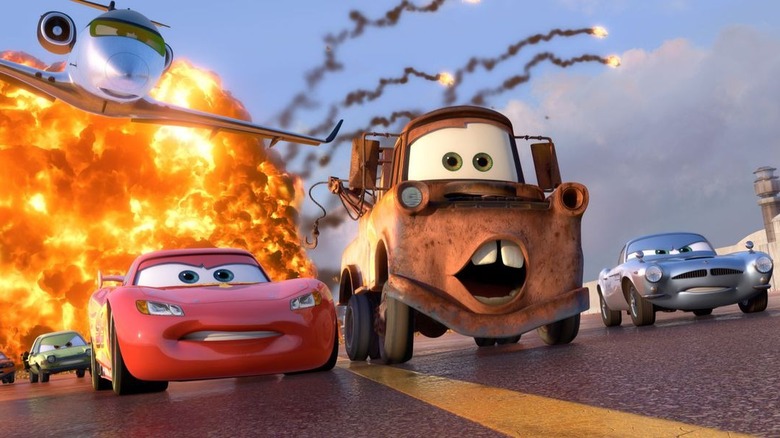 Pixar
Ride Like the Wind: Overview
Really, your enjoyment of "Cars 2," Pixar's first non-"Toy Story" sequel, relies on how much you like Mater, voiced by Larry the Cable Guy. If you don't like the actor or character, this movie is a very rough sit. It looks as remarkable as its predecessor, as Mater becomes a spy on a globetrotting mission, but the story is lifeless and hollow. In short (and I'm not even sorry for this), this movie did not git 'r' done.
To Infinity and Beyond: Signature Moment
Before we find out why Mater travels around the world to get recruited into a spy mission by Finn McMissile (voiced by Michael Caine), we meet Finn as he (it?) races around an oil tanker in the middle of the sea and tries to evade nefarious hench-cars. It's a swiftly paced sequence that tips its hand to the film's best element, its inventive car chases. The animation is remarkable enough to remind you of how great a Pixar film looks, no matter the story.
You Got Me Monologuing: Standout Quote
"Whatever you do, do not eat the pistachio ice cream!" That's from Mater, who doesn't realize the wasabi he's eating at a fancy Japanese soiree is ... well, wasabi. If the idea of Mater eating wasabi and not realizing what it is makes you laugh, this movie's for you.
Just Keep Swimming: Conclusion
Eight years later, "Cars 2" seems like an aberration in Pixar's filmography. An incredibly animated aberration, but an aberration nonetheless.
26. Lightyear (2022)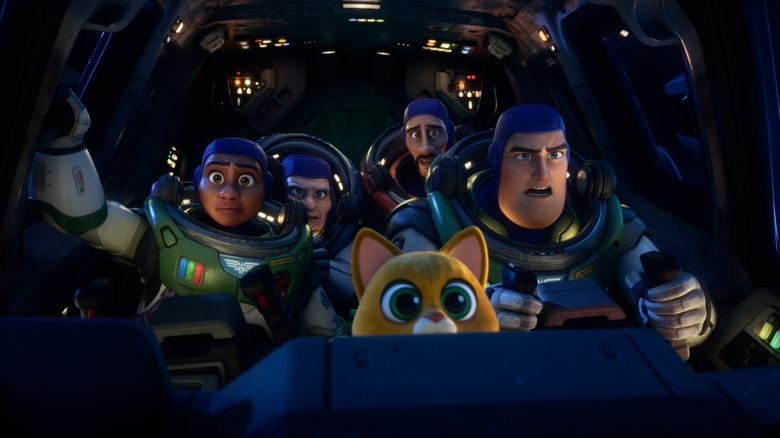 Disney
Ride Like the Wind: Overview
The concept of "Lightyear" felt logical from a mercenary marketing standpoint: what better way to expand the "Toy Story" franchise than by telling a story about "the real Buzz Lightyear," as Sheriff Woody once so mockingly dubbed the toy version with whom Andy Davis fell in love. An action-packed science-fiction adventure with a recognizable character, plus he would be voiced by Captain America himself, Chris Evans. What could go wrong?
Leaving aside the surprisingly anemic box office — "Lightyear" grossed $118 million domestically, which means that "The Good Dinosaur" somehow managed to outgross the film in a pre-pandemic period — the answer was that quite a lot could go wrong. "Lightyear" establishes itself before a single image has appeared on screen as Andy's "favorite movie," and the one that made him aware of Buzz as a character. But that on-screen credit only muddies the waters, because the ensuing film, where we learn that Buzz is a do-it-yourself kind of space ranger who gradually learns that he has to work as part of a team, doesn't feel like something most kids would gravitate towards. As is the case with every other Pixar film, "Lightyear" looks great, but the adventure depicted onscreen is hollow and empty. If nothing else, it serves as a reminder that even if the Buzz Lightyear we met in the "Toy Story" films isn't the real Buzz Lightyear, he's the one we know and love, and anyone else is just a poser.
To Infinity and Beyond: Signature Moment
Early in "Lightyear," Buzz tries to undo a mistake he made that stranded his whole team on an otherwise dangerous planet named T'Kani Prime. But to do that, he has to go on test flight runs; those tests take four minutes for him, but he's shocked to find that due to time dilation, four years have passed on the planet itself. He's unwilling to stop trying, leading to an effective montage in which Buzz barely ages at all but sees life pass before his eyes on the colony at T'Kani Prime. It's both a solid homage to Christopher Nolan's "Interstellar" and an effective use of time in depicting Buzz's stubborn belief that he can do everything himself.
You Got Me Monologuing: Standout Quote
The obvious answer would be Buzz Lightyear's signature phrase, which is fittingly the name for the section above this one. But more than a year after its release, the most memorable line regarding "Lightyear" is technically not from the film itself, but its most infamous piece of marketing via a tweet from Evans: "And just to be clear, this isn't Buzz Lightyear the toy. This is the origin story of the human Buzz Lightyear that the toy is based on." It doesn't get more meme-able than that.
Just Keep Swimming: Conclusion
"Lightyear" looks great, because of course it does. What Pixar movie doesn't look great? The premise seemed like a winner, but just because a concept is compelling from a marketing standpoint doesn't mean the resulting film is going to work. In spite of all the effort and time put into "Lightyear," it just couldn't hope to compare to the toy we've known for decades.
25. The Good Dinosaur (2015)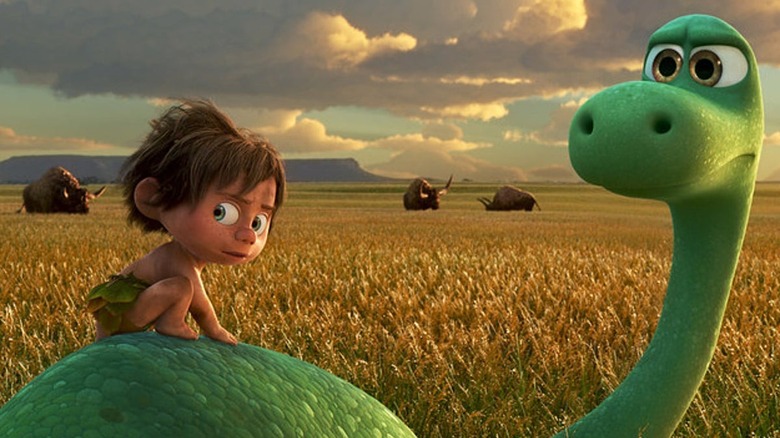 Pixar
Ride Like the Wind: Overview
In some ways, "The Good Dinosaur" is the most daring film Pixar has ever made, focusing on a cowardly figure who gains a backbone. The film, presenting a world in which dinosaurs never became extinct, had a famously shaky production that translates to its story. But where "The Good Dinosaur" succeeds is in its amazing photorealistic animation. Though the dinosaur and human characters have elastic faces, the settings in which they reside are brought to life so well that it's as if Pixar filmed the vistas of the American West and placed characters within them.
To Infinity and Beyond: Signature Moment
Arlo is paired with a feral human boy he names Spot who's also lost his parents. Eventually, after various scrapes, Arlo realizes a mysterious call he's heard is that of a caveman and his family who are willing to take Arlo in. The separation scene, culminating in a brief connection between Arlo and the cave family, is eerie and haunting in ways the rest of the film isn't.
You Got Me Monologuing: Standout Quote
"Sometimes, you gotta get through your fear to see the beauty on the other side." Arlo has to learn this lesson, imparted by his dad, to move past his crippling neuroses and embrace what life has to offer him. Though the bromide may feel basic, there's something about presenting a main character's struggle as so internal that's bold for Pixar.
Just Keep Swimming: Conclusion
It's rare for a Pixar film to feel like it just didn't come together, especially one of their original projects. Disappointing though it may be that "The Good Dinosaur" is such a rare case, it's good to see them still taking chances 20 years into their run of features.
24. Cars 3 (2017)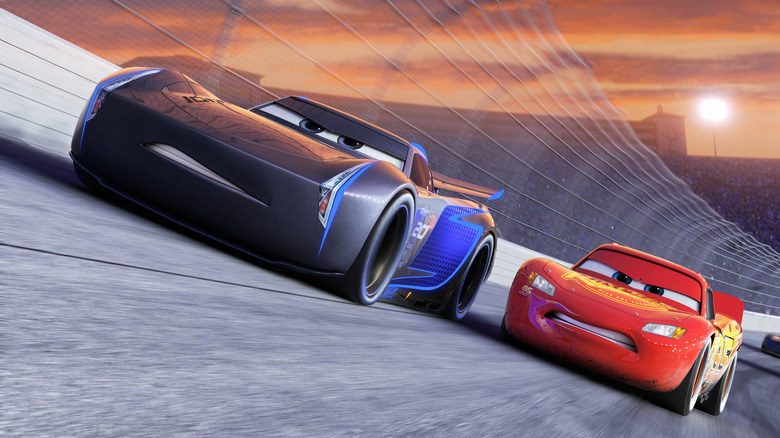 Pixarr
Ride Like the Wind: Overview
Though "Cars 2" made over $550 million worldwide, it was clear that a third film should focus more on Lightning McQueen. Thus, "Cars 3" backgrounds Mater, as Lightning becomes a mentor just like the late Doc Hudson. "Cars 3" is an overdue corrective for Pixar, since few of its characters are played by non-White actors. New character Cruz Ramirez, a Hispanic female car, is attempting to reclaim her chance to be treated as seriously as Lightning, in an arc that makes this a more successful film than its predecessor.
To Infinity and Beyond: Signature Moment
The role reversal for Lightning McQueen is fully crystallized in a climactic race where Cruz takes his place on the track. As Lightning embraces his role as trainer, "Cars 3" achieves a tricky goal: being a sequel that has a purpose aside from making money. Getting to see Lightning take a backseat to someone else is a satisfying payoff for a character who started out so self-involved.
You Got Me Monologuing: Standout Quote
"The racing is the reward! Not the stuff!" This is a near battle-cry from Lightning that works because he's finally channeling Doc Hudson in reminding someone else that all of the sponsorships, gifts, and perks mean nothing if you're not on the racetrack.
Just Keep Swimming: Conclusion
Even though "Cars 3" is a step forward from "Cars 2," the damage of the second film was done. The box office was surprisingly low; to date, it's Pixar's second-lowest-grossing film domestically. While this movie isn't the best in the series, it was more thoughtful than expected.
23. Onward (2020)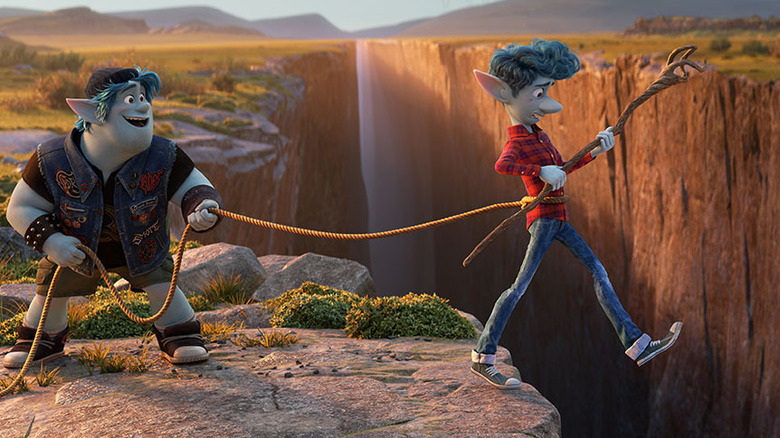 Disney
Ride Like the Wind: Overview
"Onward" is a film whose heart is so squarely in the right place that it hurts to not love it. Boasting two Marvel favorites — Chris Pratt and Tom Holland — and an original concept blending aspects of the human world with characters straight out of a hard fantasy novel, "Onward" is also heavily inspired by the life experience of its co-writer and director, Dan Scanlon, whose dad passed away when he was young and who became closer to his garrulous older brother as a result. The same family dynamic occurs as the elf Barley (Pratt) has to become a faux-father figure to his younger brother Ian (Holland) when their dad dies. But Barley is an overgrown kid himself with a penchant for fantasy, so when he and Ian learn that their dad left behind the ingredients to bring him back to life for one day, they jump at the opportunity ... only to bring back the bottom half of their dad. The rest of the story is a quest and race against time — can Ian and Barley get the spell right to bring back all of their dad before the sun sets? The ensuing adventure is crisply animated and detailed, but lacks a certain panache in making the heartache as genuine as the goofy concept. "Onward" is one of Pixar's more well-intentioned recent original films, and achingly personal, but still missed the mark, if ever so slightly.
To Infinity and Beyond: Signature Moment
Pixar movies are basically engineered to make you cry, and a film like "Onward," where the prospect of a dead parent coming back to life for a few short moments is part of the plot, is no different. But the most impactful moment in the story comes near the end and is all but wordless. The good news for Ian and Barley is that they do end up fixing the spell so that their dad returns, but only for a few short seconds before the sun sets. Due to some climactic plot machinations involving a stone dragon, Ian is only able to see his father return from a distance, watching as Barley makes amends with him before vanishing to the afterlife. Ian has come to realize that Barley truly is something of a surrogate dad for him, so the fact that the older brother gets the reunion (and that we don't hear the details) is both apt and emotionally kind of devastating.
You Got Me Monologuing: Standout Quote
"I never had a dad, but I always had you." Tying into that signature moment, hearing Ian voice this to his brother is the type of thing that's both nakedly obvious but also emotionally satisfying.
Just Keep Swimming: Conclusion
The standout quote and signature moment from "Onward" highlight something that does feel somewhat off about the film: even in spite of the high-concept setting, there's not quite as much successfully punchy or memorable humor from this story. But when the premise involves the death of a loved one, and the attempt to bring them back just for a bit, it perhaps tracks that the resulting affair isn't as thrillingly funny as in other Pixar efforts. On paper, this movie ought to work like gangbusters, with an original story and setting, an intriguing hook, a cleanly mapped-out character arc, and vivid animation. But in execution, it's just not quite as successful to see "Onward" as it may be to emphasize with the personal story that drove it into existence. As well-meaning as this story is, it doesn't come together.
22. Cars (2006)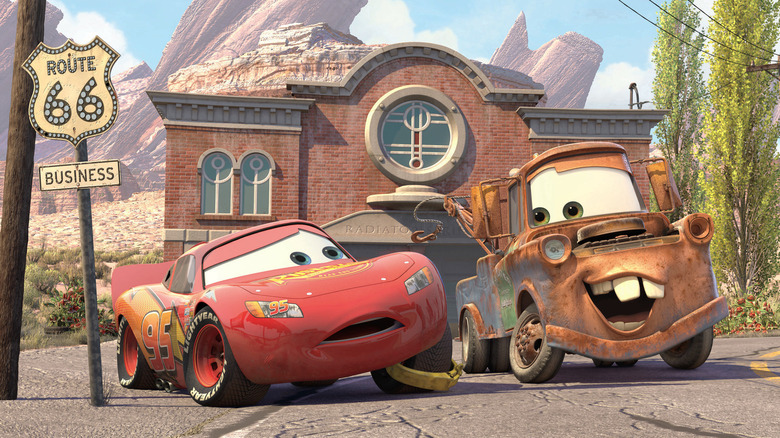 Pixar
Ride Like the Wind: Overview
The first "Cars" felt a little familiar, both in its setup of a slick go-getter learning to slow down and appreciate life's calmer moments (weirdly reminiscent of the '90s comedy "Doc Hollywood"), and in its depiction of old-fashioned life. But "Cars" did inspire sequels, spin-offs, and a themed land in Disneyland. But if you're not into NASCAR, Larry the Cable Guy and the like, Cars is an experiment without much payoff. 
What makes "Cars" stand above its sequels is Paul Newman's performance as the grizzled Doc Hudson, who'd rather forget his own race-car past. Newman makes even the corniest line ring true, because ... well, he's Paul Newman. His presence is enough to make this first film a bit special even if all three "Cars" movies are at their most fascinating when you wonder how the hell this world exists.
To Infinity and Beyond: Signature Moment
When Lightning and Sally go on a drive near the otherwise-abandoned Radiator Springs, it's a showcase for Pixar's animators. The scene has little purpose outside of letting Lightning relax. But the animation, inspired by the real Route 66, is so incredible that the movie earns having its lead character drop its literal jaw at the natural beauty surrounding him.
You Got Me Monologuing: Standout Quote
"Speed. I. Am. Speed." This line cuts to the heart of Lightning McQueen, who learns to stop and smell the roses by the end of "Cars." Rare is the film that boils its character down to four words, heard as soon as the story begins.
Just Keep Swimming: Conclusion
You really have to like cars to like "Cars." If you see cars as a functional part of life, but not the kind of function that could turn into real, animate objects, this movie is a photorealistic curiosity.
21. Finding Dory (2016)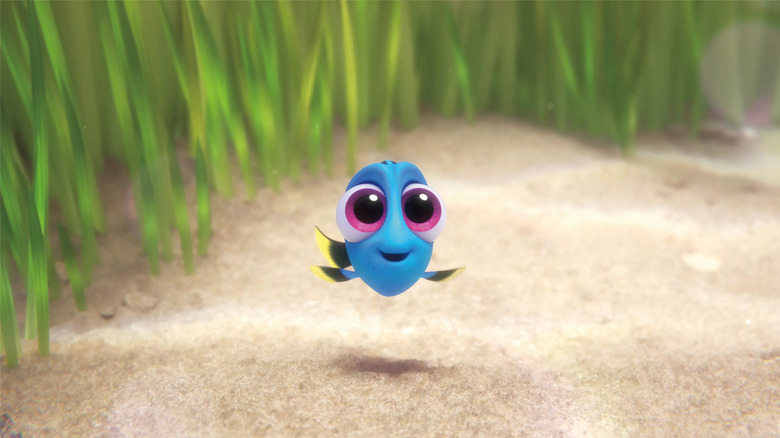 Pixar
Ride Like the Wind: Overview
A sequel to "Finding Nemo" felt both unsurprising and concerning. On one hand, "Finding Nemo" is one of Pixar's most creatively and financially successful films, and Ellen DeGeneres had a career revival in part thanks to her charming voice work as the forgetful Dory. But "Finding Nemo" felt closed-ended, so any follow-up had to meet a high bar of quality. "Finding Dory" did make a boatload of cash, but isn't at the same level as its predecessor.
This time, Dory has a spark of memory, realizing she's been inadvertently abandoned by her parents (Diane Keaton and Eugene Levy). So she embarks on a quest to find her parents, bringing her, Marlin, and Nemo to a cutting-edge aquarium in San Francisco. "Finding Dory," directed by Andrew Stanton, doesn't copy the first film beat for beat — the title is a reference to her internal journey than being lost physically — but it doesn't leap above the original.
To Infinity and Beyond: Signature Moment
At the aquarium, our heroes encounter, among others, a couple of sea lions voiced by Dominic West and Idris Elba. They're vastly more interested in ragging an out-of-it sea lion named Gerald, who just wants space on their favored rock. This gag works primarily because West and Elba are delightful to listen to with Cockney accents.
You Got Me Monologuing: Standout Quote
"Sigourney Weaver is going to help us!" Weaver's cameo as the aquarium's narrator is the oddest avenue down which "Finding Dory" travels. The fish have no idea who or what Sigourney Weaver is, which only makes Dory's proclamation here all the more delightful and loopy.
Just Keep Swimming: Conclusion
"Finding Dory" was the first of four consecutive summer sequels from Pixar. Though the film was a massive hit, it served primarily as a reminder that its filmmakers excelled when telling a story with more freshness.
20. Elemental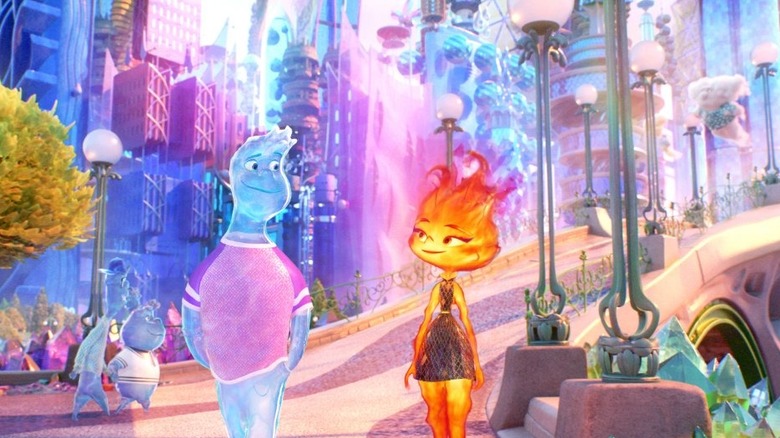 Disney
Ride Like the Wind: Overview
The most recent Pixar affair is both a decent and enjoyable film and one that has to live with the fact that it's following in the footsteps of a lot of other memorable animated films, from the Emeryville studio and elsewhere. Depending on your knowledge of Pixar and Disney as a whole, there are many titles that came before "Elemental" that serve as either intentional or inadvertent inspirations. A story about two mismatched characters who couldn't possibly be friends? ... Well, just about every Pixar film has that detail baked into its DNA. "Elemental" leans further into it, by not only making those mismatched characters a possible romantic coupling, but also implying that based on their backgrounds, they'd never mix. That's because the characters are all anthropomorphized elements: air, water, earth, and fire. Here, it's the fiery Ember (Leah Lewis) who connects with the watery Wade (Mamoudou Athie), the idea being that water and fire just can't mix. 
"Elemental," from Pixar longtimer Peter Sohn (who also directed "The Good Dinosaur"), ends up feeling like an echo of "Zootopia" (which also attempted to graft a commentary on race into its story, and also with mixed results), and of "Inside Out" in its distinctively colorful character design, and of Sohn's short "Partly Cloudy." The animation is striking and colorful, the pacing is crisp, and the key romance between Ember and Wade is sweet enough. But "Elemental" feels more formulaic than a Pixar film is supposed to be. It's good, but we expect so much more than good from Pixar.
To Infinity and Beyond: Signature Moment
The closest that "Elemental" comes to a signature moment within the Pixar canon is when Wade helps Ember see a fabled Vivisteria flower via a now-sunken old exhibit at the center of Element City. Because Ember is literally fire, and the flower is underwater, Wade has to protect her by creating an air bubble in which she can stand and explore the exhibit without being doused. The ensuing scene is largely dialogue-free and highlights the biggest strength of "Elemental" — its remarkable and colorful animation. Even in stories that feel a little over-familiar, Pixar's animation is without peer.
You Got Me Monologuing: Standout Quote
"Why do they even have these?" That quote is perhaps not the funniest line of "Elemental" but it shines a light on how the new film occupies a similar universe to "Cars" — you can't think too much about the details of these very strange worlds or else you'll get a headache. When Wade asks that question of Ember as they walk through a chain-link fence, it's equivalent to the filmmakers telling us to not think too hard about the film. You have to go with it, or else you'll be stuck at the start.
Just Keep Swimming: Conclusion
"Elemental" is a good film with solid lead voice performances and striking visuals. If there's anything wrong with that, it's a self-inflicted issue — Pixar movies, at their best, are so far beyond good that anything new has an even higher bar to clear. "Elemental" showcases some of the studio's best recent animation, but the story is less cutting-edge.
19. Brave (2012)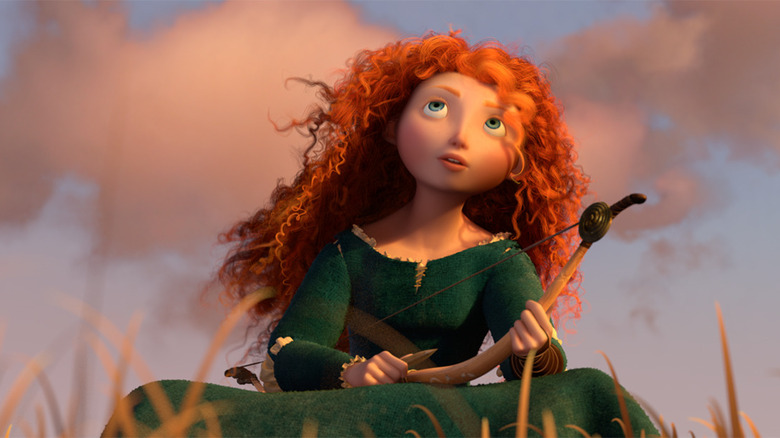 Pixar
Ride Like the Wind: Overview
Pixar had featured female characters before, but "Brave" was their first with a sole female protagonist. Originally, the film had a female director, Brenda Chapman, who was inspired by her relationship with her daughter in telling the story of Merida, a feisty Scottish princess who'd rather tool around with a bow and arrow than prepare to be the next queen of her clan.
Chapman eventually left the project, but was credited as co-director and co-writer. The story does feel shakier than usual, even in the core connection between Merida (Kelly Macdonald) and her mother (Emma Thompson), which is upended when Merida's mom is transformed into a large bear. Even though the twist doesn't feel unnatural, it doesn't fully get reckoned with. The film's cast is game, and the animation and design are impressive and lived-in. But Brave is a story in search of its original author.
To Infinity and Beyond: Signature Moment
Probably the best moment, which approaches what Pixar may have wanted the whole time, occurs when Merida first encounters the witch (Julie Walters) who gives her the bear-transformation potion. Merida sees glowing blue whill-of-the-wisps in the Scottish Highlands, tentatively following before seeing the witch and her wooden hut. It's an eerie moment out of an old-fashioned fable.
You Got Me Monologuing: Standout Quote
"I want to stay single and let my hair flow in the wind as I ride through the glen, firing arrows into the sunset!" This line isn't courtesy of Merida, but her father Fergus (Billy Connolly) doing a very good job of role-playing as the fire-haired heroine, scratchy brogue and all.
Just Keep Swimming: Conclusion
"Brave" is, like "The Good Dinosaur," a movie you wanted to do well: it's original, it has a distinctive voice, and it's well animated. But like "The Good Dinosaur," "Brave" had a rocky production that led to a rocky film.
18. Incredibles 2 (2018)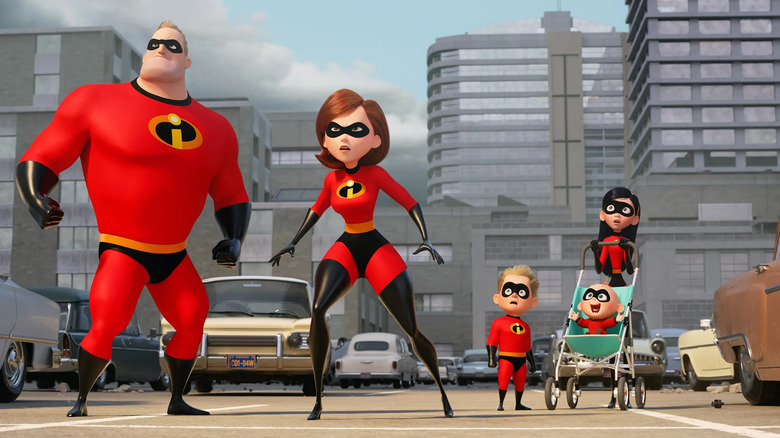 Pixarr
Ride Like the Wind: Overview
Brad Bird always stuck by his guns when people asked if he would make a sequel to "The Incredibles." He was open to it ... if he thought of the right idea. Nearly 15 years later, after Bird's foray into live-action filmmaking, he returned to write and direct "Incredibles 2," which picks up soon after the original, but shows signs of aging throughout.
"Incredibles 2" shifts focus so Bob Parr/Mr. Incredible (voiced by Craig T. Nelson) is the stay-at-home character while his wife, Elastigirl/Helen (Holly Hunter), shows off her superheroics as part of an extended PR campaign to convince civilians that superheroes have value once more. Yet some of the story feels lacking compared with its predecessor, specifically in the villain Screenslaver (since the film has a distinct 50s-era vibe, but everyone's obsessed with screens).
To Infinity and Beyond: Signature Moment
Where "Incredibles 2" succeeds is in its slam-bang action sequences. A scene in which Elastigirl has to stop an out-of-control elevated train feels like an expanded version of an early rescue in the first "Incredibles," but is handled with such panache that the familiarity doesn't matter.
You Got Me Monologuing: Standout Quote
"Hey, I had a mohawk, there's a lot about me you don't know." There is indeed a lot about Elastigirl we don't know, and this hint suggests her story is maybe more interesting than anything about her life post-marriage.
Just Keep Swimming: Conclusion
"Incredibles 2" doesn't have the same depth of complexity as its predecessor, but where it counts — in staging superheroic action — Brad Bird takes flight.
17. Monsters University (2013)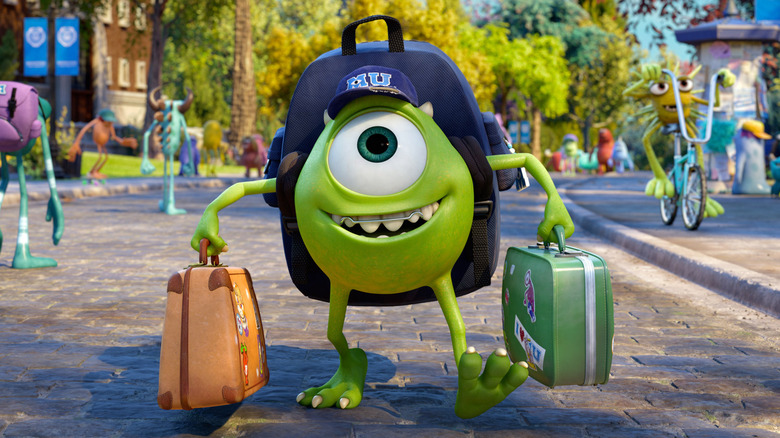 Pixar
Ride Like the Wind: Overview
How did Mike Wazowski and James P. Sullivan become friends? Though no one needed the answer, this prequel goes in directions that are meta and compelling. The story is ostensibly about how Mike and Sulley become friends while at the eponymous educational institution, but could be read as a commentary on what it's like working at Pixar in the shadows of giants.
Mike, for instance, is convinced he'll become a star Scarer, ironically ensuring his journey in "MU" is one of embracing failure. Sulley, on the other hand, struggles to break out from the legacy created by his unseen family. The two mismatched monsters do bond and prove their worth, but only after they each realize they're not as amazing as they wanted to be.
To Infinity and Beyond: Signature Moment
At the climax, Mike realizes a moment of triumph where he helped his ragtag team win a college game of scaring was faked. Sulley rigged a scaring system to ensure Mike's score would be high no matter what. Mike, infuriated, goes into the real world to prove he can scare a kid, into a summer camp dormitory full of little girls who think he looks odd. The resulting scene, as both Mike and Sulley acknowledge their failings, is tender and sad in ways that Pixar films rarely get.
You Got Me Monologuing: Standout Quote
"I can't go back to jail!" This line, from one of the new monsters (Art, voiced by Charlie Day), works so well both because of Day's raspy performance and because it's goofy to hear from a character who's all legs.
Just Keep Swimming: Conclusion
"Monsters University" is not the best Pixar continuation, but the subtextual message of the film is a lot more heartfelt than might have been the case.
16. A Bug's Life (1998)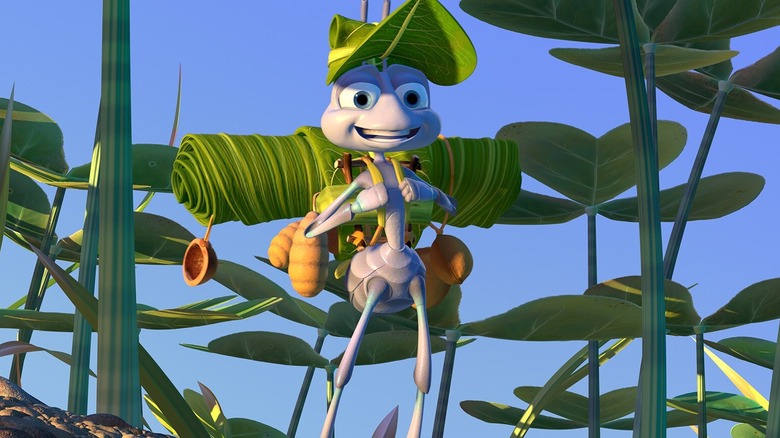 Pixar
Ride Like the Wind: Overview
"A Bug's Life" has, over time, been relegated to a bit of a mental scrap heap for a lot of people. But it's a consistently charming, entertaining adventure. Though it's arguably slighter than Pixar's other originals, it boasts a brighter, more colorful and detailed palette than "Toy Story," and has plenty of likable characters.
The story of a group of ants who eventually fight back against the bullying and ruthless grasshoppers who steal their food every year, "A Bug's Life" was inspired by both Kurosawa's "Seven Samurai" — in which a group of outsiders are hired to ward off bullies — and its comic counterpart "Three Amigos." That similarity is perhaps what makes "A Bug's Life" just entertaining, as opposed to truly special. But the animation design — presented in CinemaScope-style widescreen — and the rapid-fire pacing help it hold up.
To Infinity and Beyond: Signature Moment
The high point of "A Bug's Life" comes early, when we meet the circus bugs who the inventor ant Flik believes are warriors. As members of P.T. Flea's circus, the bugs are anything but, as they fail to put on a comic show in this brilliantly farcical scene.
You Got Me Monologuing: Standout Quote
"I'm the only stick with eyeballs!" Sometimes, dialogue is funnier with the right performer. Such is the case here, as a stickbug voiced by David Hyde Pierce of "Frasier" shouts frustratedly, with pitch-perfect timing, at his fellow bugs while being stuck amid tree branches.
Just Keep Swimming: Conclusion
"A Bug's Life" is one of the more underrated Pixar films, while also not being incredible. It's fun, light, and one of the more straightforward films in the company's filmography.
15. Toy Story 4 (2019)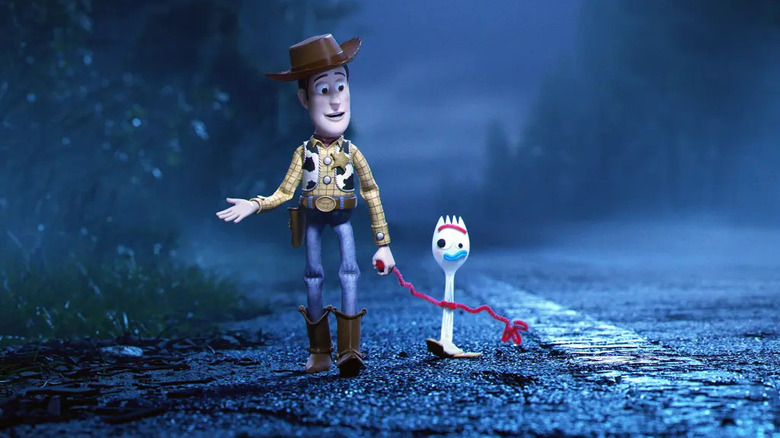 Pixar
Ride Like the Wind: Overview
How could Pixar top themselves after "Toy Story 3"? That's the challenge of "Toy Story 4," an incredibly entertaining, charming, and quite daffy expansion. "Toy Story 4" is a prolonged coda in which we both see our characters on another adventure — Bonnie and her family go on a road trip, where Woody re-encounters his long-lost love Bo Peep — and say goodbye all over again.
Josh Cooley steps into the director's chair, bringing a weird vibe to a lot of the new characters, from the sentient spork Forky, who serves as an unexpectedly important new toy for Bonnie, to a 50s-era kewpie doll and the ventriloquist dummies who do her bidding. The oddness is balanced by the focus on Woody, who struggles to find his place in this strange new world. As funny and exciting as the film is, Woody makes the experience bittersweet.
To Infinity and Beyond: Signature Moment
The film's best new character is Canadian stuntman toy Duke Caboom (Keanu Reeves). (You keep Forky. I'll have Duke Caboom.) Duke's tragic backstory is equally hilarious, as we see him get ignored by a child disappointed that the toy doesn't work as advertised. It's a funnier twist on the original Buzz Lightyear arc, sold almost entirely by Reeves' boisterous voice work.
You Got Me Monologuing: Standout Quote
"Trash." That word would seem anathema to toys, but it's what Forky keeps saying, because that's where it believes it belongs. The continued image of Woody forcing Forky out of the trash is one of the film's best gags.
Just Keep Swimming: Conclusion
"Toy Story 4" keeps up an unexpectedly consistent element of Pixar's filmography: their best sequels are all about the supposedly inanimate toys in a child's bedroom.
14. Soul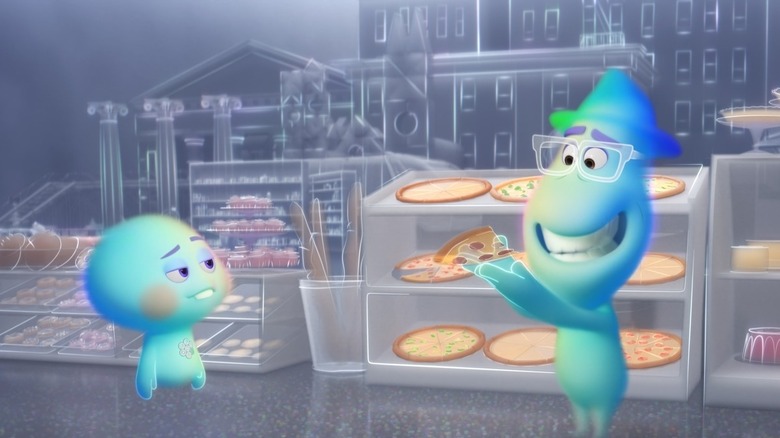 Disney
Ride Like the Wind: Overview
One of many pandemic-era titles to be forced to skip theaters was the highly anticipated "Soul," the most recent original film from director Pete Docter. Docter, like the studio itself, had established a hell of a track record: his previous films were "Monsters, Inc.," "Up," and "Inside Out". "Soul" followed creatively in the footsteps of "Inside Out" particularly, with a premise in which a music teacher/hopeful jazz musician (Jamie Foxx) gets into a freak accident and winds up in a coma in the real world; his soul, however, finds itself in the afterlife and he has to go on a journey to bring his soul and body back into the same piece. The lead, Joe, is partnered with a disaffected soul without a body known as 22 (Tina Fey). Joe and 22 end up as — you guessed it — mismatched buddies in the quest to get Joe back on Earth in his regular body. But there are complications, as 22 ends up in Joe's body, and Joe ends up in the body of a hospital's therapy cat.
"Soul" served as a major and wildly overdue milestone, as the first Pixar film with a Black lead (even though due to the aforementioned complications, when we see Joe in most of the second half of the film, we're hearing the voice of the very white Tina Fey). And the animation felt even more daring than the concept of the human mind and its emotions in "Inside Out." But the exploration of the power of what it means to be human — as Joe ends up educating 22 on the value of leaving the Great Beyond and the Great Before — is limited somewhat by the bumpy relationship between Joe and 22, as well as the lack of a true antagonist aside from Joe's own desires. "Soul" also suffered from something entirely out of its control, as this movie clearly would have looked amazing on the big screen, but only was so remarkable on TV screens via Disney+. 
To Infinity and Beyond: Signature Moment
Pixar's style of computer animation is many things, but it's rarely risky for a lengthy period of a film. In "Inside Out," one of the visual high points comes when Joy and Sadness walk through the Train of Abstract Thought and they quickly devolve from three-dimensional emotions to two-dimensional and then one-dimensional representations. In "Soul," we get a deliberately black-and-white version that recalls something similar, as Joe falls from the manhole on Earth down to the afterlife. But the journey is visually represented by abstract shapes and Joe's blobby soul being split into multiple pieces. It's only about a minute long, but this fall from Earth shows that when Pixar wants to get daring, it still can.
You Got Me Monologuing: Standout Quote
"It's my reason for living." Joe says this about his desire to play live jazz music with the iconic Dorothea Williams (Angela Bassett), but of course, the wry intelligence of a Pixar film is that something so clearly and cleanly stated can be upended. Just as 22 learns about the value of living through Joe, he re-learns the true reasons to be alive especially after he achieves his perceived goal and finds it wanting.
Just Keep Swimming: Conclusion
It makes some kind of sense that "Soul" is one of the more cerebral Pixar films in their nearly 30 years of making features. Just as a movie attempting to answer the question of the purpose of being alive is cerebral, so too is the result. But it also means that compared to Pete Docter's other films, this one feels a bit more lodged in the head instead of the heart.
13. Monsters, Inc. (2001)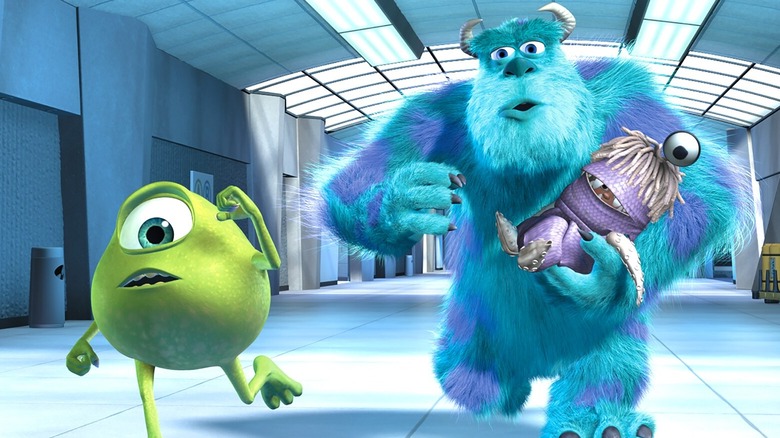 Pixar
Ride Like the Wind: Overview
"Monsters, Inc." had a basic premise mirroring that of "Toy Story" and "A Bug's Life": what if the human world, but with non-humans? Here, it's monsters whose job it is to collect the screams of children all around the world, and what happens when two of them (voiced by Billy Crystal and John Goodman) get stuck with a human child, all of whom are toxic to monsters. "Monsters, Inc." is one of Pixar's more farcical films, but with a key difference. The chemistry between Crystal and Goodman, who recorded their dialogue together (a rarity in animation), helped create a duo as dynamic as Woody and Buzz.
To Infinity and Beyond: Signature Moment
It's established that the eponymous factory houses an infinite number of doors that serve as a gateway for monsters to enter a child's bedroom. In the climax, the door factory and its complicated system serve as the location for a breathless, thrilling action sequence, as good as any live-action setpiece.
You Got Me Monologuing: Standout Quote
"Put that thing back where it came from, or so help me!" This line reflects the film's farcical nature. At this moment, Mike (who utters that line to Sulley) realizes other monsters are watching as they try to deposit the human girl Boo back in her room. That line turns into a faux-lyric in a fake musical Mike and Sulley pretend to put on, a sign of sweaty desperation on their part to maintain the status quo.
Just Keep Swimming: Conclusion
Though "Monsters, Inc." isn't their best, it's a delightful farce with some rip-roaring action that helped Pixar elevate its game.
12. Coco (2017)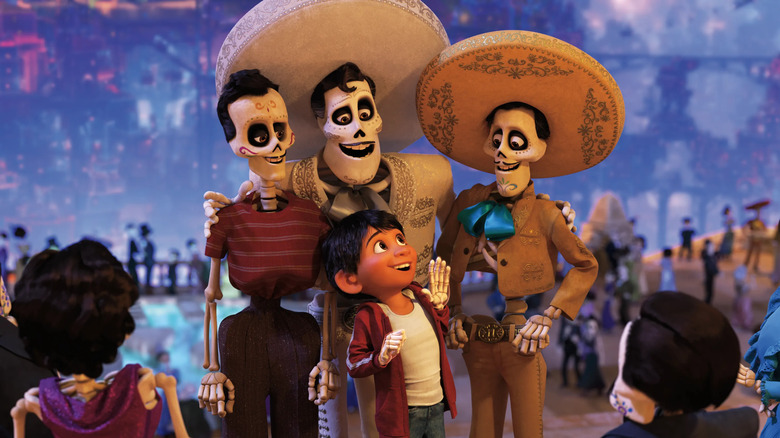 Pixar
Ride Like the Wind: Overview
The latter years of Pixar's output feel extratextual. Take the beautifully rendered adventure "Coco," about a boy who goes on a journey into the Land of the Dead after taking a guitar from his dead musical idol. That boy, Miguel, eventually learns that his hero is a villain, having stolen the music from and all but murdered the boy's great-great-grandfather (Gael Garcia Bernal). Learning that your hero, who inspired you from birth to the present moment, is a stone-cold killer is basically the inverse of "Ratatouille."
Even without that aspect, "Coco" is a generally entertaining film, steeped in Mexican culture and representing a true first for Pixar. The film's treatment of Mexican traditions feels genuine, and the striking colors and cultural bits of heritage give the animators a big chance to expand their horizons. The result is one of Pixar's most consistently enjoyable films.
To Infinity and Beyond: Signature Moment
Once Miguel enters the Land of the Dead, he's shocked to see a phantasmagorical mirror version of society, starting with the administrative building where he tries to get back home only to be forced to renounce music by his great-great-grandmother. This initial scene, which revels in the humor of seeing how the dead would go through basic paperwork, is hilariously old-school Pixar.
You Got Me Monologuing: Standout Quote
"The music, it's not just in me. It is me!" This comes from the dashing but villainous Ernesto de la Cruz (Benjamin Bratt). His evil aside, the basic principle of this line feels like Miguel's internal philosophy.
Just Keep Swimming: Conclusion
Though it's not quite the tops of the studio's storytelling, its buoyant score, exquisitely detailed design, and careful treatment of Mexican culture makes "Coco" a charmer.
11. Toy Story 3 (2010)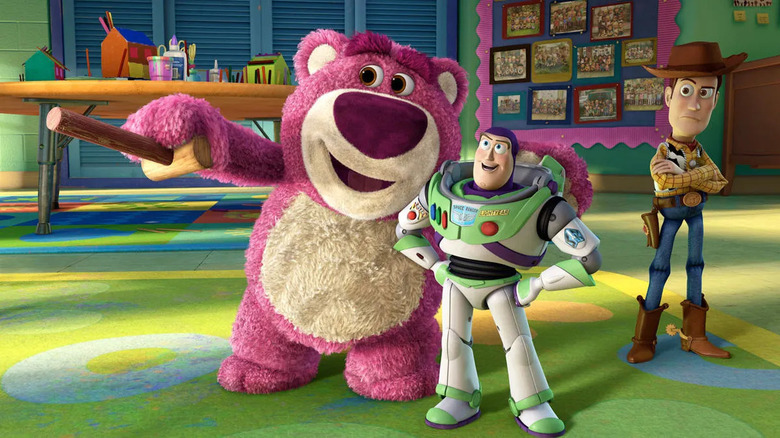 Pixar
Ride Like the Wind: Overview
The theme here is togetherness. Randy Newman's closing song is titled "We Belong Together", and the film emphasizes how Sheriff Woody can't really go off on his own; though his now-teenage owner Andy wants to bring the pull-string doll to college, Woody realizes his place is with his friends. That's what makes the last 25 minutes so emotionally cathartic, even if the second act of the film calls to mind "Toy Story 2."
Director Lee Unkrich has a lot of fun with that second act, though, utilizing tropes of prison-break movies as Andy's other toys suffer at the cruel mercy of a Southern-fried plush teddy bear (drawled to life by Ned Beatty) who wants to subject them to preschoolers at a daycare center. Eventually, Woody, Buzz, and the rest find themselves in the hands of a new, caring owner named Bonnie, after sending Andy off into the sunset. For a while, it felt like the most natural conclusion.
To Infinity and Beyond: Signature Moment
The theme of togetherness is at its height when Woody and the other toys literally stare death in the face. They've wound up in a fiery landfill. And they're prepared to go out with dignity, holding each other hand in hand, when they're saved by the little green aliens, who maneuver — what else? — a large claw to rescue their friends. It's an exceptional payoff to a 15-year gag.
You Got Me Monologuing: Standout Quote
"Sunnyside could be cool and groovy if we treated each other fair!" An ingenious touch here is pairing Barbie with a Ken doll, voiced hilariously by Michael Keaton. It's Keaton's delivery of this line that proves what a brilliant casting choice he was for this toy.
Just Keep Swimming: Conclusion
Defying all expectations, Pixar made a third film that wasn't a letdown. While it's not quite as good as its predecessors, "Toy Story 3" is a rousing, emotional adventure that plays fair by its characters.
10. Luca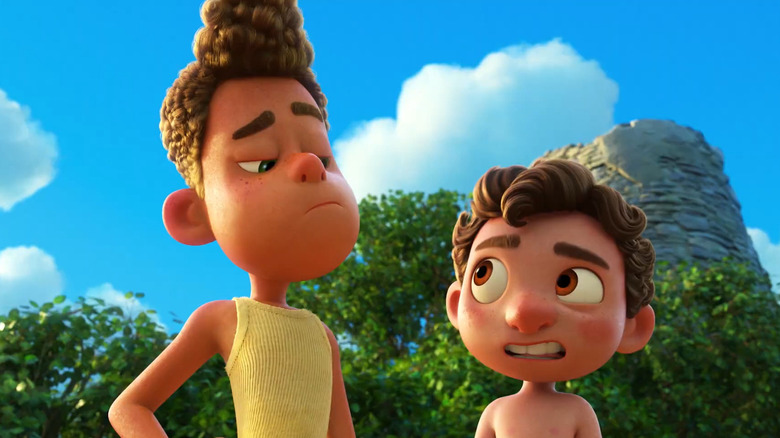 Disney
Ride Like the Wind: Overview
After a few years' worth of summertime releases from Pixar that were all sequels — from 2016 to 2019, it was one sequel after another in the month of June for the studio — it was a breath of fresh air to get something much more low-key, tender, and warm in the form of "Luca." This fantastical coming-of-age story focuses on the eponymous boy (Jacob Tremblay), a sea monster living off the coast of Portorosso, an Italian town whose denizens are terrified of the supposedly scary monsters living under the depth of the ocean. But those sea monsters are much like Luca — kind and timid, but also curious. Luca soon makes a friend of a fellow sea monster, Alberto (Jack Dylan Grazer), who convinces him to head to the surface, where they essentially shed their skin and look human enough to blend in. Luca and Alberto soon find much to enjoy about the world of humans, such as their new friend Giulia as well as the prospect of exploring more of Italy via Vespa. 
"Luca" is an intentionally low-stakes film — the third act centers around a local triathlon whose grand prize is a scooter — and that ends up being one of its core strengths. Director Enrico Casarosa brings the same core energy he brought to the Pixar short "La Luna," depicting multiple generations of a family in a whimsical setting that recalls both Italian directors like Federico Fellini as well as the iconic Hayao Miyazaki. (That the town is named Portorosso, awfully close to the film "Porco Rosso," is no accident.) The core friendship between Luca and Alberto is so well drawn and well performed (and with an undercurrent of romance to boot), making this film special and arguably a bit underrated, due to being kicked straight to Disney+ instead of going to theaters.
To Infinity and Beyond: Signature Moment
The signature moment of "Luca" comes at its conclusion. As much as Luca enjoys Alberto's friendship, he longs to learn more of the world above the surface of the water and wants to go to school with Giulia. But that would mean leaving his home and Portorosso behind, a sacrifice that Alberto helps enable by buying his friend a train ticket to Genoa. So as much as Luca is sad to say goodbye to his parents, the real emotional gut-punch comes when he has to say ciao to his friend, leading to a heartbreaking and emotionally satisfying departure that serves as the final scene. Pixar movies often go for the tears in the end, but this one really earns that tear-jerking finale.
You Got Me Monologuing: Standout Quote
"We underdogs have to look out for each other, right?" It's kind of funny to imagine that a Pixar film could effectively sell the concept of underdog characters anymore — Pixar is such a standard-bearer of animation that they feel like the dominant predator instead. But this line from Giulia speaks to how quickly she and Luca become friends, and how much Alberto ends up getting a little jealous, thinking that he's even more of an underdog than our eponymous hero.
Just Keep Swimming: Conclusion
"Luca" deserved to be seen on the big screen, and even though streaming allows greater access, its splash felt a lot smaller because of skipping theaters. It's a sneakily effective story of budding friendship and one of Pixar's best recent efforts.
9. Turning Red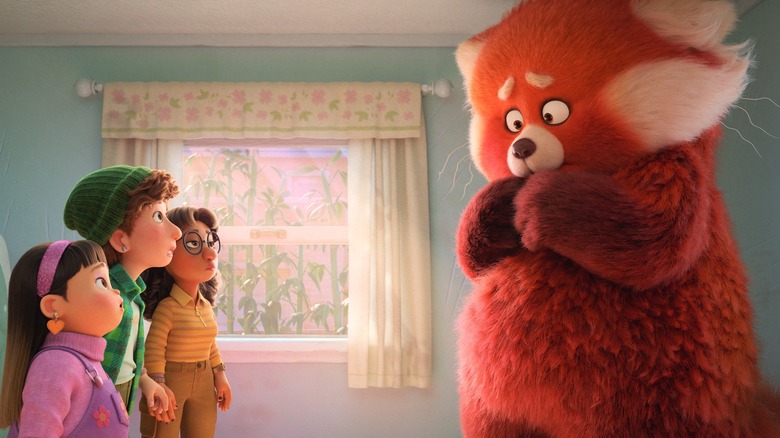 Disney
Ride Like the Wind: Overview
While it's true that a couple of the broad strokes of "Turning Red" were not unique to that film — it's not the first Pixar movie to depict a mother-daughter relationship in which at least one of them can turn into a big, furry animal — it felt so much fresher, funnier, and memorable than expected. From co-writer/director Domee Shi, "Turning Red" is both a period piece (set in Toronto in 2002) and something that feels achingly personal yet weirdly universal. Mei Lee (Rosalie Chiang) wants to have a normal childhood, with a tight-knit group of friends and a passion for a popular boy band, but her mother Ming (Sandra Oh) makes the prospect of a normal childhood difficult with her overprotective nature. Things get worse for Mei when she moves into a unique aspect of her growth: one day, she wakes up and has turned into a massive red panda, soon to learn that it's a gene passed down from her mother and the rest of her female relatives.
As the title and Mei's age (she's just 13) would imply, "Turning Red" can feel like something of a metaphor for female puberty, but it's also an enormously clever, fast-paced, and very funny adventure that continues escalating in logical yet delightfully surprising fashion. That Mei and Ming's fractious relationship will only get tougher, leading to Ming revealing her own red-panda avatar, is expected but the way it culminates in a battle sequence of sorts at Toronto's SkyDome stadium during a 4*Town concert is brilliantly conceived. "Turning Red", like "Luca" and "Soul" before it, was kicked to Disney+ and avoided theaters, a decision presumably based on concerns about the pandemic that has aged poorly over time (especially considering how "Lightyear" tanked later in 2022, less because of people not going to theaters and more because of such iffy word-of-mouth). It's a high point for Pixar and one that should've gotten a bigger spotlight.
To Infinity and Beyond: Signature Moment
The aforementioned climax, in which Mei inadvertently activates Ming's gigantic red panda, is a perfect blend of what Pixar films can do so well: create sequences that are funny because of how they're rooted in character traits, coherently action-packed, and whip-smart. Sometimes, the signature moments hit the high emotions, but this time, what makes the moment so memorable is that Shi taps into what made some of Pixar's earliest films feel so thrilling. By delivering a standout action sequence, Shi proved that Pixar can stand with live-action fare depicting big-budget fight scenes.
You Got Me Monologuing: Standout Quote
"I like boys! I like loud music! I like gyrating! I'm 13, deal with it!" This sums up so much about the tension between Mei and Ming, as Mei tries to be her own person while Ming tries very hard to stop that from happening. Mei's rebellious quote reflects how universal this story is in spite of being rooted in Chinese influences. And it's just incredibly funny too.
Just Keep Swimming: Conclusion
"Turning Red" is a highlight of what Pixar does so well, and it's a shame it never got a bigger venue on which to prove it to audiences all over the world. It combines so many hallmarks of Pixar's storytelling style and manages to do so while feeling blazingly original.
8. WALL-E (2008)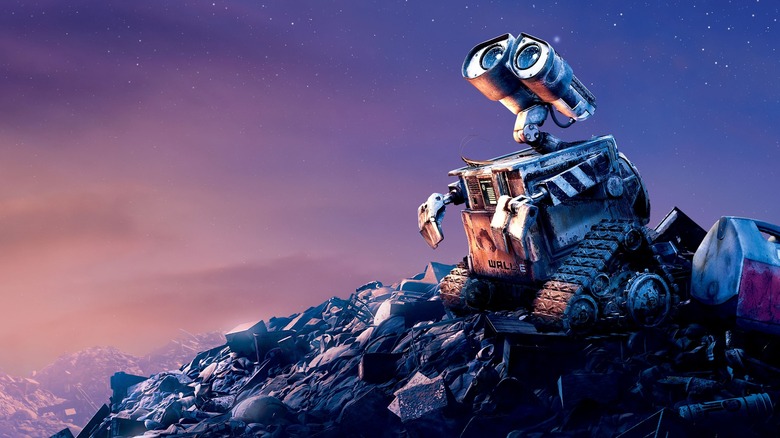 Pixar
Ride Like the Wind: Overview
The fact that a dystopian sci-fi romance about two robots who cannot speak English works as well as it does is genuinely remarkable. The first 35 or so minutes of "WALL-E" takes place on Earth, circa 2800, when it's become an abandoned trash heap. Its only denizen is the eponymous hero, a trash-compacting robot that's become quirky over centuries.
The common consensus is that "WALL-E" takes a qualitative step down once WALL-E and his sleek paramour Eve travel to the Axiom, a massive space cruise liner that houses the (outrageously obese) human race. While there's little doubt that the first section is the best, what transpires afterwards is entertaining, slickly paced, and uncommonly thoughtful. It's the studio's most ambitious film to date.
To Infinity and Beyond: Signature Moment
The opening 5 minutes might be the true standout. As we gradually realize what's going on — that Earth is empty except for trash, a cockroach or two, and WALL-E — there's a sense of ominous portent matched by Thomas Newman's brilliant score. The film is mostly joyous, but director Andrew Stanton never shies away from emphasizing the terror of Earth as a junk heap.
You Got Me Monologuing: Standout Quote
There's deliberately not much dialogue here, but "Define dancing" hits the spot. Spoken by the human captain of the Axiom, this demand of the ship's computer (voiced by Sigourney Weaver, in a brilliant reference to "Alien") is goofy and earnest.
Just Keep Swimming: Conclusion
"WALL-E" is as bold as Pixar's storytelling gets, and though it's not entirely perfect, it's a textbook example of how brilliant the studio can be.
7. Inside Out (2015)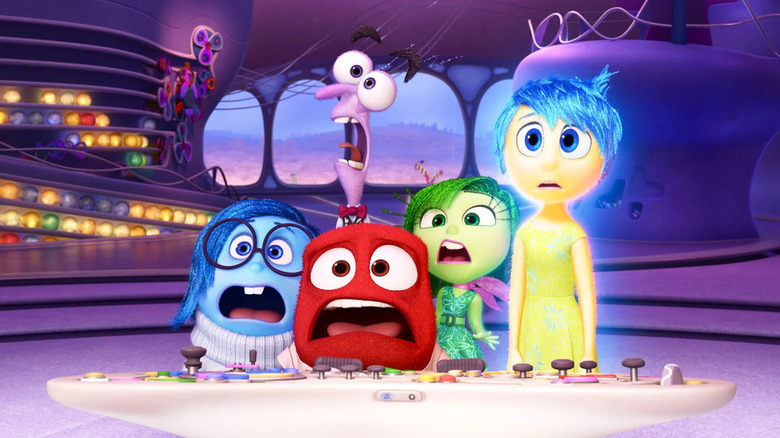 Pixar
Ride Like the Wind: Overview
"Inside Out" is one of many incredible Pixar films with an extremely novel idea, in which we watch personifications of a young girl's emotions attempt to steer her through a challenging time in her life. Though each emotion is imbued perfectly visually and by its performer, the two leads are Joy (voiced exuberantly by Amy Poehler) and Sadness (Phyllis Smith).
The two emotions go on a journey through the mind as their girl Riley struggles with moving cross-country. Joy, as her name would suggest, wants to keep things happy, while Sadness wants the opposite. Their exploration through Riley's subconscious, the centers of her happiness, and other distinct locations afforded Pixar the ability to get weird with animation. "Inside Out" is the kind of film any animation studio would kill to make.
To Infinity and Beyond: Signature Moment
Joy and Sadness meet Riley's imaginary friend, Bing Bong (Richard Kind), who offers to help them get back home. He takes a shortcut through Abstract Thought, which quickly goes awry as the three characters are broken into such thoughts. The visualization of this breakdown is nothing short of masterful, as we see the characters turn from three-dimensional to cubist to single lines.
You Got Me Monologuing: Standout Quote
"I loved you in Fairy Dream Adventure, Part 7. OK, bye, I love you!" Amy Poehler in "Inside Out" is delivering one of the three or four best voice performances in a Pixar film. This line, delivered as Joy fangirls out at a star of Riley's dreams, is a perfect distillation of Poehler's effervescent joy.
Just Keep Swimming: Conclusion
"Inside Out" is a perfect fusion of high concept, well-drawn characters, humor, and emotion.
6. The Incredibles (2004)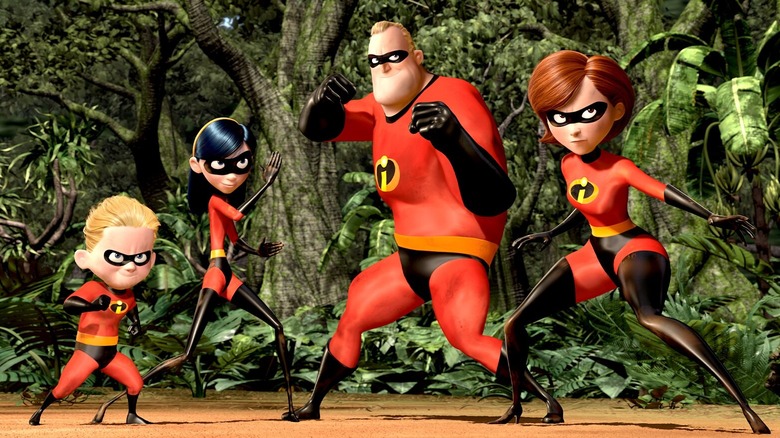 Pixar
Ride Like the Wind: Overview
For "The Incredibles," Pixar aimed high: they told a story entirely about humans for the first time. The film, still one of Pixar's longest, is more intelligent than most superhero films, depicting the midlife crisis of ex-super Bob Parr/Mr. Incredible (Craig T. Nelson) and his wife Helen Parr/Elastigirl (Holly Hunter). In letting the parents and their superpowered kids don super-suits and battle against evil, it's also one of the most exciting superhero films ever made.
To Infinity and Beyond: Signature Moment
Violet and Dash, Bob and Helen's kids, gradually accept their own superpowers throughout the film. Dash's moment of realization comes when he's beset upon by a group of faceless baddies, and he just...runs. The resulting chase is tense and giddy, as Dash laughs at the sight of himself speeding past the bad guys.
You Got Me Monologuing: Standout Quote
The nefarious Syndrome, voiced by Jason Lee, reveals his plans to Mr. Incredible during a tense moment; when Mr. Incredible tries to get out of his clutches, the younger bad guy realizes what's up: "You got me monologuing!" It's hilariously meta and menacing.
Just Keep Swimming: Conclusion
"The Incredibles" is a thrilling piece of evidence for the argument that animation does action better than live-action films do.
5. Finding Nemo (2003)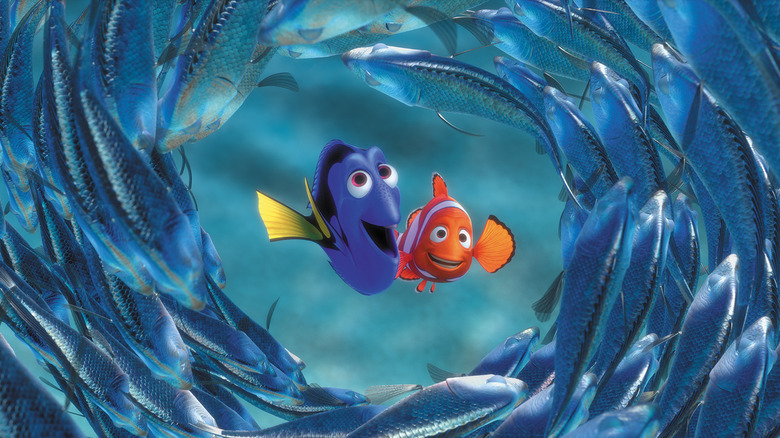 Pixar
Ride Like the Wind: Overview
The parent-child dichotomy at the core of Pixar's films was made literal with the snappily written 2003 film "Finding Nemo," in which a nervous dad (Albert Brooks) is on a quest to rescue his son, with the help of a forgetful new friend (Ellen DeGeneres). The tiny wrinkle is that these characters are fish, and they're searching the ocean for the tiny, eponymous clownfish.Director/co-writer Andrew Stanton, along with the animators, crafted a pitch-perfect adventure mixed with the genuine struggle of being a parent who learns to let go of his child. Just like the script for "Toy Story," "Finding Nemo" had a carefully constructed, refined script, setting things up in the first act to pay them off perfectly in the third act, without making you aware of the payoffs to come. It's Pixar operating on a typical level of high quality.
To Infinity and Beyond: Signature Moment
In one crucial moment, Marlin and Dory are on a Sydney dock, gasping for air, when a helpful pelican offers to save them from a group of seagulls who only say, "Mine!" The way the seagulls are characterized feels utterly apt, to the point where you can't believe no one else did it first.
You Got Me Monologuing: Standout Quote
"I know funny. I'm a clownfish!" Casting Albert Brooks as the intensely neurotic Marlin is a masterstroke. Marlin looks as cuddly as a clownfish, but with Brooks' distinctive personality, the character is concurrently hilarious and frustrating.
Just Keep Swimming: Conclusion
"Finding Nemo" is a mix of Pixar's earliest tropes and a hint of the depth to come in their future films. It's the best of both worlds.
4. Up (2009)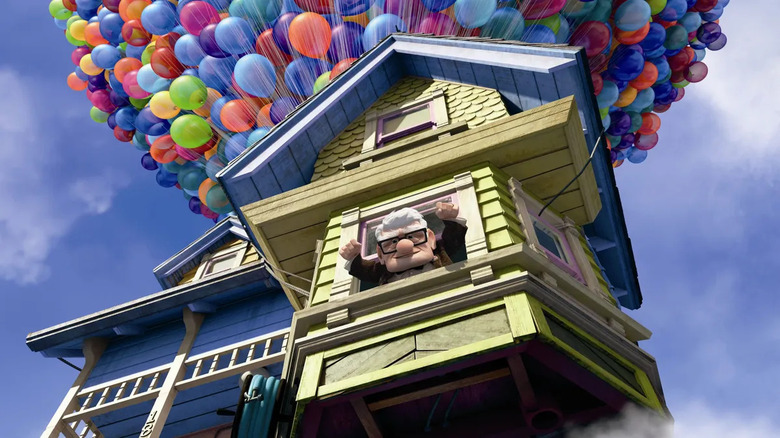 Pixar
Ride Like the Wind: Overview
It's another impossible concept from Pixar, about a grumpy old widower who grieves in the natural way...by lifting his house up via thousands of balloons and guiding it to a fabled place called Paradise Falls that he and his late wife always wanted to visit. "Up" has the same guiding principle as the Charles Lindbergh-esque hero who a young Carl Fredricksen idolizes — "Adventure is out there!"The quixotic adventure takes inspiration from Werner Herzog's "Fitzcarraldo" in the design of the terrifying but alluring South American locale. And, as with the rest of Pixar's output, it's very funny in juxtaposing the elderly Carl (Edward Asner) with the upbeat Russell, an accidental stowaway. Once they land near Paradise Falls, Carl and Russell encounter more unbelievable sights, while achieving an incredible emotional conclusion.
To Infinity and Beyond: Signature Moment
A deft touch is the characterization of Russell, who initially seems like a too-chatty faux-Boy Scout. But as Carl learns in a nighttime fireside chat near Paradise Falls, Russell is incredibly lonely, with a mother and stepfather who are apparently unable to deal with him. Russell, who's also one of the first non-White characters in a Pixar film, is a surprisingly complex character, even if he's just trying to put on a brave face, in this scene and elsewhere.
You Got Me Monologuing: Standout Quote
"SQUIRREL!" Pixar's filmmakers always figure out a brilliant way to verbalize ideas about the mundane that feel unique. This repeated word, shouted as various dogs seem to see something that distracts their attention, is a distillation of what a dog's mind must be like all the time.
Just Keep Swimming: Conclusion
Through its unexpected tonal shifts, "Up" remains one of the most thrilling and emotional films Pixar has ever made.
3. Toy Story 2 (1999)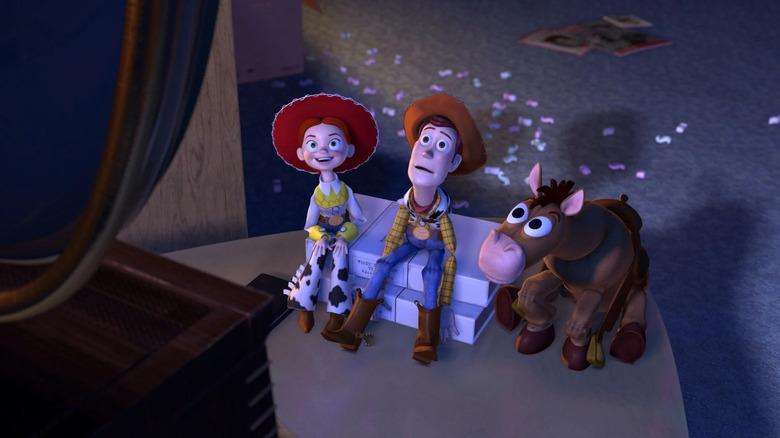 Pixar
Ride Like the Wind: Overview
Only four years after their first feature film, Pixar Animation Studios unveiled their first sequel. "Toy Story 2" represented a true rarity: it was one of the few sequels in history to at least equal its predecessor. It tackled a weighty idea for Woody and Buzz, and all their friends: what would happen when Andy outgrew them? This idea plays out as Woody learns that he was once as popular as Buzz, with his own TV show and other merchandise.
Though Woody is tempted to stay with other toys from the Woody's Roundup show, including Jessie the Yodeling Cowgirl (Joan Cusack) and Stinky Pete (Kelsey Grammer), he accepts that his place is with Andy. This journey is combined with novel expansions of the first film, from Buzz encountering a toy version of the evil Emperor Zurg and another Buzz who still thinks he's a space ranger. Though it's an exceptionally slight step down, Toy Story 2 makes good on the promise of its predecessor, with hilarity, action, and emotion in equal measure.
To Infinity and Beyond: Signature Moment
When Woody is abducted by the proprietor of a local toy store, Buzz and the others go on the rescue. They soon find that they're thiiiis close to getting into the store...as long as they can cross a crowded thoroughfare. They hide underneath traffic cones and survive, but only after causing a massive pileup and major damage to the road and its streetlights. The scene is breathless, funny, and extremely smart in how it plays fair with real-world rules.
You Got Me Monologuing: Standout Quote
"You have saved our lives. We are eternally grateful." This repeated gratitude comes from a trio of little green aliens from the first film. In the wild climax, after Mr. Potato Head instinctually rescues them, the aliens keep saying this to his consternation. (Don Rickles' annoyed/scared line reading of "Will you just leave me alone?" is a close second.)
Just Keep Swimming: Conclusion
Alongside "The Empire Strikes Back" and "The Godfather, Part II," here's one of the greatest sequels of all time.
2. Ratatouille (2007)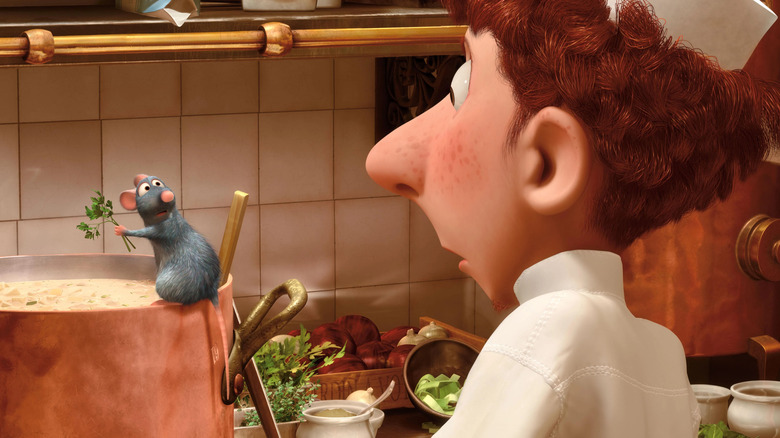 Pixar
Ride Like the Wind: Overview
Though its premise could have inspired revulsion, "Ratatouille" is instead one of the finest, most intelligent, most complex animated films in decades. Featuring comedian Patton Oswalt as the thorny, passionate wannabe chef/rat Remy, "Ratatouille" is a coming-of-age story in which the young rat realizes the benefits of working with others while also realizing his distinctive talents. That he does so while hiding inside a chef's toque and manipulating a gawky human like a marionette simply feels right in such a wild story.
To Infinity and Beyond: Signature Moment
Perhaps the most unexpected moment in "Ratatouille" comes courtesy of icy food critic Anton Ego. For a while, he seems like the true antagonist of the picture — if Ego doesn't like our hero's food, he's finished. Yet he gets to define the intrigue and purpose of criticism in championing Remy as "the finest chef in France." Peter O'Toole rips into this mature monologue with brio.
You Got Me Monologuing: Standout Quote
"Well, yeah, anyone can. That doesn't mean that anyone should." Remy's idol always said anyone can cook, but when we hear Remy say this to a ghostly version, it feels like it's coming straight from the mouth of writer/director Brad Bird.
Just Keep Swimming: Conclusion
Just as "Ratatouille" is the story of an artist from a most unexpected place, the film is an example of great art from an unlikely source. It's one of the studio's most rousing, intelligent efforts.
1. Toy Story (1995)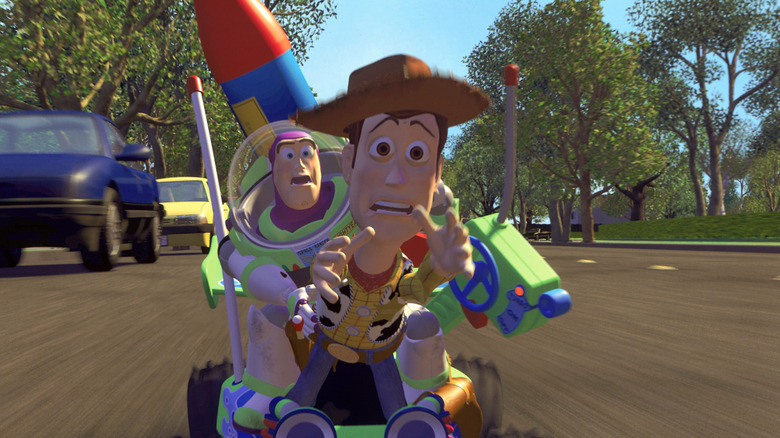 Pixar
Ride Like the Wind: Overview
Pixar's technical skill has vastly surpassed the technology in the feature that started it all. But "Toy Story" is the proving ground for what the studio has accomplished in the last quarter-century. Their innate love of buddy comedies started here, as we see the mismatched duo Sheriff Woody and Buzz Lightyear on an adventure of acceptance as they handle being the two favorite toys of a little boy named Andy.
All the toys in Andy's bedroom are distinguished efficiently in a script that's so economical that it ought to be taught in film schools. For an 81-minute movie, "Toy Story" has a lot of plot and emotion with which to dispense quickly, and it does so with aplomb. The blend of wit, irreverence, pathos, and more has not grown old over decades.
To Infinity and Beyond: Signature Moment
The first encounter the toys have with Buzz is one of Pixar's best scenes. It's got just enough dialogue for every character to establish his or her personality, and plenty of sharpish wit bouncing off against goofier dialogue. Fast, funny, and unexpected: it's Pixar's M.O.
You Got Me Monologuing: Standout Quote
"I just lit a rocket. Rockets explode!" Woody's realization of what's about to happen, right before a rocket strapped to Buzz's back does explode, is funny and terrifying all at once.
Just Keep Swimming: Conclusion
"Toy Story" was a massive hit, inspiring theme park rides, sequels, shorts, TV specials, and more. It's also one of the most quotable films of the last 25 years, and helped cement Pixar as a serious form of competition in the feature-animation game. They rule the roost because of this incredibly funny, touching, thrilling film.