Christian Bale's Acting Method Came Straight From Mr. Bean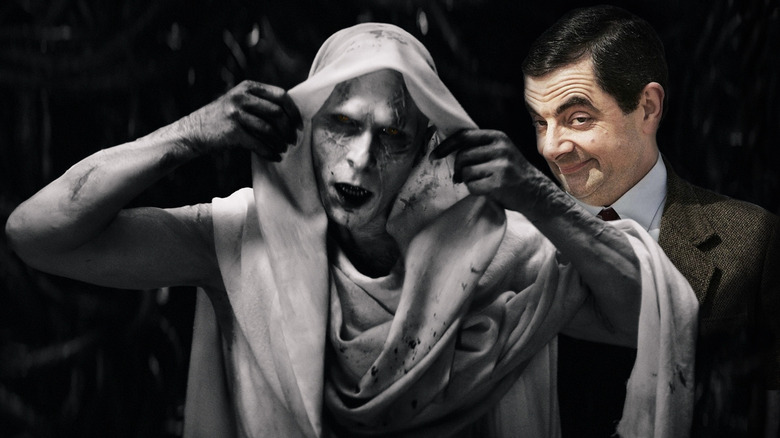 Disney, Universal Pictures
When Rotten Tomatoes interviewed filmmaker Werner Herzog on his 2006 film "Rescue Dawn" — a fictional remake of his documentary "Little Dieter Needs to Fly" — interviewer Rich Cline asked how lead actor Christian Bale was suited to playing his role. Herzog's answer was blunt and frank: "He's the best of his generation." 
Bale had been acting since he was a boy, having broken out at the age of 13 in Steven Spielberg's 1987 film "Empire of the Sun." He appeared in several '90s slumber party staples — "Newsies," "Swing Kids," "Little Women," "Velvet Goldmine" — as well as a pile of notable horror and genre films — "American Psycho," "Reign of Fire," "Equilibrium" — before allying himself with notable auteurs like Terrence Malick (he starred in "The New World" and "Knight of Cups") and beloved blockbuster constructionists like Christopher Nolan (Bale played Batman). There has never been a time when he wasn't consistently producing quality work, or at least giving his all in unusual or intense projects. 
One might assume that Bale was a classically trained actor who studies differing methods from various masters. Surely he worked with Uta Hagen, with Lee Strassberg, and with the books of Konstantin Stanislavsky. Does he practice the Method? Did he study Brecht? Perform at the Théâtre du Vieux-Colombier? 
In a co-interview with Matt Damon for GQ back in 2019, Bale revealed that the master he admired, emulated, and learned the most from was none other than Rowan Atkinson.
The Nerd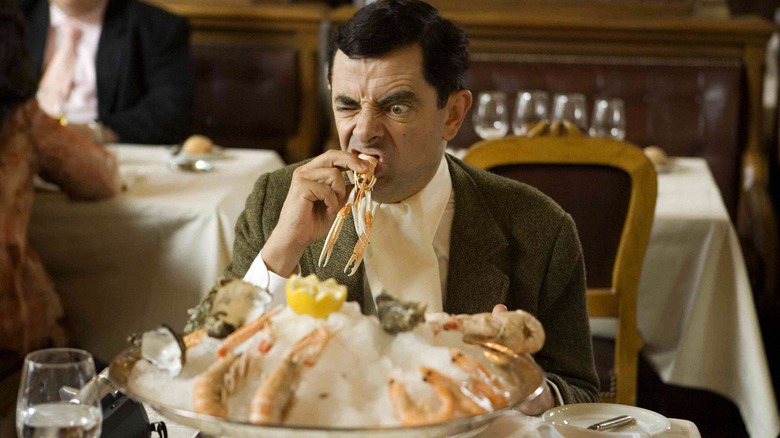 Universal Pictures
The top-grossing American play in London's West End in 1986 was "The Nerd," written by Larry Shue. The play is about a trio of friends whose lives are upended by the sudden appearance of an awkward, nerdy character named Rick, who previously saved one of the friends in Vietnam. His odd behavior drives everyone up the wall, but because of his past heroism, no one has the temerity to ask him to leave. He ends up moving in. Frustration and hilarity presumably ensue. In the 1986 production, Atkinson played Rick. In that same production, a 12-year-old Christian Bale co-starred. 
In the GQ interview, Damon — who co-starred with Bale in James Mangold's "Ford v Ferrari" — pointed out that Bale's acting style was possessed of "a monk-like discipline." Bale was flattered, and went on to immediately praise his early experience working with Atkinson as a kid: 
"Well, thank you, mate. Did you ever train? See, I never trained. And I've come to the realization recently ... One of [my] first jobs ever was with Rowan Atkinson and I think I look at him as the template. He was playing... 'The Nerd,' it was called, by Larry Shue. He would come out, we'd say hello, but he didn't really socialize. None of us knew him — it was before he did 'Mr. Bean.' And he would just become this character, but before he went on stage. And I would just watch him; I would see him becoming a character."
It should be noted that Atkinson possesses degrees in electrical engineering, and was working toward a doctorate prior to devoting his life to acting.
My learning phase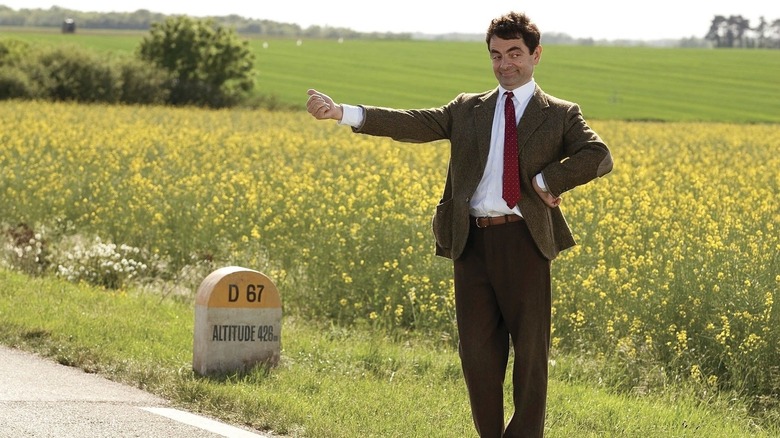 Universal Pictures
For the young Bale, merely seeing a professional wholly devoted to a role was enough to communicate a grand understanding of the craft. While Atkinson's Mr. Bean is a plummy, kid-friendly, slapstick goofball, one can certainly admire Atkinson's masterful sense of comedic timing; Mr. Bean is just as notable a comedic character as anything created by Harold Lloyd. After finishing his stint on "The Nerd," Bale recalls finally being able to muster up the courage to talk to his play's lead actor: 
"I was mesmerized. And then he just stayed in character for the whole night. And it wasn't until the whole thing was finished that he invited me to say hello and that I actually spoke to him for the first time. It dawned on me that was my learning phase. I went, 'Oh, that's how it's done then, is it? OK, great.'"
Atkinson and Bale have not appeared in any productions since, but there's no reason why they shouldn't. Currently, Bale's next appearances will be in "Thor: Love and Thunder" (out in theaters on July 8), David O. Russell's "Amsterdam" (release date TBD), and the Netflix film "The Pale Blue Eye," wherein he plays a detective who teams up with a young Edgar Allan Poe. Atkinson, meanwhile, recently appeared on the Netflix comedy series "Man vs. Bee," and is scheduled to appear in the upcoming film "Wonka," based loosely — very, very loosely — on the works of Roald Dahl.