When Mr. Bean Was Originally Created, He Didn't Have A Name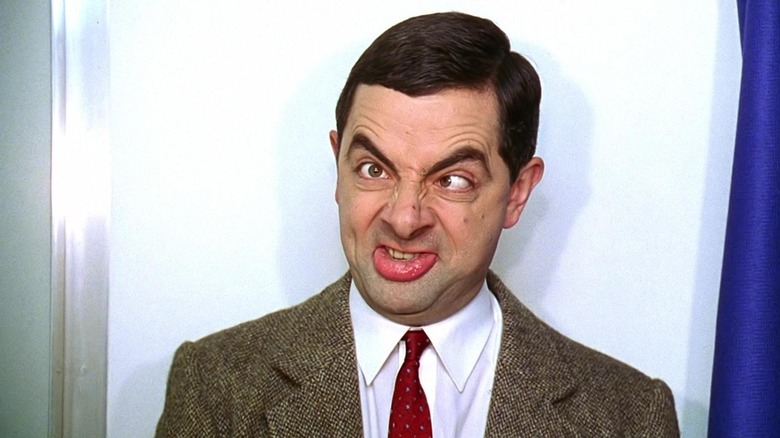 Grammercy Pictures/Polygram Filmed Entertainment
As a father of two young kids, I'm utterly brain-numbed by the endless CG content on Netflix; it all just blurs into one big long noisy episode. My common plea is: "Why don't we watch something with real people for a change?" 
And that's how we recently ended up watching "Man vs. Bee," Rowan Atkinson's latest venture into slapstick. The kids loved "Mr. Bean," so they were familiar with Atkinson's shtick, but this time, I got the feeling even they thought it was all a bit tired. 
"Man vs. Bee" is basically a "Mr. Bean" sketch stretched out over nine grueling episodes. Atkinson plays Trevor Bingley, a absent-minded divorcé taking a new job as a house sitter so he can take his daughter on holiday. He seems fairly normal at first, but, once left alone in the sleek high-tech home of an obnoxiously wealthy couple, quickly descends into a Beanlike state. Even the most basic tasks are fraught with disaster and expensive things soon get smashed as Bingley becomes obsessed with trying to kill a bee.
Atkinson toyed with retiring the Bean character back in 2012 (via Metro):
"The stuff that has been commercially successful for me — basically quite physical, quite childish — I increasingly feel like I'm going to do a lot less of. Apart from the fact that your physical ability starts to decline, I also think someone in their 50s being childlike becomes a little sad. You've got to be careful."
Wise words, but a decade later he's at it again with more Bean-ish buffoonery when he's approaching 70. Bean has made Atkinson famous around the world, so maybe it's understandable that he finds it hard to let go. Yet for the character's global popularity, he didn't even have a name at first.
Mr. Bean conquers Britain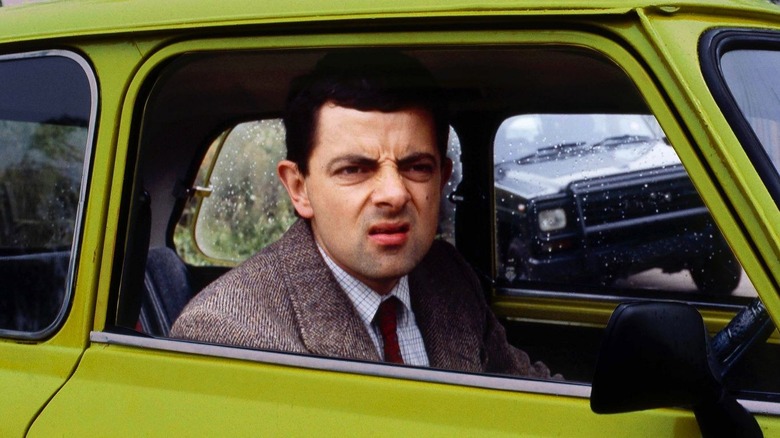 Tiger Aspect Productions
Rowan Atkinson has had a long and varied career, but he'll always be remembered in the UK for his two most famous characters: Edmund Blackadder and Mr. Bean. I always preferred the scheming misanthrope to the gurning nincompoop, but it's hard to deny that Atkinson's style of physical comedy was pretty irresistible at its best. We tend to remember Blackadder's wicked way with an elaborately phrased insult, an aspect of his character that helped the show become one of Britain's best loved sitcoms. But if it weren't for the contribution of Ben Elton coming in to write on the second series, he might have remained the more Beanlike conniver we met in his debut season (via The Scotsman).
After Blackadder bowed out in the incredibly poignant finale of "Blackadder Goes Forth," Atkinson went back in the opposite direction with "Mr. Bean," introducing his long-gestating character of a childish halfwit with a habit of concocting wildly impractical solutions to the most basic problems, inspired by Jacques Tati and Peter Sellers as Inspector Clouseau. 
First shown in 1990, it was a breath of fresh air at the time. While alternative comedians were making their mark with shows like "Alexei Sayle's Stuff," and "Red Dwarf" was the hip new show all the teens watched, much of British comedy was pretty stale. Old-school comedians like Benny Hill and Little and Large were hanging in there, while sitcoms were mostly mired in hackneyed formats like "Home James!" and "Brush Strokes." By comparison, "Mr. Bean" was a bonkers work of genius.
At its height in 1992, 18.7 million people tuned in to watch one episode, "The Trouble with Mr. Bean." While it seemed fresh and new, Atkinson had been working on the character for many years.
The origins of Mr. Bean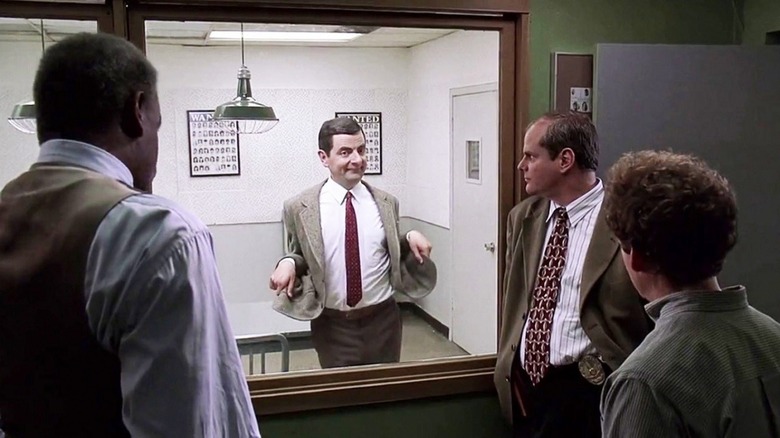 Grammercy Pictures/Polygram Filmed Entertainment
One of the earliest incarnations of the Bean character appeared in Atkinson's one-off collection of comedy sketches, "Canned Laughter," still worth checking out for his moments as Robert Box, a socially awkward Proto-Bean. He's slightly more normal than the later character, but he still has a strange approach to day-to-day tasks. The highlight is Box making himself a cup of coffee, without a cup, by mixing the drink directly in his mouth, a bit Atkinson reprised at the beginning of Mr. Bean's big-screen debut, "Bean."
Atkinson tried variations of the character through the '80s, most notably at the Just For Laughs comedy festival in Montreal, where he mimed along to dating advice from a narrator. For the scene, he insisted playing on the French-speaking bill to test out how the physical comedy would go down with non-English speakers.
For all the preparation, he still didn't have a name for the character when the first episode of "Mr. Bean" was produced. Various names were considered, including Mr. White and Mr. Cauliflower, before they arrived at Mr. Bean: "short, sharp, and to the point," as Atkinson said in a recent British GQ interview. It was perfect for the character, who went on to become a global success, airing in 190 countries around the world and becoming an unlikely box-office superstar with two hit movies.
Mr. Bean daydreaming to the "Chariots of Fire" theme was one of two fictional characters representing Britain at the 2012 Olympics, the other being James Bond. Perhaps it was fitting: While many of us Brits would love to be as suave and capable as 007, in reality we're probably somewhere toward the Bean end of the spectrum.