The 15 Best Chris Evans Movies, Ranked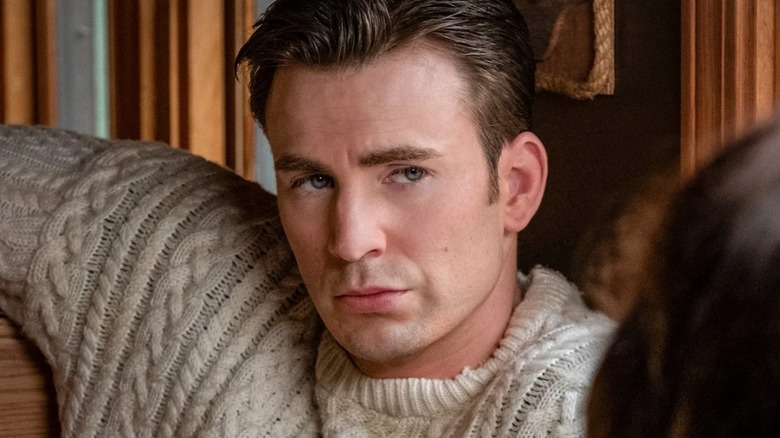 Lionsgate
Three years have passed since Chris Evans wielded the shield of Captain America. For many Marvel fans, Evans best embodied the altruistic vision that Jack Kirby and Joe Simon had for their pro-America and pro-Jewish character. After starring as Cap for eight years, Evans has become synonymous with the WWII-based hero and his storied legacy. But before the Massachusetts-born and bred actor slung on the stars and stripes for the Marvel Cinematic Universe, Evans built a solid acting resume that showcased his action star capacity, rom-com talents, and intuitive knack for playing a frat boy-inspired idiot.
At first glance, Evans' acting roles might seem like a hodgepodge of credits. How is the actor that starred in a Marilyn Manson music video the same one that acted alongside Jenny Slate in an emotionally-driven film about an uncle's custody battle? Looking closer, though, some themes begin to appear that shed light on Evans' acting choices. No matter what, he's seemingly driven to roles where someone is committed to their journey — whether they're a love-to-hate a–hole or a charming leading man hoping to believe in love again. Over time, the Broadway star has quietly perfected three types of roles: Mr. Right, the jerk, and the champion. Now that his MCU contract is over, it'll be rewarding to see where he takes these character foundations (and more) next. Here are 15 films that best showcase Evans' range, ranked worst to best.
15. Not Another Teen Movie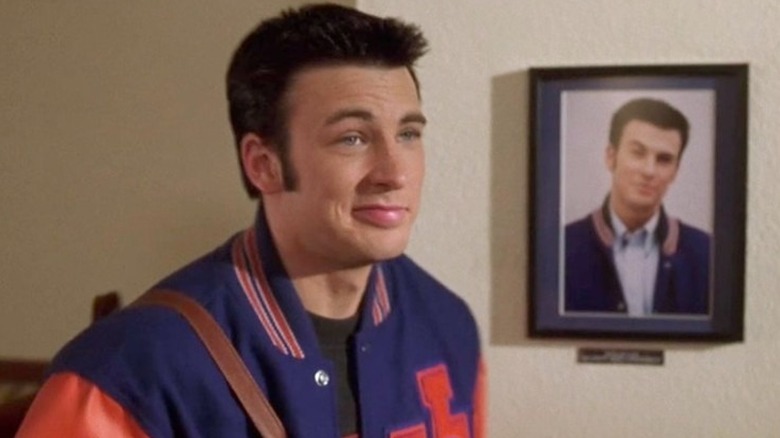 Columbia Pictures
Before he portrayed the wise-cracking douchebag that is Johnny Storm aka Human Torch, Chris Evans starred as Jake Wyler in "Not Another Teen Movie." During an era where spoof movies were king, "Not Another Teen Movie" reigned as a formidable entry into the strange '00s subgenre that poked malicious and dude-stoner-fueled fun at specific film categories. The 2001 movie takes shots at "She's All That" and late '90s rom-coms. However, in hindsight, the film best represents the highly misogynistic era of '00s teen flicks, often featuring the gross-out humor of Tom Green and Dane Cook. 
These films were built around popular and/or nerdy male teens finding redemption through women, especially once their "friend" receives a makeover (read: wears their hair down and takes off their thick-rimmed glasses). A makeover is an antidote for an attractive high school jock or oblivious geek to see the error of his inhumane ways. But mostly, they're about boners and men losing their virginity. Evans plays the letterman jacket-wearing dummy in the 2001 film that most notably spoofs "American Pie" in a whipped cream scene for the cinematic ages. Evans' insensitive bro is a prototype for all the future bozos he'd portray in movies like "Scott Pilgrim vs. the World." While the film's humor is outdated, Evans' well-timed smirk showcases his promising villainous future and gives a sneak peek at the refined prick he'd later showcase in "Knives Out."
14. Push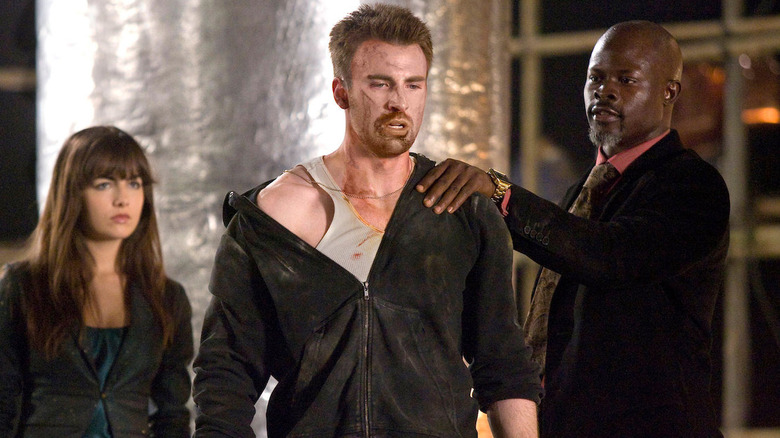 Summit Distribution
"Push" is an underrated gem of a superhero film that failed to find its footing amidst the early hype of Fox's "X-Men" film series. Following the emergence of the Marvel Cinematic Universe empire with 2008's "Iron-Man," the 2009 movie is all but forgotten. However, fans of M. Night Shyamalan's "Unbreakable" trilogy will find a lot to love in the Hong Kong-based action thriller. No, it's not perfect. But it's a film that took risks to be original. To its credit, "Push" is one of the only superpowered films not based on an existing IP. Although David Bourla's script veers into some overly ambitious territory, "Push" nevertheless crafts a grounded superhero tale with rich worldbuilding. There are no aliens or time-bending stones. Instead, secret governmental cover-ups and experimental drugs fuse into a film about psychic warfare.
Fresh off his starring role in "Fantastic 4: Rise of the Silver Surfer," Chris Evans portrays Nick Gant, a bitter psychic who recruits others like him to defeat a covert governmental group called Division. What works best about this film is Evans' depiction of a reluctant hero. You can see the seedling of the grizzled Cap that'll eventually grace the big screen. Paired with a charmingly sharp Dakota Fanning as the clairvoyant Cassie, it's hard not to wonder where else Nick and Cassie could have gone if the film had branched out into its own conspiracy theory universe. More than anything, it's worth watching Evans and the cast play with versatile and unique superpowers.
13. Playing It Cool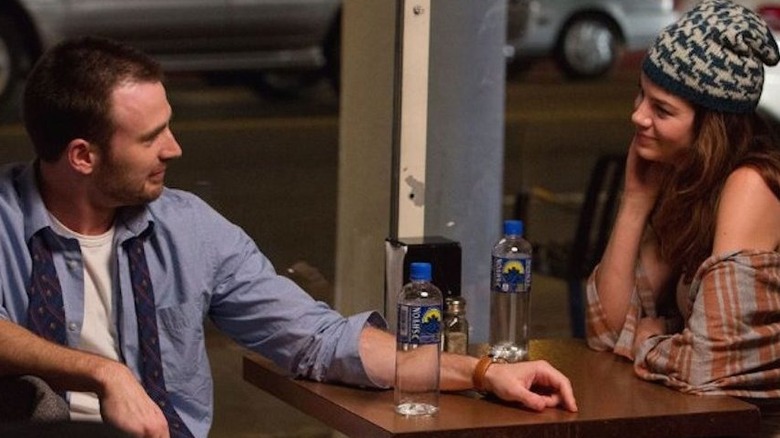 Vertical Entertainment
Of all the romantic comedies that Chris Evans has starred in, 2014's "Playing It Cool" isn't the best the Marvel star has to offer. However, it's a solid rom-com that almost becomes great. Evans stars as a cynical screenwriter who wants to write an action film, but his agent, Bryan, portrayed by fellow Marvel Cinematic Universe star Anthony Mackie, hires him to pen a rom-com script. The film follows Evans falling head over heels with an engaged woman portrayed by Michelle Monaghan — a journey that (surprise) ends up being fictionalized into the script he gives Bryan. "Playing It Cool" doesn't have many surprises in store, except for its incredible cast lineup, including Luke Wilson, Topher Grace, Martin Starr, Ioan Gruffudd, and Aubrey Plaza, who add welcomed doses of weirdness and laughs to its runtime.
Despite the film telling a familiar tale of someone who doesn't believe in love finding it at the most inopportune time, "Playing It Cool" still showcases Evans' charm and talent for nailing dry humor. For "Fantastic Four" fans, it's also a bit of a meta-delight to see Evans' character compete with the Mr. Fantastic actor on-screen, especially since he makes a lovable fool of himself often. After seeing Evans' Cap make no time for love across a multiverse of films, it's heartwarming to see him play the aloof cool guy who does, finally, get the girl.
12. Lightyear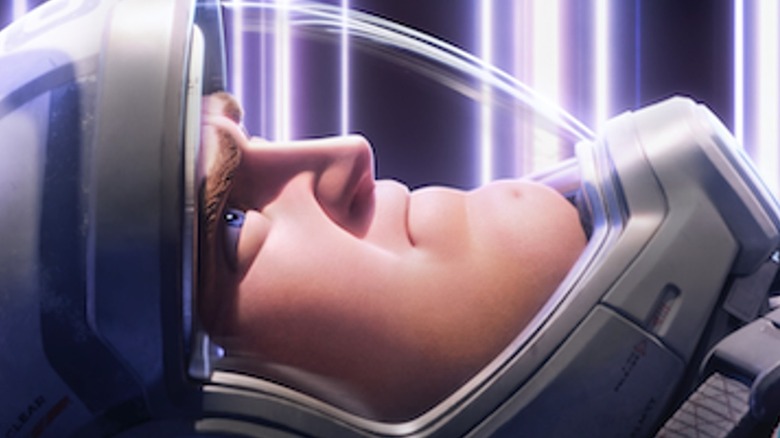 Disney
27 years after Buzz Lightyear debuted in Pixar's "Toy Story," the animation studio crafted its 26th feature film around the toy's origin story with "Lightyear." Chris Evans voices a young version of the ambitious Space Ranger Buzz Lightyear, a man whose life would later inspire a toy company to craft a Buzz toy for adventure-loving children like Andy. In the Pixar film, Buzz becomes stuck on a hostile planet with his commander and best friend Alisha Hawthorne (portrayed by Uzo Aduba) and crew as they battle robotic armies and more. Family-friendly sci-fi adventures abound for all ages. The animated film spared no expense when it came to casting, featuring the vocal talents of Keke Palmer, Taika Waititi, Peter Sohn, James Brolin, Isiah Whitlock Jr., Bill Hader, Efren Ramirez, and Dale Soules. 
For the most part, critics gave "Lightyear" a warm reception, calling it "charming," "fun" and an "emotional story about aging." Despite its welcomed reviews, "Lightyear" opened poorly at the domestic box office, bringing in around $50 million from a $200 million budget. But those who love Evans' particular brand of earnest hero will find a lot to love in this Disney and Pixar entry. It'll scratch the itch for those craving a bit more Cap time while still showcasing Evans' sincerity as an altruistic champion and peppering in some well-timed situational humor.
11. Before We Go
RADiUS-TWC
In 2014, Chris Evans made his directorial debut with "Before We Go." Devoted rom-com lovers will pick up immediately on its leisurely "Before Sunrise" vibes, as it concerns itself more with highlighting interesting character beats between the leads than developing a layered plot. The storyline is basically set around a chance meeting between two unlucky in love souls who find some refuge in each other for one night of their lives. Honestly, its stripped-down approach and minimal cast — it's mostly Evans and his co-star Alice Eve on-screen for the 95-minute runtime — works in favor of Evans as a first-time director. 
Framing shots that you're also a key player in as an actor is no easy task. Despite that challenge, Evans and Eve's chemistry feels organic and comfy, as it's freed from the constraints that a more technical film would demand. More importantly, it showcases that Evans has an eye for catching a spark between actors and crafting intimate shots that feels familiar but no less authentic. There's an off-the-cuff and easygoing charm to "Before We Go." Even during moments that run a bit too long, its atmosphere is still captivating. While it's not a perfect film, it's clear that Evans has picked up on more than a few directing tricks over the years and it is nevertheless a promising start to his filmmaking career. Overall, the movie doesn't quite land its footing as an existential romantic stroll, but it nails its mood.
10. Captain America: The First Avenger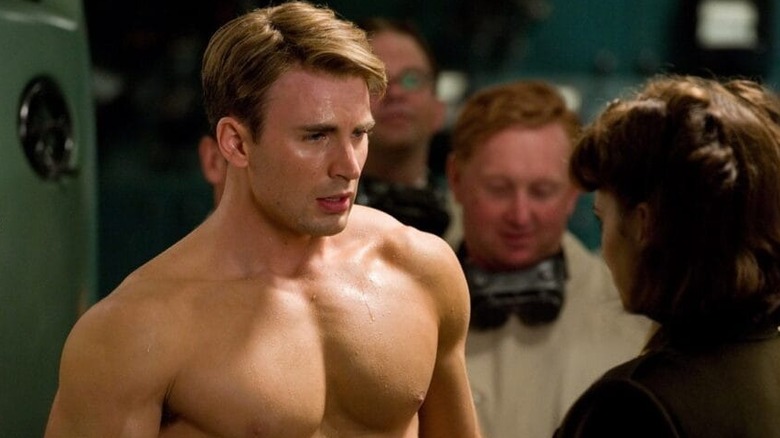 Paramount Pictures
The best of Cap countdown begins! When Chris Evans debuted Steve Rogers on-screen in "Captain America: The First Avenger," there was a lot left to be desired — though plenty of thirsty fans desired him as is. The CGI used to turn the buff Cap into a short and lanky 20-something-year-old in the '40s has not held up well over time. Hydra agents and Nazis are shown as easily defeated villains. Steve goes from a humble soldier to a swaggering hero basically overnight without any moral wavering. In Evans' defense, he had the unenviable task of being the Marvel Cinematic Universe's first super-soldier. Unlike the arrogant genius of Tony Stark or the Asgardian prowess of Thor, Steve Rogers is just a guy who decides to stand up to intolerance and, as such, has to be both the everyman and superhuman.
In time, the balance between being a hero and the self-awareness that comes with becoming a cultural icon will sync up. But this foray is not that time. Still, Evans gives a committed performance to the Nazi-punching Marvel character. He dials up the heart and spectacle of the role to transform a predictable story into a beloved popcorn flick.
9. Captain America: Civil War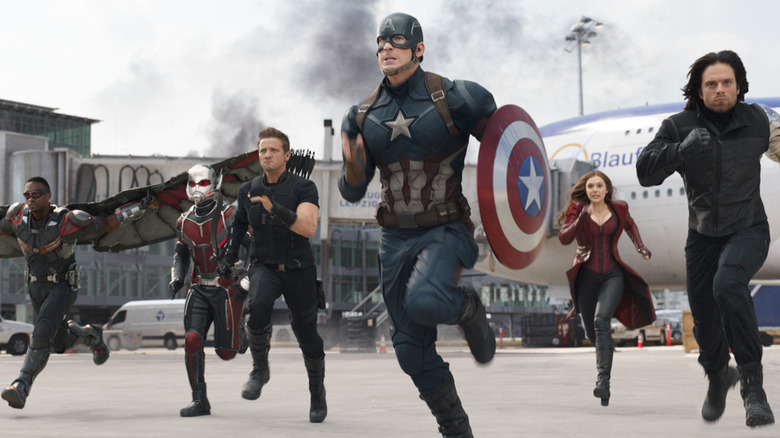 Disney
A lot is going on in "Captain America: Civil War." The 2016 film ushered in the third wave of the Marvel Cinematic Universe, a time when some Marvel fans first started to feel their exhaustion at the never-ending stream of comic book movies to come. After 12 films, "Captain America: Civil War" had a lot of pressure on it to hail in a new era of the MCU. For the most part, it succeeds in its task of showing a disjointed superhero team in a universe that is uncertain that it needs or wants superpowered individuals around when they only leave chaos in their wake — as Sokovia, unfortunately, saw best in "Avengers: Age of Ultron."
Of the entire cast, Chris Evans' Cap stands out as a memorable player who, for once, isn't entirely sure of the best path of action to take. Confronted with Black Panther, Iron Man, and the reawakened Winter Soldier, Cap has to make tough calls that don't sit well with everyone, which creates compelling moments. Watching a devoted but conflicted Steve Rogers is a joy as it gives Evans something more to sink his teeth into on-screen. The anger and resentment that had been building between Tony Stark and Cap explodes in a fantastic battle, which ultimately highlights both Evans and Robert Downey Jr.'s dramatic talents.
8. The Avengers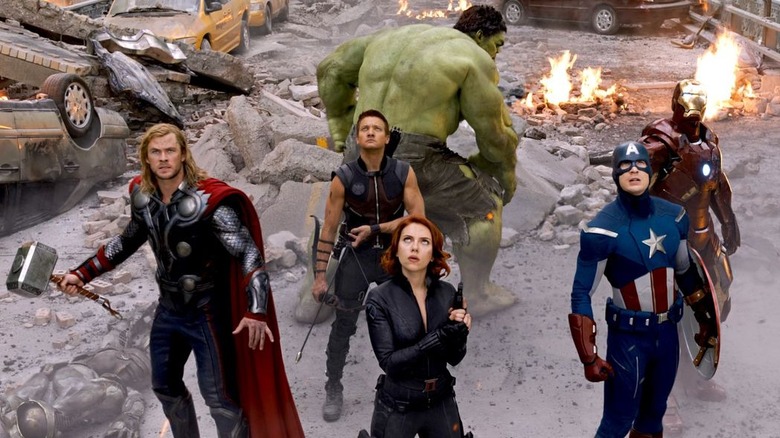 Disney
I still remember the joy erupting through the cinema when Marvel Studios featured their first superhero team-up from its interconnected film universe on the big screen. For comic readers who are no strangers to the delight of crossover titles, 2012's "The Avengers" felt like a dream. It didn't hurt that the Marvel Cinematic Universe film also paid a loving homage to 1963's "Avengers #1" comic, a tale which showed how, unintentionally, Loki's trickster antics ended up inspiring Earth's Mightiest Heroes to form a team to protect Earth.
Of the times that Chris Evans picked up Captain America's shield, this one is hands down the most delightful. "The Avengers" best showcases Evans' polished confidence in the role while also leaning into his comedic sensibilities. This was thanks, in part, to a script practically comprised of quippy one-liners that acknowledge how weird it must be to awaken in an entirely new century. This Cap feels a bit less serious in the best possible of ways, which opens up Evans to put more palpable joy into his performance. He feels like he's having a grand old time, and it's hard to not smile as he leans further into the oddity of being a man out of time. 
7. Fantastic Four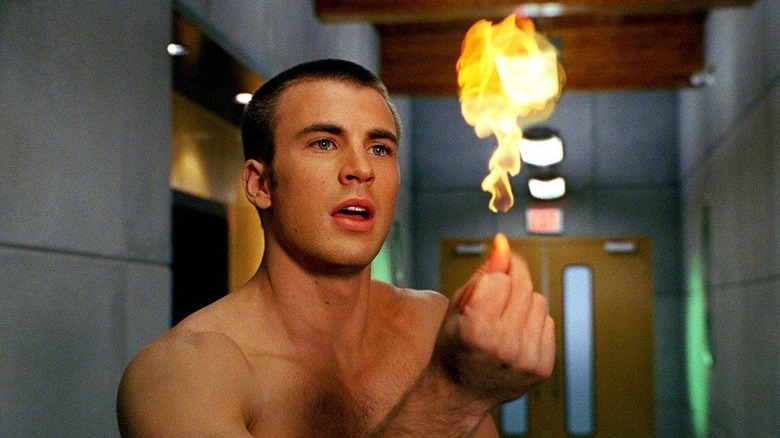 20th Century Fox
In June 2022, Chris Evans uttered the words that many "Fantastic Four" defenders have been longing to hear. While speaking to MTV News, Evans shared, "Johnny Storm, I feel like he didn't really get his day. That was before Marvel really found its footing." Marvel Cinematic Universe's flagship film, 2008's "Iron Man," made half a billion dollars at the global box office with a budget just shy of $150 million. In comparison, 2005's "Fantastic Four" meagerly performed at the box office (although it's worth noting that "Iron Man" was made on a larger budget and with the support of the then-called Marvel Entertainment team). Unlike "Fantastic Four," "Iron Man" was not a joint co-production with many players involved to satisfy contractually. Ultimately, this co-production design hampered the "Fantastic Four" films, which lacked access to comic IPs to craft a tale befitting Marvel's first family.
All that being said, Evans plays such a believable dope that's running high on the jet fuel of machismo. Evans brings the kind of pompous attitude that best personifies Johnny Storm without veering into being insufferable. You love to hate him and at the same time are perplexed at how he can be both annoying and charming simultaneously. Stan Lee and Jack Kirby's beloved comic character soars on-screen thanks to Evans' stubborn spitfire take.
6. Snowpiercer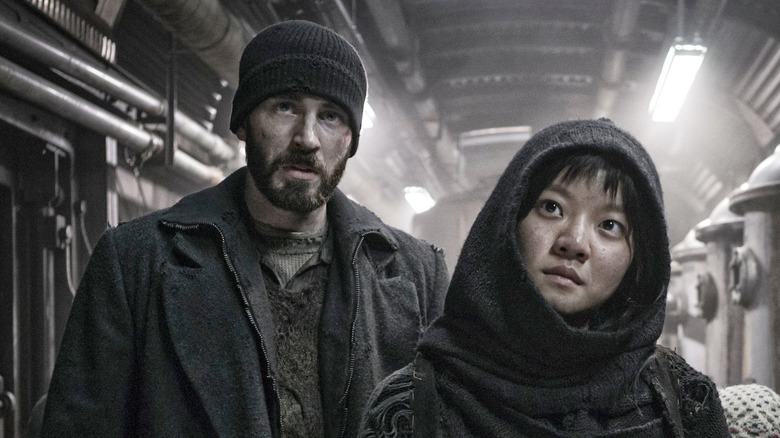 RADiUS-TWC
Before TNT crafted a post-apocalyptic television series based on the 1982 French graphic novel series, Oscar-winning director and writer Bong Joon Ho made "Snowpiercer" into an international hit fantasy film that still holds a 94% rating on Rotten Tomatoes. Chris Evans stars as Curtis in the acclaimed 2013 film that blends a noir mystery into a dystopian sci-fi thriller about class warfare and worker rights. Of all the movies on this list, Evans is at his grittiest here, and it works so well for the action star. Placed in an R-rated film, Evans has more ability to dive into darker character elements filled with angst and brutality. 
A big criticism of the Marvel Cinematic Universe is that its refusal to craft R-rated films hinders its ability to delve deeper into some of the universe's conflicted heroes and the injustices it depicts on-screen. Despite the flashiness of superpowers, heroes like Cap are still using car-crushing strength to defeat others. Yet viewers only see a sanitized version of this on the big screen. Real consequences like bloodshed, death, and the aftermath of war aren't shown, which can make the MCU's adventures ring hollow. "Snowpiercer" is a great antidote to this PG-13 approach. Every action in Bong Joon Ho's film has tangible and harrowing costs to human lives while still weaving a film concerned with supporting the underdog and dismantling systemic oppression — a goal that even Cap would love.
5. Avengers: Endgame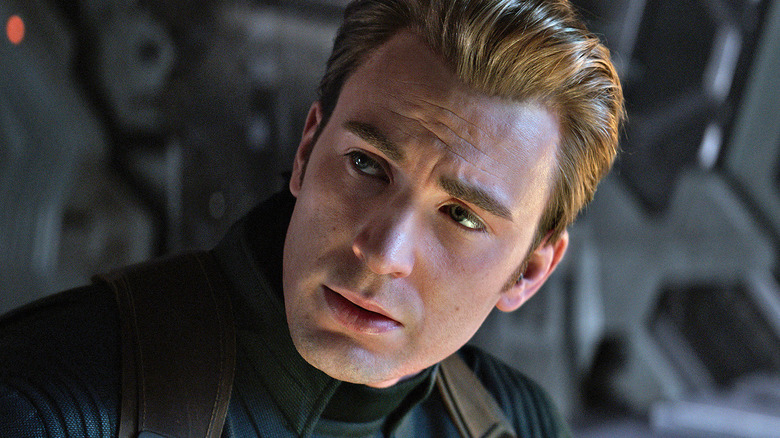 Disney
Chris Evans' last performance as Captain America encapsulated all the best beats of the Marvel character. We saw him fail. We saw him conquer. And, to the film's credit, we see him find someone to fight for as opposed to fighting against. The 2019 Marvel Cinematic Universe film worked as a send-off for Evans' eight years portraying the character, and it takes every opportunity to craft a heartfelt goodbye. Notably, the film also showcases Steve Rogers as an elderly man, a moment that Evans fills with tender earnestness. Cap seems rightfully tired and it's hard not to feel a bit of Evans poking through the fourth fall to bid his farewell to the decade worth of MCU films that he helped create. Additionally, his handing off his shield to Anthony Mackie's Falcon served as a powerful moment for the MCU to rethink who will be the face of the franchise now and why. The act never feels hokey or overly sentimental.
MCU fans that come for the universe's gigantic galactic battles won't be disappointed, as it features the largest crossover of Marvel characters to date in its action-packed three-hour runtime. But what stands out more in hindsight is the MCU film's surprisingly reflective tone, giving Evans' character a chance to evolve into his most mature and humble form. Plus, he finally wields Thor's Mjolnir in battle, a highly anticipated moment that comic readers and fans first theorized would happen after watching "Avengers: Age of Ultron."
4. What's Your Number?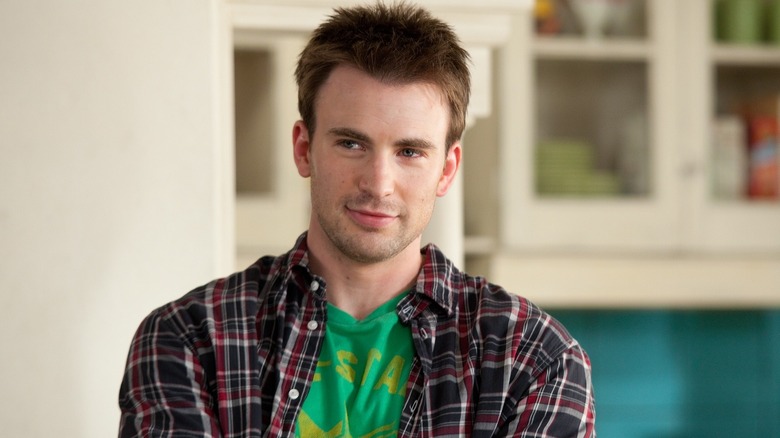 20th Century Fox
Of all the romantic comedies on this list, "What's Your Number?" is Chris Evans' most underrated (and best) role as a lead's love interest. Paired with the razor-sharp timing of Anna Faris, Evans' comedy reaches a new level of fun. Sure, the film is goofy. Yes, it mostly revolves around a woman's insecurity about how many (or few) sexual partners she's had in her life. However, the film leans into this silly premise and it's clear that both Evans and Faris are having a ball with their roles. Faris portrays Ally, a very quirky artist who is equally bumbling and impulsive, whereas Evans plays Colin, a guitar-playing schlub of a neighbor. 
Unlike other rom-coms that have starred Evans, there's a cheeky self-awareness to him in this one. He plays up the fact that Colin (and Evans) knows he's objectified for his muscles and looks. Evans feels more relaxed and lackadaisical, which helps his character's effortlessly cool vibes feel more real rather than forced. Furthermore, the chemistry between him and Faris is charming and palpable. Throughout its runtime, his smile is contagious.
3. Captain America: The Winter Soldier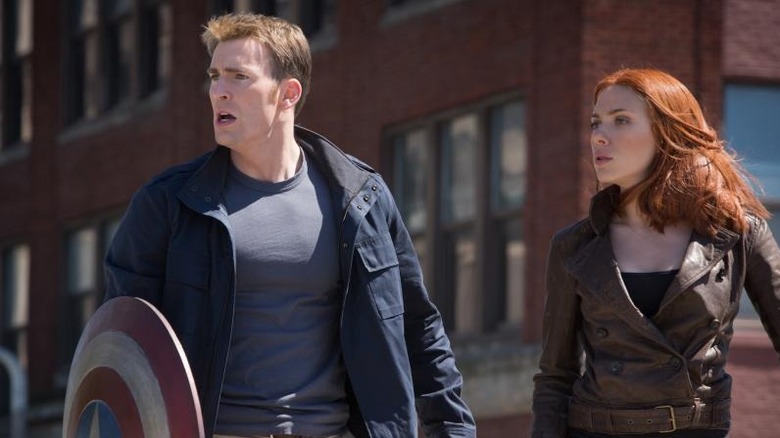 Disney
Movie fans who haven't seen all of the Marvel Cinematic Universe but enjoy a solid action flick are often told to not miss "Captain America: The Winter Soldier." While it's definitely a follow-up to the events of "The Avengers," and Steve Rogers' existing storyline in the MCU, it's one of the few Marvel films that can stand on its own two feet. Even if you don't know who each and every player is, "Captain America: The Winter Soldier" does a great job at filling in the blanks enough so casual viewers can enjoy its governmental conspiracy plotline.
Chris Evans delivers his most compelling and timely performance as Cap in this 2014 film. Watching him struggle to emotionally reach his best friend turned super-soldier Bucky Barnes is heartbreaking. Unlike the doe-eyed and optimistic Steve Rogers in other MCU films, this one is coming face-to-face with the consequences of his heroic actions and rethinking what it means to fight for an America that might not be fighting for you. Evans takes the patriotic character to places filled with pathos. Throughout the film, Cap weighs the privileges he's been awarded against the systemic intolerance he was unaware of existing in the modern-day. This film is the moment where Cap becomes more than just a nodding tool of the government, transforming into a man that stands up for the rights of all beings.
2. Gifted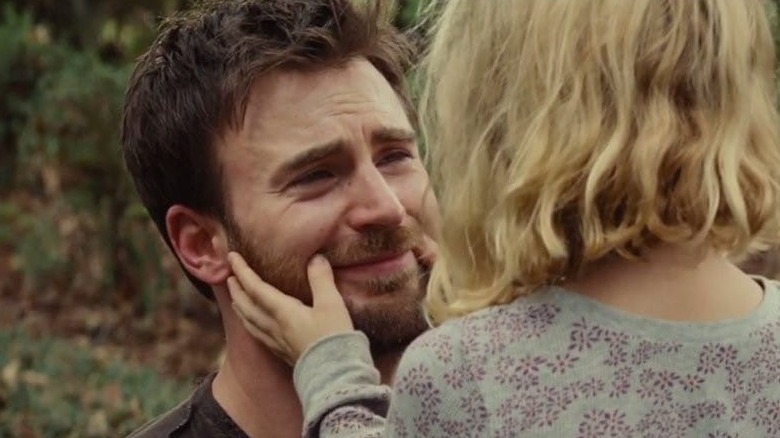 Fox Searchlight Pictures
When 2017's "Gifted" was announced, movie critics wrote uninspired headlines like, "Is Chris Evans 'Gifted' Enough to Lead a Non-Marvel Film?" For some reason, critics ignored the fact that Chris Evans had starred in non-superhero films before and amidst the height of his days in the Marvel Cinematic Universe, adding lines about how "Gifted" "suggests an acting life for [Evans] beyond Captain America" in their reviews. While it's fair to say that MCU movies typically have a signature flavor and approach, there's a derivative sneer in the way that some critics qualify the genre of Marvel films — and superhero stories in general — in a lesser light than other genres. But MCU fans that saw the lengths that Evans went to while refining Cap's good-natured character over time had no doubt of his dramatic talents.
Of the times Evans didn't need to wear spandex on-screen, his work in "Gifted" is some of his best. Evans plays Frank, a caring uncle of a young girl named Mary, who is a misunderstood child prodigy. The film follows Frank as he does his best to provide for his niece and give her the life he promised he would to his late sister. Starring alongside Jenny Slate, Evans does a phenomenal job with the heartwrenching material. Although the film doesn't take too many risks, it's a warm and fuzzy ride to its end credits. Evans delivers an eye-catching performance of an average Joe inspired to stand up for his beliefs.
1. Knives Out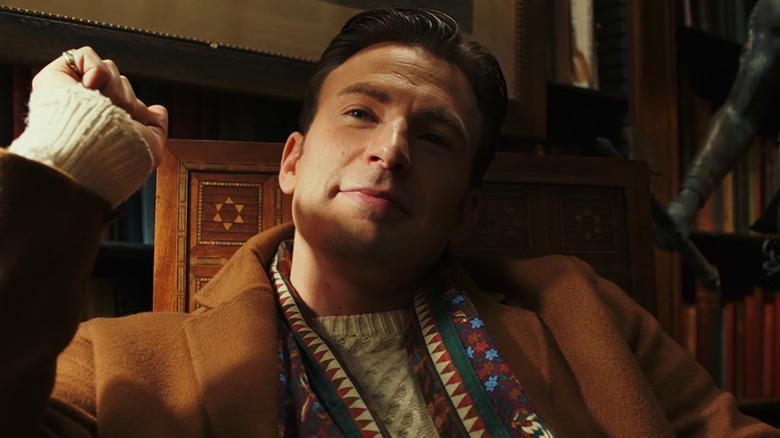 Lionsgate
Ransom Drysdale is the definition of smarmy. Rian Johnson's character embodies the smell of overpriced French cologne, summer scarves, and boat shoes. While Chris Evans has spent most of his film career cast as a hero, he proved in "Knives Out" just how much style and substance he brings to a villainous role. Following the film's hit reception with critics, Evans told press outlets like Den of Geek that he was practically "begging" Johnson for the role. 
There are glints of all the arrogant jerks Evans has embodied before in this role. However, none of his prior roles have been as entertaining to watch unfold. In comparison, it feels like he hadn't yet played with a script (or a director) that gave him enough leeway to dig deeper into an unlikable part. Underneath the glossy veneer of wealth, Ransom is murderous, calculating, and malicious. As someone who has had to fictionally save the day many times, Evans shows an intuitive ability to unearth the worst parts of a person on-screen. "Knives Out" cleverly puts Evans' impressive range of action, comedy, and drama on display — making it a wonder that we haven't seen Evans in more dark and meaty "Succession"-like roles. We've had our time with Cap. Now's the time for Evans the villain to emerge.