Wicked Songwriter Explains Why The Movie Needed To Be Split Into Two Parts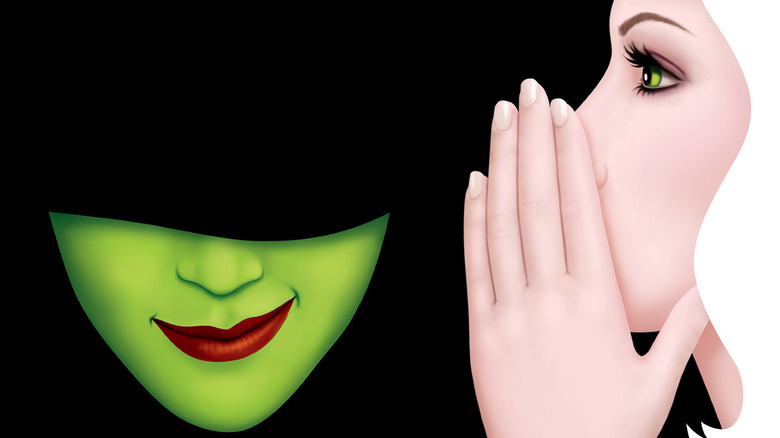 Universal
Stage musicals are tricky beasts when it comes to film adaptations. Many of them have very little spoken dialogue, which can lead to pacing issues when trying to re-imagine them as a three-act movie. What's more, Broadway musicals are split into two acts, the first of which typically climaxes in a show-stopping musical number followed by an intermission. Back in the 1950s and '60s, movie musicals like "West Side Story," "My Fair Lady," and "The Sound of Music" would come with a built-in intermission, allowing them to mirror the structure of their Broadway counterparts. Sadly, that's no longer common practice in U.S. films, save for one-off Quentin Tarantino projects like "The Hateful Eight" (itself not a musical, but hey, no movie is perfect).
In recent cases, Broadway musicals have often been rearranged for the big screen, with their Act I climaxes being reshuffled to the end of their film adaptations like in Joel Schumacher's "The Phantom of the Opera." Other times, their original structure is left more or less intact, which can have a dampening impact on what would've otherwise been a terrific finale to the first half of the movie (I'm looking at you, Chris Columbus' "Rent"). When it comes to "Wicked," however, songwriter Stephen Schwartz claims the film version had to be split into two parts for one simple reason: There's just no topping the musical's first act closing number, "Defying Gravity."
There's just no Defying Gravity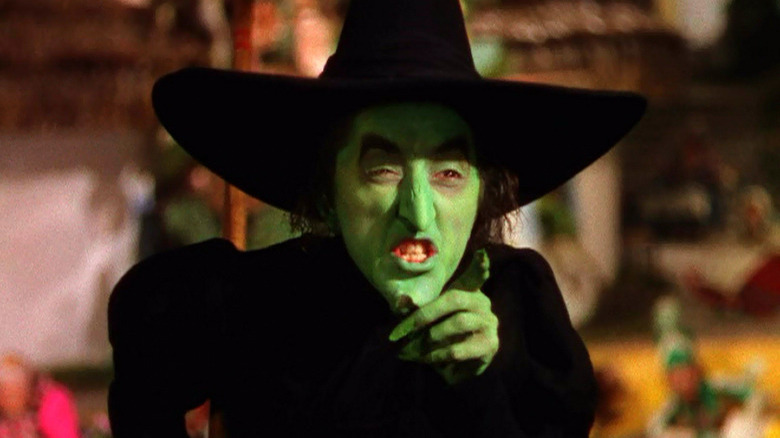 Metro-Goldwyn-Mayer
In case you've somehow avoided catching "Wicked" fever or absorbing its plot via cultural osmosis: the stage musical (itself based on Gregory Maguire's 1995 novel) explores the origins of the Wicked Witch of the West. In doing so, it paints the infamous, green-skinned "Wizard of Oz" sorceress in a far more sympathetic light, portraying her as an outsider and crusader for social justice whose progressive politics lead to her being vilified by the deceitful Wizard and his government. The first act then ends with the witch, whose real name is Elphaba, embracing her sordid reputation with a magnificent song titled, "Defying Gravity."
In a statement to the fan newsletter "The Schwartz Scene" (via Variety), Stephen Schwartz explained the decision to divide the musical into two movies, citing the power of Elphaba's big number:
"We found it very difficult to get past 'Defying Gravity' without a break. That song is written specifically to bring a curtain down, and whatever scene to follow it without a break just seemed hugely anti-climactic."
The "Wicked" stage musical runs 2 hours and 45 minutes long, which is shorter than recent superhero films like "Avengers: Endgame" and "The Batman," as well as the international smash-hit "RRR." Even so, Schwartz says adapting "Wicked" into a "very long movie" would have "required us cutting or omitting things that we wanted to include and that we think fans of the show and the story will appreciate." Combined with the impossibility of following up "Defying Gravity" in an unbroken film, "we have decided to do two movies." Schwartz added:
"Of course, when it's all done, if it doesn't work that way, we'll have to figure something out. But we strongly believe that this is what's best for our story, our show, and our fans."
Expect some 'additive' changes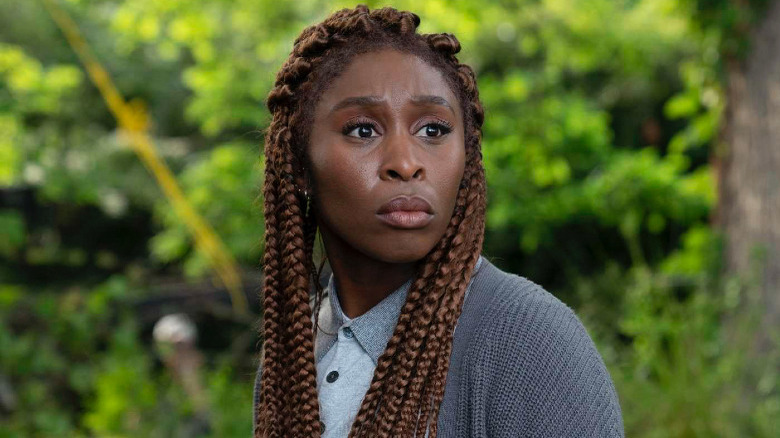 HBO
"Wicked" recalls Stephen King's "It" novel in that it mostly takes place in two timelines, with Act I focusing on the main characters as students studying at Oz's Shiz University and Act II catching up with them post-graduation. Similar to the "It" movies, the first of the "Wicked" films will be a coming-of-age story about Elphaba (Cynthia Erivo) and her unlikely friendship with Galinda (Ariana Grande), with the second movie following them as they embrace their identities as the Wicked Witch of the West and Glinda the Good Witch.
Along with brand-new songs written by Stephen Schwartz, the "Wicked" films will include fresh material to pad out their runtimes. However, Schwartz assures these deviations will benefit the storytelling:
"What we have discussed is that changes need to be 'additive,' to use (producer) Marc Platt's term. They need to add something to the story or the characters. They can't just be changes to do something different. I feel confident that by the time the movie is made, if we all continue to have the same degree of input, I could have a conversation with anyone who has a question about any of the changes made from the stage show and justify why I think it's better for the movie."
Splitting one work into multiple films has so far yielded, at best, mixed results. "The Hobbit" trilogy infamously turned J.R.R Tolkien's brisk fantasy-adventure into an eight-hour slog, while "It Chapter Two" failed to tap into the zeitgeist the way its predecessor did. Then there was "The Divergent Series: Allegiant," which flopped so badly the last "Divergent" movie was outright abandoned. "Wicked" is likely far too pop-u-lar (had to be done!) for its film adaptations to fail financially, but only time will tell if this approach pays off creatively.