Quentin Tarantino Never Let The Hateful Eight Cast Out Of The Cold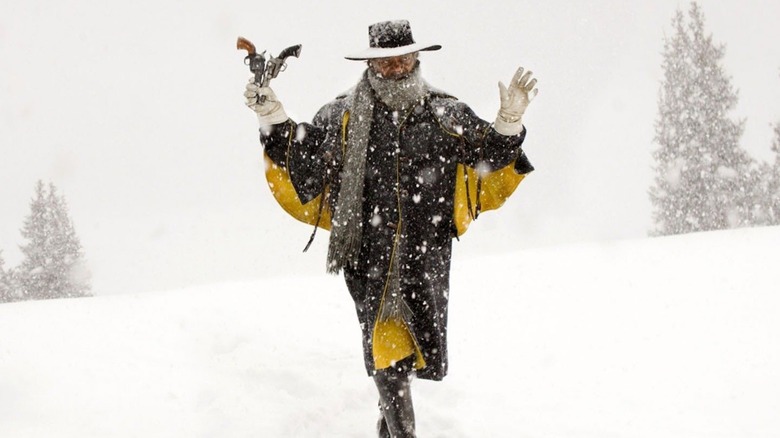 The Weinstein Company
Quentin Tarantino's "The Hateful Eight" is a cold movie. Emotionally, it's his most frigid work since "Reservoir Dogs," a largely one-set western/thriller dripping with blood and vitriol. Tarantino strands his characters in a Wyoming general store in the middle of a raging blizzard — it's brutally cold outside but not much better inside. Everyone appears to be freezing. While it's hardly a surprise that a cast of accomplished thespians including Samuel L. Jackson, Jennifer Jason Leigh, Tim Roth, and Bruce Dern proved adept at acting like they were chilled to the bone, Tarantino left nothing to chance. They're not acting — it really was that freaking cold on the set.
The first leg of the shoot took place in the San Juan Mountains of southwest Colorado during the winter of 2015. In an interview with Michael Keaton for Variety, Samuel L. Jackson revealed that while Tarantino "rehearsed this movie to hell," he couldn't prepare them for the sub-zero conditions. "The rehearsal was perfect," says Jackson, "but the snow added an urgency of 'I really don't want to be out here.'" 
It's in those early scenes that you realize Tarantino isn't messing around. The second you hear a cue from Ennio Morricone's score for John Carpenter's "The Thing," you conjure up the memory of Kurt Russell and company trudging around in the Arctic. Tarantino's cast looks every bit as miserable as Carpenter's.
An arctic chill by way of John Carpenter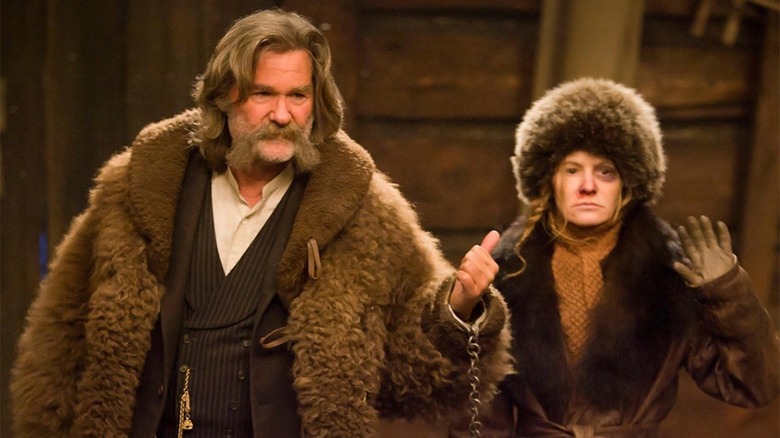 The Weinstein Company
Even after Tarantino moved the production to a Los Angeles soundstage for the bulk of the scenes set in the mountaintop rest stop Minnie's Haberdashery, he had no intention of letting his actors off the hook. "Quentin kept the cold," says Jackson. "He actually refrigerated the stage. The whole stage was refrigerated." It's a great idea, and like many of Tarantino's great ideas, it didn't actually originate with him. When Carpenter began shooting "The Thing," he kept his Los Angeles soundstage at a shivery 28 degrees. This wasn't cold enough for Carpenter, so he decamped to Alaska, where the mercury plunged to camera-lens-shattering temperatures.
Tarantino's screenplay didn't require the construction of multiple sets or various Lovecraftian beasts, so he was able to get what he needed by simply turning down the studio thermostat. To accentuate the sense of cold, he had the actors drink hot tea so their breath would always be visible. But while you could always bolt outside and catch some Southern California rays when on break, as Jackson says, "[W]hen you come back inside, the cold is this character that's always there, that's always kind of nudging you and doing stuff to you."
Locked down in this cold, cold world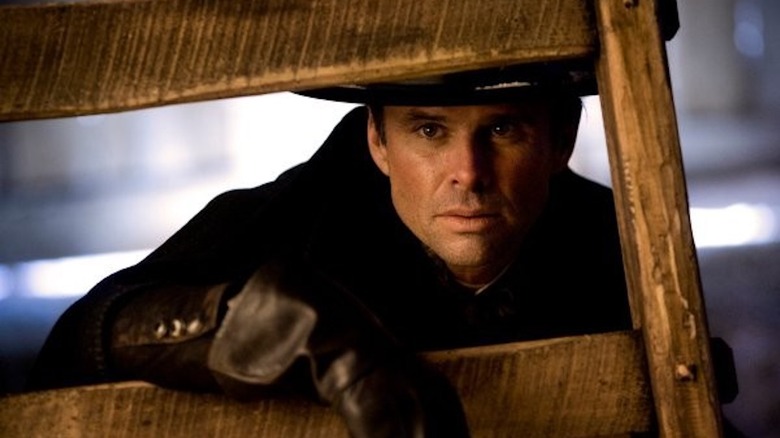 The Weinstein Company
The dramatis personae of "The Hateful Eight" weren't terribly pleasant people to begin with, but that unremittingly harsh blizzard draws out shocking cruelty in all of them. When the film reaches its vicious conclusion (wherein a doomed Samuel L. Jackson and Walton Goggins hang Jennifer Jason Leigh out of a twisted sense of honor), you're somewhat relieved that none of these characters are getting out alive. 
This world is cold enough. If humanity is to pull back from the abyss we're currently staring at, we're going to have to summon some kind of warmth for one another. If we can't, the planet — scorching hot or frostbite frigid — will simply spin on as it always has, without us.